First of all, happy return to LQ, me! I've taken a bit of a hiatus to move my life back to Canada, and now that I'm settling back into things, I am taking the opportunity to do some serious TBR catch-up. As such, Mr. Penumbra's 24-Hour Bookstore was at the top of my list, since I LOVED Robin Sloan's Sourdough. Joli did a review of this novel a little while ago, and her cover art is both original photography and STUNNING. Becky mentioned Mr. Penumbra's 24-Hour Bookstore as well in our Favorite Books of 2018 So Far.
The synopsis of this book is a little tricky – the main character Clay is recently unemployed and looking to change up his life. In doing so, he finds himself working for a local, VERY indie bookstore. Along with a horde of eccentric accomplices, Clay starts to unwind a mystery, and sets himself on a weird and wonderful path.
Disclosure – We earn a small commission for any items purchased through the Amazon or Bookshop.org links below at no extra cost to you. These earnings are put toward our website hosting costs. Thank you for supporting Literary Quicksand!
My Review
What I loved about Mr. Penumbra's 24-Hour Bookstore is how perfectly sensible it is, while also taking the reader into a world that is spectacularly set in a science fiction Earth. Dystopian? Absolutely not. Off-world? Nope. Aliens? You bet your bottom that's not a thing. Literally, this book doesn't do anything weird, and yet, the whole story is just so bizarre, in the best way. I'm learning that Mr. Sloan's imagination transcends; he doesn't NEED to set his books off planet to pull off sci-fi that is just surreal and parallel to our everyday life. In that, he's kind of a Rowling, except his Hogwarts is small pockets of museums, bookstores, and other small companies that the everyday citizen might not be bold enough to explore.
Allegedly (according to Goodreads), this book might not be a standalone. I can't wait to see what this author brings to life next, whether it's sequential or another standalone novel. The ultra-nerd in me just rejoices in the idea that computer developers might be solving the meaning of life and engineers might be struggling with a magic dough that won't behave, all in a San Fran backyard. Honestly, if this is the world Mr. Sloan lives in, I think I want to live there too.
About Mr. Penumbra's 24-Hour Bookstore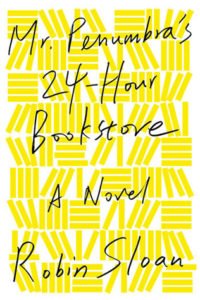 • Hardcover: 288 pages
• Publisher: Farrar, Straus and Giroux (October 2, 2012)
The Great Recession has shuffled Clay Jannon away from life as a San Francisco web-design drone and into the aisles of Mr. Penumbra's 24-Hour Bookstore, but after a few days on the job, Clay discovers that the store is more curious than either its name or its gnomic owner might suggest. The customers are few, and they never seem to buy anything; instead, they "check out" large, obscure volumes from strange corners of the store. Suspicious, Clay engineers an analysis of the clientele's behavior, seeking help from his variously talented friends, but when they bring their findings to Mr. Penumbra, they discover the bookstore's secrets extend far beyond its walls.

Purchase Links
About Robin Sloan
Robin Sloan grew up near Detroit and went to school at Michigan State University.
For many year, he worked at the intersection of media and technology, first at the Poynter Institute in St. Petersburg, Florida, and then at Current TV and Twitter, both in San Francisco.
His first novel, Mr. Penumbra's 24-Hour Bookstore, was a New York Times Best Seller, translated into more than twenty languages. George Saunders called the book "a tour-de-force" and Robin kindly requests that no one say anything else about any of his writing, ever.
With his partner Kathryn Tomajan, Robin produces California extra virgin olive oil under the label: Fat Gold.
His latest novel, Sourdough, was published in 2017.