I have to admit, dear LQ reader: I run hot and cold on non-fiction. But my life right now has been in a super interesting place; with some upgraded education opportunities ongoing, a new job on the horizon, and a young horse with strong opinions about his training regimen, I was definitely looking for some personal development assistance! TLC Book Tours happened to have Relentless Solution Focus on their tour, and I was hoping it would be a good "self-help" read. What I didn't expect was a fabulous toolbox of material for problem-solving.
Disclosure – We earn a small commission for any items purchased through the Amazon or Bookshop.org links below at no extra cost to you. These earnings are put toward our website hosting costs. Thank you for supporting Literary Quicksand!
The Summary
Relentless Solution Focus describes a novel method for tackling life insecurities and negativities. The theme of the book is that "There is always a solution. Always." and this small statement takes off from there.
Many individuals struggle with resilience in one or more parts of their lives. This system, coined "RSF", has been created by Drs. Selk and Reed in order to help organize and identify the priorities, minimize negative self-talk, and push forward in any problem towards incremental solution. For fans of Daniel Coyle or Simon Sinek, Relentless Solution Focus is a helpful tool for pretty much anyone. Whether you're looking to improve your work-life balance, make gains in your career, sport, or hobby, or communicate better in your relationships, this method can probably give you a strong helping hand.
My Review
So, for me this book is a DNF.
But hold on, let me explain why. I will be clear – I am almost exactly mid-way through Relentless Solution Focus at the time of writing this review, and I confidently gave it 5 stars on our LQ rating system (and will do so on Goodreads as well). I got this far because I was reading along, and thinking to myself "this stuff is super, I'm definitely going to use it in a BUNCH of aspects in my life". Right at this point, I hit Chapter 7, and the Framework (and HOMEWORK) kicked in.
Because here's the thing. Relentless Solution Focus isn't a book you read. It's a workbook. It helps you rewire your way of thinking about a given problem, but also asks you to think about what problems you even want to prioritize as real and prescient in your life. I'm stuck because it asked me about my 5-year plan, and right now I can see about 1-2 years ahead before things get quite blurry. I know where this mindset can help me, but I need to take some time and think about what my vision is before I start trying to apply it willy-nilly!! It has also been so helpful already though, because "good enough" is a totally acceptable answer to have, as long as it improves your situation even by a small margin. For me, who lives in paralysis when "something" doesn't contain the full answer to my problem, this has already been truly a godsend. Baby steps, yo.
I would guess that many who read this book are also going to be DNF'ers, at least for a period of time. I don't think you're doing it right otherwise!! But if you think this translates to the material being boring, think again. Drs. Selk and Reed are creative, anecdotal, and find ways to present the information in a way that is very clear and inviting for the reader. I mean, who starts coaching for an MLB team and helps them win TWO World Series in 6 years?!
I would, and already have, recommend(ed) Relentless Solution Focus to friends and family, and I will to you as well dear reader. I hope it finds you the same way it has me.
Purchase Links
About Dr. Jason Selk
Dr. Jason Selk, one of the nation's premier performance coaches, has worked with business titans and superstar athletes. As Director of Mental Training for the St. Louis Cardinals, he played an important role in the team's first World Series victory in over 20 years, in 2006, and their second in 2011. He is the bestselling author of Executive Toughness, 10-Minute Toughness, Organize Tomorrow Today, and Lead Any Team to Win.
Find out more about Dr. Selk on his website, and follow him on Facebook, Instagram, and Twitter.
About Dr. Ellen Reed
Dr. Ellen Reed has worked side by side with Dr. Selk for 15 years, and has extensive experience in mental training for consistency, accountability, and execution in business, athletics, academics, and the performing arts. She helps business leaders and elite athletes reach their peak performance by developing the mental toughness necessary for success.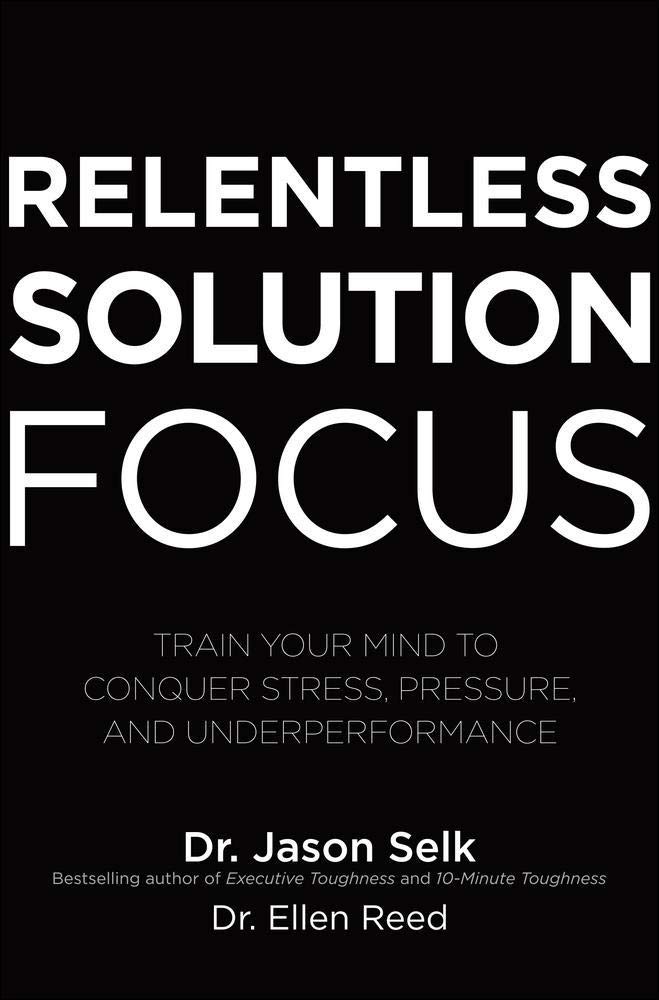 From bestselling author and mental toughness expert Jason Selk comes a mind-training regimen for reframing every problem into an opportunity for productive action.
The most common cause of failing to reach our professional and personal goals is hardwired in us: Humans instinctively focus on problems. Over millennia, our very survival relied on our ability to be alert to any potential dangers that could threaten our existence. But today this negativity bias significantly limits our potential and increases stress, pressure, and underperformance.
The one characteristic all phenomenally successful people share is mental toughness. Mentally tough people are better at making decisions more quickly and with better results. They possess the uncanny ability to control what goes on between their ears. Instead of allowing their minds to focus on their problems when adversity strikes, the most successful people have learned to direct their thoughts in a systematic manner that produces positive emotions and productive actions: they have a RelentlessSolution Focus.
In this book, top performance coach Dr. Jason Selk, former Director of Mental Training for the World Series champions St. Louis Cardinals, and his colleague Dr. Ellen Reed provide the insight, tools, and proven step-by-step framework for you to do the same. When you have Relentless Solution Focus, you think better. Your decisions garner positive results. You take action and follow through, every time. And when you do get off track, you get back on with less effort and less drama. Weakness shrinks and strength grows, creating confidence and momentum, taking you and your team to higher levels of performance and achievement.