This book was a bit of a surprise treat for me. I'm not usually really into royals and their trials and tribulations, but this character-driven one really drew me in. Read on for more thoughts on In the Shadow of a Queen!
The Summary
Princess Louise's life is upended after her father's untimely death. Captive to the queen's overwhelming mourning, Louise is forbidden to leave her mother's tight circle of control and is eventually relegated to the position of personal secretary to her mother—the same position each of her sisters held until they were married.
Already an accomplished painter, Louise risks the queen's wrath by exploring the art of sculpting, an activity viewed as unbefitting a woman. When Louise involves herself in the day's political matters, including championing the career of a female doctor and communicating with suffragettes, the queen lays down the law to stop her and devotes her full energy to finding an acceptable match for her defiant daughter.
Louise is considered the most beautiful and talented daughter of Queen Victoria, but finding a match for the princess is no easy feat. Protocols are broken, and Louise exerts her own will as she tries to find an open-minded husband who will support her free spirit.
In the Shadow of a Queen is the story of a battle of wills between two women: a daughter determined to forge her own life beyond the shadow of her mother, and a queen resolved to keep the Crown's reputation unsullied no matter the cost.
My Review
Have you ever picked up a book and thought 'Hm, this will probably be okay" and then it ends up surprising the heck out of you and being a really great read?
As you may have guessed, that's exactly what happened to me with In the Shadow of a Queen by Heather B. Moore. I went into this read thinking I'd like it well enough, and then the dang thing just quietly came in and made me love it.
Before I get into my review, thank you to Laurel at Austenprose PR for setting up this book tour, and giving me the opportunity to read a book I wouldn't have picked up on my own. And of course, thanks to the author and Shadow Mountain Publishing for the copy of the book.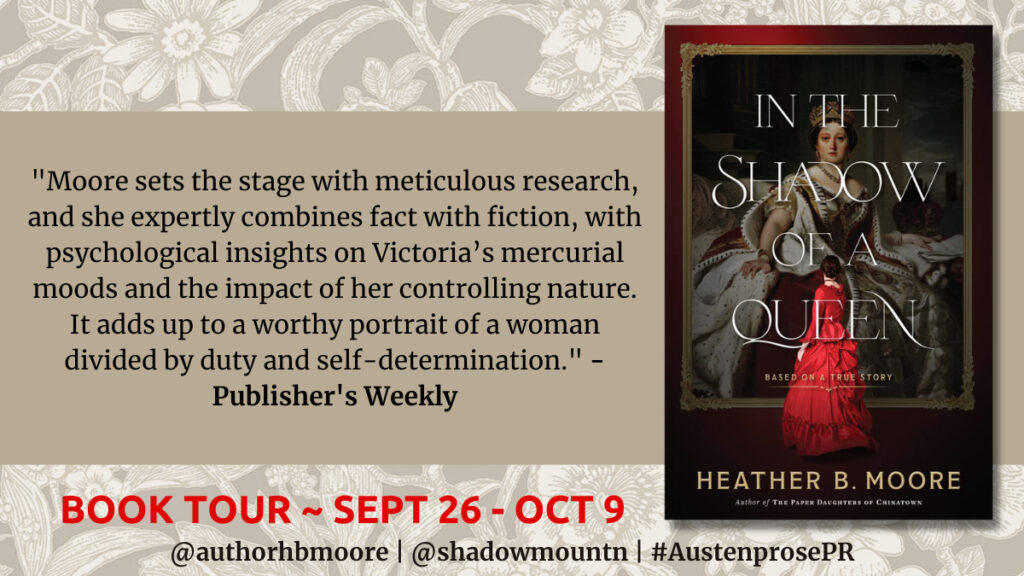 Now, on to the review.
First of all, royal life has never really been that exciting for me to read about. Maybe I just hadn't found the right book before, or maybe I just didn't read enough of it to give it a chance. Whatever the reason, I went into this book thinking it would be an okay read. It did start a bit slow, but it does start when Louise is a child, and coming-of-age stories are my jam.
Like I said before, I was just quietly taken over by this story as the book went on. I wasn't expecting it at all, but suddenly I found myself so invested in Louise and her search for a husband once she's "out" in society. There honestly isn't a whole lot that really happens in this book, as far as plot. Sure, there are some things that happen, but overall it's pretty quiet and very character driven.
And you know what? I loved it. I was smiling like a total dork while I read many parts of this, and chuckling at some of the little snarky quips that just made it special.
Louise is a fun protagonist as she knocks against her mother's values and morals in an age where women were starting to do more, say more, and be more in society. She basically can't do anything, though, unless it's sanctioned by her mother, which would be so infuriating. Yet, Louise holds it together and manages to find some happiness and intrigue amongst her small circle.
If you like character-driven, coming-of-age historical fiction with a little romance tossed in for good measure, you might fall for this book in the same way I did. I'm giving it 4.5 stars!