Good news: the annual Best Historical Fiction list is back! This is Literary Quicksand's 3rd year of curating an epic list of historical fiction. As with the previous years, I'll do my best to keep coming back and updating this list as more great historical fiction books are released. There are also a lot of upcoming releases here so you can get your pre-orders/library requests in early!
Did I miss a book you think should be on the list? Let me know in the comments.
To revisit previous years, check out:
2022 Historical Fiction: Huge List of New Releases
40+ New 2021 Historical Fiction Books to Add to Your TBR List Right Now
Alright, let's dive in! Scroll on through or jump to a release month:
January
Moonrise Over New Jessup by Jamila Minnicks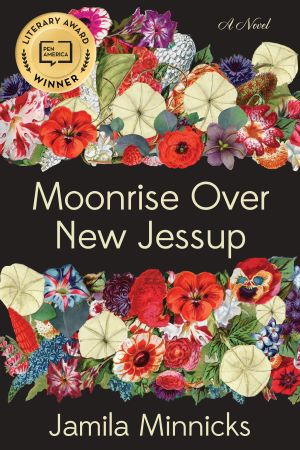 Release date: January 10, 2023
It's 1957, and after leaving the only home she has ever known, Alice Young steps off the bus into the all-Black town of New Jessup, Alabama, where residents have largely rejected integration as the means for Black social advancement. Instead, they seek to maintain, and fortify, the community they cherish on their "side of the woods." In this place, Alice falls in love with Raymond Campbell, whose clandestine organizing activities challenge New Jessup's longstanding status quo and could lead to the young couple's expulsion—or worse—from the home they both hold dear. But as Raymond continues to push alternatives for enhancing New Jessup's political power, Alice must find a way to balance her undying support for his underground work with her desire to protect New Jessup from the rising pressure of upheaval from inside, and outside, their side of town.
Jamila Minnicks's debut novel is both a celebration of Black joy and a timely examination of the opposing viewpoints that attended desegregation in America. Readers of Brit Bennett's The Vanishing Half and Robert Jones, Jr.'s The Prophets will love Moonrise Over New Jessup.
Bookshop.org | Amazon | Goodreads
---
The Night Travelers by Armando Lucas Correa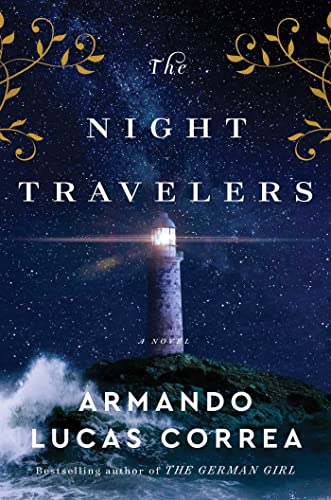 Release date: January 10, 2023
Berlin, 1931: Ally Keller, a talented young poet, is alone and scared when she gives birth to a mixed-race daughter she names Lilith. As the Nazis rise to power, Ally knows she must keep her baby in the shadows to protect her against Hitler's deadly ideology of Aryan purity. But as she grows, it becomes more and more difficult to keep Lilith hidden so Ally sets in motion a dangerous and desperate plan to send her daughter across the ocean to safety.
Havana, 1958: Now an adult, Lilith has few memories of her mother or her childhood in Germany. Besides, she's too excited for her future with her beloved Martin, a Cuban pilot with strong ties to the Batista government. But as the flames of revolution ignite, Lilith and her newborn daughter, Nadine, find themselves at a terrifying crossroads.
Berlin, 1988: As a scientist in Berlin, Nadine is dedicated to ensuring the dignity of the remains of all those who were murdered by the Nazis. Yet she has spent her entire lifetime avoiding the truth about her own family's history. It takes her daughter, Luna, to encourage Nadine to uncover the truth about the choices her mother and grandmother made to ensure the survival of their children. And it will fall to Luna to come to terms with a shocking betrayal that changes everything she thought she knew about her family's past.
Separated by time but united by sacrifice, four women embark on journeys of self-discovery and find themselves to be living testaments to the power of motherly love.
Bookshop.org | Amazon | Goodreads
---
The Three Lives of Alix St. Pierre by Natasha Lester (Author)
Release date: January 10, 2023
1943: After spearheading several successful advertising campaigns in New York, PR wizard Alix St. Pierre comes to the attention of the U.S. government and finds herself recruited into a fledgling intelligence organization.
Enlisted as a spy, Alix is sent to Europe where she is tasked with getting close to a Nazi who might be willing to help the Allied forces–but there's also the chance he might be a double agent.
1946: Following the war, Alix moves to Paris and takes a position as head of publicity for the yet-to-be-launched House of Dior. But when a figure from the war reappears and threatens to destroy her future, Alix realizes that only she can right the wrongs of the past and bring him to justice.
The Three Lives of Alix St. Pierre is a thrilling, sumptuous work of historical fiction told in three timelines: before, during and after WWII. This completely immersive story takes readers from the dangerous, intrigue-filled rooms in Switzerland where elites of both sides mingled and schemed during the war, to the glamorous halls of the House of Dior in the golden age of French fashion and journalism.
Bookshop.org | Amazon | Goodreads
---
River Sing Me Home by Eleanor Shearer
Release date: January 31, 2023
Her search begins with an ending….
The master of the Providence plantation in Barbados gathers his slaves and announces the king has decreed an end to slavery. As of the following day, the Emancipation Act of 1834 will come into effect. The cries of joy fall silent when he announces that they are no longer his slaves; they are now his apprentices. No one can leave. They must work for him for another six years. Freedom is just another name for the life they have always lived. So Rachel runs.
Away from Providence, she begins a desperate search to find her children–the five who survived birth and were sold. Are any of them still alive? Rachel has to know. The grueling, dangerous journey takes her from Barbados then, by river, deep into the forest of British Guiana and finally across the sea to Trinidad. She is driven on by the certainty that a mother cannot be truly free without knowing what has become of her children, even if the answer is more than she can bear. These are the stories of Mary Grace, Micah, Thomas Augustus, Cherry Jane and Mercy. But above all this is the story of Rachel and the extraordinary lengths to which a mother will go to find her children…and her freedom.
Bookshop.org | Amazon | Goodreads
---
February
The House of Eve by Sadeqa Johnson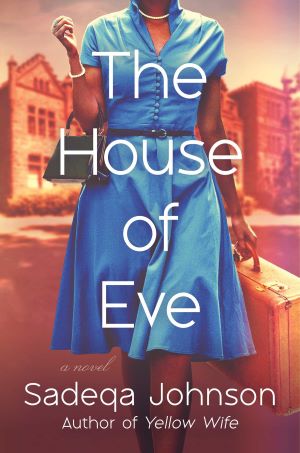 Release date: February 7, 2023
1950s Philadelphia: fifteen-year-old Ruby Pearsall is on track to becoming the first in her family to attend college, in spite of having a mother more interested in keeping a man than raising a daughter. But a taboo love affair threatens to pull her back down into the poverty and desperation that has been passed on to her like a birthright
Eleanor Quarles arrives in Washington, DC, with ambition and secrets. When she meets the handsome William Pride at Howard University, they fall madly in love. But William hails from one of DC's elite wealthy Black families, and his par­ents don't let just anyone into their fold. Eleanor hopes that a baby will make her finally feel at home in William's family and grant her the life she's been searching for. But having a baby—and fitting in—is easier said than done.
With their stories colliding in the most unexpected of ways, Ruby and Eleanor will both make decisions that shape the trajectory of their lives.
Bookshop.org | Amazon | Goodreads
---
Code Name Sapphire by Pam Jenoff
Release date: February 7, 2023
1942: Hannah Martel has narrowly escaped Nazi Germany after her fiancé was killed in a pogrom. When her ship bound for America is turned away at port, she has nowhere to go but to her cousin Lily, who lives with her family in Brussels. Fearful for her life, Hannah is desperate to get out of occupied Europe. But with no safe way to leave, she must return to the dangerous underground work she thought she had left behind.
Seeking help, Hannah joins the Sapphire Line, a secret resistance network led by a mysterious woman named Micheline and her enigmatic brother Mateo. But when a grave mistake causes Lily's family to be arrested and slated for deportation to Auschwitz, Hannah finds herself torn between her loyalties. How much is Hannah willing to sacrifice to save the people she loves? Inspired by incredible true stories of courage and sacrifice, Code Name Sapphire is a powerful novel about love, family and the unshakable resilience of women in even the hardest of times.
Bookshop.org | Amazon | Goodreads
---
Hungry Ghosts by Kevin Jared Hosein
Release date: February 7, 2023
Trinidad in the 1940s, nearing the end of American occupation and British colonialism. On a hill overlooking Bell Village sits the Changoor farm, where Dalton and Marlee Changoor live in luxury unrecognizable to those who reside in the farm's shadow. Down below is the Barrack, a ramshackle building of wood and tin, divided into rooms occupied by whole families. Among these families are the Saroops–Hans, Shweta, and their son, Krishna, all three born of the barracks. Theirs are hard lives of backbreaking work, grinding poverty, devotion to faith, and a battle against nature and a social structure designed to keep them where they are.
But when Dalton goes missing and Marlee's safety is compromised, farmhand Hans is lured by the promise of a handsome stipend to move to the farm as a watchman. As the mystery of Dalton's disappearance unfolds, the lives of the wealthy couple and those who live in the barracks below become insidiously entwined, their community changed forever and in shocking ways.
A searing and singular novel of religion, class, family, and historical violence, and rooted in Trinidad's wild pastoral landscape and inspired by oral storytelling traditions, Hungry Ghosts is deeply resonant of its time and place while evoking the roots and ripple effects of generational trauma and linked histories; the lingering resentments, sacrifices, and longings that alter destinies; and the consequences of powerlessness. Lyrically told and rendered with harrowing beauty, Hungry Ghosts is a stunning piece of storytelling and an affecting mystery, from a blazingly talented writer.
Bookshop.org | Amazon | Goodreads
---
Prize Women by Caroline Lea
Release date: February 14, 2023
Toronto, Canada, 1926
Best friends Lily di Marco and Mae Thebault were once inseparable. They lived under the same roof and cared for each other's children. But with mouths to feeds and demanding husbands to keep happy, both women are forced into terrible decisions as the Great Depression tightens its grip.
When lawyer Charles Vance Miller's will promises a handsome sum of money to the woman who can produce the most babies in the next ten years, it is initially dismissed as a vanity project. But as the Great Depression worsens, and times get increasingly tough across the world, for the most desperate in society this contest known as The Great Stork Derby suddenly seems like a way out.
Ten years later, Lily and Mae couldn't be further apart. And as The Great Stork Derby continues to make headlines, for all the wrong reasons, both these women must face up to their part in it, and the consequences…
Bookshop.org | Amazon | Goodreads
---
The Last Russian Doll by Kristen Loesch
Release date: February 17, 2022
In a faraway kingdom, in a long-ago land…
…a young girl lived happily in Moscow with her family: a sister, a father, and an eccentric mother who liked to tell fairy tales and collect porcelain dolls.
One summer night, everything changed, and all that remained of that family were the girl and her mother.
Now, a decade later and studying at Oxford University, Rosie has an English name, a loving fiancé, and a promising future, but all she wants is to understand–and bury–the past. After her mother dies, Rosie returns to Russia, armed with little more than her mother's strange folklore–and a single key.
What she uncovers is a devastating family history that spans the 1917 Revolution, the siege of Leningrad, Stalin's purges, and beyond.
At the heart of this saga stands a young noblewoman, Tonya, as pretty as a porcelain doll, whose actions—and love for an idealistic man—will set off a sweeping story that reverberates across the century….
Bookshop.org | Amazon | Goodreads
---
The Porcelain Moon by Janie Chang
Release date: February 21, 2023
France, 1918. In the final days of the First World War, a young Chinese woman, Pauline Deng, runs away from her uncle's home in Paris to evade a marriage being arranged for her in Shanghai. To prevent the union, she needs the help of her cousin Theo, who is working as a translator for the Chinese Labour Corps in the French countryside. In the town of Noyelles-sur-Mer, Camille Roussel is planning her escape from an abusive marriage, and to end a love affair that can no longer continue. When Camille offers Pauline a room for her stay, the two women become friends. But it's not long before Pauline uncovers a perilous secret that Camille has been hiding from her. As their dangerous situation escalates, the two women are forced to make a terrible decision that will bind them together for the rest of their lives.
Set against the little-known history of the 140,000 Chinese workers brought to Europe as non-combatant labor during WWI, The Porcelain Moon is a tale of forbidden love, identity and belonging, and what we are willing to risk for freedom.
Bookshop.org | Amazon | Goodreads
---
The Little Wartime Library by Kate Thompson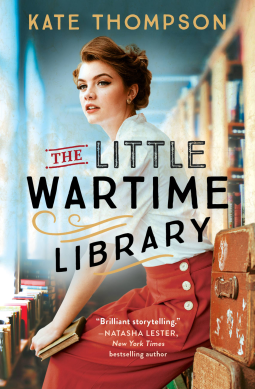 Release date: February 23, 2023
London, 1944. Clara Button is no ordinary librarian. While the world remains at war, in East London, Clara has created the country's only underground library, built over the tracks in the unused Bethnal Green tube station. Down here, a whole community thrives with thousands of bunk beds, a nursery, a café, and a theatre offering shelter, solace, and protection from the bombs that fall above.
Along with her glamorous best friend and library assistant Ruby Munroe, Clara ensures the library is the beating heart of life underground. But as the war rages on, the women's determination to remain strong in the face of adversity is tested to the limits when it seems it may come at the price of keeping those closest to them alive.
Bookshop.org | Amazon | Goodreads
---
The Woman With the Cure by Lynn Cullen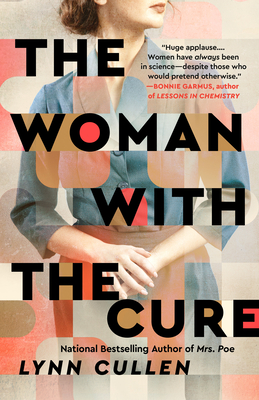 Release date: February 21, 2023
In 1940s and '50s America, polio is as dreaded as the atomic bomb. No one's life is untouched by this disease that kills or paralyzes its victims, particularly children. Outbreaks of the virus across the country regularly put American cities in lockdown. Some of the world's best minds are engaged in the race to find a vaccine. The man who succeeds will be a god.
But Dorothy Horstmann is not focused on beating her colleagues to the vaccine. She just wants the world to have a cure. Applying the same determination that lifted her from a humble background as the daughter of immigrants, to becoming a doctor –often the only woman in the room–she hunts down the monster where it lurks: in the blood.
This discovery of hers, and an error by a competitor, catapults her closest colleague to a lead in the race. When his chance to win comes on a worldwide scale, she is asked to sink or validate his vaccine—and to decide what is forgivable, and how much should be sacrificed, in pursuit of the cure.
Bookshop.org | Amazon | Goodreads
---
The Librarian of Burned Books by Brianna Labuskes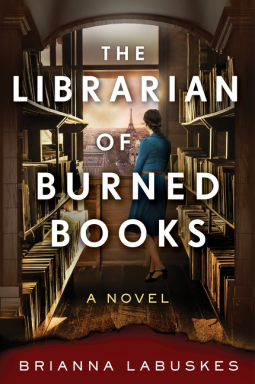 Release date: February 21, 2023
Berlin 1933. Following the success of her debut novel, American writer Althea James receives an invitation from Joseph Goebbels himself to participate in a culture exchange program in Germany. For a girl from a small town in Maine, 1933 Berlin seems to be sparklingly cosmopolitan, blossoming in the midst of a great change with the charismatic new chancellor at the helm. Then Althea meets a beautiful woman who promises to show her the real Berlin, and soon she's drawn into a group of resisters who make her question everything she knows about her hosts—and herself.
Paris 1936. She may have escaped Berlin for Paris, but Hannah Brecht discovers the City of Light is no refuge from the anti-Semitism and Nazi sympathizers she thought she left behind. Heartbroken and tormented by the role she played in the betrayal that destroyed her family, Hannah throws herself into her work at the German Library of Burned Books. Through the quiet power of books, she believes she can help counter the tide of fascism she sees rising across Europe and atone for her mistakes. But when a dear friend decides actions will speak louder than words, Hannah must decide what stories she is willing to live—or die—for.
New York 1944. Since her husband Edward was killed fighting the Nazis, Vivian Childs has been waging her own war: preventing a powerful senator's attempts to censor the Armed Service Editions, portable paperbacks that are shipped by the millions to soldiers overseas. Viv knows just how much they mean to the men through the letters she receives—including the last one she got from Edward. She also knows the only way to win this battle is to counter the senator's propaganda with a story of her own—at the heart of which lies the reclusive and mysterious woman tending the American Library of Nazi-Banned Books in Brooklyn.
As Viv unknowingly brings her censorship fight crashing into the secrets of the recent past, the fates of these three women will converge, changing all of them forever.
Bookshop.org | Amazon | Goodreads
---
Time's Undoing by Cheryl A. Head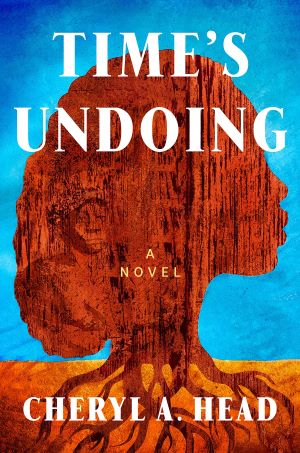 Release date: February 28, 2023
A searing and tender novel about a young Black journalist's search for answers in the unsolved murder of her great-grandfather in segregated Birmingham, Alabama, decades ago—inspired by the author's own family history
Birmingham, 1929: Robert Lee Harrington, a master carpenter, has just moved to Alabama to pursue a job opportunity, bringing along his pregnant wife and young daughter. Birmingham is in its heyday, known as the "Magic City" for its booming steel industry, and while Robert and his family find much to enjoy in the city's busy markets and vibrant nightlife, it's also a stronghold for the Klan. And with his beautiful, light-skinned wife and snazzy car, Robert begins to worry that he might be drawing the wrong kind of attention.
2019: Meghan McKenzie, the youngest reporter at the Detroit Free Press, has grown up hearing family lore about her great-grandfather's murder—but no one knows the full story of what really happened back then, and his body was never found. Determined to find answers to her family's long-buried tragedy and spurred by the urgency of the Black Lives Matter movement, Meghan travels to Birmingham. But as her investigation begins to uncover dark secrets that spider across both the city and time, her life may be in danger.
Inspired by true events, Time's Undoing is both a passionate tale of one woman's quest for the truth behind the racially motivated trauma that has haunted her family for generations and, as newfound friends and supporters in Birmingham rally around Meghan's search, the uplifting story of a community coming together to fight for change.
Bookshop.org | Amazon | Goodreads
---
Stars in an Italian Sky by Jill Santopolo
Release date: February 28, 2023
Genoa, Italy, 1946. Vincenzo and Giovanna fall in love at twenty-one the moment they set eyes on each other. The son of a count and the daughter of a tailor, they belong to opposing worlds. Despite this, the undeniable spark between them quickly burns into a deep and passionate relationship spent exploring each other's minds, bodies and their city, as well as Vincenzo's family's sprawling vineyard, Villa Della Rosa–until shifts in political power force them each to choose a side and commit what the other believes is a betrayal, shattering the bright future they dreamed of together.
New York, 2017. Cassandra and Luca are in love. Although neither quite fits with the other's family, Cass and Luca have always felt like a perfect match for each other. But when Luca, an artist, convinces his grandfather and Cass's grandmother to pose for a painting, past and present collide and reveal a secret that changes everything.
Bookshop.org | Amazon | Goodreads
---
Homestead by Melinda Moustakis
Release date: February 28, 2023
Anchorage, 1956. When Marie and Lawrence first lock eyes at the Moose Lodge, they are immediately drawn together. But when they decide to marry, days later, they are more in love with the promise of homesteading than anything. For Lawrence, his parcel of 150 acres is an opportunity to finally belong in a world that has never delivered on its promise. For Marie, the land is an escape from the empty future she sees spinning out before her, and a risky bet is better than none at all. But over the next few years, as they work the land in an attempt to secure a deed to their homestead, they must face everything they don't know about each other. As the Territory of Alaska moves toward statehood and inexorable change, can Marie and Lawrence create something new, or will they break apart trying?
Immersive and wild-hearted, joyfully alive to both the intimate and the elemental, Homestead is an unflinching portrait of a new state and of the hard-fought, hard-bitten work of making a family.
Bookshop.org | Amazon | Goodreads
---
March
The Castle Keepers by Aimie K. Runyan, J'nell Ciesielski, Rachel McMillan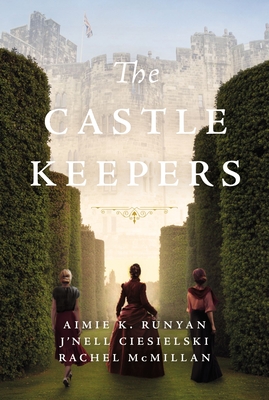 Release date: March 1, 2023
From three beloved authors comes a collection of stories that examines questions of healing, legacy, and love against the rich backdrop of a historical castle—and its adjoining poison garden.
Leedswick Castle has housed the Alnwick family for generations. But the world around it is changing, and secrets that have long been buried will soon come to light.
1899: Beatrice, an American, seeks the legitimacy of a British title to add prestige to her fortune. She hopes for love in her marriage of convenience to Charles at Leedswick Castle, but she finds herself entangled in a generations-long family intrigue.
1917: Tobias, eventual heir of Beatrice and Charles, finds himself convalescing from the battlefields of WWI with a scarred face back at Leedswick. Elena is the young artist tasked with painting a realistic mask for the isolated hero, and they both learn to find beauty and love in unexpected places—but disaster lurks just outside the castle walls.
1945: Alec finds himself the heir to Leedswick, but he carries the burden of shell-shock from his time in WWII. He seeks to make the castle into a refuge for those who are similarly haunted, calling upon a renowned psychologist and the doctor's niece, Elisa, to help him.
Through the generations, the castle is both shelter and prison, haunting and home. It is only when its inhabitants look inward that they can free both the castle and themselves from the shackles of the past.
Bookshop.org | Amazon | Goodreads
---
In Memoriam by Alice Winn
Release date: March 7, 2023
It's 1914, and World War I is ceaselessly churning through thousands of young men on both sides of the fight. The violence of the front feels far away to Henry Gaunt, Sidney Ellwood and the rest of their classmates, safely ensconced in their idyllic boarding school in the English countryside. News of the heroic deaths of their friends only makes the war more exciting.
Gaunt, half German, is busy fighting his own private battle–an all-consuming infatuation with his best friend, the glamorous, charming Ellwood–without a clue that Ellwood is pining for him in return. When Gaunt's family asks him to enlist to forestall the anti-German sentiment they face, Gaunt does so immediately, relieved to escape his overwhelming feelings for Ellwood. To Gaunt's horror, Ellwood rushes to join him at the front, and the rest of their classmates soon follow. Now death surrounds them in all its grim reality, often inches away, and no one knows who will be next.
An epic tale of both the devastating tragedies of war and the forbidden romance that blooms in its grip, In Memoriam is a breathtaking debut.
Bookshop.org | Amazon | Goodreads
---
Go as a River by Shelley Read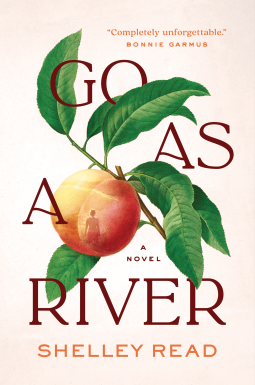 Release date: March 7, 2023
Seventeen-year-old Victoria Nash runs the household on her family's peach farm in the small ranch town of Iola, Colorado—the sole surviving female in a family of troubled men. Wilson Moon is a young drifter with a mysterious past, displaced from his tribal land but determined to live as he chooses.
Victoria encounters Wil by chance on a street corner, profoundly altering both of their young lives, unknowingly igniting as much passion as danger. When tragedy strikes, Victoria leaves the only life she has ever known, fleeing into the nearby mountains. Taking shelter in a small hut, she struggles to survive in the wilderness, with no clear notion of what her future will bring. As the seasons change, she also charts the changes in herself, finding in the natural world the strength and meaning that sets her on a quest to regain all that she has lost, even as the Gunnison River rises to submerge her homeland—its ranches, farms, and the beloved peach orchard that has been in her family for generations.
Inspired by true events surrounding the destruction of the town of Iola in the 1960s, Go as a River is a story of deeply held love in the midst of hardship and loss, but also of finding courage, resilience, friendship, and, finally, home—where least expected. This stunning debut explores what it means to lead your life as if it were a river—gathering and flowing, finding a way forward even when a river is dammed.
Bookshop.org | Amazon | Goodreads
---
The Last Carolina Girl by Meagan Church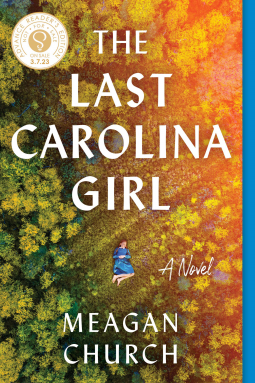 Release date: March 7, 2023
Some folks will do anything to control the wild spirit of a Carolina girl…
For fourteen-year-old Leah Payne, life in her beloved coastal Carolina town is as simple as it is free. Devoted to her lumberjack father and running through the wilds where the forest meets the shore, Leah's country life is as natural as the Loblolly pines that rise to greet the Southern sky.
When an accident takes her father's life, Leah is wrenched from her small community and cast into a family of strangers with a terrible secret. Separated from her only home, Leah is kept apart from the family and forced to act as a helpmate for the well-to-do household. When a moment of violence and prejudice thrusts Leah into the center of the state's shameful darkness, she must fight for her own future against a world that doesn't always value the wild spirit of a Carolina girl.
Set in 1935 against the very real backdrop of a recently formed state eugenics board, The Last Carolina Girl is a powerful and heart-wrenching story of fierce strength, forgotten history, autonomy, and the places and people we ultimately call home.
Bookshop.org | Amazon | Goodreads
---
Daughters of Nantucket by Julie Gerstenblatt
Release date: March 14, 2023
Nantucket in 1846 is an island set apart not just by its geography but by its unique circumstances. With their menfolk away at sea, often for years at a time, women here know a rare independence—and the challenges that go with it.
Eliza Macy is struggling to conceal her financial trouble as she waits for her whaling captain husband to return from a voyage. In desperation, she turns against her progressive ideals and targets Meg Wright, a pregnant free Black woman trying to relocate her store to Main Street. Meanwhile, astronomer Maria Mitchell loves running Nantucket's Atheneum and spending her nights observing the stars, yet she fears revealing the secret wishes of her heart.
On a sweltering July night, a massive fire breaks out in town, quickly kindled by the densely packed wooden buildings. With everything they possess now threatened, these three very different women are forced to reevaluate their priorities and decide what to save, what to let go and what kind of life to rebuild from the ashes of the past.
Bookshop.org | Amazon | Goodreads
---
Dust Child by Nguyễn Phan Quế Mai
Release date: March 14, 2023
In 1969, sisters Trang and Quỳnh, desperate to help their parents pay off debts, leave their rural village and become "bar girls" in Sài Gòn, drinking, flirting (and more) with American GIs in return for money. As the war moves closer to the city, the once-innocent Trang gets swept up in an irresistible romance with a young and charming American helicopter pilot, Dan. Decades later, Dan returns to Việt Nam with his wife, Linda, hoping to find a way to heal from his PTSD and, unbeknownst to her, reckon with secrets from his past.
At the same time, Phong—the son of a Black American soldier and a Vietnamese woman—embarks on a search to find both his parents and a way out of Việt Nam. Abandoned in front of an orphanage, Phong grew up being called "the dust of life," "Black American imperialist," and "child of the enemy," and he dreams of a better life for himself and his family in the U.S.
Past and present converge as these characters come together to confront decisions made during a time of war—decisions that force them to look deep within and find common ground across race, generation, culture, and language. Suspenseful, poetic, and perfect for readers of Min Jin Lee's Pachinko or Yaa Gyasi's Homegoing, Dust Child tells an unforgettable and immersive story of how those who inherited tragedy can redefine their destinies through love, hard-earned wisdom, compassion, courage, and joy.
Bookshop.org | Amazon | Goodreads
---
Once We Were Home by Jennifer Rosner
Release date: March 14, 2023
Ana will never forget her mother's face when she and her baby brother, Oskar, were sent out of their Polish ghetto and into the arms of a Christian friend. For Oskar, though, their new family is the only one he remembers. When a woman from a Jewish reclamation organization seizes them, believing she has their best interest at heart, Ana sees an opportunity to reconnect with her roots, while Oskar sees only the loss of the home he loves.
Roger grows up in a monastery in France, inventing stories and trading riddles with his best friend in a life of quiet concealment. When a relative seeks to retrieve him, the Church steals him across the Pyrenees before relinquishing him to family in Jerusalem.
Renata, a post-graduate student in archaeology, has spent her life unearthing secrets from the past–except for her own. After her mother's death, Renata's grief is entwined with all the questions her mother left unanswered, including why they fled Germany so quickly when Renata was a little girl.
Two decades later, they are each building lives for themselves, trying to move on from the trauma and loss that haunts them. But as their stories converge in Israel, in unexpected ways, they must each ask where and to whom they truly belong.
Beautifully evocative and tender, filled with both luminosity and anguish, Once We Were Home reveals a little-known history. Based on the true stories of children stolen during wartime, this heart-wrenching novel raises questions of complicity and responsibility, belonging and identity, good intentions and unforeseen consequences, as it confronts what it really means to find home.
Bookshop.org | Amazon | Goodreads
---
Two Wars and a Wedding by Lauren Willig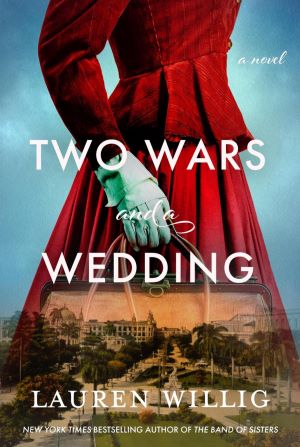 Release date: March 21, 2023
September 1896: As an aspiring archaeologist, Smith College graduate Betsy Hayes travels to Athens, desperate to break into a very male-dominated field and find work at some of the world's most famous excavation sites. In the midst of the heat and dust of Greece she finds an unlikely ally in philanthropist Charles, Baron de Robecourt, one of the few men who takes her academic passion seriously. But when a simmering conflict between Greece and Turkey erupts into open warfare, Betsy's archaeological sites become battlefields and she falls into the grim and heroic task of nursing the wounded. As the world around her is irrevocably changed, Betsy finds her heart pulled in multiple directions.
June 1898: As the Spanish-American war begins, an older and wiser Betsy Hayes is searching for her former best friend Ava, who she last saw in Greece during the Greco-Turkish War. She believes that Ava might be with the Red Cross headed to Cuba, so Betsy herself joins the Red Cross and follows Teddy Roosevelt's Rough Riders straight to the heart of the fighting. As she enters the war zone, dark memories of her last war resurface and her need to protect old and new friends intensifies.
With an unforgettable cast of characters set against two often overlooked but dramatic periods of history, Lauren Willig spins a compelling and heartwarming story about friendship, falling in love at the most inopportune moments, and fighting for what is right.
Bookshop.org | Amazon | Goodreads
---
Beyond That, the Sea by Laura Spence-Ash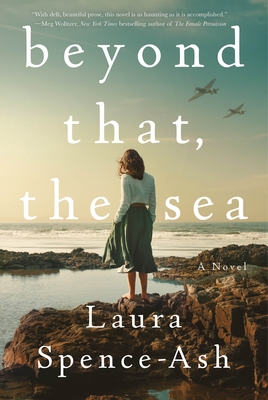 Release date: March 21, 2023
As German bombs fall over London in 1940, working-class parents Millie and Reginald Thompson make an impossible choice: they decide to send their eleven-year-old daughter, Beatrix, to America. There, she'll live with another family for the duration of the war, where they hope she'll stay safe.
Scared and angry, feeling lonely and displaced, Bea arrives in Boston to meet the Gregorys. Mr. and Mrs. G, and their sons William and Gerald, fold Bea seamlessly into their world. She becomes part of this lively family, learning their ways and their stories, adjusting to their affluent lifestyle. Bea grows close to both boys, one older and one younger, and fills in the gap between them. Before long, before she even realizes it, life with the Gregorys feels more natural to her than the quiet, spare life with her own parents back in England.
As Bea comes into herself and relaxes into her new life—summers on the coast in Maine, new friends clamoring to hear about life across the sea—the girl she had been begins to fade away, until, abruptly, she is called home to London when the war ends.
Desperate as she is not to leave this life behind, Bea dutifully retraces her trip across the Atlantic back to her new, old world. As she returns to post-war London, the memory of her American family stays with her, never fully letting her go, and always pulling on her heart as she tries to move on and pursue love and a life of her own.
As we follow Bea over time, navigating between her two worlds, Beyond That, the Sea emerges as a beautifully written, absorbing novel, full of grace and heartache, forgiveness and understanding, loss and love.
Bookshop.org | Amazon | Goodreads
---
Her Lost Words: A Novel of Mary Wollstonecraft and Mary Shelley by Stephanie Marie Thornton
Release date: March 28, 2023
1792: As a child, Mary Wollstonecraft longed to disappear during her father's violent rages. Instead, she transforms herself into the radical author of the landmark volume A Vindication of the Rights of Woman, in which she dares to propose that women are equal to men. From conservative England to the blood-drenched streets of revolutionary France, Mary refuses to bow to society's conventions and instead supports herself with her pen until an illicit love affair challenges her every belief about romance and marriage. When she gives birth to a daughter and is stricken with childbed fever, Mary fears it will be her many critics who recount her life's extraordinary odyssey…
1818: The daughter of infamous political philosopher Mary Wollstonecraft, passionate Mary Shelley learned to read by tracing the letters of her mother's tombstone. As a young woman, she desperately misses her mother's guidance, especially following her scandalous elopement with dashing poet Percy Bysshe Shelley. Mary struggles to balance an ever-complicated marriage with motherhood while nursing twin hopes that she might write something of her own one day and also discover the truth of her mother's unconventional life. Mary's journey will unlock her mother's secrets, all while leading to her own destiny as the groundbreaking author of Frankenstein.
A riveting and inspiring novel about a firebrand feminist, her visionary daughter, and the many ways their words transformed our world.
Bookshop.org | Amazon | Goodreads
---
The Great Reclamation by Rachel Heng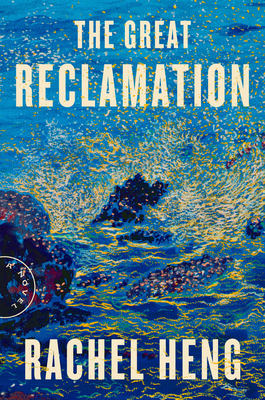 Release date: March 28, 2023
Ah Boon is born into a fishing village amid the heat and beauty of twentieth-century coastal Singapore in the waning years of British rule. He is a gentle boy who is not much interested in fishing, preferring to spend his days playing with the neighbor girl, Siok Mei. But when he discovers he has the unique ability to locate bountiful, movable islands that no one else can find, he feels a new sense of obligation and possibility–something to offer the community and impress the spirited girl he has come to love.
By the time they are teens, Ah Boon and Siok Mei are caught in the tragic sweep of history: the Japanese army invades, the resistance rises, grief intrudes, and the future of the fishing village is in jeopardy. As the nation hurtles toward rebirth, the two friends, newly empowered, must decide who they want to be, and what they are willing to give up.
An aching love story and powerful coming-of-age that reckons with the legacy of British colonialism, the World War II Japanese occupation, and the pursuit of modernity, The Great Reclamation confronts the wounds of progress, the sacrifices of love, and the difficulty of defining home when nature and nation collide, literally shifting the land beneath people's feet.
Bookshop.org | Amazon | Goodreads
---
Loyalty by Lisa Scottoline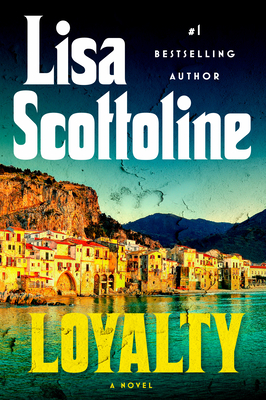 Release date: March 28, 2023
Franco Fiorvante is a handsome lemon-grower who has toiled for years on the estate of boss Baron Zito. Franco dreams of owning his own lemon grove, but the rigid class system of Sicily thwarts his ambitions. Determined to secure a prosperous future, Franco will do anything to prove his loyalty to the Baron. But when Baron Zito asks him to arrange the kidnapping of a little boy, Franco crosses the point of no return, setting in motion the making of the world's first Mafia family.
Gaetano Catalano is an idealistic young lawyer, whose devotion for justice is a calling. Gaetano is a member of the Beati Paoli, a real-life secret society of aristocrats who investigate crime, since corruption riddles Palermo. Gaetano and the Beati Paoli set out to find the boy and bring him home, but for Gaetano, the mission turns to obsession. He risks everything to right the wrong and bring justice to his beloved city.
The kidnapped boy, Dante, grows up in a madhouse without even knowing his last name. He doubts his own sanity until he meets Lucia, a girl with a tragic past of her own. They fall in love, then set out to find Dante's kidnapper and learn his true identity.
Bookshop.org | Amazon | Goodreads
---
Daughters of Paris by Elisabeth Hobbes
Release date: March 28, 2023
Paris 1930s
A promise that binds them together. A war that pulls them apart.
Childhood companions Fleur and Colette make a vow, under the trailing ivy of their secret garden, that they will be secret sisters forever. But as they grow up, the promises of childhood are put to the ultimate test. For Colette is the daughter of the house, and her life is all jazz clubs, silk dresses and chilled champagne, while Fleur is the orphan niece of the housekeeper and doesn't feel like she belongs anywhere.
Years later, in 1939, life as they know it will never be the same. As the German tanks roll in and Paris becomes an occupied city, the promise they made as children will have consequences they could never have imagined…
Bookshop.org | Amazon | Goodreads
---
The Perfumist of Paris by Alka Joshi
Release date: March 28, 2023
Paris, 1974. Radha is now living in Paris with her husband, Pierre, and their two daughters. She still grieves for the baby boy she gave up years ago, when she was only a child herself, but she loves being a mother to her daughters, and she's finally found her passion—the treasure trove of scents.
She has an exciting and challenging position working for a master perfumer, helping to design completely new fragrances for clients and building her career one scent at a time. She only wishes Pierre could understand her need to work. She feels his frustration, but she can't give up this thing that drives her.
Tasked with her first major project, Radha travels to India, where she enlists the help of her sister, Lakshmi, and the courtesans of Agra—women who use the power of fragrance to seduce, tease and entice. She's on the cusp of a breakthrough when she finds out the son she never told her husband about is heading to Paris to find her—upending her carefully managed world and threatening to destroy a vulnerable marriage.
Bookshop.org | Amazon | Goodreads
---
Hang the Moon by Jeannette Walls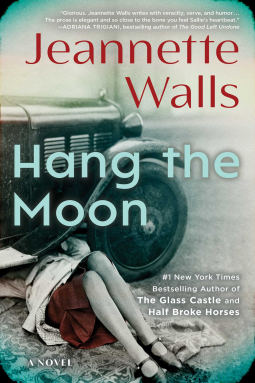 Release date: March 28, 2023
Most folk thought Sallie Kincaid was a nobody who'd amount to nothing. Sallie had other plans.
Sallie Kincaid is the daughter of the biggest man in a small town, the charismatic Duke Kincaid. Born at the turn of the 20th century into a life of comfort and privilege, Sallie remembers little about her mother who died in a violent argument with the Duke. By the time she is just eight years old, the Duke has remarried and had a son, Eddie. While Sallie is her father's daughter, sharp-witted and resourceful, Eddie is his mother's son, timid and cerebral. When Sallie tries to teach young Eddie to be more like their father, her daredevil coaching leads to an accident, and Sallie is cast out.
Nine years later, she returns, determined to reclaim her place in the family. That's a lot more complicated than Sallie expected, and she enters a world of conflict and lawlessness. Sallie confronts the secrets and scandals that hide in the shadows of the Big House, navigates the factions in the family and town, and finally comes into her own as a bold, sometimes reckless bootlegger.
You will fall in love with Sallie Kincaid, a feisty and fearless, terrified and damaged young woman who refuses to be corralled.
Bookshop.org | Amazon | Goodreads
---
April
Coronation Year by Jennifer Robson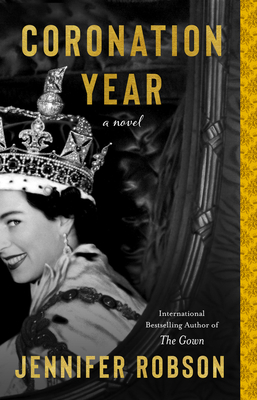 Release date: April 4, 2023
It is Coronation Year, 1953, and a new queen is about to be crowned. The people of London are in a mood to celebrate, none more so than the residents of the Blue Lion hotel.
Edie Howard, owner and operator of the floundering Blue Lion, has found the miracle she needs: on Coronation Day, Queen Elizabeth in her gold coach will pass by the hotel's front door, allowing Edie to charge a fortune for rooms and, barring disaster, save her beloved home from financial ruin. Edie's luck might just be turning, all thanks to a young queen about her own age.
Stella Donati, a young Italian photographer and Holocaust survivor, has come to live at the Blue Lion while she takes up a coveted position at Picture Weekly magazine. London in celebration mode feels like a different world to her. As she learns the ins and outs of her new profession, Stella discovers a purpose and direction that honor her past and bring hope for her future.
James Geddes, a war hero and gifted artist, has struggled to make his mark in a world that disdains his Indian ancestry. At the Blue Lion, though, he is made to feel welcome and worthy. Yet even as his friendship with Edie deepens, he begins to suspect that something is badly amiss at his new home.
When anonymous threats focused on Coronation Day, the Blue Lion, and even the queen herself disrupt their mood of happy optimism, Edie and her friends must race to uncover the truth, save their home, and expose those who seek to erase the joy and promise of Coronation Year.
Bookshop.org | Amazon | Goodreads
---
The House Is on Fire by Rachel Beanland
Release date: April 4, 2023
Richmond, Virginia 1811. It's the height of the winter social season. The General Assembly is in session, and many of Virginia's gentleman planters, along with their wives and children, have made the long and arduous journey to the capital in hopes of whiling away the darkest days of the year. At the city's only theater, the Charleston-based Placide & Green Company puts on two plays a night to meet the demand of a populace that's done looking for enlightenment in a church.
On the night after Christmas, the theater is packed with more than six hundred holiday revelers. In the third-floor boxes, sits newly widowed Sally Henry Campbell, who is glad for any opportunity to relive the happy times she shared with her husband. One floor away, in the colored gallery, Cecily Patterson doesn't give a whit about the play but is grateful for a four-hour reprieve from a life that has recently gone from bad to worse. Backstage, young stagehand Jack Gibson hopes that, if he can impress the theater's managers, he'll be offered a permanent job with the company. And on the other side of town, blacksmith Gilbert Hunt dreams of one day being able to bring his wife to the theater, but he'll have to buy her freedom first.
When the theater goes up in flames in the middle of the performance, Sally, Cecily, Jack, and Gilbert make a series of split-second decisions that will not only affect their own lives but those of countless others. And in the days following the fire, as news of the disaster spreads across the United States, the paths of these four people will become forever intertwined.
Based on the true story of Richmond's theater fire, The House Is on Fire offers proof that sometimes, in the midst of great tragedy, we are offered our most precious—and fleeting—chances at redemption.
Bookshop.org | Amazon | Goodreads
---
The Cuban Heiress by Chanel Cleeton
Release date: April 11, 2023
In 1934, a luxury cruise becomes a fight for survival as two women's pasts collide on a round-trip voyage from New York to Havana in New York Times bestselling author Chanel Cleeton's page-turning new novel inspired by the true story of the SS Morro Castle.
New York heiress Catherine Dohan seemingly has it all. There's only one problem. It's a lie. As soon as the Morro Castle leaves port, Catherine's past returns with a vengeance and threatens her life. Joining forces with a charismatic jewel thief, Catherine must discover who wants her dead—and why.
Elena Palacio is a dead woman. Or so everyone thinks. After a devastating betrayal left her penniless and on the run, Elena's journey on the Morro Castle is her last hope. Steeped in secrecy and a burning desire for revenge, her return to Havana is a chance to right the wrong that has been done to her—and her prey is on the ship.
As danger swirls aboard the Morro Castle and their fates intertwine, Elena and Catherine must risk everything to see justice served once and for all.
Bookshop.org | Amazon | Goodreads
---
The Trackers by Charles Frazier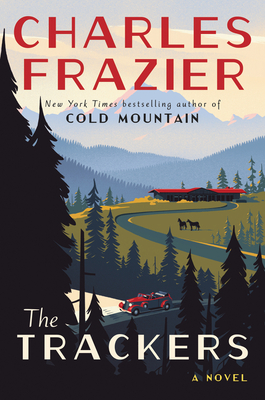 Release date: April 11, 2023
Hurtling past the downtrodden communities of Depression-era America, painter Val Welch travels westward to the rural town of Dawes, Wyoming. Through a stroke of luck, he's landed a New Deal assignment to create a mural representing the region for their new Post Office.
A wealthy art lover named John Long and his wife Eve have agreed to host Val at their sprawling ranch. Rumors and intrigue surround the couple: Eve left behind an itinerant life riding the rails and singing in a western swing band. Long holds shady political aspirations, but was once a WWI sniper–and his right hand is a mysterious elder cowboy, a vestige of the violent old west. Val quickly finds himself entranced by their lives.
One day, Eve flees home with a valuable painting in tow, and Long recruits Val to hit the road with a mission of tracking her down. Journeying from ramshackle Hoovervilles to San Francisco nightclubs to the swamps of Florida, Val's search for Eve narrows, and he soon turns up secrets that could spark formidable changes for all of them.
Bookshop.org | Amazon | Goodreads
---
Only the Beautiful by Susan Meissner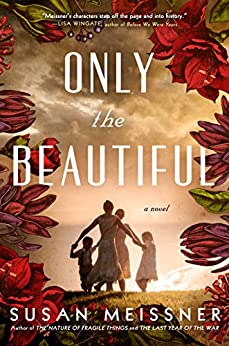 Release date: April 18, 2023
[Read Our Review] California, 1938—When she loses her parents in an accident, sixteen-year-old Rosanne is taken in by the owners of the vineyard where she has lived her whole life as the vinedresser's daughter. She moves into Celine and Truman Calvert's spacious house with a secret, however—Rosie sees colors when she hears sound. She promised her mother she'd never reveal her little-understood ability to anyone, but the weight of her isolation and grief prove too much for her. Driven by her loneliness she not only breaks the vow to her mother, but in a desperate moment lets down her guard and ends up pregnant. Banished by the Calverts, Rosanne believes she is bound for a home for unwed mothers, and having lost her family she treasures her pregnancy as the chance for a future one. But she soon finds out she is not going to a home of any kind, but to a place far worse than anything she could have imagined.
Austria, 1947—After witnessing firsthand Adolf Hitler's brutal pursuit of hereditary purity—especially with regard to "different children"—Helen Calvert, Truman's sister, is ready to return to America for good. But when she arrives at her brother's peaceful vineyard after decades working abroad, she is shocked to learn what really happened nine years earlier to the vinedresser's daughter, a girl whom Helen had long ago befriended. In her determination to find Rosanne, Helen discovers that while the war had been won in Europe, there are still terrifying battles to be fought at home.
Bookshop.org | Amazon | Goodreads
---
The Golden Doves by Martha Hall Kelly
Release date: April 18, 2023
American Josie Anderson and Parisian Arlette LaRue are thrilled to be working in the French resistance, stealing so many Nazi secrets that they become known as the Golden Doves, renowned across France and hunted by the Gestapo. Their courage will cost them everything. When they are finally arrested and taken to the Ravensbrück concentration camp, along with their loved ones, a reclusive Nazi doctor does unspeakable things to Josie's mother, a celebrated Jewish singer who joined her daughter in Paris when the world seemed bright. And Arlette's son is stolen from her, never to be seen again.
A decade later the Doves fall headlong into a dangerous dual mission: Josie is working for U.S. Army intelligence and accepts an assignment to hunt down the infamous doctor, while a mysterious man tells Arlette he may have found her son. The Golden Doves embark on a quest across Europe and ultimately to French Guiana, discovering a web of terrible secrets, and must put themselves in grave danger to finally secure justice and protect the ones they love.
Martha Hall Kelly has garnered acclaim for her stunning combination of empathy and research into the stories of women throughout history and for exploring the terrors of Ravensbrück. With The Golden Doves, she has crafted an unforgettable story about the fates of Nazi fugitives in the wake of World War II—and the unsung females spies who risked it all to bring them to justice.
Bookshop.org | Amazon | Goodreads
---
May
The East Indian by Brinda Charry
Release date: May 2, 2023
Meet Tony: insatiably curious, deeply compassionate, with a unique perspective on every scene he encounters. Kidnapped and transported to the New World after traveling from the British East India Company's outpost on the Coromandel Coast to the teeming streets of London, young Tony finds himself in Jamestown, Virginia, where he and his fellow indentured servants—boys like himself, men from Africa, a mad woman from London—must work the tobacco plantations. Orphaned and afraid, Tony initially longs for home. But as he adjusts to his new environment, finding companionship and even love, he can envision a life for himself after servitude. His dream: to become a medicine man, or a physician's assistant, an expert on roots and herbs, a dispenser of healing compounds.
Like the play that captivates him—Shakespeare's A Midsummer Night's Dream—Tony's life is rich with oddities and hijinks, humor and tragedy. Set during the early days of English colonization in Jamestown, before servitude calcified into racialized slavery, The East Indian gives authentic voice to an otherwise unknown historic figure and brings the world he would have encountered to vivid life. In this coming-of-age tale, narrated by a most memorable literary rascal, Charry conjures a young character sure to be beloved by readers for years to come.
Bookshop.org | Amazon | Goodreads
---
Playing It Safe: An Electra McDonnell Novel by Ashley Weaver
Release date: May 9, 2023
As the Blitz continues to ravage London, Ellie McDonnell—formerly a safecracking thief, but currently determined to stay on the straight and narrow to help her country—is approached by British Intelligence officer Major Ramsey with a new assignment. She is to travel under an assumed identity to the port city of Sunderland and there await further instructions. In his usual infuriating way, the Major has left her task as vague and mysterious as possible.
Ellie, ever-ready to aid her country, heads north, her safecracking tools in tow. But before she can rendezvous with the major, she witnesses an unnatural death. A man falls dead in the street in front of her, with a note clutched in his hand. Ellie's instincts tell her that the man's death is connected in some way to her mission.
Soon, Ellie and the major are locked in a battle of wits and a race against time with an unknown and deadly adversary, and a case that leads them to a possible Nazi counterfeiting operation. With bombs dropping on the city and a would-be assassin shadowing their every move, it will take all of Ellie's resourcefulness and Major Ramsey's fortitude to unmask the spymaster and avert disastrous consequences—for England and for their own lives.
Bookshop.org | Amazon | Goodreads
---
All the Pretty Places by Joy Callaway
Release date: May 9, 2023
1893: In the little town of Rye, New York, it seems everyone—like the rest of the country—is in an economic panic. Once acclaimed for its rare and exotic plant species, Rye Nurseries—the largest nursery on the East Coast—is the supplier of choice for the most respected landscape architects, but now businesses in the community seem to close by the handful weekly. The threat to her family's livelihood keeps twenty-two-year-old Sadie Fremd up at night. Her father seems unconcerned by the crisis and is determined to pass the nursery on to one of his sons—despite Sadie's ardent study of horticulture. Her dreams are all wrapped up in the nursery, a company on the brink of closing, which would leave hundreds of people out of jobs and Sadie's dream lost forever.
Sadie encourages her father to seek partnerships with big names of the day—the Rockefellers, Goulds, and Starins, among others—to help their nursery remain stable. As she becomes more involved in the business of natural beauty, she begins to notice something. Outside the gates of mansions owned by the elite, people linger—the mourning, the poor, the struggling. Sadie is forced to reckon with whether only the privileged deserve a right to the beauty she helps inspire. Then a conversation with a man who lost everything changes Sadie's perspective forever and prompts her to make a choice that has the potential to leave the nursery, her family, and her dreams in ruins.
Bookshop.org | Amazon | Goodreads
---
Our Hideous Progeny by C.E. McGill
Release date: May 9, 2023
It's 1853 London, and former medical student Victor Frankenstein has been missing for years. Inspired by his brilliance and daring, his great niece Mary Saville and her husband, Henry, are determined to follow in Victor's scientific footsteps. Both are intelligent and determined, yet they lack the reputation necessary to be recognized among the British Empire's most renowned paleontologists. Though Mary is admired for her sharp mind, her fierce tongue and Henry's gambling addiction hinder endorsement by their peers.
But after uncovering clues to her great uncle's disappearance, Mary devises a plan to realize her ambitions. Like Victor Frankenstein did long ago, she and Henry will create life. No one will be able to ignore their achievement—the scientific community must accept them if they succeed.
When they construct their Creature, Henry's ambition soars, yet Mary finds herself contemplating disturbing questions—and unexpected feelings—she cannot ignore. As Henry's desire for fame grows, Mary must decide how far she will go to protect this Creature—the hideous progeny—she has grown to love.
Bookshop.org | Amazon | Goodreads
---
Good Night, Irene by Luis Alberto Urrea
Release date: May 30, 2023
In 1943, Irene Woodward abandons an abusive fiancé in New York to enlist with the Red Cross and head to Europe. She makes fast friends in training with Dorothy Dunford, a towering Midwesterner with a ferocious wit. Together they are part of an elite group of women, nicknamed Donut Dollies, who command military vehicles called Clubmobiles at the front line, providing camaraderie and a taste of home that may be the only solace before troops head into battle.
After D-Day, these two intrepid friends join the Allied soldiers streaming into France. Their time in Europe will see them embroiled in danger, from the Battle of the Bulge to the liberation of Buchenwald. Through her friendship with Dorothy, and a love affair with a courageous American fighter pilot named Hans, Irene learns to trust again. Her most fervent hope, which becomes more precarious by the day, is for all three of them to survive the war intact.
Bookshop.org | Amazon | Goodreads
---
After Anne: A Novel of Lucy Maud Montgomery's Life by Logan Steiner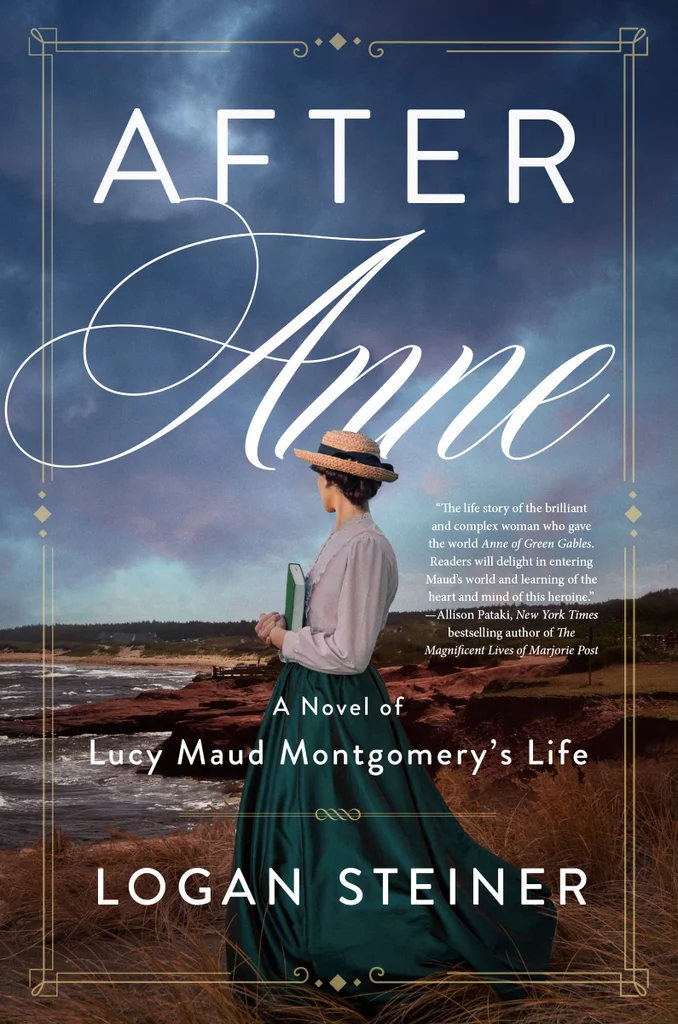 Release date: May 30, 2023
A stunning and unexpected portrait of Lucy Maud Montgomery, creator of one of literature's most prized heroines, whose personal demons were at odds with her most enduring legacy—the irrepressible Anne of Green Gables.
"Dear old world," she murmured, "you are very lovely, and I am glad to be alive in you." —L. M. Montgomery, Anne of Green Gables, 1908
As a young woman, Maud had dreams bigger than the whole of Prince Edward Island. Her exuberant spirit had always drawn frowns from her grandmother and their neighbors, but she knew she was meant to create, to capture and share the way she saw the world. And the young girl in Maud's mind became more and more persistent: Here is my story, she said. Here is how my name should be spelled—Anne with an "e."
But the day Maud writes the first lines of Anne of Green Gables, she gets a visit from the handsome new minister in town, and soon faces a decision: forge her own path as a spinster authoress, or live as a rural minister's wife, an existence she once likened to "a respectable form of slavery." The choice she makes alters the course of her life.
With a husband whose religious mania threatens their health and happiness at every turn, the secret darkness that Maud herself holds inside threatens to break through the persona she shows to the world, driving an ever-widening wedge between her public face and private self, and putting her on a path towards a heartbreaking end.
Beautiful and moving, After Anne reveals Maud's hidden personal challenges while celebrating what was timeless about her life and art—the importance of tenacity and the peaceful refuge found in imagination.
Bookshop.org | Amazon | Goodreads
---
June
Lady Tan's Circle of Women by Lisa See
Release date: June 6, 2023
According to Confucius, "an educated woman is a worthless woman," but Tan Yunxian—born into an elite family, yet haunted by death, separations, and loneliness—is being raised by her grandparents to be of use. Her grandmother is one of only a handful of female doctors in China, and she teaches Yunxian the pillars of Chinese medicine, the Four Examinations—looking, listening, touching, and asking—something a man can never do with a female patient.
From a young age, Yunxian learns about women's illnesses, many of which relate to childbearing, alongside a young midwife-in-training, Meiling. The two girls find fast friendship and a mutual purpose—despite the prohibition that a doctor should never touch blood while a midwife comes in frequent contact with it—and they vow to be forever friends, sharing in each other's joys and struggles. No mud, no lotus, they tell themselves: from adversity beauty can bloom.
But when Yunxian is sent into an arranged marriage, her mother-in-law forbids her from seeing Meiling and from helping the women and girls in the household. Yunxian is to act like a proper wife—embroider bound-foot slippers, pluck instruments, recite poetry, give birth to sons, and stay forever within the walls of the family compound, the Garden of Fragrant Delights.
How might a woman like Yunxian break free of these traditions, go on to treat women and girls from every level of society, and lead a life of such importance that many of her remedies are still used five centuries later? How might the power of friendship support or complicate these efforts? Lady Tan's Circle of Women is a captivating story of women helping other women. It is also a triumphant reimagining of the life of a woman who was remarkable in the Ming dynasty and would be considered remarkable today.
Bookshop.org | Amazon | Goodreads
---
The Paris Daughter by Kristin Harmel
Release date: June 6, 2023
Paris, 1939: Young mothers Elise and Juliette become fast friends the day they meet in the beautiful Bois de Boulogne. Though there is a shadow of war creeping across Europe, neither woman suspects that their lives are about to irrevocably change.
When Elise becomes a target of the German occupation, she entrusts Juliette with the most precious thing in her life—her young daughter, playmate to Juliette's own little girl. But nowhere is safe in war, not even a quiet little bookshop like Juliette's Librairie des Rêves, and, when a bomb falls on their neighborhood, Juliette's world is destroyed along with it.
More than a year later, with the war finally ending, Elise returns to reunite with her daughter, only to find her friend's bookstore reduced to rubble—and Juliette nowhere to be found. What happened to her daughter in those last, terrible moments? Juliette has seemingly vanished without a trace, taking all the answers with her. Elise's desperate search leads her to New York—and to Juliette—one final, fateful time.
An "exquisite and gut-wrenching novel" (Lisa Barr, New York Times bestselling author) you won't soon forget, The Paris Daughter is also a sweeping celebration of resilience, motherhood, and love.
Bookshop.org | Amazon | Goodreads
---
The Radcliffe Ladies' Reading Club by Julia Bryan Thomas
Release date: June 6, 2023
Massachusetts, 1954. With bags packed alongside her heavy heart, Alice Campbell escaped halfway across the country and found herself in front of a derelict building tucked among the cobblestone streets of Cambridge. She turns it into the enchanting bookshop of her dreams, knowing firsthand the power of books to comfort the brokenhearted.
The Cambridge Bookshop soon becomes a haven for Tess, Caroline, Evie, and Merritt, who are all navigating the struggles of being newly independent college women in a world that seems to want to keep them in the kitchen. But when a member of the group finds herself shattered, everything they know about themselves will be called into question.
From the author of For Those Who Are Lost comes an extraordinary love letter to books and friendship, a story that is at once heart-wrenching, strengthening, and inspiring.
Bookshop.org | Amazon | Goodreads
---
The Spectacular by Fiona Davis
Release date: June 13, 2023
New York City, 1956: Nineteen-year-old Marion is over the moon to have been selected to be one of the Rockettes, Radio City Music Hall's glamorous precision-dancing troupe. It's an honor to perform in the world's most spectacular theater, an art deco masterpiece. But with four shows a day as well as grueling rehearsals, not to mention exacting standards of perfection to live up to, Marion quickly realizes that the life of a Rockette has both extraordinary highs and devastating lows.
Then one night a bomb explodes in the theater. It's only the latest in a string of explosions around the city orchestrated by a person the press has nicknamed the "Big Apple Bomber." They have been terrorizing the citizens of New York for sixteen years by planting bombs in popular, crowded spaces. With the public in an uproar over the lack of any real leads after a yearslong manhunt, the police, at Marion's urging, turn in desperation to a radical new technique: psychological profiling.
As Marion finds herself pulled deeper into the investigation, she realizes that as much as she's been training herself to blend in—performing in perfect unison with all the other identical Rockettes—if she hopes to catch the bomber, she'll need to stand out and take a terrifying risk. But she may be forced to sacrifice everything she's worked for, as well as the people she loves the most.
Bookshop.org | Amazon | Goodreads
---
The Last Lifeboat by Hazel Gaynor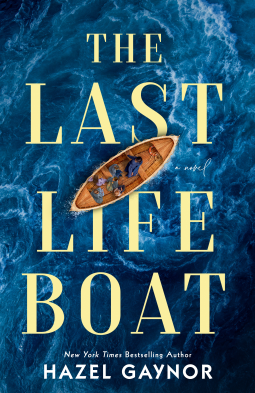 Release date: June 13, 2023
1940, Kent: Alice King is not brave or daring—she's happiest finding adventure through the safe pages of books. But times of war demand courage, and as the threat of German invasion looms, a plane crash near her home awakens a strength in Alice she'd long forgotten. Determined to do her part, she finds a role perfectly suited to her experience as a schoolteacher—to help evacuate Britain's children overseas.
1940, London: Lily Nichols once dreamed of using her mathematical talents for more than tabulating the cost of groceries, but life, and love, charted her a different course. With two lively children and a loving husband, Lily's humble home is her world, until war tears everything asunder. With her husband gone and bombs raining down, Lily is faced with an impossible choice: keep her son and daughter close, knowing she may not be able to protect them, or enroll them in a risky evacuation scheme, where safety awaits so very far away.
When a Nazi U-boat torpedoes the S. S. Carlisle carrying a ship of children to Canada, a single lifeboat is left adrift in the storm-tossed Atlantic. Alice and Lily, strangers to each other—one on land, the other at sea—will quickly become one another's very best hope as their lives are fatefully entwined.
Bookshop.org | Amazon | Goodreads
---
Hotel Laguna by Nicola Harrison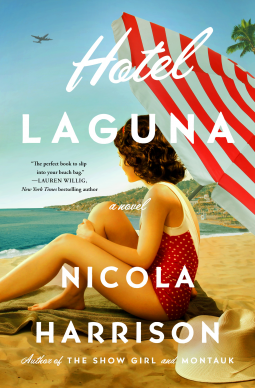 Release date: June 20, 2023
In 1942, Hazel Francis left Wichita, Kansas for California, determined to do her part for the war effort. At Douglas Aircraft, she became one of many "Rosie the Riveters," helping construct bombers for the U. S. military. But now the war is over, men have returned to their factory jobs, and women like Hazel have been dismissed, expected to return home to become wives and mothers.
Unwilling to be forced into a traditional woman's role in the Midwest, Hazel remains on the west coast, and finds herself in the bohemian town of Laguna Beach. Desperate for work, she accepts a job as an assistant to famous artist Hanson Radcliff. Beloved by the locals for his contributions to the art scene and respected by the critics, Radcliff lives under the shadow of a decades old scandal that haunts him.
Working hard to stay on her cantankerous employer's good side, Hazel becomes a valued member of the community. She never expected to fall in love with the rhythms of life in Laguna, nor did she expect to find a kindred spirit in Jimmy, the hotel bartender whose friendship promises something more. But Hazel still wants to work with airplanes—maybe even learn to fly one someday. Torn between pursuing her dream and the dream life she has been granted, she is unsure if giving herself over to Laguna is what her heart truly wants.
Bookshop.org | Amazon | Goodreads
---
Lucky Red by Claudia Cravens
Release date: June 20, 2023
It's the spring of 1877 and sixteen-year-old Bridget is already disillusioned. She's exhausted from caring for her ne'er-do-well alcoholic father, but when he's killed by a snakebite as they cross the Kansas prairie, she knows she has only her wits to keep her alive. She arrives penniless in Dodge City, and, thanks to the allure of her bright red hair and country-girl beauty, is soon recruited to work at the Buffalo Queen, the only brothel in town run by women. Bridget takes to brothel life, appreciating the good food, good pay, and good friendships she forms with her fellow "sporting women."
Then Spartan Lee, the legendary female gunfighter in the region, rides into town, and Bridget falls in love. Hard. Before long, though, a series of shocking double-crosses shatter the Buffalo Queen's tenuous peace and safety. Desperate for vengeance and autonomy, Bridget resolves to claim her own destiny.
A thoroughly modern reimagining of the Western genre, Lucky Red is a masterfully crafted, propulsive tale of adventure, loyalty, desire, and love.
Bookshop.org | Amazon | Goodreads
---
The Beach at Summerly by Beatriz Williams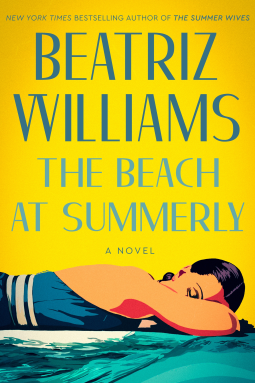 Release date: June 27, 2023
June 1946. As the residents of Winthrop Island prepare for the first summer season after the sacrifice of war, a glamorous new figure moves into the guest cottage at Summerly, the idyllic seaside estate of the wealthy Peabody family. To Emilia Winthrop, daughter of Summerly's year-round caretaker and a descendant of the island's settlers, Olive Rainsford opens a window into a world of shining possibility. While Emilia spent the war years caring for her incapacitated mother, Olive traveled the world, married fascinating men, and involved herself in political causes. She's also the beloved aunt of the two surviving Peabody sons, Amory and Shep, with whom Emilia has a tangled romantic history.
As the summer wears on, Emilia develops a deep rapport with Olive, who urges her to leave the island for a life of adventure, while romance blossoms with the sturdy and honorable Shep. But the heady promise of Peabody patronage is blown apart by the arrival of Sumner Fox, an FBI agent who demands Emilia's help to capture a Soviet agent who's transmitting vital intelligence on the West's atomic weapon program from somewhere inside the Summerly estate.
April 1954. Eight years later, Summerly is boarded up and Emilia has rebuilt her shattered life as a professor at Wellesley College, when shocking news arrives from Washington—the traitor she helped convict is about to be swapped for an American spy imprisoned in the Soviet Union, but with a mysterious condition only Emilia can fulfill. A reluctant Emilia is summoned to CIA headquarters, where she's forced to confront the harrowing consequences of her actions that fateful summer, and a choice that could destroy the Peabody family—and Emilia's chance for redemption—all over again.
Bookshop.org | Amazon | Goodreads
---
The First Ladies by Marie Benedict and Victoria Christopher Murray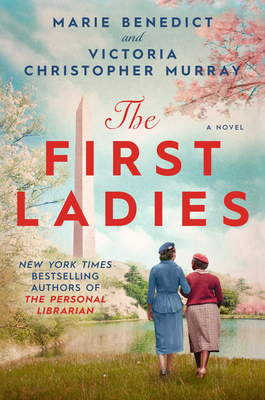 Release date: June 27, 2023
The daughter of formerly enslaved parents, Mary McLeod Bethune refuses to back down as white supremacists attempt to thwart her work. She marches on as an activist and an educator, and as her reputation grows she becomes a celebrity, revered by titans of business and recognized by U.S. Presidents. Eleanor Roosevelt herself is awestruck and eager to make her acquaintance. Initially drawn together because of their shared belief in women's rights and the power of education, Mary and Eleanor become fast friends confiding their secrets, hopes and dreams–and holding each other's hands through personal and professional strife.
When Franklin Delano Roosevelt is elected president, the two women begin to collaborate more closely, particularly as Eleanor moves toward her own agenda separate from FDR, a consequence of the devastating discovery of her husband's secret love affair. Eleanor becomes a controversial First Lady for her outspokenness, particularly on civil rights. And when she receives threats because of her strong ties to Mary, it only fuels the women's desire to fight together for justice and equality.
This is the story of two different, yet equally formidable, passionate, and committed women, and the way in which their singular friendship helped form the foundation for the modern civil rights movement.
Bookshop.org | Amazon | Goodreads
---
July
Strangers in the Night: A Novel of Frank Sinatra and Ava Gardner by Heather Webb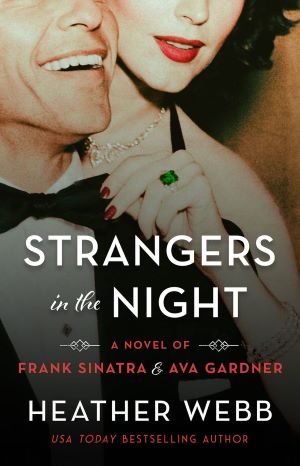 Release date: July 5, 2023
In the golden age of Hollywood, two of the brightest stars would define–and defy–an era…
She was the small-town southern beauty transformed into a Hollywood love goddess. He was the legendary crooner whose voice transfixed the world. They were Ava Gardner and Frank Sinatra. Separately they were irresistible; together they were an explosive combination.
Ava's star is rising just as Frank's career–and public image as a family man–is taking a hit. Gone are the days of the screaming bobbysoxers and chart-topping hits. Ava, however, finds herself gracing the front page of every tabloid in America. Jealousy and cheating abound, and when the two succumb to their temperaments and their vices, their happiness is threatened at every turn.
As the pair ride the rollercoaster of success and failure, passion and anger, they both wonder if the next turn will be the end of their careers, and most devastating of all–the end of all they've shared.
A captivating novel with a star-studded cast spanning continents and decades, Strangers in the Night brings to life the most riveting love story of the twentieth century.
Bookshop.org | Amazon | Goodreads
---
The Air Raid Book Club by Annie Lyons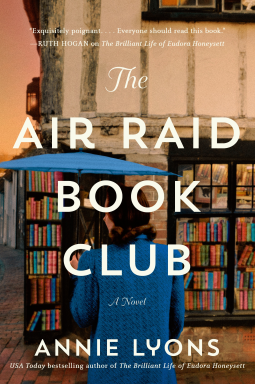 Release date: July 11, 2023
London, 1938: The bookstore just doesn't feel the same to Gertie Bingham ever since the death of her beloved husband Harry. Bingham Books was a dream they shared together, and without Harry, Gertie wonders if it's time to take her faithful old lab, Hemingway, and retire to the seaside. But fate has other plans for Gertie.
In Germany, Hitler is on the rise, and Jewish families are making the heart-wrenching decision to send their children away from the growing turmoil. After a nudge from her dear friend Charles, Gertie decides to take in one of these refugees, a headstrong teenage girl named Hedy. Willful and fearless, Hedy reminds Gertie of herself at the same age, and shows her that she can't give up just yet. With the terrible threat of war on the horizon, the world needs people like Gertie Bingham and her bookshop.
When the Blitz begins and bombs whistle overhead, Gertie and Hedy come up with the idea to start an air raid book club. Together with neighbors and bookstore customers, they hold lively discussions of everything from Winnie the Pooh to Wuthering Heights. After all, a good book can do wonders to bolster people's spirits, even in the most trying times.
But even the best book can only provide a temporary escape, and as the tragic reality of the war hits home, the book club faces unimaginable losses. They will need all the strength of their stories and the bonds they've formed to see them through to brighter days.
Bookshop.org | Amazon | Goodreads
---
Alchemy of a Blackbird by Claire McMillan
Release date: July 11, 2023
Desperate to escape the Nazis, painter Remedios Varo and her lover, poet Benjamin Peret, flee Paris for Villa Air Bel, a safe house for artists on the Riviera. Along with Max Ernst, Peggy Guggenheim, and others, the two anxiously wait for exit papers. As the months pass, Remedios begins to sense that the others don't see her as a fellow artist; they have cast her in the stifling role of a surrealist ideal: the beautiful innocent. She finds refuge in a mysterious bookshop, where she stumbles into a world of occult learning and intensifies an esoteric practice in the tarot that helps her light the bright fire of her creative genius.
When travel documents come through, Remedios and Benjamin flee to Mexico where she is reunited with friend and fellow painter Leonora Carrington. Together, the women tap into their creativity, stake their independence, and each find their true loves. But it is the tarot that enables them to access the transcendent that lies on the other side of consciousness, to become the truest Surrealists of all.
From an author with "an enchanting, intoxicating voice" (Cristina Alger, author of The Darlings), Alchemy of a Blackbird is about a dynamic female friendship that became a historic artistic collaboration between two giants of the art world.
Bookshop.org | Amazon | Goodreads
---
Canary Girls by Jennifer Chiaverini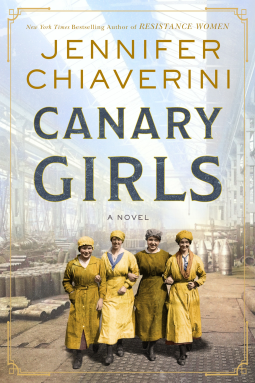 Release date: July 18, 2023
Early in the Great War, men left Britain's factories in droves to enlist. Struggling to keep up production, arsenals hired women to build the weapons the military urgently needed. "Be the Girl Behind the Man Behind the Gun," the recruitment posters beckoned.
Thousands of women—cooks, maids, shopgirls, and housewives—answered their nation's call. These "munitionettes" worked grueling shifts often seven days a week, handling TNT and other explosives with little protective gear.
Among them is nineteen-year-old former housemaid April Tipton. Impressed by her friend Marjorie's descriptions of higher wages, plentiful meals, and comfortable lodgings, she takes a job at Thornshire Arsenal near London, filling shells in the Danger Building—difficult, dangerous, and absolutely essential work.
Joining them is Lucy Dempsey, wife of Daniel Dempsey, Olympic gold medalist and star forward of Tottenham Hotspur. With Daniel away serving in the Footballers' Battalion, Lucy resolves to do her bit to hasten the end of the war. When her coworkers learn she is a footballer's wife, they invite her to join the arsenal ladies' football club, the Thornshire Canaries.
The Canaries soon acquire an unexpected fan in the boss's wife, Helen Purcell, who is deeply troubled by reports that Danger Building workers suffer from serious, unexplained illnesses. One common symptom, the lurid yellow hue of their skin, earns them the nickname "canary girls." Suspecting a connection between the canary girls' maladies and the chemicals they handle, Helen joins the arsenal administration as their staunchest, though often unappreciated, advocate.
The football pitch is the one place where class distinctions and fears for their men fall away. As the war grinds on and tragedy takes its toll, the Canary Girls persist despite the dangers, proud to serve, determined to outlive the war and rejoice in victory and peace.
Bookshop.org | Amazon | Goodreads
---
The Madwomen of Paris by Jennifer Cody Epstein
Release date: July 18, 2023
"I didn't see her the day she came to the asylum. Looking back, this sometimes strikes me as unlikely. Impossible, even, given how utterly her arrival would upend the already chaotic order of things at the Salpêtrière—not to mention change the course of my own life there."
When Josephine arrives at the Salpêtrière she is covered in blood and badly bruised. Suffering from near-complete amnesia, she is diagnosed with what the Paris papers are calling "the epidemic of the age": hysteria. It is a disease so baffling and widespread that Doctor Jean-Martine Charcot, the asylum's famous director, devotes many of his popular public lectures to the malady. To Charcot's delight, Josephine also proves extraordinarily susceptible to hypnosis, the tool he uses to unlock hysteria's myriad (and often sensational) symptoms. Soon Charcot is regularly featuring Josephine on his stage, entrancing the young woman into fantastical acts and hallucinatory fits before enraptured audiences and eager newsmen—many of whom feature her on their paper's front pages.
For Laure, a lonely asylum attendant assigned to Josephine's care, Charcot's diagnosis seems a godsend. A former hysteric herself, she knows better than most that life in the Salpêtrière's Hysteria Ward is far easier than in its dreaded Lunacy division, from which few inmates ever return. But as Josephine's fame as Charcot's "star hysteric" grows, her memory starts to return—and with it, images of a horrific crime she believes she's committed. Haunted by these visions, and helplessly trapped in Charcot's hypnotic web, she starts spiraling into actual insanity. Desperate to save the girl she has grown to love, Laure plots their escape from the Salpêtrière and its doctors. First, though, she must confirm whether Joséphine is actually a madwoman, soon to be consigned to the Salpêtrière's brutal Lunacy Ward—or a murderer, destined for the guillotine.
Both are dark possibilities—but not nearly as dark as what Laure will unearth when she sets out to discover the truth.
Bookshop.org | Amazon | Goodreads
---
The Cypress Maze by Fiona Valpy
Release date: July 18, 2023
In this haunting tale from the bestselling author of The Storyteller of Casablanca , Beatrice kept a wartime secret to protect the innocent. Now, could telling it set her free? Tuscany, 1943. Stranded in war-ravaged Italy, Beatrice's dream of an escapist year teaching English is shattered. Granted shelter at the Villa delle Colombe, she seeks refuge in Francesca and Edoardo's beautiful walled garden, hidden from the outside world, with an elaborate cypress maze at its heart. But Beatrice is not the only one seeking an escape here. Francesca has brought children to the safety of the house, as well as other adults, all of them seeking sanctuary on the estate with its mysterious maze. As the war closes in, the residents are forced to witness―and do―unthinkable things… 2015. Tess arrives at the villa raw from the agonising loss of her husband. Beatrice, now custodian, guides her to the solace of its gardens, where Tess begins to heal. But all hope of peace is shattered by the arrival of Marco, the estate's absent owner, who wants nothing more than to hand it over to developers. Distraught, Beatrice realises she must finally reveal the villa's painful past if she wants to save it. As the extraordinary story unfolds, Tess realises that Villa delle Colombe is not just a refuge, but a beacon of hope in the darkest of times. Can she convince Marco to give it a new lease of life―and find a way back to happiness herself?
Bookshop.org | Amazon | Goodreads
---
Crook Manifesto by Colson Whitehead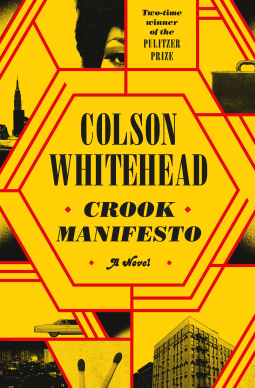 Release date: July 25, 2023
It's 1971. Trash piles up on the streets, crime is at an all-time high, the city is careening towards bankruptcy, and a shooting war has broken out between the NYPD and the Black Liberation Army. Amidst this collective nervous breakdown furniture store owner and ex-fence Ray Carney tries to keep his head down and his business thriving. His days moving stolen goods around the city are over. It's strictly the straight-and-narrow for him — until he needs Jackson 5 tickets for his daughter May and he decides to hit up his old police contact Munson, fixer extraordinaire. But Munson has his own favors to ask of Carney and staying out of the game gets a lot more complicated – and deadly.
1973: The counter-culture has created a new generation, the old ways are being overthrown, but there is one constant, Pepper, Carney's endearingly violent partner in crime. It's getting harder to put together a reliable crew for hijackings, heists, and assorted felonies, so Pepper takes on a side gig doing security on a Blaxploitation shoot in Harlem. He finds himself in a freaky world of Hollywood stars, up-and-coming comedians, and celebrity drug dealers, in addition to the usual cast of hustlers, mobsters, and hit men. These adversaries underestimate the seasoned crook – to their regret.
1976: Harlem is burning, block by block, while the whole country is gearing up for Bicentennial celebrations. Carney is trying to come up with a July 4th ad he can live with. ("Two Hundred Years of Getting Away with It!"), while his wife Elizabeth is campaigning for her childhood friend, the former assistant D.A and rising politician Alexander Oakes. When a fire severely injures one of Carney's tenants, he enlists Pepper to look into who may be behind it. Our crooked duo have to battle their way through a crumbling metropolis run by the shady, the violent, and the utterly corrupted.
Bookshop.org | Amazon | Goodreads
---
King of the Armadillos by Wendy Chin-Tanner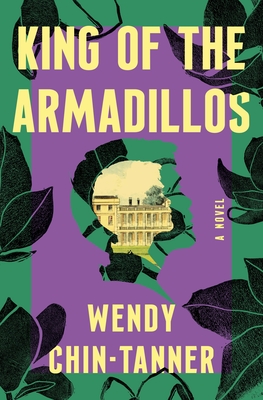 Release date: July 25, 2023
Victor Chin's life is turned upside down at the tender age of 15. Diagnosed with Hansen's disease, otherwise known as leprosy, he's forced to leave the familiar confines of his father's laundry business in the Bronx – the only home he's known since emigrating from China with his older brother – to quarantine alongside patients from all over the country at a federal institution in Carville.
At first, Victor is scared not only of the disease, but of the confinement, and wants nothing more than to flee. Between treatments he dreams of escape and imagines his life as a fugitive. But soon he finds a new sense of freedom far from home – one without the pull of obligations to his family, or the laundry business, or his mother back in China. Here, in the company of an unforgettable cast of characters, Victor finds refuge in music and experiences first love, jealousy, betrayal, and even tragedy. But with the promise of a life-changing cure on the horizon, Victor's time at Carville is running out, and he has some difficult choices to make.
A groundbreaking work of historical fiction, King of the Armadillos announces Wendy Chin-Tanner as an extraordinary new voice. Inspired by her father's experience as a young patient at Carville, this tender coming-of-age novel is a captivating look at a forgotten radical community and a lyrical exploration of the power of art.
Bookshop.org | Amazon | Goodreads
---
August
California Golden by Melanie Benjamin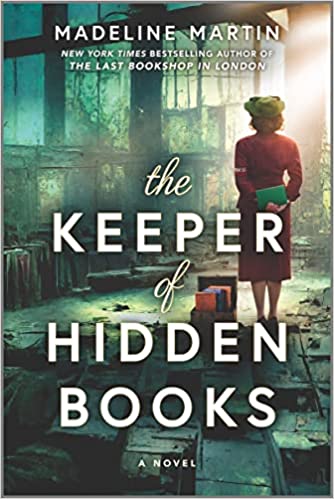 Release date: August 1, 2023
All her life, Zofia has found comfort in two things during times of hardship: books and her best friend, Janina. But no one could have imagined the horrors of the Nazi occupation in Warsaw. As the bombs rain down and Hitler's forces loot and destroy the city, Zofia finds that now books are also in need of saving.
With the death count rising and persecution intensifying, Zofia jumps to action to save her friend and salvage whatever books she can from the wreckage, hiding them away, and even starting a clandestine book club. She and her dearest friend never surrender their love of reading, even when Janina is forced into the newly formed ghetto.
But the closer Warsaw creeps toward liberation, the more dangerous life becomes for the women and their families – and escape may not be possible for everyone. As the destruction rages around them, Zofia must fight to save her friend and preserve her culture and community using the only weapon they have left – literature.
Bookshop.org | Amazon | Goodreads
---
The Bookbinder by Pip Williams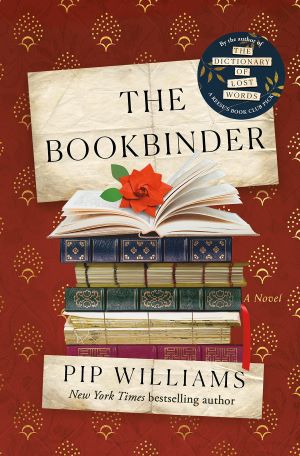 Release date: August 1, 2023
It is 1914, and as the war draws the young men of Britain away to fight, women must keep the nation running. Two of those women are Peggy and Maude, twin sisters who live on a narrow boat in Oxford and work in the bindery at the university press.
Ambitious, intelligent Peggy has been told for most of her life that her job is to bind the books, not read them—but as she folds and gathers pages, her mind wanders to the opposite side of Walton Street, where the female students of Oxford's Somerville College have a whole library at their fingertips. Maude, meanwhile, wants nothing more than what she has: to spend her days folding the pages of books in the company of the other bindery girls. She is extraordinary but vulnerable, and Peggy feels compelled to watch over her.
Then refugees arrive from the war-torn cities of Belgium, sending ripples through the Oxford community and the sisters' lives. Peggy begins to see the possibility of another future where she can educate herself and use her intellect, not just her hands. But as war and illness reshape her world, her love for a Belgian soldier—and the responsibility that comes with it—threaten to hold her back.
The Bookbinder is a story about knowledge—who creates it, who can access it, and what truths get lost in the process. Much as she did in the international bestseller The Dictionary of Lost Words, Pip Williams thoughtfully explores another rarely seen slice of history through women's eyes.
Bookshop.org | Amazon | Goodreads
---
California Golden by Melanie Benjamin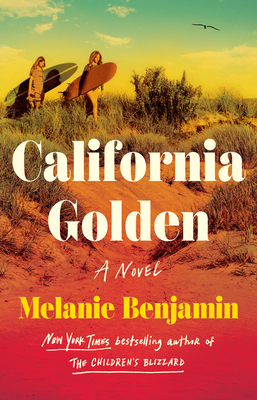 Release date: August 8, 2023
Southern California, 1960s: endless sunny days surfing in Malibu, followed by glittering neon nights at Whisky A-Go-Go. In an era when women are expected to be housewives, Carol Donelly is breaking the mold as a legendary female surfer struggling to compete in a male-dominated sport–and her daughters, Mindy and Ginger, bear the weight of her unconventional lifestyle.
The Donnelly sisters grow up enduring their mother's absence–physically, when she's at the beach, and emotionally, the rare times she's at home. To escape questions about Carol's whereabouts–and chase their mom's elusive affection–they cut school to spend their days in the surf. From her first time on a board, Mindy shows a natural talent, but Ginger, two years younger, feels out of place in the water.
As they grow up and their lives diverge, Mindy and Ginger's relationship ebbs and flows. Mindy finds herself swept up in celebrity, complete with beachside love affairs, parties at the Playboy Club, and USO tours to Vietnam. Meanwhile, Ginger–desperate for a community of her own–is tugged into the vibrant counterculture of drugs and cults. Through it all, their sense of duty to each other survives, as the girls are forever connected by the emotional damage they carry from their unorthodox childhood.
Bookshop.org | Amazon | Goodreads
---
Mrs. Porter Calling by A.J. Pearce
Release date: August 8, 2023
London, April 1943. A little over a year since she married Captain Charles Mayhew and he went away to war, Emmy Lake is now in charge of "Yours Cheerfully," the hugely popular advice column in Woman's Friend magazine. Cheered on by her best friend Bunty, Emmy is dedicated to helping readers face the increasing challenges brought about by over three years of war. The postbags are full and Woman's Friend is thriving.
But Emmy's world is turned upside down when glamorous socialite, the Honorable Mrs. Cressida Porter, becomes the new publisher of the magazine, and wants to change everything the readers love. Aided by Mrs. Pye, a Paris-obsessed fashion editor with delusions of grandeur, and Small Winston, the grumpiest dog in London, Mrs. Porter fills the pages with expensive clothes and frivolous articles about her friends. Worst of all, she announces that she is cutting the "Yours Cheerfully" column and her vision for the publication's future seems dire. With the stakes higher than ever, Emmy and her friends must find a way to save the magazine that they love.
Bookshop.org | Amazon | Goodreads
---
The Paris Assignment by Rhys Bowen
Release date: August 8, 2023
Londoner Madeleine Grant is studying at the Sorbonne in Paris when she marries charismatic French journalist Giles Martin. As they raise their son, Olivier, they hold on to a tenuous promise for the future. Until the thunder of war sets off alarms in France.
Staying behind to join the resistance, Giles sends Madeleine and Olivier to the relative safety of England, where Madeleine secures a job teaching French at a secondary school. Yet nowhere is safe. After a devastating twist of fate resulting in the loss of her son, Madeleine accepts a request from the ministry to aid in the war effort. Seizing the smallest glimmer of hope of finding Giles alive, she returns to France. If Madeleine can stop just one Nazi, it will be the start of a valiant path of revenge.
Though her perseverance, defiance, and heart will be tested beyond imagining, no risk is too great for a brave wife and mother determined to fight and survive against inconceivable odds.
Bookshop.org | Amazon | Goodreads
---
Don't Forget to Write by Sara Goodman Confino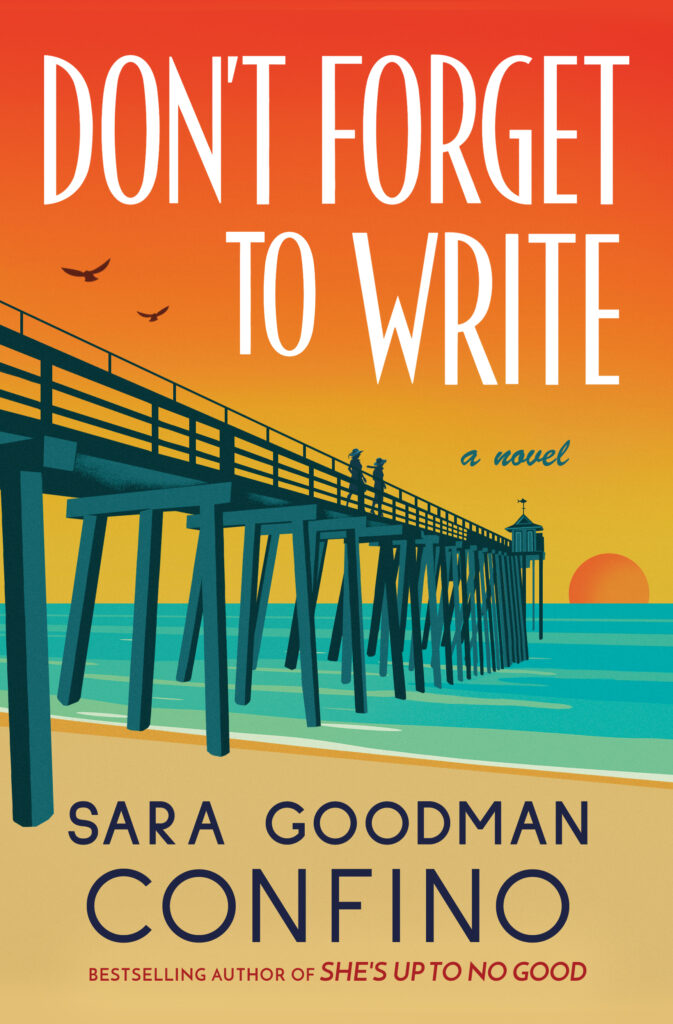 Release date: August 15, 2023
In 1960, a young woman discovers a freedom she never knew existed in this exhilarating, funny, and emotional novel by the bestselling author of She's Up to No Good . When Marilyn Kleinman is caught making out with the rabbi's son in front of the whole congregation, her parents ship her off to her great-aunt Ada for the summer. If anyone can save their daughter's reputation, it's Philadelphia's strict premier matchmaker. Either that or Marilyn can kiss college goodbye. To Marilyn's surprise, Ada's not the humorless septuagenarian her mother described. Not with that platinum-blonde hair, Hermès scarf, and Cadillac convertible. She's sharp, straight-talking, takes her job very seriously, and abides by her own rules…mostly. As the summer unfolds, Ada and Marilyn head for the Jersey shore, where Marilyn helps Ada scope out eligible matches—for anyone but Marilyn, that is. Because if there's one thing Marilyn's learned from Ada, it's that she doesn't have to settle. With the school year quickly approaching and her father threatening to disinherit her, Marilyn must make her choice for her future: return to the comfortable life she knows, or embrace a risky, unknown path on her own.
Bookshop.org | Amazon | Goodreads
---
Take the Long Way Home by Rochelle Alers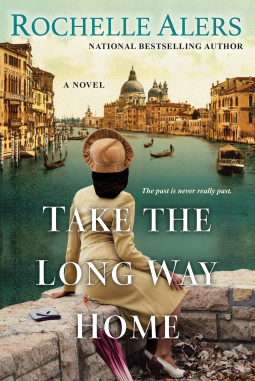 Release date: August 22, 2023
Freedom fighter, brilliant businessperson, devoted wife, master of languages, and ultimately, savior of a European dynasty. Claudia Patterson would become all of these—spurred on by the fiercely powerful loves and losses along the way…
Denny Clark. An abused thirteen-year-old white boy whose life twelve-year-old Claudia saves—complicating her own life for years to come.
Robert Moore. A young Black lawyer who becomes Claudia's beloved husband and partner on the explosive front lines of the Civil Rights Movement. Amid the violence of the Ku Klux Klan, Claudia has a shocking personal encounter—with unimaginable consequences.
Ashley Booth. A Wall Street executive who brings the glamour of New York alive for the now-widowed Claudia, introducing her to an elite circle of Black peers. But their long yet uncommitted romance leads Claudia to move on—to an overseas assignment at an Italian bank.
Giancarlo Pasquale Fortenza. An Italian automobile industrialist, once enamored of a young Claudia—handsome, worldly, and twelve years her senior. A man with whom Claudia reconnects, bringing her life full circle in the boldest, bravest, and most unexpected ways…
Rich with history and timeless emotion, here is an epic tale of rising through poverty, racism, and heartbreak—and the awesome role of our most significant relationships throughout our lives.
---
Learned by Heart by Emma Donoghue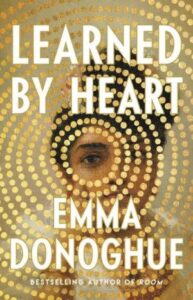 Release date: August 29, 2023
Drawing on years of investigation and Anne Lister's five-million-word secret journal, Learned by Heart is the long-buried love story of Eliza Raine, an orphan heiress banished from India to England at age six, and Anne Lister, a brilliant, troublesome tomboy, who meet at the Manor School for young ladies in York in 1805 when they are both fourteen.
Emotionally intense, psychologically compelling, and deeply researched, Learned by Heart is an extraordinary work of fiction by one of the world's greatest storytellers. Full of passion and heartbreak, the tangled lives of Anne Lister and Eliza Raine form a love story for the ages.
Bookshop.org | Amazon | Goodreads
---
The Queen of the Valley by Lorena Hughes
Release date: August 29, 2023
Set amid Colombia's unparalleled beauty and inspired by the real-life 1925 Cali earthquake, this riveting novel by the award-winning author of The Spanish Daughter plunges three strangers into a perilous search for the missing owner of a legendary hacienda—a man at the center of the explosive secrets each of them carries.
Driven and recklessly daring, Martin Sabater follows his lifelong dream of owning a cacao plantation in Valle del Cauca. But on the night of a spectacular gala, he disappears—and is never seen again. Now his hacienda is a budding Catholic hospital saving lives during an emerging epidemic. And novice nun "Sor Puri" is there to uncover the truth behind Martin's disappearance. But her real identity—and her past with the heartbreakingly charismatic Martin—will put far more than her perilous search at risk.
A professional photographer, Lucas Ferreira is Martin's best friend since boyhood. He has his own reasons for helping the determined, alluring nun. But what this reserved man won't reveal about his thwarted dreams and unrequited passion could prove key to the past—or a lethal trap.
Martin was head nurse Sor Camila's only love—until an unfortunate mistake changed the course of her life forever. Now, Martin's home is an unexpected chance for her, Lucas, and Puri to set the past right. But with their secrets unearthing explosive memories and wrenching lies, can they survive the truth about Martin—and the consequences that will forever alter their destinies?
Bookshop.org | Amazon | Goodreads
---
September
The Fraud by Zadie Smith
Release date: September 1, 2023
It is 1873. Mrs. Eliza Touchet is the Scottish housekeeper—and cousin by marriage—of a once-famous novelist, now in decline, William Ainsworth, with whom she has lived for thirty years.
Mrs. Touchet is a woman of many interests: literature, justice, abolitionism, class, her cousin, his wives, this life and the next. But she is also sceptical. She suspects her cousin of having no talent; his successful friend, Mr. Charles Dickens, of being a bully and a moralist; and England of being a land of facades, in which nothing is quite what it seems.
Andrew Bogle, meanwhile, grew up enslaved on the Hope Plantation, Jamaica. He knows every lump of sugar comes at a human cost. That the rich deceive the poor. And that people are more easily manipulated than they realize. When Bogle finds himself in London, star witness in a celebrated case of imposture, he knows his future depends on telling the right story.
The "Tichborne Trial"—wherein a lower-class butcher from Australia claimed he was in fact the rightful heir of a sizable estate and title—captivates Mrs. Touchet and all of England. Is Sir Roger Tichborne really who he says he is? Or is he a fraud? Mrs. Touchet is a woman of the world. Mr. Bogle is no fool. But in a world of hypocrisy and self-deception, deciding what is real proves a complicated task. . . .
Based on real historical events, The Fraud is a dazzling novel about truth and fiction, Jamaica and Britain, fraudulence and authenticity and the mystery of "other people."
Bookshop.org | Amazon | Goodreads
---
Coleman Hill by Kim Coleman Foote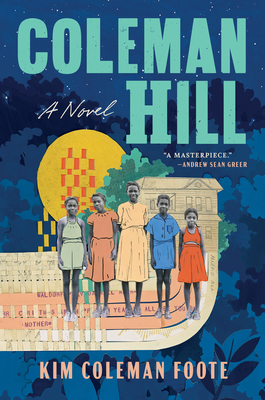 Release date: September 5, 2023
Coleman Hill is the exhilarating story of two American families whose fates become intertwined in the wake of the Great Migration. Braiding fact and fiction, it is a remarkable, character-rich tour de force exploring the ties that bind three generations.
In 1916, Celia Coleman and Lucy Grimes flee the racism and poverty of their homes in the post–Civil War South for the "Promised Land" of the North. But soon they learn that even in Vauxhall, New Jersey, black women are mainly hired for domestic work, money is scarce, children don't progress in school, and black men die young. Within a few short years, both women's husbands are dead. Left to navigate this unwelcoming place alone, Celia and Lucy turn to one another for support in raising their children far from home. They become one another's closest confidantes and, encouraged by their mothers' friendship, their children's lives become enmeshed as well. However, with this closeness comes complication. As the children grow into adolescence, two are caught in an impulsive act of impropriety, and Celia and Lucy find themselves at irreconcilable odds over who's to blame. The ensuing fallout has dire consequences that reverberate through the next two generations of their families. A stunning biomythography—a word coined by the late great writer Audre Lorde— Coleman Hill draws from the author's own family legend, historical record, and fervent imagination to create an unforgettable new history.
Bookshop.org | Amazon | Goodreads
---
Cities of Women by Kathleen B. Jones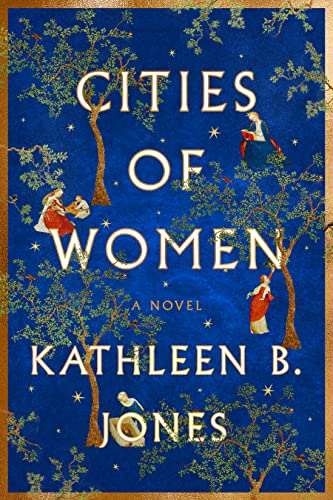 Release date: September 5, 2023
Cities of Women is a work of historical literary fiction inspired by a decade of research on the medieval life and times of the proto-feminist, Christine de Pizan, the first European woman of letters to support herself as a writer. Like A.S. Byatt's Possession, the story moves between present and past in a dual narrative, evoking the spare joys and monumental pitfalls facing medieval women artists, and a contemporary woman who becomes obsessed with medieval books.
Verity Frazier, a disillusioned professor of history, risks her career when she sets out to prove that the artist responsible for the illuminations in the medieval manuscripts of Christine de Pizan was a remarkable woman named Anastasia. As Anastasia's story unfolds against the richly evoked 15th century backdrop of moral disaster and political intrigue, yet extraordinary creativity, Verity finds little evidence of the artist's existence, while discovering the missing pieces to make her own life whole.
Bookshop.org | Amazon | Goodreads
---
A Beautiful Rival by Gill Paul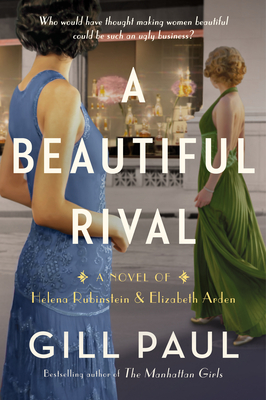 Release date: September 5, 2023
Who would have guessed that the business of making women beautiful was so cutthroat?
They could have been allies: two self-made millionaires who invented a global industry, in an era when wife and mother were supposed to be the highest goals for their sex. Elizabeth Arden and Helena Rubinstein each founded empires built on grit and determination…and yet they became locked in a feud spanning three continents, two world wars, and the Great Depression.
Brought up in poverty, Canadian-born Elizabeth Arden changed popular opinion, persuading women from all walks of life ­to buy skincare products that promised them youth and beauty. Helena Rubenstein left her native Poland, and launched her company with scientific claims about her miracle creams made with anti-ageing herbs.
And when it came to business, nothing was off-limits: poaching each other's employees, copying each other's products, planting spies, hiring ex-husbands, and one-upping each other every chance they had. This was a rivalry from which there was no surrender! And through it all were two women, bold, brazen, and determined to succeed—no matter the personal cost.
In this sweeping novel from the bestselling author of Jackie and Maria and The Manhattan Girls, two larger-than life fashion icons come alive with all their passion, bitterness, and ambition as they each try to live the American dream.
Bookshop.org | Amazon | Goodreads
---
Chenneville by Paulette Jiles
Release date: September 12, 2023
Union soldier John Chenneville suffered a traumatic head wound in battle. His recovery took the better part of a year as he struggled to regain his senses and mobility. By the time he returned home, the Civil War was over, but tragedy awaited. John's beloved sister and her family had been brutally murdered.
Their killer goes by many names. He fought for the North in the late unpleasantness, and wore a badge in the name of the law. But the man John knows as A. J. Dodd is little more than a rabid animal, slaughtering without reason or remorse, needing to be put down.
Traveling through the unforgiving landscape of a shattered nation in the midst of Reconstruction, John braves winter storms and confronts desperate people in pursuit of his quarry. Untethered, single-minded in purpose, he will not be deterred. Not by the U.S. Marshal who threatens to arrest him for murder should he succeed. And not by Victoria Reavis, the telegraphist aiding him in his death-driven quest, yet hoping he'll choose to embrace a life with her instead.
And as he trails Dodd deep into Texas, John accepts that this final reckoning between them may cost him more than all he's already lost…
Bookshop.org | Amazon | Goodreads
---
The Vaster Wilds by Lauren Groff
Release date: September 12, 2023
A taut and electrifying novel from celebrated bestselling author Lauren Groff, about one spirited girl alone in the wilderness, trying to survive
A servant girl escapes from a colonial settlement in the wilderness. She carries nothing with her but her wits, a few possessions, and the spark of god that burns hot within her. What she finds in this terra incognita is beyond the limits of her imagination and will bend her belief in everything that her own civilization has taught her.
Lauren Groff's new novel is at once a thrilling adventure story and a penetrating fable about trying to find a new way of living in a world succumbing to the churn of colonialism. The Vaster Wilds is a work of raw and prophetic power that tells the story of America in miniature, through one girl at a hinge point in history, to ask how—and if—we can adapt quickly enough to save ourselves.
Bookshop.org | Amazon | Goodreads
---
All You Have to Do is Call by Kerri Maher
Release date: September 19, 2023
Chicago, early 1970s Who does a girl call when she needs help? Jane.
The best-known secret in the city, Jane is a women's health organization composed entirely of women helping women, freeing them from the expectations of society and family. Veronica, Jane's founder, prides herself on the services she has provided to thousands of women, yet the price of others' freedom is that she leads a double life–when she's not at Jane, Veronica plays the role of a conventional housewife–which becomes even more difficult during her own high-risk pregnancy.
Two more women in Veronica's neighborhood are grappling with similar disconnects. Margaret, a young professor at the University of Chicago, secretly volunteers at Jane as she falls in love with a man whose attitude toward his ex-wife increasingly disturbs her. Patty, who's long been content as a devoted wife and mother, has begun to sense that something essential is missing from her life. When her runaway younger sister Eliza shows up unexpectedly, Patty is forced to come to terms with what it really means to love and support a sister.
In this historic moment when the personal was nothing if not political, when television, movies, and commercials told women they'd "come a long way, baby," Veronica, Margaret, and Patty must make choices that will change the course of their lives forever.
Bookshop.org | Amazon | Goodreads
---
The Novelist from Berlin by V.S. Alexander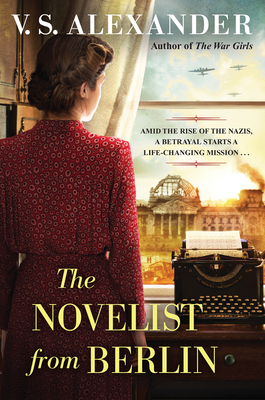 Release date: September 26, 2023
1920s: Though the world has changed in the wake of the Great War, it is still ruled by men. Even a woman as resourceful and intelligent as Niki Rittenhaus needs alliances in order to survive. Her marriage to Rickard Länger, a movie producer for Berlin's Passport Pictures, seems convenient for them both. When Rickard succumbs to increasing pressure from the Nazis to make propaganda movies, a horrified Niki turns away from her own film aspirations and instead, begins to write.
Niki's first novel, The Berlin Woman , is published under a pseudonym to great success. But Niki knows she cannot stay anonymous for long. The Nazis are cementing their power over Germany—and over her husband. Though she succeeds in escaping Rickard, he directs Hitler's Brownshirts to do the kidnap their daughter. With her books blacklisted, her life in danger, and Europe descending into war, Niki travels to Amsterdam, joins the Dutch Resistance, and then returns to war-torn Berlin determined to claim freedom for herself and her child, and to write her own story at last.
Bookshop.org | Amazon | Goodreads
---
October
The Woman at the Wheel by Penny Haw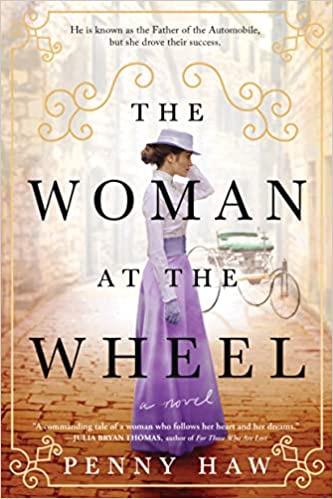 Release date: October 3, 2023
"Unfortunately, only a girl again."
From a young age, Cäcilie Bertha Ringer is fascinated by her father's work as a master builder in Pforzheim, Germany. But those five words, which he wrote next to her name in the family Bible, haunt Bertha.
Years later, Bertha meets Carl Benz and falls in love—with him and his extraordinary dream of building a horseless carriage. Bertha has such faith in him that she invests her dowry in his plans, a dicey move since they alone believe in the machine. When Carl's partners threaten to withdraw their support, he's ready to cut ties. Bertha knows the decision would ruin everything. Ignoring the cynics, she takes matters into her own hands, secretly planning a scheme that will either hasten the family's passage to absolute derision or prove their genius. What Bertha doesn't know is that Carl is on the cusp of making a deal with their nemesis. She's not only risking her marriage and their life's work, but is also up against the patriarchy, Carl's own self-doubt, and the clock.
Like so many other women, Bertha lived largely in her husband's shadow, but her contributions are now celebrated in this inspiring story of perseverance, resilience, and love.
Bookshop.org | Amazon | Goodreads
---
Let Us Descend by Jesmyn Ward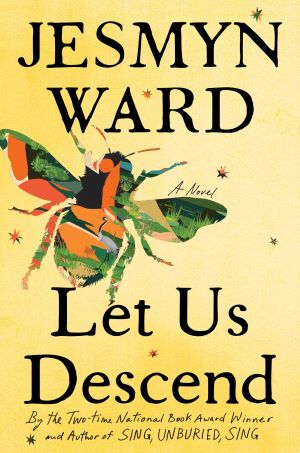 Release date: October 3, 2023
'Let us descend,' the poet now began, 'and enter this blind world.'" — Inferno, Dante Alighieri
Let Us Descend is a reimagining of American slavery, as beautifully rendered as it is heart-wrenching. Searching, harrowing, replete with transcendent love, the novel is a journey from the rice fields of the Carolinas to the slave markets of New Orleans and into the fearsome heart of a Louisiana sugar plantation.
Annis, sold south by the white enslaver who fathered her, is the reader's guide through this hellscape. As she struggles through the miles-long march, Annis turns inward, seeking comfort from memories of her mother and stories of her African warrior grandmother. Throughout, she opens herself to a world beyond this world, one teeming with of earth and water, of myth and history; spirits who nurture and give, and those who manipulate and take. While Ward leads readers through the descent, this, her fourth novel, is ultimately a story of rebirth and reclamation.
From one of the most singularly brilliant and beloved writers of her generation, this miracle of a novel inscribes Black American grief and joy into the very land—the rich but unforgiving forests, swamps, and rivers of the American South. Let Us Descend is Jesmyn Ward's most magnificent novel yet, a masterwork for the ages.
Bookshop.org | Amazon | Goodreads
---
The House of Doors by Tan Twan Eng
Release date: October 17, 2023
The year is 1921. Lesley Hamlyn and her husband, Robert, a lawyer and war veteran, are living at Cassowary House on the Straits Settlement of Penang. When "Willie" Somerset Maugham, a famed writer and old friend of Robert's, arrives for an extended visit with his secretary Gerald, the pair threatens a rift that could alter more lives than one.
Maugham, one of the great novelists of his day, is Having long hidden his homosexuality, his unhappy and expensive marriage of convenience becomes unbearable after he loses his savings-and the freedom to travel with Gerald. His career deflating, his health failing, Maugham arrives at Cassowary House in desperate need of a subject for his next book. Lesley, too, is enduring a marriage more duplicitous than it first appears. Maugham suspects an affair, and, learning of Lesley's past connection to the Chinese revolutionary, Dr. Sun Yat Sen, decides to probe deeper. But as their friendship grows and Lesley confides in him about life in the Straits, Maugham discovers a far more surprising tale than he imagined, one that involves not only war and scandal but the trial of an Englishwoman charged with murder. It is, to Maugham, a story worthy of fiction.
A mesmerizingly beautiful novel based on real events, The House of Doors traces the fault lines of race, gender, sexuality, and power under empire, and dives deep into the complicated nature of love and friendship in its shadow.
Bookshop.org | Amazon | Goodreads
---
What Wild Women Do by Karma Brown
Release date: October 24, 2023
A 1970s feminist facing the costs of loss and autonomy strives to create a better future for women at her Adirondacks camp; the other woman, an aspiring screenwriter of today, makes a shocking discovery that sets her on a course of rewriting her own story.
Rowan is stuck. Her dreams of becoming a screenwriter are stalled, along with her bank account, as she and her fiancé, Seth, try to make sense of what's next for them after leaving LA. But when the couple takes a trip to a cabin in the Adirondacks, hoping the change will provide inspiration for Seth's novel-in-progress, Rowan finds herself drawn into a story greater than her own–that of socialite-turned-feminist-crusader Eddie Calloway, who vanished one day in 1975 and was never found or heard from again. In a handbook left behind in the abandoned ruins of a once-great camp, Rowan learns more about the enigmatic Eddie, and clues as to what happened to her.
As Rowan delves deeper into the mystery, we meet Eddie herself, a fierce and loving woman whose greatest wish was to host women at her camp and unlock their "wildness." However, Eddie's wild ways aren't welcomed by everyone, and rifts between camp owners threaten her mission. When Rowan gets closer to the truth of Eddie's disappearance, she realizes that it may hold the key to unlocking her own ambition and future.
Bookshop.org | Amazon | Goodreads
---
November
The Woman with a Purple Heart by Diane Hanks
Release date: November 7, 2023
Annie Fox will stop at nothing to serve her country. But what happens when her country fails her? In November 1941, Annie Fox, an Army nurse, is transferred to Hickam Field, an air force base in Honolulu. The others on her transport plane are thrilled to work in paradise, but Annie sees her new duty station as the Army's way of holding the door open to her retirement. But serving her country is her calling and she will go wherever she is told. On December 7, Annie's on her way to work when the first Japanese Zero fighter plane flies low over Hickam's Parade Ground.
The death and destruction that follow leave her no time to process what's happening. She rallies her nurses, and they work to save as many lives as they can. But soon their small hospital is overwhelmed. Annie drives into Honolulu to gather supplies, nurses, and several women who will donate blood. However, the nurses are Japanese Americans, and the blood donors are prostitutes.
Under Annie's leadership and working together in unexpected ways, they make it through that horrific day, when one of the Japanese American nurses and Annie's friend, Kay, is arrested as a suspected subversive. As Hickam tries to recover, Annie works to find her friend and return Kay to her family. But Annie's love for her country is put to the test. How can she reconcile the American bravery and resilience she saw on December 7 with the prejudice and injustice she witnesses just a few months later?
Bookshop.org | Amazon | Goodreads
---
The Little Liar by Mitch Albom
Release date: November 14, 2023
Beloved bestselling author Mitch Albom returns with a powerful novel that moves from a small village in Greece during the Holocaust, to America, where the intertwined lives of three survivors are forever changed by the perils of deception and the grace of redemption. Eleven-year-old Nico Krispis never told a lie. When the Nazi's invade his home in Salonika, Greece, the trustworthy boy is discovered by a German officer, who offers him a chance to save his family. All Nico has to do is convince his fellow Jewish residents to board trains heading towards "the east" where they are promised jobs and safety. Unaware that this is all a cruel ruse, the innocent boy goes to the station platform every day and reassures the passengers that the journey is safe. But when the final train is at the station, Nico sees his family being loaded into a large boxcar crowded with other neighbors. Only after it is too late does Nico discover that he helped send the people he loved—and all the others—to their doom at Auschwitz. Nico never tells the truth again. In The Little Liar, his first novel set during the Holocaust, Mitch Albom interweaves the stories of Nico, his brother Sebastian, and their schoolmate Fanni, who miraculously survive the death camps and spend years searching for Nico, who has become a pathological liar, and the Nazi officer who radically changed their lives. As the decades pass, Albom reveals the consequences of what they said, did, and endured. A moving parable that explores honesty, survival, revenge and devotion, The Little Liar is Mitch Albom at his very best. Narrated by the voice of Truth itself, it is a timeless story about the harm we inflict with our deceits, and the power of love to ultimately redeem us.
Bookshop.org | Amazon | Goodreads
---
A True Account: Hannah Masury's Sojourn Amongst the Pyrates, Written by Herself by Katherine Howe
Release date: November 21, 2023
In Boston, as the Golden Age of Piracy comes to a bloody close, Hannah Masury – bound out to service at a waterfront inn since childhood – is ready to take her life into her own hands. When a man is hanged for piracy in the town square and whispers of a treasure in the Caribbean spread, Hannah is forced to flee for her life, disguising herself as a cabin boy in the pitiless crew of the notorious pirate Edward "Ned" Low. To earn the freedom to choose a path for herself, Hannah must hunt down the treasure and change the tides.
Meanwhile, professor Marian Beresford pieces Hannah's story together in 1930, seeing her own lack of freedom reflected back at her as she watches Hannah's transformation. At the center of Hannah Masury's account, however, lies a centuries-old mystery that Marian is determined to solve, just as Hannah may have been determined to take it to her grave.
A True Account tells the unforgettable story of two women in different worlds, both shattering the rules of their own society and daring to risk everything to go out on their own account.
Bookshop.org | Amazon | Goodreads
---
We Must Not Think of Ourselves by Lauren Grodstein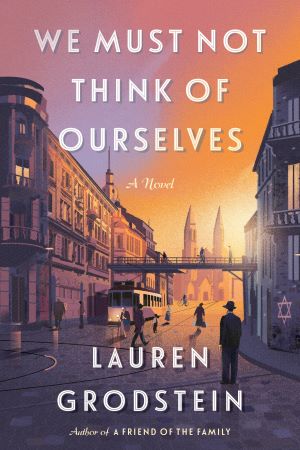 Release date: November 28, 2023
A heart-wrenching story of love and defiance set in the Warsaw Ghetto, based on the actual archives kept by those determined to have their stories survive World War II
On a November day in 1940, Adam Paskow becomes a prisoner in the Warsaw Ghetto, where the Jews of the city are cut off from their former lives and held captive by Nazi guards, and await an uncertain fate. Weeks later, he is approached by a mysterious figure with a surprising Will he join a secret group of archivists working to preserve the truth of what is happening inside these walls? Adam agrees and begins taking testimonies from his students, friends, and neighbors. He learns about their childhoods and their daydreams, their passions and their fears, their desperate strategies for safety and survival. The stories form a portrait of endurance in a world where no choices are good ones.
One of the people Adam interviews is his flatmate Sala Wiskoff, who is stoic, determined, and funny—and married with two children. Over the months of their confinement, in the presence of her family, Adam and Sala fall in love. As they desperately carve out intimacy, their relationship feels both impossible and vital, their connection keeping them alive. But when Adam discovers a possible escape from the Ghetto, he is faced with an unbearable Whom can he save, and at what cost ?
Inspired by the testimony-gathering project with the code name Oneg Shabbat, New York Times bestselling author Lauren Grodstein draws readers into the lives of people living on the edge. Told with immediacy and heart, We Must Not Think of Ourselves is a piercing story of love, determination, and sacrifice for the many fans of literary World War II fiction such as Kristin Harmel's The Book of Lost Names and Lauren Fox's Send for Me .
Bookshop.org | Amazon | Goodreads
---
That's our list! How many did you just add to your TBR list?
Here are a few more lists you might like:
Best Books Set in the 1920s (The Ultimate List)
20+ Non-War Books Set in France
Best Books of 2022: Looking Back at Our Favorite Reads
Pin This Book List