JUMP by Tiffany Noelle Chacon is the perfect book for your budding equestrian . A great Christmas or birthday gift for the "barn rat" in your life!
JUMP Summary
Fear has held her back for too long, but can she make the ultimate leap?
It's been a year since college senior Mila Kozak watched her sister Anya's tragic accident on horseback. Since then, nothing has been the same. Her only safe place—her horse—is the very thing she's afraid of. Mila wants nothing more than to be her old life-of-the-party self. But no matter what she does, she's not that Mila anymore.
When Mila rescues her friend and barnmate, Alex, with a kiss, it sets them on a trajectory that's as surprising as it is electrifying. But when everything Mila holds dear is threatened yet again, will she make the jump?
Set in the world of competitive show jumping, JUMP is a new romance about falling in love, facing your fears and building your own happily-ever-after.
My Review
As the resident "horse girl" of LQ, when Tiffany contacted us about reviewing her new novel, I "JUMPed" at the chance. JUMP is a quick read and is most appropriate for a pre-teen age group, especially because as a romance, it's totally clean – absolutely no shenanigans beyond kissing. Its simplicity makes it pretty palatable for all ages though – I'd also give to my grandma.
First of all, I think JUMP might be the first horse book that I've read that was 100% accurate in the equestrian terminology. This author is a horse girl, she gets how frustrating it is when the horse stuff isn't right!
JUMP is also set in Florida, and there are a few sentences with Spanish dialogue. If you don't speak Spanish, you're as in the dark as Mila, which I think is how the author intended it to be. There is a real cultural divide in the US horse world, because there are a lot of immigrants, legal and otherwise, working at barns. While I have a lot to say about the real life ethics of this, it's also just reality, so it's very much appropriately placed in this story.
There are a few "suspend belief" moments in JUMP though. Notably, how many major plot points need to occur to make the story go. An extreme riding accident, ICE involvement, and barn sabotage – it was a bit much for me. Add this to a few cheesy notes (Alex's last name is Caballero, which literally translates to Horseman) and you have… a future Hallmark movie?
However, cheesiness aside, it's not to say JUMP doesn't have some mature themes worth digging into. Trauma healing, family support through thick and thin, and the struggle of the American Dream – they are all here.
Sequel & Purchase Links
Great news – based on Tiffany's website, JUMP is now part of the Equestrian Dreams series – sequel FALL is also now available! Get the set through Tiffany or through our affiliate links below:
Bookshop.org | Amazon | Goodreads
About the Author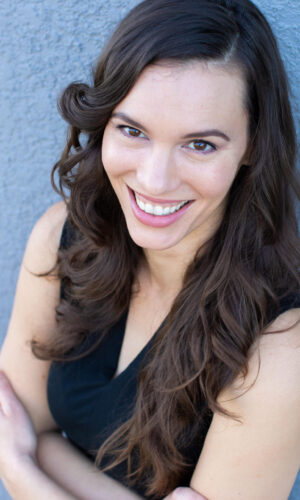 Tiffany has been riding horses since before she could walk. She is a five-time International Arabian Horse Association national champion and competed regularly at the Winter Equestrian Festival in Wellington with her gentle giant, Obi-Wan.
Tiffany studied at the University of Florida and graduated summa cum laude in 2010. She received her Masters of Fine Arts in Creative Writing from the University of Tampa in 2016. She blogs about motherhood, faith, and chronic pain at Mommy of Mayhem.
Tiffany married her middle school sweetheart, Tyler, in 2009 and together they have two wild and crazy boys. They live in Tampa, Florida.
Check out the Equestrian Dreams interactive website below:
https://tiffanynoellechacon.com