When a book has a 4.52/5 rating on Goodreads with over 19,000 ratings, I expect to be drawn in and moved by it. The Things We Cannot Say met those expectations! Basically any time I was not reading this book, I was thinking/dreaming about when would be the next time I could read it.
Read on for my review!
The Summary
In 1942, Europe remains in the relentless grip of war. Just beyond the tents of the Russian refugee camp she calls home, a young woman speaks her wedding vows. It's a decision that will alter her destiny…and it's a lie that will remain buried until the next century.
Since she was nine years old, Alina Dziak knew she would marry her best friend, Tomasz. Now fifteen and engaged, Alina is unconcerned by reports of Nazi soldiers at the Polish border, believing her neighbors that they pose no real threat, and dreams instead of the day Tomasz returns from college in Warsaw so they can be married. But little by little, injustice by brutal injustice, the Nazi occupation takes hold, and Alina's tiny rural village, its families, are divided by fear and hate. Then, as the fabric of their lives is slowly picked apart, Tomasz disappears. Where Alina used to measure time between visits from her beloved, now she measures the spaces between hope and despair, waiting for word from Tomasz and avoiding the attentions of the soldiers who patrol her parents' farm. But for now, even deafening silence is preferable to grief.
Slipping between Nazi-occupied Poland and the frenetic pace of modern life, Kelly Rimmer creates an emotional and finely wrought narrative that weaves together two women's stories into a tapestry of perseverance, loyalty, love and honor. The Things We Cannot Say is an unshakable reminder of the devastation when truth is silenced…and how it can take a lifetime to find our voice before we learn to trust it.
The Review
I've read too many World War II books. There are just so many out there! While many are great (hey there All the Light We Cannot See, I'm talking about you), there are also many there are just "meh". So, when I found out a WWII novel had been chosen for my book club, I had to admit, there may have been a skeptical eye roll. When I saw the ratings and reviews, though, I got a bit more excited.
This book is narrated by two very strong women who do not believe that they are strong at all. Alina's portion of the story is told during the war, and we jump back and forth between her story and Alice's in present time. Both are dealing with incredibly challenging situations while working on coming into their own as humans and as women, and I loved being a bystander.
Dual time frame narratives can either make a novel amazing or ruin it for me. I hate it when I'm reading one of these and I don't really want to read one character's point of view because the other's is so much more compelling. I'm happy to report that this did not happen AT ALL in this book. They were both just as compelling in such different ways – one woman in love living through the brutality of war, and one mother struggling to hold her marriage, family, and herself together.
This novel builds a lot of suspense and reveals things slowly, which I actually ended up loving. Instead of one "ah ha" moment, it's more drawn out. The story is definitely a lot about sacrifice, and I wanted to scream NOO so many times at said sacrifices. Love being compelled to scream at my books (because they're great)!
My ONLY criticism of this book is how intense Alina's love story is. There were several times where I just thought "ok I don't think people ever say these kinds of deep deep love things to each other except in books and movies" 🤣. Apparently I'm just not romantic enough 🙈.
5 stars!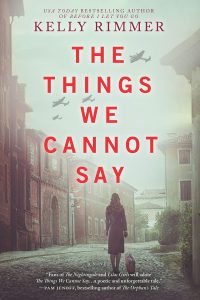 The Things We Cannot Say
Historical Fiction
Graydon House
October 17, 2019
Paperback
448 pages


Pin This Post