August is here, there's a back-to-school buzz in the air, and we're all getting antsy to squeeze every last drop out of summer. How is it that we're over half way through 2018 already?
Here at LQ, several of us have rated multiple books with 5 stars so far this year. These aren't all books released in 2018 – just books we've read this year. It's been a great 6 months of reading for us! We wanted to share our favorites so far in 2018, and ask you: What have your favorites been so far? Check ours out and leave a comment below!
Allison
Born a Crime by Trevor Noah
This was on a lot of people's favorite list of 2017, but I didn't get around to reading to it until this January. I cannot recommend it enough. Noah's story is absolutely incredible and it's peppered with hilarious coming-of-age stories. I highly recommend listening to the audiobook. Noah narrates it himself and easily pronounces the different South African names and dialects I would no doubt butcher. I'm also excited for the movie to come out. It was announced back in February that Lupita Nyong'o would play his mother.
Good Morning, Midnight by Lily Brooks-Dalton
I might be alone in my obsession with this book. It didn't get a ton of great ratings, but for some reason I absolutely loved it. It might have helped that I read a few reviews beforehand and new that there was little action and it centered around character development. The basic premise is that some unknown catastrophe has hit Earth ending all forms of communication. Two characters, Augustine and Sully, have devoted their lives to their work and are facing the realization that their research might be completely inconsequential now that civilization has ended. The description of the settings are enchanting and I really loved Brooks-Dalton's writing style. The end literally had me thinking about it for weeks afterward. I really like books that hold multiple layers of meaning and make you think about them long after you finished reading. This was definitely one of those books.
---
Aubrey
American Kingpin: The Epic Hunt for the Criminal Mastermind Behind the Silk Road
This is definitely my #1 favorite read of 2018 so far. Though it's a true story, it reads like a novel and I'm still awed by its deep research and masterful writing. My fiance and I binged the entire audio book in a single weekend — highly recommend.
Mindhunter: Inside the FBI's Elite Serial Crime Unit
I guess I'm into true crime this year, but this one also tops my list for 2018. For both fans of the Mindhunter show and those who haven't seen it (they're very different), Mindhunter is the incredible account of one man's FBI career developing behavioral science and criminal profiling. Not for the faint of heart (though hey, this is the world we live in), but a great read or listen.
Carry Me
Ok I'm sneaking a third book in, but I just finished Carry Me last week and it was one of those couldn't-put-it-down books that's sticking with me. It's not a famous or well-known book, but I picked it up in a Northfield, MN book store (shout-out to Content Bookstore) on a whim and was surprised by how much I loved it. It follows the life of Billy, through his childhood on the Isle of Wight in the early 1900s to WWII Germany and beyond. Billy's life is shaped by his childhood friend, Karin, with whom he shares a fantasy of escape. Suffice it to say I enjoyed this unusual and intricate tale.
---
Becky
Mr. Penumbra's 24-Hour Bookstore by Robin Sloan
I admit part of the reason I loved this book was because I listened to it as an audiobook. Ari Fliakos does an amazing job bringing Robin Sloan's characters to life, and the story itself is just delightful! It is a lighthearted story about a young man trying to find his way in San Francisco when he stumbles upon a very strange (and true to its name) 24-hour book store. The novel doesn't take itself too seriously and has just the right amount of DaVinci-Code-ness!
Us Against You by Fredrik Backman
Rachel lists Beartown as one of her favorites of 2018, and I would probably second that if I hadn't read Fredrik Backman's sequel to it a few weeks ago! Sequels don't typically live up to the original, but Backman exceeded all my expectations. I loved being able to get to know some of Beartown's other residents, and in Backman-style, I felt the powerful emotions the region wrestled with as they struggled to heal.
---
Caleigh
The Tea Girl of Hummingbird Lane
This one was a surprise for me in July. I received it as a reward draw, and didn't really know what it was about. But I got SUPER sucked in, and as a result will be buying a tea sampler of the Chinese Pu'er tea to try out. As a quick synopsis, this story is about a girl born into a Chinese hill-tribe family, with an ancient tea tree grove as her dowry. Her story progresses through the rebirth of the tea industry and how it affects both industrial and rural areas of her country.
All the Ugly and Wonderful Things
By far one of my favourites not only this year, but to date. An abused and neglected child of a meth dealer and a mentally ill addict, Wavenna (Wavy) is left to navigate growing up on her own. She leans on one of her father's gentle giant enforcers, Kellen, and the two begin an unlikely friendship. When the relationship begins to cross lines and a tragic event intersects, Wavy and Kellen have to suffer the consequences. I wrote a full review of this book for LQ and really enjoyed the depth and beauty of Brynn Greenwood's writing.
---
Janna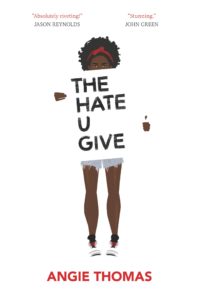 The Hate U Give
This is hands-down my favorite so far of 2018. I listened to the audiobook and could not recommend it more. The narrator brought the characters to life in a way that I don't think reading on your own would. Highly captivating and an important read in light of the ongoing police brutality and #blacklivesmatter. This is YA, but every adult I know who's read this has loved it.
Everything I Never Told You
I know people are raving about Celeste Ng's newest book, Little Fires Everywhere, but I only recently came across her writing. I normally read on the bus on my way to work. I like this because I get to escape the commute and take time for myself. However, I couldn't bring myself to read Everything I Never Told You anywhere else but my bed. Anything else would have felt…too public, too disrespectful. This family drama about the unsaid, and often unexplainable, pain of not fitting in and not being seen by those we love is well-written, breathtaking, and cracked my heart in pieces.
---
Joli
My Absolute Darling
This book tore me up, and I loved it. It was so vivid, so enthralling – I couldn't put it down. It's a story of survival, and it took twists and turns I wasn't expecting. This is one that will stick out in my mind for a long time.
This is How It Always Is
I'm SO glad my book club chose this book. Laurie Frankel is a serious storyteller, and I was pulled into her family drama from page one. She also tackles a subject (transgender children) that I had never encountered in fiction before, and I thought it was just perfectly done, how she portrays the gamut of reactions and problems that society makes out of a transgender child. SO good.
---
Rachel
A Court of Thorns and Roses Series
The second book in the series is a slim favorite, but still adored the entire trilogy. It's escapist fantasy at its best. While the writing and plot aren't perfect, this series sweeps you off your feet and engrosses you in another world in a way I haven't experienced more than a few other times.
Beartown by Fredrick Backman
I read this in just over 12 hours and can't stop recommending it to everyone! A small town devoted to their hockey team is rocked to its core when one of the players commits an unspeakable crime. The townspeople are divided in their support and irrevocable damage is done. Backman's characters are so well-written, with relatable emotions, fears, flaws, and triumphs.
---
Rebecca
Eleanor Oliphant is Completely Fine
This one took me completely by surprise. It sounded like an interesting story, but I was on a real murder mystery kick and wasn't sure if I was feeling it. I am SO glad I gave it a chance. It is such a beautiful story, and I loved the way Eleanor would comment on how bizarre everyone else's behavior was. Things that most of us would consider to be normal social interaction were completely foreign to her, and it was wonderful to see these moments from her point of view. It was a heart-warming read that made me reassess what I consider to be "normal".
The Girl Before
Absolutely blew my mind. I was hooked from the very start on this emotional and suspenseful roller coaster of a novel. It took me away from reality and plunged me into a world of suspicion and intrigue. Well-worth a read if you're looking for your next mystery/thriller—but you might need to keep the light on!