Thanks to TLC Book Tours for a copy of this book and the opportunity to add my book review of No Judgments to this book tour! 
Bree is happily enjoying her new life on Little Bridge Island when an approaching hurricane threatens to decimate her new community. Along with just a few of the locals, she decides to stick it out rather than evacuate. Unfortunately that puts her in the path of the island's resident womanizer, Drew. Drew's extended family offer her refuge in their Category 5 prepped mansion so she can't help but get to know him better. After the storm, when he volunteers to help her rescue abandoned pets she starts to think he may not be as awful as she once thought.
I went in with high hopes for No Judgments since I grew up reading The Princess Diaries series, over and over and over! So, let's start this No Judgments book review with the parts I liked! Within the contemporary romance genre, this is the first book I've heard of that's set during a hurricane. I thought that added a unique aspect and bit of drama that I haven't seen anywhere else. It's perfect timing to set the release date during hurricane season. Plus, the descriptions of the island were vivid and I could easily imagine what it would be like to live there. Although I wouldn't love the hurricane threat, the small town community and gorgeous scenery makes me want to pack my bags!
There's also a strong animal lover vibe and rescuing animals becomes a key part of the plot as the story progresses. I don't have pets myself, but I appreciate how the characters felt about making animals a priority. I'm sure that's an issue in real life that doesn't get much attention, so it was a helpful awareness to bring it up in the book.
My issues with No Judgments aren't terrible, just small things that bugged me. Bree mentions multiple times that she's swearing off men and taking a much needed break after her previous relationship. Yet, her feelings for Drew develop quickly and things physically escalate fast. For her sake, I wanted to her take some more time to recover and maybe move a bit slower into a new relationship. I know that's personal preference though 🙂 I also thought the sex scenes were a bit awkward, at least compared to other romance novels I've read.
Ultimately I prefer Cabot's young adult writing to her latest release. However, anyone who lives in hurricane territory or is an avid animal lovers will find No Judgments particularly charming!
If you're interested in another recent contemporary romance, check out my review of 99 Percent Mine by Sally Thorne!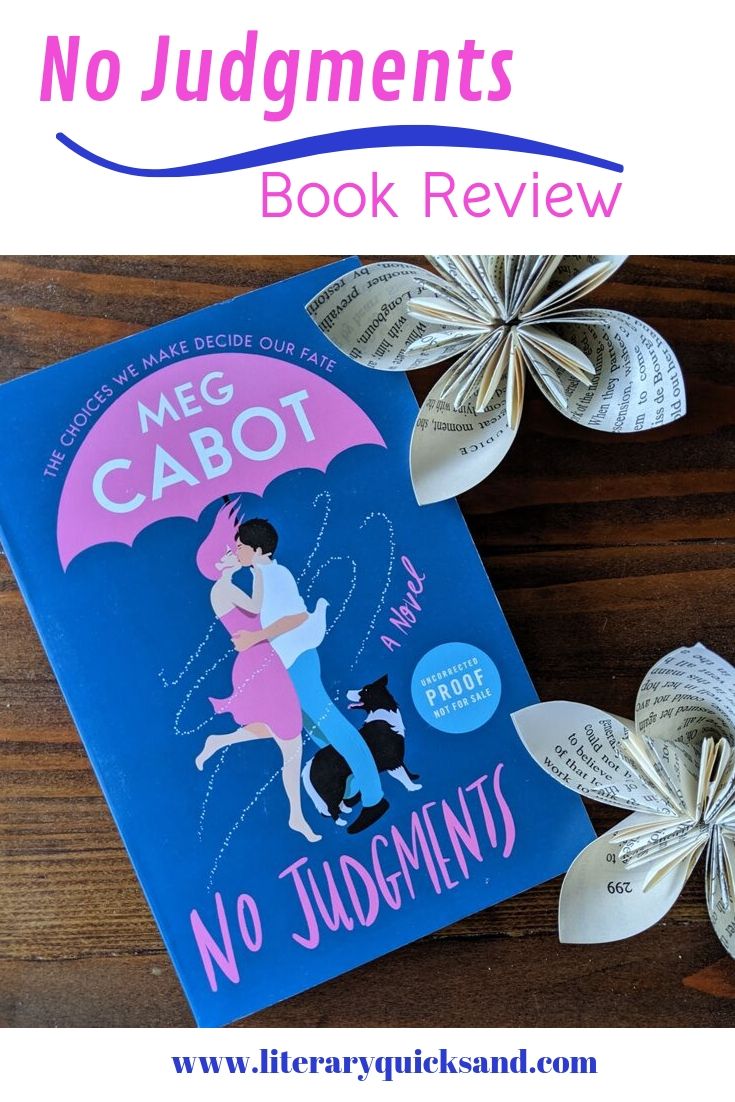 Purchase Links
About No Judgments
• Paperback: 384 pages
• Publisher: William Morrow Paperbacks (September 24, 2019)
The storm of the century is about to hit Little Bridge Island, Florida—and it's sending waves crashing through Sabrina "Bree" Beckham's love life…
When a massive hurricane severs all power and cell service to Little Bridge Island—as well as its connection to the mainland—twenty-five-year-old Bree Beckham isn't worried . . . at first. She's already escaped one storm—her emotionally abusive ex—so a hurricane seems like it will be a piece of cake.
But animal-loving Bree does become alarmed when she realizes how many islanders have been cut off from their beloved pets. Now it's up to her to save as many of Little Bridge's cats and dogs as she can . . . but to do so, she's going to need help—help she has no choice but to accept from her boss's sexy nephew, Drew Hartwell, the Mermaid Café's most notorious heartbreaker.
But when Bree starts falling for Drew, just as Little Bridge's power is restored and her penitent ex shows up, she has to ask herself if her island fling was only a result of the stormy weather, or if it could last during clear skies too.
About Meg Cabot
Meg Cabot was born in Bloomington, Indiana. In addition to her adult contemporary fiction, she is the author of the bestselling young adult fiction series, The Princess Diaries. Over 25 million copies of her novels for children and adults have sold worldwide. Meg lives in Key West, FL, with her husband.
Find out more about Meg at her website, follow her blog, and connect with her on Facebook, Instagram, and Twitter.