This book was recommended to me by a friend and it is this book that pulled me out of my reading slump that I went through during university. I hadn't had the time to pick up a book like this for years and when I picked it up, I just couldn't seem to put it down. As soon as I finished it I took it upon myself to order the next two books in the series immediately.
The Review
First off, I would like to preface this by saying, this book has a map of the fantasy world in front of it and I hold the belief that any book that warrants it's own map is bound to be good. Anyone else?

Initially, I was pretty intimidated by this book. I had been in a reading slump throughout my time at university and I was doubtful that I was going to be able to finish this monster book. At 448 pages, it's nowhere near the largest book I've ever read but it wasn't exactly a book that you pick up to ease back into reading. Nonetheless, I dove in and devoured the book in a matter of days. This book dragged me out of my reading slump that I had been in for years.
Plot
This book was a wild ride from start to finish. The plot was exciting and unpredictable which is something that you can run into trouble with in certain YA novels. Certain tropes can get boring when they are overdone or not done right, but the author's execution was so beautiful that I found myself being unable to predict what was going to happen next which is unusual for someone who has read as much as I have.
Themes
Sacrifice, love, selflessness, heartbreak; these are just some of the themes running through this book. We see sacrifice right from the beginning of the book with Feyre sacrificing so much for her family, for her promise to her mother. She takes care of them, even though they may not deserve it. When she makes the ultimate sacrifice, agreeing to cross over into the immortal lands of the faerie in order to spare her family, it's clear that she is going to be an amazing character who will do anything for the ones she loves- whoever that may be.
Characters
The characters were captivating and multidimensional. It's satisfying to see such grand character growth in a book where that might not be the main element. The book was well rounded in that it didn't focus too much on any one part of the story. Sometimes, in books, the characters themselves can get overshadowed by the story.If a novel is centered around a romantic relationship, that relationship can hinder the emotional progression of the characters but the characters in this story were not forgotten about. They flourished and bloomed before my eyes as I read and I couldn't help but root for them. Even inherently unlikable characters were so dynamic that at the end of it, it wasn't certain who you should be holding a grudge against.
As I mentioned earlier, this book was very unpredictable. Things that I accepted to be true and took them at face value came into play later in the book in a way that I had not expected. Everything flowed together so well and nothing was forced, telling me that the developments had been planned from the very beginning. Sacrifice, love, selflessness, heartbreak; all rolled into a pretty little package and presented to the readers of this novel.

The descriptions in this book pull you in and make it very easy to fall into the world and become one with the characters. It's a book that makes you wish you were there. Because it's a fantasy world, descriptions are so important and the author really hit the nail on the head here.

I could go on for hours about this book but I wont. Instead, I encourage you to go out and get the book and see for yourself!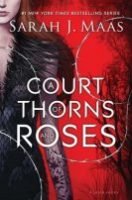 A Court of Thorns and Roses
Bloomsbury
May 5, 2015
419