For almost 10 years my bookclub has been getting together to discuss books. We have prided ourselves on being eclectic readers and enjoy finding new ways to spice things up! Every December we have a special outing to celebrate another year of reading.
During our October meeting I could hardly contain my excitement. "Why don't we have a book swap?"
Everyone enthusiastically agreed. Keeping with the spirit of the season, we decided to call our "book swap" a "book giving."
The Literati, our club, has been adventurous over the years, but not once have we ever done a book swap. I had been struck with inspiration when one day I had stumbled on a website called Everyday Reading – in particular the post "How to Host a Book Swap Party" (https://everyday-reading.com/book-swap/). That was all the encouragement I needed!
The Venue
We held our Book Giving at Parker's Bistro in downtown Sioux Falls. The atmosphere was perfect, classy and local. The pine bough and twinkle light decor added to the festive spirit of the snowy evening.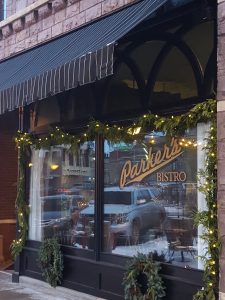 The Guidelines
Each member brought a book that held special meaning for her. The books were either wrapped or gift bagged and included a short note of explanation. There were no restrictions as to the book type or classification – from adult non-fiction to children's picture book, anything went!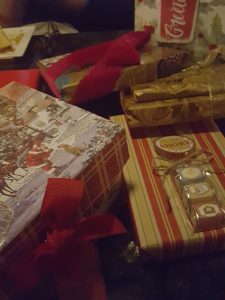 The Event
We started the evening off leisurely with drinks and conversation as each book club member arrived. After we had placed our orders we officially began the night by toasting the end of another year of reading. Dinner arrived and we transitioned into a brief but in-depth discussion of Where the Crawdads Sing by Delia Owens.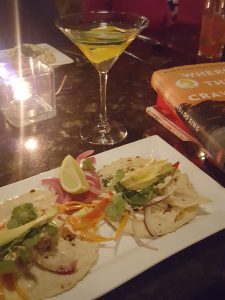 At last the time for the book giving had arrived! There was one tiny hitch – in all my preparations I had not come up with a clever way of swapping the books. Whoops! In the end, we each grabbed our own book and simply passed it down two to the left. It's good to have bookish friends who have your back!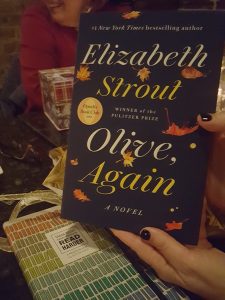 Here is the complete list of books given:
Olive, Again by Elizabeth Strout (also given with this book was Book Riot's Read Harder book journal)
Light a Penny Candle by Maeve Binchy
The Other Side of the Coin: The Queen, the Dresser, and the Wardrobe by Angela Kelly
Wonder by R. J. Palacio
Exclamation Mark by  Amy Krouse Rosenthal 
The Snow Child by Eowyn Ivey
Have you ever participated in a holiday book giving? Share with us down below!