When winter sets in, do you crave a few winter reads? Or maybe you like them in the dog days of summer to help you cool off. Either way, books set in winter can be really cozy reads!
To help you find a few winter books that sound awesome, we made a list of some of the best. Have an idea for a book that should be added here? Leave a comment and we'll check it out!
Jump to a section:
Mystery/Thriller
Disappearing Earth by Julia Phillips
[LQ's Review] One August afternoon, on the shoreline of the north-eastern edge of Russia, two sisters are abducted. In the ensuing weeks, then months, the police investigation turns up nothing. Echoes of the disappearance reverberate across a tightly woven community, with the fear and loss felt most deeply among its women.
Set on the remote Siberian peninsula of Kamchatka, Disappearing Earth draws us into the world of an astonishing cast of characters, all connected by an unfathomable crime. We are transported to vistas of rugged beauty – densely wooded forests, open expanses of tundra, soaring volcanoes and the glassy seas that border Japan and Alaska – and into a region as complex as it is alluring, where social and ethnic tensions have long simmered, and where outsiders are often the first to be accused.
In a story as propulsive as it is emotionally engaging, and through a young writer's virtuosic feat of empathy and imagination, this powerful novel provides a new understanding of the intricate bonds of family and community, in a Russia unlike any we have seen before.
Bookshop.org | Amazon | Goodreads
---
One by One by Ruth Ware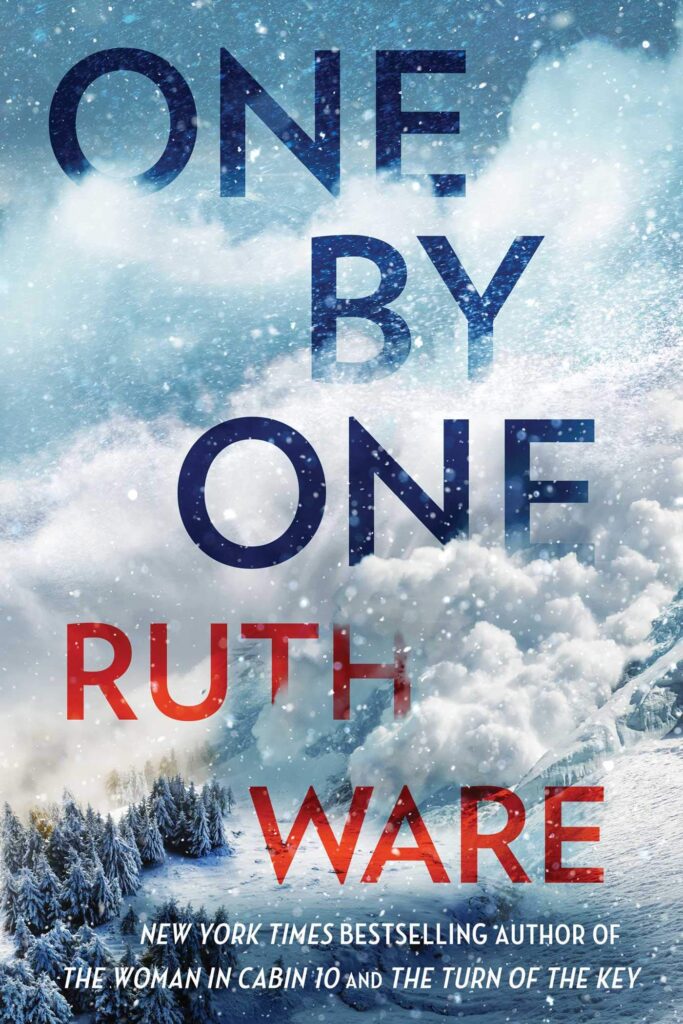 Getting snowed in at a beautiful, rustic mountain chalet doesn't sound like the worst problem in the world, especially when there's a breathtaking vista, a cozy fire, and company to keep you warm. But what happens when that company is eight of your coworkers…and you can't trust any of them?
When an off-site company retreat meant to promote mindfulness and collaboration goes utterly wrong when an avalanche hits, the corporate food chain becomes irrelevant and survival trumps togetherness. Come Monday morning, how many members short will the team be?
Bookshop.org | Amazon | Goodreads
---
Snow Falling on Cedars by David Guterson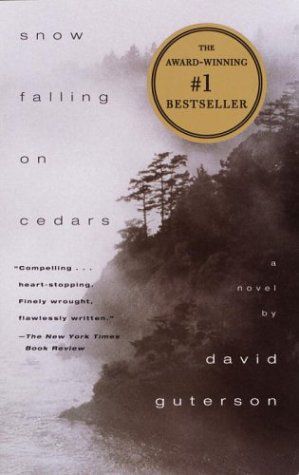 Gripping, tragic, and densely atmospheric—a masterpiece of suspense San Piedro Island, north of Puget Sound, is a place so isolated that no one who lives there can afford to make enemies. But in 1954 a local fisherman is found suspiciously drowned, and a Japanese American named Kabuo Miyamoto is charged with his murder. In the course of the ensuing trial, it becomes clear that what is at stake is more than a man's guilt. For on San Pedro, memories of a charmed love affair between a white boy and the Japanese girl who grew up to become Kabuo's wife; memories of land desired, paid for, and lost. Above all, San Piedro is haunted by the memory of what happened to its Japanese residents during World War II, when an entire community was sent into exile while its neighbors watched.
Bookshop.org | Amazon | Goodreads
---
The Child Finder by Rene Denfeld
"Where are you, Madison Culver? Flying with the angels, a silver speck on a wing? Are you dreaming, buried under snow? Or—is it possible—you are still alive?"
Three years ago, Madison Culver disappeared when her family was choosing a Christmas tree in Oregon's Skookum National Forest. She would be eight-years-old now—if she has survived. Desperate to find their beloved daughter, certain someone took her, the Culvers turn to Naomi, a private investigator with an uncanny talent for locating the lost and missing. Known to the police and a select group of parents as "the Child Finder," Naomi is their last hope.
Naomi's methodical search takes her deep into the icy, mysterious forest in the Pacific Northwest, and into her own fragmented past. She understands children like Madison because once upon a time, she was a lost girl, too.
As Naomi relentlessly pursues and slowly uncovers the truth behind Madison's disappearance, shards of a dark dream pierce the defenses that have protected her, reminding her of a terrible loss she feels but cannot remember. If she finds Madison, will Naomi ultimately unlock the secrets of her own life?
Told in the alternating voices of Naomi and a deeply imaginative child, The Child Finder is a breathtaking, exquisitely rendered literary page-turner about redemption, the line between reality and memories and dreams, and the human capacity to survive.
Bookshop.org | Amazon | Goodreads
---
Winter's Bone by Daniel Woodrell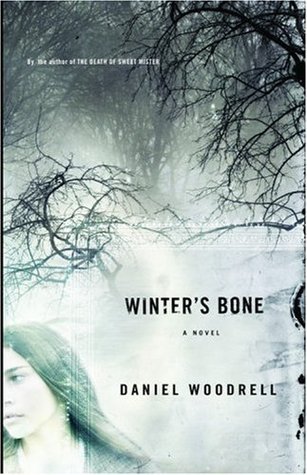 The sheriff's deputy at the front door brings hard news to Ree Dolly. Her father has skipped bail on charges that he ran a crystal meth lab, and the Dollys will lose their house if he doesn't show up for his next court date.
Ree's father has disappeared before. The Dolly clan has worked the shadowy side of the law for generations, and arrests (and attempts to avoid them) are part of life in Rathlin Valley. But the house is all they have, and Ree's father would never forfeit it to the bond company unless something awful happened. With two young brothers depending on her and a mother who's entered a kind of second childhood, Ree knows she has to bring her father back, dead or alive, or else see her family turned out into the unforgiving cold.
Sixteen-year-old Ree, who has grown up in the harsh poverty of the Ozarks, learns quickly that asking questions of the rough Dolly clan can be a fatal mistake. She perseveres past obstacles of every kind and finally confronts the top figures in the family's hierarchy.
Along the way to a shocking revelation, Ree discovers unexpected depths in herself and in a family network that protects its own at any cost.
Bookshop.org | Amazon | Goodreads
---
Moon of the Crusted Snow by Waubgeshig Rice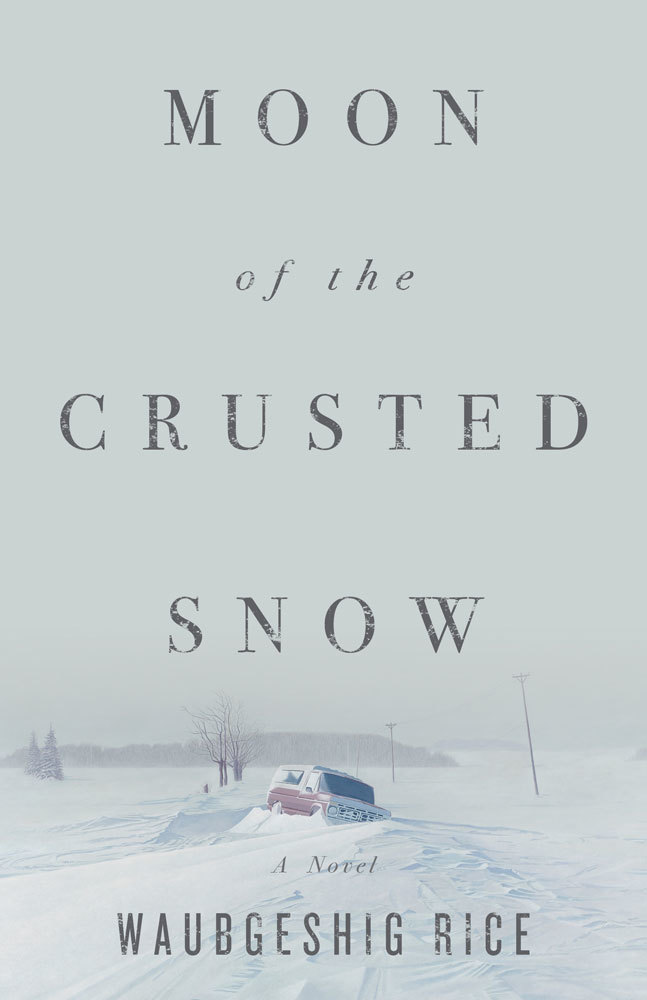 With winter looming, a small northern Anishinaabe community goes dark. Cut off, people become passive and confused. Panic builds as the food supply dwindles. While the band council and a pocket of community members struggle to maintain order, an unexpected visitor arrives, escaping the crumbling society to the south. Soon after, others follow.
The community leadership loses its grip on power as the visitors manipulate the tired and hungry to take control of the reserve. Tensions rise and, as the months pass, so does the death toll due to sickness and despair. Frustrated by the building chaos, a group of young friends and their families turn to the land and Anishinaabe tradition in hopes of helping their community thrive again. Guided through the chaos by an unlikely leader named Evan Whitesky, they endeavor to restore order while grappling with a grave decision.
Blending action and allegory, Moon of the Crusted Snow upends our expectations. Out of catastrophe comes resilience. And as one society collapses, another is reborn.
Bookshop.org | Amazon | Goodreads
---
The Foulest Things by Amy Tector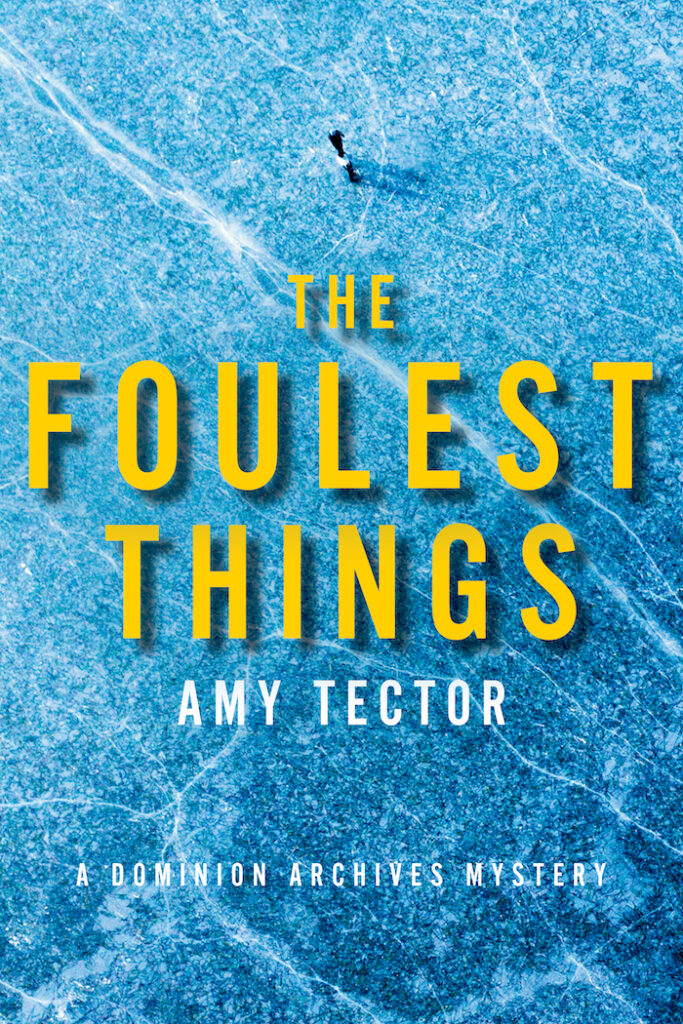 Ottawa, January 2010. Canada's historic Dominion Archives.
Junior archivist Jess Kendall is struggling to find her footing in her new role. Her colleagues undermine her, her boss hates her, and her only romantic prospect hides a whiskey bottle in his desk. Desperate to make a good impression, Jess's prospects begin to change when she discovers a series of mysterious letters chronicling life in Paris at the start of the Great War. Thinking she has landed her ticket to career advancement, Jess dives into research in Dominion's art vault, where she stumbles upon the body of one of her colleagues.
As if finding a corpse isn't frightening enough, Jess soon notices she is being stalked by a menacing figure. It's only when Jess makes the connection between the letters, the murder, and a priceless Rembrandt that she realizes just how high the stakes are. Can Jess salvage her career, unravel a World War I–era mystery, shake off her ominous stalker, solve a murder, and—oh yeah—save her own life before it's too late?
Bookshop.org | Amazon | Goodreads
---
Murder on the Orient Express by Agatha Christie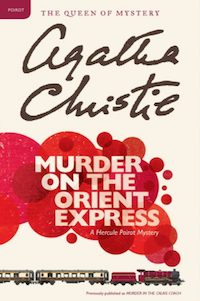 Just after midnight, a snowdrift stops the famous Orient Express in its tracks as it travels through the mountainous Balkans. The luxurious train is surprisingly full for the time of the year but, by the morning, it is one passenger fewer. An American tycoon lies dead in his compartment, stabbed a dozen times, his door locked from the inside.
One of the passengers is none other than detective Hercule Poirot. On vacation.
Isolated and with a killer on board, Poirot must identify the murderer—in case he or she decides to strike again.
Bookshop.org | Amazon | Goodreads
---
The Sanatorium by Sarah Pearse
You won't want to leave…until you can't.
Half hidden by forest and overshadowed by threatening peaks, Le Sommet has always been a sinister place. Long plagued by troubling rumors, the former abandoned sanatorium has since been renovated into a five-star minimalist hotel.
An imposing, isolated getaway spot high up in the Swiss Alps is the last place Elin Warner wants to be. But Elin's taken time off from her job as a detective, so when her estranged brother, Isaac, and his fiancée, Laure, invite her to celebrate their engagement at the hotel, Elin really has no reason not to accept.
Arriving in the midst of a threatening storm, Elin immediately feels on edge–there's something about the hotel that makes her nervous. And when they wake the following morning to discover Laure is missing, Elin must trust her instincts if they hope to find her. With the storm closing off all access to the hotel, the longer Laure stays missing, the more the remaining guests start to panic.
Elin is under pressure to find Laure, but no one has realized yet that another woman has gone missing. And she's the only one who could have warned them just how much danger they are all in…
---
The Winter People by Jennifer McMahon
West Hall, Vermont, has always been a town of strange disappearances and old legends. The most mysterious is that of Sara Harrison Shea, who, in 1908, was found dead in the field behind her house just months after the tragic death of her daughter.
Now, in present day, nineteen-year-old Ruthie lives in Sara's farmhouse with her mother, Alice, and her younger sister. Alice has always insisted that they live off the grid, a decision that has weighty consequences when Ruthie wakes up one morning to find that Alice has vanished. In her search for clues, she is startled to find a copy of Sara Harrison Shea's diary hidden beneath the floorboards of her mother's bedroom. As Ruthie gets sucked into the historical mystery, she discovers that she's not the only person looking for someone that they've lost. But she may be the only one who can stop history from repeating itself.
Bookshop.org | Amazon | Goodreads
---
Still Life (Chief Inspector Armand Gamache #1) by Louise Penny
The discovery of a dead body in the woods on Thanksgiving Weekend brings Chief Inspector Armand Gamache and his colleagues from the Surete du Quebec to a small village in the Eastern Townships. Gamache cannot understand why anyone would want to deliberately kill well-loved artist Jane Neal, especially any of the residents of Three Pines – a place so free from crime it doesn't even have its own police force.
But Gamache knows that evil is lurking somewhere behind the white picket fences and that, if he watches closely enough, Three Pines will start to give up its dark secrets…
Bookshop.org | Amazon | Goodreads
---
Historical Fiction
The Snow Child by Eowyn Ivey
Alaska, 1920: a brutal place to homestead, and especially tough for recent arrivals Jack and Mabel. Childless, they are drifting apart–he breaking under the weight of the work of the farm; she crumbling from loneliness and despair. In a moment of levity during the season's first snowfall, they build a child out of snow. The next morning the snow child is gone–but they glimpse a young, blonde-haired girl running through the trees. This little girl, who calls herself Faina, seems to be a child of the woods. She hunts with a red fox at her side, skims lightly across the snow, and somehow survives alone in the Alaskan wilderness. As Jack and Mabel struggle to understand this child who could have stepped from the pages of a fairy tale, they come to love her as their own daughter. But in this beautiful, violent place things are rarely as they appear, and what they eventually learn about Faina will transform all of them.
Bookshop.org | Amazon | Goodreads
---
Winter Garden by Kristin Hannah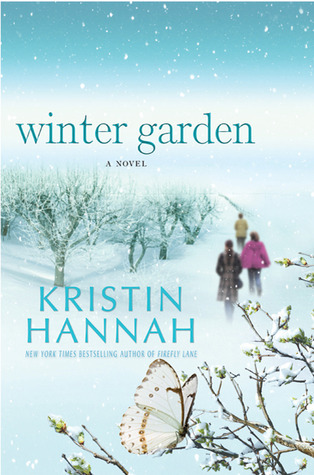 Meredith and Nina Whitson are as different as sisters can be. One stayed at home to raise her children and manage the family apple orchard; the other followed a dream and traveled the world to become a famous photojournalist. But when their beloved father falls ill, Meredith and Nina find themselves together again, standing alongside their cold, disapproving mother, Anya, who even now, offers no comfort to her daughters. As children, the only connection between them was the Russian fairy tale Anya sometimes told the girls at night. On his deathbed, their father extracts a promise from the women in his life: the fairy tale will be told one last time—and all the way to the end. Thus begins an unexpected journey into the truth of Anya's life in war-torn Leningrad, more than five decades ago. Alternating between the past and present, Meredith and Nina will finally hear the singular, harrowing story of their mother's life, and what they learn is a secret so terrible and terrifying that it will shake the very foundation of their family and change who they believe they are.
Bookshop.org | Amazon | Goodreads
---
The Diamond Eye by Kate Quinn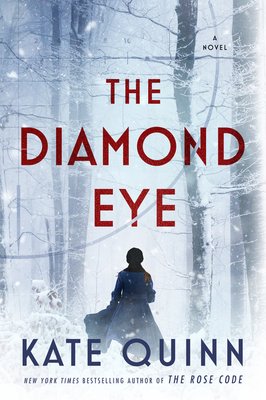 In 1937 in the snowbound city of Kiev (now known as Kyiv), wry and bookish history student Mila Pavlichenko organizes her life around her library job and her young son–but Hitler's invasion of Ukraine and Russia sends her on a different path. Given a rifle and sent to join the fight, Mila must forge herself from studious girl to deadly sniper–a lethal hunter of Nazis known as Lady Death. When news of her three hundredth kill makes her a national heroine, Mila finds herself torn from the bloody battlefields of the eastern front and sent to America on a goodwill tour.
Still reeling from war wounds and devastated by loss, Mila finds herself isolated and lonely in the glittering world of Washington, DC–until an unexpected friendship with First Lady Eleanor Roosevelt and an even more unexpected connection with a silent fellow sniper offer the possibility of happiness. But when an old enemy from Mila's past joins forces with a deadly new foe lurking in the shadows, Lady Death finds herself battling her own demons and enemy bullets in the deadliest duel of her life.
Bookshop.org | Amazon | Goodreads
---
In the Midst of Winter by Isabel Allende
New York Times and worldwide bestselling "dazzling storyteller" (Associated Press) Isabel Allende returns with a sweeping novel about three very different people who are brought together in a mesmerizing story that journeys from present-day Brooklyn to Guatemala in the recent past to 1970s Chile and Brazil.
In the Midst of Winter begins with a minor traffic accident—which becomes the catalyst for an unexpected and moving love story between two people who thought they were deep into the winter of their lives. Richard Bowmaster—a 60-year-old human rights scholar—hits the car of Evelyn Ortega—a young, undocumented immigrant from Guatemala—in the middle of a snowstorm in Brooklyn. What at first seems just a small inconvenience takes an unforeseen and far more serious turn when Evelyn turns up at the professor's house seeking help. At a loss, the professor asks his tenant Lucia Maraz—a 62-year-old lecturer from Chile—for her advice. These three very different people are brought together in a mesmerizing story that moves from present-day Brooklyn to Guatemala in the recent past to 1970s Chile and Brazil, sparking the beginning of a long overdue love story between Richard and Lucia.
Bookshop.org | Amazon | Goodreads
---
Lost Souls of Leningrad by Suzanne Parry
[LQ's Review] June 1941. Hitler's armies race toward vulnerable Leningrad. In a matter of weeks, the Nazis surround the city, cut off the food supply, and launch a vicious bombardment. Widowed violinist Sofya Karavayeva and her teenage granddaughter, Yelena, are cornered in the crumbling city.
On Leningrad's outskirts, Admiral Vasili Antonov defends his homeland and fights for a future with Sofya. Meanwhile, Yelena's soldier fiancé transports food across the Ice Road–part of the desperate effort to save Leningrad. With their help, the two women inch toward survival, but the war still exacts a steep personal price, even as Sofya's reckoning with a family secret threatens to finish what Hitler started.
Equal parts war epic, family saga, and love story, Lost Souls of Leningrad brings to vivid life this little-known chapter of World War II in a tale of two remarkable women–grandmother and granddaughter–separated by years and experience but of one heart in their devotion to each other and the men they love. Neither the oppression of Stalin nor the brutality of Hitler can destroy their courage, compassion, or will in this testament to resilience.
Bookshop.org | Amazon | Goodreads
---
Once Upon a River by Diane Setterfield
On a dark midwinter's night in an ancient inn on the river Thames, an extraordinary event takes place. The regulars are telling stories to while away the dark hours, when the door bursts open on a grievously wounded stranger. In his arms is the lifeless body of a small child. Hours later, the girl stirs, takes a breath and returns to life. Is it a miracle? Is it magic? Or can science provide an explanation? These questions have many answers, some of them quite dark indeed.
Those who dwell on the river bank apply all their ingenuity to solving the puzzle of the girl who died and lived again, yet as the days pass the mystery only deepens. The child herself is mute and unable to answer the essential questions: Who is she? Where did she come from? And to whom does she belong? But answers proliferate nonetheless.
Three families are keen to claim her. A wealthy young mother knows the girl is her kidnapped daughter, missing for two years. A farming family reeling from the discovery of their son's secret liaison, stand ready to welcome their granddaughter. The parson's housekeeper, humble and isolated, sees in the child the image of her younger sister. But the return of a lost child is not without complications and no matter how heartbreaking the past losses, no matter how precious the child herself, this girl cannot be everyone's. Each family has mysteries of its own, and many secrets must be revealed before the girl's identity can be known.
Bookshop.org | Amazon | Goodreads
---
The Great Alone by Kristin Hannah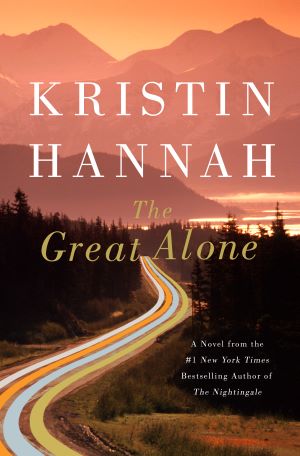 Alaska, 1974.
Unpredictable. Unforgiving. Untamed.
For a family in crisis, the ultimate test of survival.
Ernt Allbright, a former POW, comes home from the Vietnam war a changed and volatile man. When he loses yet another job, he makes an impulsive decision: he will move his family north, to Alaska, where they will live off the grid in America's last true frontier.
Thirteen-year-old Leni, a girl coming of age in a tumultuous time, caught in the riptide of her parents' passionate, stormy relationship, dares to hope that a new land will lead to a better future for her family. She is desperate for a place to belong. Her mother, Cora, will do anything and go anywhere for the man she loves, even if it means following him into the unknown.
At first, Alaska seems to be the answer to their prayers. In a wild, remote corner of the state, they find a fiercely independent community of strong men and even stronger women. The long, sunlit days and the generosity of the locals make up for the Allbrights' lack of preparation and dwindling resources.
But as winter approaches and darkness descends on Alaska, Ernt's fragile mental state deteriorates and the family begins to fracture. Soon the perils outside pale in comparison to threats from within. In their small cabin, covered in snow, blanketed in eighteen hours of night, Leni and her mother learn the terrible truth: they are on their own. In the wild, there is no one to save them but themselves.
Bookshop.org | Amazon | Goodreads
---
Peace Like a River by Leif Enger
Once in a great while, we encounter a novel in our voluminous reading that begs to be read aloud. Leif Enger's debut, Peace Like a River, is one such work. His richly evocative novel, narrated by an asthmatic 11-year-old named Reuben Land, is the story of Reuben's unusual family and their journey across the frozen Badlands of the Dakotas in search of his fugitive older brother. Charged with the murder of two locals who terrorized their family, Davy has fled, understanding that the scales of justice will not weigh in his favor. But Reuben, his father, Jeremiah—a man of faith so deep he has been known to produce miracles—and Reuben's little sister, Swede, follow closely behind the fleeing Davy.
Affecting and dynamic, Peace Like a River is at once a tragedy, a romance, and an unflagging exploration into the spirituality and magic possible in the everyday world, and in that of the world awaiting us on the other side of life. In Enger's superb debut effort, we witness a wondrous celebration of family, faith, and spirit, the likes of which we haven't seen in a long, long time—and the birth of a classic work of literature.
Bookshop.org | Amazon | Goodreads
---
The Children's Blizzard by Melanie Benjamin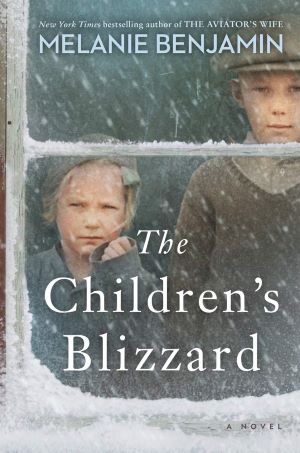 The morning of January 12, 1888, was unusually mild, following a long cold spell, warm enough for the homesteaders of the Dakota territory to venture out again, and for their children to return to school without their heavy coats–leaving them unprepared when disaster struck. At just the hour when most prairie schools were letting out for the day, a terrifying, fast-moving blizzard struck without warning. Schoolteachers as young as sixteen were suddenly faced with life and death decisions: keep the children inside, to risk freezing to death when fuel ran out, or send them home, praying they wouldn't get lost in the storm?
Based on actual oral histories of survivors, the novel follows the stories of Raina and Gerda Olsen, two sisters, both schoolteachers–one who becomes a hero of the storm, and one who finds herself ostracized in the aftermath. It's also the story of Anette Pedersen, a servant girl whose miraculous survival serves as a turning point in her life and touches the heart of Gavin Woodson, a newspaperman seeking redemption. It is Woodson and others like him who wrote the embellished news stories that lured immigrants across the sea to settle a pitiless land. Boosters needed immigrants to settle territories into states, and they didn't care what lies they told them to get them there–or whose land it originally was.
Bookshop.org | Amazon | Goodreads
---
Fiction
Beartown Trilogy by Fredrik Backman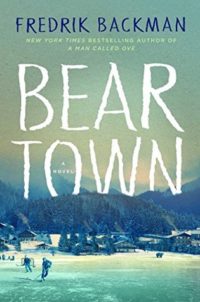 People say Beartown is finished. A tiny community nestled deep in the forest, it is slowly losing ground to the ever encroaching trees. But down by the lake stands an old ice rink, built generations ago by the working men who founded this town. And in that ice rink is the reason people in Beartown believe tomorrow will be better than today. Their junior ice hockey team is about to compete in the national semi-finals, and they actually have a shot at winning. All the hopes and dreams of this place now rest on the shoulders of a handful of teenage boys.
Being responsible for the hopes of an entire town is a heavy burden, and the semi-final match is the catalyst for a violent act that will leave a young girl traumatized and a town in turmoil. Accusations are made and, like ripples on a pond, they travel through all of Beartown, leaving no resident unaffected.
Beartown explores the hopes that bring a small community together, the secrets that tear it apart, and the courage it takes for an individual to go against the grain. In this story of a small forest town, Fredrik Backman has found the entire world.
Bookshop.org | Amazon | Goodreads
---
Home or Away by Kathleen West
Once Leigh and Susy were close friends and teammates bound for Olympic hockey gold, but when Leigh's sure-fire plan to make the final roster backfired, she left everything behind to start over, including the one person who knew her secret.
Two decades later, Leigh's a successful investment banker, happily married, and the mom of a hockey prodigy, so when a career opportunity lands the family back in Minnesota, Leigh takes the shot for her kid. Back in the ultra-competitive world she left behind, the move puts her in Susy's orbit, a daily reminder of how Leigh watched from the sidelines as her former teammate went on to Olympic glory.
Despite the coldness between them, Susy can't help but hope that Leigh might lace up her skates and join her in the coaches' box–after all Leigh knows better than anyone how hard it is to be a woman in this world. Susy's coaching decisions are undermined by the all-male board and she knows soon her daughter, Georgie, will be seen as a "girl athlete," relegated to the B team, with less support and opportunity to advance.
But Leigh's sure keeping Susy at arms' length is the only way to hide her history with her coach Jeff Carlson. When he hints of new favors in exchange for her son's ice time and allegations arise over his conduct, Leigh is caught in the ultimate bind: come clean about what happened when she was an Olympic hopeful and risk her marriage or play Jeff's game. In a moment of desperation, Leigh turns to Susy and realizes the one person she thought was her biggest competitor might turn out to be her biggest ally.
Bookshop.org | Amazon | Goodreads
---
The Seed Keeper by Diane Wilson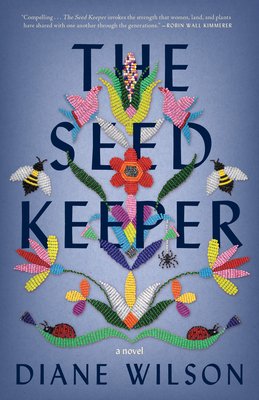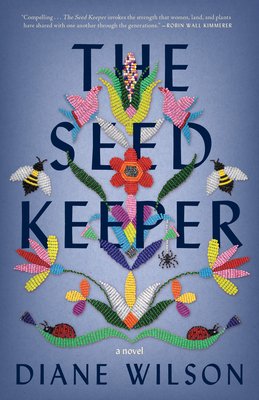 [LQ's Review] [LQ Best Book of 2021] Rosalie Iron Wing has grown up in the woods with her father, Ray, a former science teacher who tells her stories of plants, of the stars, of the origins of the Dakota people. Until, one morning, Ray doesn't return from checking his traps. Told she has no family, Rosalie is sent to live with a foster family in nearby Mankato–where the reserved, bookish teenager meets rebellious Gaby Makespeace, in a friendship that transcends the damaged legacies they've inherited.
On a winter's day many years later, Rosalie returns to her childhood home. A widow and mother, she has spent the previous two decades on her white husband's farm, finding solace in her garden even as the farm is threatened first by drought and then by a predatory chemical company. Now, grieving, Rosalie begins to confront the past, on a search for family, identity, and a community where she can finally belong. In the process, she learns what it means to be descended from women with souls of iron–women who have protected their families, their traditions, and a precious cache of seeds through generations of hardship and loss, through war and the insidious trauma of boarding schools.
Weaving together the voices of four indelible women, The Seed Keeper is a beautifully told story of reawakening, of remembering our original relationship to the seeds and, through them, to our ancestors.
---
A Quiet Life by Ethan Joella
Set in a close-knit Pennsylvania suburb in the grip of winter, A Quiet Life follows three people grappling with loss and finding a tender wisdom in their grief.
Chuck Ayers used to look forward to nothing so much as his annual trip to Hilton Head with his wife, Cat—that yearly taste of relaxation they'd become accustomed to in retirement, after a lifetime of working and raising two children. Now, just months after Cat's death, Chuck finds that he can't let go of her things—her favorite towel, the sketchbooks in her desk drawer—as he struggles to pack for a trip he can't imagine taking without her.
Ella Burke delivers morning newspapers and works at a bridal shop to fill her days while she anxiously awaits news—any piece of information—about her missing daughter. Ella adjusts to life in a new apartment and answers every call on her phone, hoping her daughter will reach out one day.
After the sudden death of her father, Kirsten Bonato set aside her veterinary school aspirations, finding comfort in the steady routine of working at an animal shelter. But as time passes, old dreams and new romantic interests begin to surface—and Kirsten finds herself at another crossroads.
Bookshop.org | Amazon | Goodreads
---
Winter by Ali Smith
Winter. Bleak. Frosty wind, earth as iron, water as stone, so the old song goes. And now Art's mother is seeing things. Come to think of it, Art's seeing things himself.
When four people, strangers and family, converge on a fifteen-bedroom house in Cornwall for Christmas, will there be enough room for everyone?
Winter. It makes things visible. Ali Smith's shapeshifting Winter casts a warm, wise, merry and uncompromising eye over a post-truth era in a story rooted in history and memory and with a taproot deep in the evergreens, art and love.
Bookshop.org | Amazon | Goodreads
---
Winter Solstice by Rosamunde Pilcher
Elfrida Phipps, once of London's stage, moved to the English village of Dibton in hopes of making a new life for herself. Gradually she settled into the comfortable familiarity of village life — shopkeepers knowing her tastes, neighbors calling her by name — still she finds herself lonely.
Oscar Blundell gave up his life as a musician in order to marry Gloria. They have a beautiful daughter, Francesca, and it is only because of their little girl that Oscar views his sacrificed career as worthwhile.
Carrie returns from Australia at the end of an ill-fated affair with a married man to find her mother and aunt sharing a home and squabbling endlessly. With Christmas approaching, Carrie agrees to look after her aunt's awkward and quiet teenage daughter, Lucy, so that her mother might enjoy a romantic fling in America.
Sam Howard is trying to pull his life back together after his wife has left him for another. He is without home and without roots, all he has is his job. Business takes him to northern Scotland, where he falls in love with the lush, craggy landscape and set his sights on a house.
It is the strange rippling effects of a tragedy that will bring these five characters together in a large, neglected estate house near the Scottish fishing town of Creagan.
It is in this house, on the shortest day of the year, that the lives of five people will come together and be forever changed. Rosamunde Pilcher's long-awaited return to the page will warm the hearts of readers both old and new. Winter Solstice is a novel of love, loyalty and rebirth.
Bookshop.org | Amazon | Goodreads
---
Migrations by Charlotte McConaghy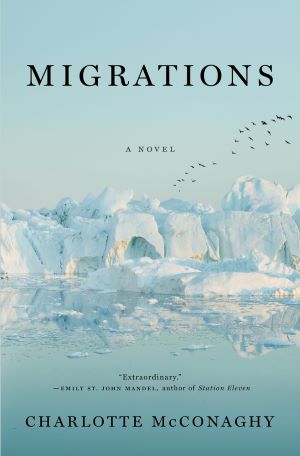 Franny Stone has always been the kind of woman who is able to love but unable to stay. Leaving behind everything but her research gear, she arrives in Greenland with a singular purpose: to follow the last Arctic terns in the world on what might be their final migration to Antarctica. Franny talks her way onto a fishing boat, and she and the crew set sail, traveling ever further from shore and safety. But as Franny's history begins to unspool—a passionate love affair, an absent family, a devastating crime—it becomes clear that she is chasing more than just the birds. When Franny's dark secrets catch up with her, how much is she willing to risk for one more chance at redemption?
Epic and intimate, heartbreaking and galvanizing, Charlotte McConaghy's Migrations is an ode to a disappearing world and a breathtaking page-turner about the possibility of hope against all odds.
Bookshop.org | Amazon | Goodreads
---
Fantasy
The Bear and the Nightingale by Katherine Arden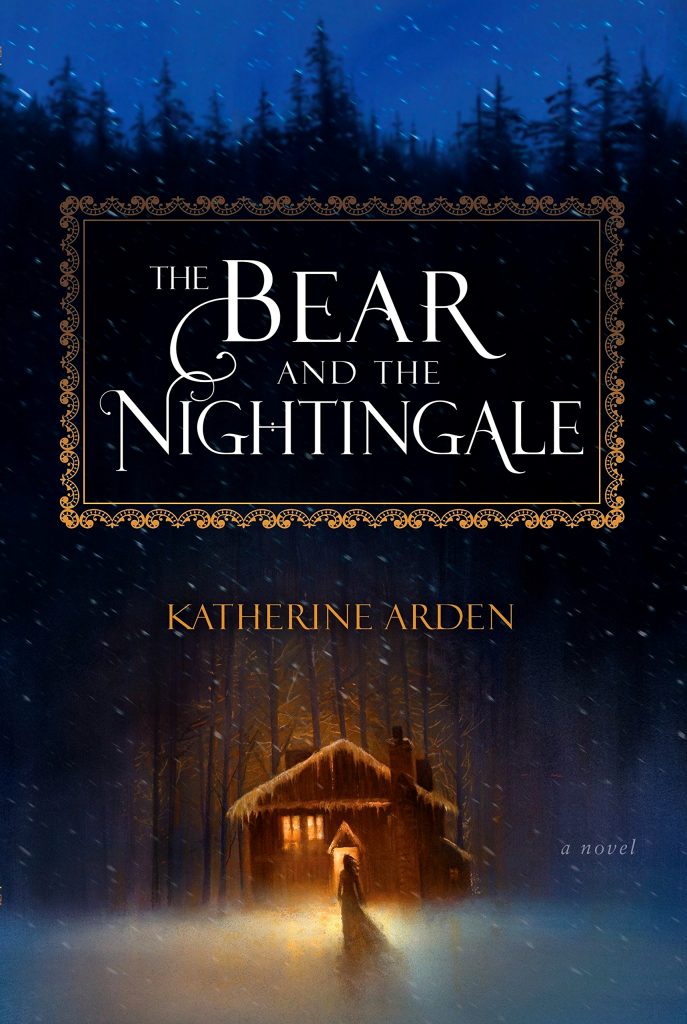 [LQ Best Book of 2022] At the edge of the Russian wilderness, winter lasts most of the year and the snowdrifts grow taller than houses. But Vasilisa doesn't mind—she spends the winter nights huddled around the embers of a fire with her beloved siblings, listening to her nurse's fairy tales. Above all, she loves the chilling story of Frost, the blue-eyed winter demon, who appears in the frigid night to claim unwary souls. Wise Russians fear him, her nurse says, and honor the spirits of house and yard and forest that protect their homes from evil.
After Vasilisa's mother dies, her father goes to Moscow and brings home a new wife. Fiercely devout, city-bred, Vasilisa's new stepmother forbids her family from honoring the household spirits. The family acquiesces, but Vasilisa is frightened, sensing that more hinges upon their rituals than anyone knows.
And indeed, crops begin to fail, evil creatures of the forest creep nearer, and misfortune stalks the village. All the while, Vasilisa's stepmother grows ever harsher in her determination to groom her rebellious stepdaughter for either marriage or confinement in a convent.
As danger circles, Vasilisa must defy even the people she loves and call on dangerous gifts she has long concealed—this, in order to protect her family from a threat that seems to have stepped from her nurse's most frightening tales.
Bookshop.org | Amazon | Goodreads
---
The Golem and the Jinni by Helene Wecker
Chava is a golem, a creature made of clay, brought to life by a disgraced rabbi who dabbles in dark Kabbalistic magic, created to be the wife of a man who dies at sea on the voyage from Poland. Chava is unmoored and adrift as the ship arrives in New York harbor in 1899.
Ahmad is a jinni, a being of fire born in the ancient Syrian desert, trapped in an old copper flask, and released in New York City, though still not entirely free.
Ahmad and Chava become unlikely friends and soul mates with a mystical connection. Marvelous and compulsively readable, Helene Wecker's debut novel The Golem and the Jinni weaves strands of Yiddish and Middle Eastern literature, historical fiction and magical fable, into a wondrously inventive and unforgettable tale.
Bookshop.org | Amazon | Goodreads
---
Black Sun by Rebecca Roanhorse
A god will return
When the earth and sky converge
Under the black sun
In the holy city of Tova, the winter solstice is usually a time for celebration and renewal, but this year it coincides with a solar eclipse, a rare celestial event proscribed by the Sun Priest as an unbalancing of the world.
Meanwhile, a ship launches from a distant city bound for Tova and set to arrive on the solstice. The captain of the ship, Xiala, is a disgraced Teek whose song can calm the waters around her as easily as it can warp a man's mind. Her ship carries one passenger. Described as harmless, the passenger, Serapio, is a young man, blind, scarred, and cloaked in destiny. As Xiala well knows, when a man is described as harmless, he usually ends up being a villain.
Bookshop.org | Amazon | Goodreads
---
Spinning Silver by Naomi Novik
Miryem is the daughter and granddaughter of moneylenders, but her father's inability to collect his debts has left his family on the edge of poverty–until Miryem takes matters into her own hands. Hardening her heart, the young woman sets out to claim what is owed and soon gains a reputation for being able to turn silver into gold.
When an ill-advised boast draws the attention of the king of the Staryk–grim fey creatures who seem more ice than flesh–Miryem's fate, and that of two kingdoms, will be forever altered. Set an impossible challenge by the nameless king, Miryem unwittingly spins a web that draws in a peasant girl, Wanda, and the unhappy daughter of a local lord who plots to wed his child to the dashing young tsar.
But Tsar Mirnatius is not what he seems. And the secret he hides threatens to consume the lands of humans and Staryk alike. Torn between deadly choices, Miryem and her two unlikely allies embark on a desperate quest that will take them to the limits of sacrifice, power, and love.
Bookshop.org | Amazon | Goodreads
---
That's our list! Did you add a few winter books to your TBR? Let us know in the comments what we missed.
Pin This Post