Let's talk about love! LQ dives into our favourite books for the season, whether you're celebrating VDay or Singles' Awareness Day.
RACHEL
I'm a sucker for chick lit and contemporary romance novels! My recent favorite is Well Met by Jen DeLuca. It features a renaissance faire, enemies to lovers trope, and a bookstore! Can't beat that combo in my eyes. The flirtation and banter between the main characters is so much fun to read!
Jenny Colgan is one of my go-to authors for chick lit. Little Beach Street Bakery is a favorite because of the charming island location and most adorable sidekick, Neil the Puffin. You can't go wrong with any of her books, but I'm partial to this one. Plus, it features delicious descriptions of the bread and pastries she bakes. Yummm.

JOLI
I have to admit that contemporary romance isn't usually my thing, but I have read a few lovey-dovey girly books that I ended up really enjoying. And I reviewed them here on LQ! My list includes Matchmaking for Beginners, The Overdue Life of Amy Byler, and Map of the Heart. Like Katie, I like quirky love stories too, although I need to find more of them to read! An example of one of these is Turtles All the Way Down.






LIZ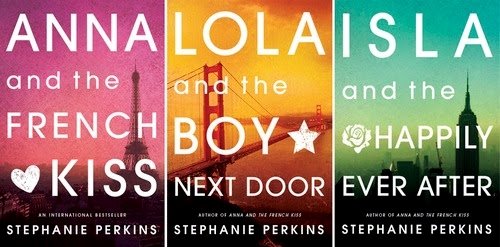 The most delightfully cheesy and romantic books I've read are Stephanie Perkins' Anna and the French Kiss, Lola and the Boy Next Door, and Isla and the Happily Ever After. They're companion YA novels that each follow a different high-school-aged protagonist as they contend with the ups and downs of falling in love, set in Paris, San Francisco, and New York.
The storylines and writing style are simple enough that you could fly through each of these books in one day, and they're all just so cute you'll catch yourself smiling at the pages! If you're a fan of the To All the Boys I've Loved Before series (book vs. Netflix anyone?!), you'd love these books.


KATIE
I love quirky love stories like The Rosie Project by Graeme Simsion and I'm Fine and Neither Are You by Camille Pagan. I also love returning to Sarah Dessen's books because I loved them as a teenager and especially enjoy her earlier books like Keeping the Moon.
PS: Check out Simsion's other Rosie books if you liked the first in the series!!






CALEIGH
I am probably the "sleeper contributor" in the "chick lit" category. I don't love Sarah Dessen (sorry Katie!), or other mushy romances, but Pride and Prejudice is one of my favourite books of all time.
One of my "collectibles"; that is, a book I will lend until the day is done but never actually give away for keeps because I love it too much is The Art of Inheriting Secrets. I loved pretty much everything about this 2018 release, and I'm so glad I got to do an early review for TLC and Literary Quicksand!
Another notable novel, more for those who are coming of age, is I Capture the Castle, by Dodie Smith. Full of unrequited love, secret affairs, familial ties and of course, growing up in a dilapidated castle, this novel-turned-movie is one I'll return to every time I need to have a little heartbreak that isn't my own.


Pin This Post