Every so often, I come across a romantic/women's fiction read that I really like. I often find them too corny/frilly/predictable, but this one really was none of the above!
This is my third review for Susan Wiggs, and definitely my favorite. I enjoyed Family Tree and Between You and Me was okay, but this one outdid both of them. It stepped outside of what Wiggs did with the others, with an element of historical fiction that I really enjoyed.
Map of the Heart is a story primarily about a mother and daughter, and their lives after the sudden and unexpected death of Jace, their husband/dad. We meet them several years after the tragedy, when the daughter, Julie, is in an awkward developmental phase of puberty, and mom Camille is afraid of just about everything.
The story veers in a mysterious direction when Camille's father, originally from France, is sent a trunk full of his mother's belongings. She died during his birth, so he didn't know much about her. The trunk spurs some interesting questions about the past, and Camille and Julie end up accompanying their father/grandfather to France to unearth some answers. Of course, there's a love interest for Camille, lots of growing up and coming into her own to do for Julie, and a super interesting peek into the past.
The story starts jumping back and forth between the past and the present when Camille and Julie are in France, digging up clues about the past. I loved how Wiggs put together this part of the book, and it's really what made it great for me. I don't want to give away too much about the plot, but the way it progresses really pulls you in.
I had great fun reading this book, and I didn't want to put it down. There was a little of that ever-present cheesiness in all chick lit/women's fiction, but it wasn't over the top and I did giggle a couple times. Overall, I thought this was really well done and it will definitely keep me reading more by Wiggs. 5 stars.
Instagram Features
Wednesday, February 13th: Instagram: @basicbsguide
Thursday, February 14th: Instagram: @jennblogsbooks
Friday, February 15th: Instagram: @simplykelina
Saturday, February 16th: Instagram: @hollyslittlebookreviews
Sunday, February 17th: Instagram: @worldswithinpages
Sunday, February 17th: Instagram: @writersdream
Sunday, February 17th: Instagram: @shelovesthepages
Monday, February 18th: Instagram: @beritaudiokilledthebookmark
Review Stops
Tuesday, February 12th: As I turn the pages
Wednesday, February 13th: Ms. Nose in a Book
Thursday, February 14th: Comfy Reading
Friday, February 15th: Kritters Ramblings
Tuesday, February 19th: Literary Quicksand
Wednesday, February 20th: A Chick Who Reads
Thursday, February 21st: From the TBR Pile
Monday, February 25th: A Bookish Way of Life
Tuesday, February 26th: What Is That Book About
Wednesday, February 27th: Instagram: @jennsbookvibes
Monday, March 4th: Laura's Reviews
About Map of the Heart
• Paperback: 368 pages
• Publisher: William Morrow Paperbacks; Reprint edition (February 12, 2019)
Love and family. War and secrets. Betrayal and redemption.
#1 New York Times bestselling author Susan Wiggs returns with a deeply emotional and atmospheric story that spans oceans and decades, from the present-day Delaware shore to the battlefields of WWII France.
Widowed by an unspeakable tragedy, Camille Palmer has made her peace with the past and settled into the quiet safety of life with her teenage daughter Julie in a sleepy coastal town. Then the arrival of a mysterious package breaks open the door to her family's secret past. In uncovering a hidden history, Camille has no idea that she's embarking on an adventure that will utterly transform her.
Camille, Julie, and Camille's father return to the French town of his youth, sparking unexpected memories — recollections that will lead them back to the dark days of the Second World War. And it is in the stunning Provençal countryside that they will uncover their family's surprising history.
While Provence offers answers about the past, it also holds the key to Camille's future. Along the way, she meets a former naval officer who stirs a passion deep within her — a feeling that she thought she'd never experience again.
"Susan Wiggs seamlessly melds historical drama with contemporary romance," raves Mary Kay Andrews. Now, this hugely popular author has created her biggest, most powerful story yet — a beautiful and heartfelt novel that celebrates the bonds of family and pays homage to the sacrifices of the past.

Purchase Links
HarperCollins | Amazon | Barnes & Noble
About Susan Wiggs
Susan Wiggs's life is all about family, friends…and fiction. She lives at the water's edge on an island in Puget Sound, and in good weather, she commutes to her writers' group in a 21-foot motorboat. She's been featured in the national media, including NPR, PRI, and USA Today, has given programs for the US Embassies in Buenos Aires and Montevideo, and is a popular speaker locally, nationally, internationally, and on the high seas.
From the very start, her writings have illuminated the everyday dramas of ordinary people facing extraordinary circumstances. Her books celebrate the power of love, the timeless bonds of family and the fascinating nuances of human nature. Today, she is an international best-selling, award-winning author, with millions of copies of her books in print in numerous countries and languages. According to Publishers Weekly, Wiggs writes with "refreshingly honest emotion," and the Salem Statesman Journal adds that she is "one of our best observers of stories of the heart [who] knows how to capture emotion on virtually every page of every book." Booklist characterizes her books as "real and true and unforgettable."
Her novels have appeared in the #1 spot on the New York Times Bestseller List, and have captured readers' hearts around the globe with translations into more than 20 languages and 30 countries. She is a three-time winner of the RITA Award,. Her recent novel, The Apple Orchard, is currently being made into a film, and The Lakeshore Chronicles has been optioned for adaptation into a series.
The author is a former teacher, a Harvard graduate, an avid hiker, an amateur photographer, a good skier and terrible golfer, yet her favorite form of exercise is curling up with a good book. She lives on an island in Puget Sound, where she divides her time between sleeping and waking.
Visit her website at www.SusanWiggs.com, and connect with Susan on Facebook, Twitter, and Instagram.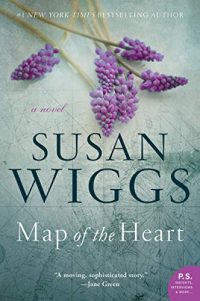 Map of the Heart
William Morrow Paperbacks
February 12, 2019
Paperback
368 pages