I received a copy of The Art of Inheriting Secrets from Lake Union Publishing in advance of the novel's release, in exchange for an honest review.
First of all, before I talk about the book itself, I have to mention the cover. Indicating a little romance and a lot of beauty, it perfectly reflects the story inside. I loved the softness of the colors as well as the firmness of Rosemere in the distance. I think that there is a lot of expression in the cover that mirrors the components of the story; strong women who also have passion for the "softer/female" aesthetic, whether that be a delicious meal or the restoration of a classic building.
The Art of Inheriting Secrets is also well named. Ms. Olivia Shaw, a late 30's San Francisco-an, packs her things and lands in England where we find that she has inherited an incredible, albeit aged, English estate. But quickly we find that there are many knots of plot for Olivia to untangle. She tries to come to terms with the recent loss of her mother, a difficult break to a fading relationship, aging into middle age womanhood, and some distasteful individuals who try to take advantage of the new Countess. In the end, Olivia is left with her own secrets to carry on with, but with some hope for a beautiful future (no spoilers!).
There is a reason that this book still has no reviews below 4 stars as of me writing this review. It has been incredibly well received by early reviewers, and most of us have had similar responses. While it may be a little predictable, the writing is fabulous and the story compelling. The characters come alive and the scenery is deeply described, which for me is paramount in a good novel. I actually found myself saying aloud "I wish this book had more chapters!". Olivia is thoughtful and emotionally intelligent and has a deep connection with her mother, both of which I attribute to my own mom. In this way, The Art of Inheriting Secrets even managed to make me a little homesick – and I'm not even British!
Finally, I, The Art of Inheriting Secrets simply ended too soon for me. I think I will have to visit some more of O'Neal's work!
Purchase Links
About The Art of Inheriting Secrets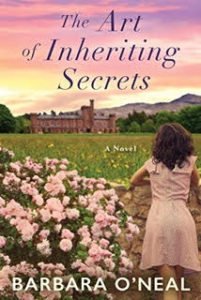 When Olivia Shaw's mother dies, the sophisticated food editor is astonished to learn she's inherited a centuries-old English estate—and a title to go with it. Raw with grief and reeling from the knowledge that her reserved mother hid something so momentous, Olivia leaves San Francisco and crosses the pond to unravel the mystery of a lifetime.
One glance at the breathtaking Rosemere Priory and Olivia understands why the manor, magnificent even in disrepair, was the subject of her mother's exquisite paintings. What she doesn't understand is why her mother never mentioned it to her. As Olivia begins digging into her mother's past, she discovers that the peeling wallpaper, debris-laden halls, and ceiling-high Elizabethan windows covered in lush green vines hide unimaginable secrets.
Although personal problems and her life back home beckon, Olivia finds herself falling for the charming English village and its residents. But before she can decide what Rosemere's and her own future hold, Olivia must first untangle the secrets of her past.
About Barbara
Barbara Samuel (also known as Barbara O'Neal) is the bestselling author of more than 60 books, and has won Romance Writers of America's RITA award seven times. Her books have been published around the world, including France, Germany, Italy, Poland, Turkey, and Australia/New Zealand, among others.
A native of Colorado Springs, Barbara lives there with her partner, Christopher Robin, an endurance athlete, along with her dogs and cats. She is an avid gardener, hiker, photographer, and traveler.
Connect with Barbara
Instagram Tour:
Monday, July 16th: @_literary_dreamer_
Monday, July 16th: @girlandherbooks
Tuesday, July 17th: @read.write.coffee
Wednesday, July 18th: @novelgrounds
Thursday, July 19th: @novelmombooks
Thursday, July 19th: @bookishaurora
Friday, July 20th: @mamareadsblog
Saturday, July 21st: @artbookscoffee
Sunday, July 22nd: @readingandranunculus
Review Tour:
Monday, July 16th: Literary Quicksand
Tuesday, July 17th: Satisfaction for Insatiable Readers
Wednesday, July 18th: Bookmark Lit
Thursday, July 19th: BookNAround
Friday, July 20th: Book Date
Monday, July 23rd: Broken Teepee
Tuesday, July 24th: Midwest Ladies Who Lit
Wednesday, July 25th: What is That Book About
Thursday, July 26th: Diary of a Stay at Home Mom
Monday, July 30th: Patricia's Wisdom
Tuesday, July 31st: The Romance Dish
Wednesday, August 1st: Reading Reality
Thursday, August 2nd: A Holland Reads
Monday, August 6th: Books and Bindings
Tuesday, August 7th: A Bookish Way of Life
Wednesday, August 8th: Eliot's Eats
Monday, August 13th: From the TBR Pile
Wednesday, August 15th: Kahakai Kitchen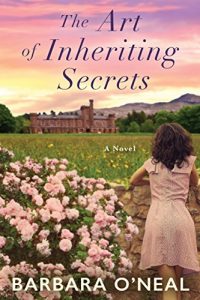 The Art of Inheriting Secrets
Lake Union Publishing
July 17, 2018
Paperback
364