A lot of fun was packed into this summer. But you know what? I'm ready for fall. I'm ready to break out my sweatshirts for cozy season. Hopefully, along with cozy season will come more time to read some great books 😁!
Becky
I have been on a fantasy kick and whether you believe audiobooks are reading or not – I have been flying through them while trying to increase my daily step count!
Fourth Wing by Rebecca Yarros
Fourth Wing by Rebecca Yarros was incredible. It was recommended to me as "the next Harry Potter…only…spicier" and I can see why! The book was addicting, engaging and exhilarating. I already have the next book – set to come out in November – on hold from my local library so I get one of the first copies available.
Bookshop.org | Amazon | Goodreads
---
A Court of Thorns and Roses by Sarah J. Maas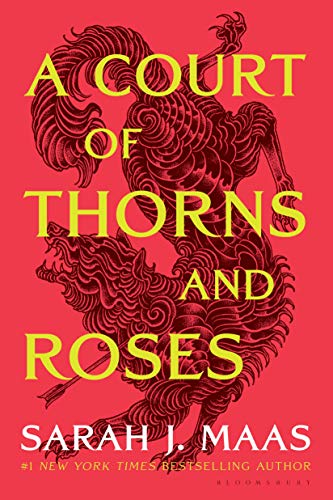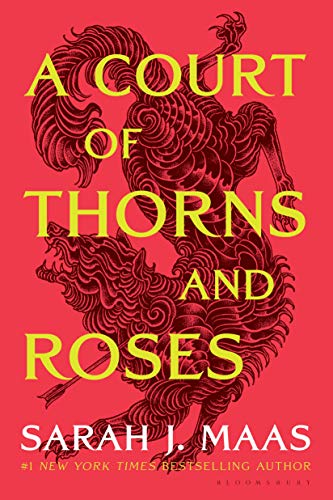 A Court of Thorns and Roses by Sarah J. Maas was then suggested to cure my Fourth Wing hangover. It has done that splendidly! I have listened to A Court of Thorns and Roses (book 1), A Court of Mist and Fury (book 2) and am about an hour away from finishing A Court of Wings and Ruin (book 3). If hard-pressed, I think I would say I enjoyed Fourth Wing a teeny tiny bit more, but these have all been excellent as well. At least that is my humble opinion as someone not well-versed in the genre!
Bookshop.org | Amazon | Goodreads
---
Cathy
I went on holiday in August so powered through more books than I'd care to admit…two have stood out for me though:
To the Sky Kingdom by Tang Qi, translated by Poppy Toland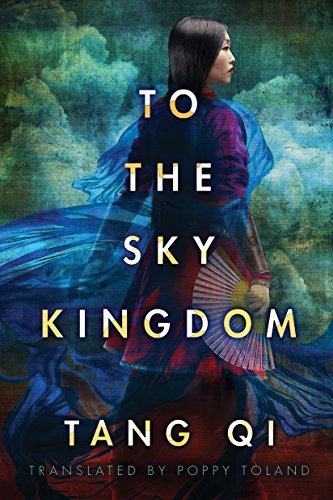 This story is made up of multiple interconnected stories but first centers around Bai Qian, an immortal who has been promised to the heir to the Sky Throne. After their first meeting, an enemy from their past reappears.
I've been really enjoying this book, I like the writing style (and the translator's style) because it's clear and concise. I think the author and translator have done a good job at keeping the writing and story easy to follow, which is super helpful for the reader as there are lots of names, realms, grudges, and so on to remember.
Bookshop.org | Amazon | Goodreads
---
The Archive of the Forgotten by A. J. Hackwith (Audiobook)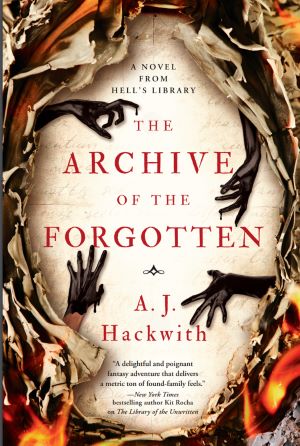 This is the second book in the Hell's Library series. The Archive of the Forgotten picks up where The Library of the Unwritten finished. The gang from the first instalment are brought back together to uncover a new mystery in Hell's Library.
I really enjoyed the first book in this series and am loving the second book too. I'm listening to the audiobook and have been trying to pace myself so I don't binge the whole thing in one go (it's going well so far). I love the characters in this story, their different personalities and histories makes them easy to like and relatable.
Bookshop.org | Amazon | Goodreads
---
Jess
I started a new job this month, and I wasn't sure if I'd have much time to read. However, I managed to finish one book in a matter of days!
Anything for a Friend by Kathleen M. Willett
This book is a mother-daughter story in the form of a psych thriller. In the story, writer Carrie Colts moves to Montauk with the hopes of a fresh start for her family. Everything is going well until Carrie receives a call from her college roommate, Maya, who asks if she and her daughter can stay with Carrie's family for a little while. The unexpected reunion comes with a slew of problems, from ruined gardens to broken relationships.
The story kept me on the edge of my seat. It was the perfect amount of suspense without being too "scary." I loved it! I received an advance copy of the book in exchange for a review, which I'll be posting shortly. I definitely recommend you grab it when it comes out in November!
Bookshop.org | Amazon | Goodreads
---
Joli
August was a pretty great reading month for me! I've found that audiobooks are starting to fit into my schedule more and more, and often take the place of sitting down to read a physical copy. I wasn't a huge fan of them when I first tried them, but now I'm finding that they fit into my life at times when regular reading just doesn't. So, I'm going with it!
There's No Coming Back from This by Ann Garvin
Ann Garvin has quickly become one of my favorite authors. Her stories are quirky, fun, and full of so much insight into feelings and love and human-ness.
So, it's no surprise that I recommend There's No Coming Back from This to all of you, readers! In a nutshell, it's about a single mom with a teenager who, through some unfortunate circumstances, finds herself in need of a way to boost her finances. When the possibility of a high-paying job out in California pops up, she has to take it and is plunged into a world she knows nothing about on the set of a film.
This book was delightful! For more details, check out my full review of There's No Coming Back from This.
Bookshop.org | Amazon | Goodreads
---
Bitter Thaw by Jessica McCann
I get a lot of book review requests in the LQ inbox. It's so hard to have to skip past so many! Every so often, though, one will stand out and I'll jump at the opportunity. This was one of those, and I'm SO glad the author reached out!
The book is set partially in the north woods of Minnesota, which is my state, so I especially enjoyed that element of it. It's got a thread of historical mystery, too, which is always fun to read. I loved the way the themes in the book are explored, especially the treatment of the Ojibwe people, gender stereotypes, and difficult family relationships.
Overall I loved Bitter Thaw. Keep an eye out for a longer review to be published soon!
Bookshop.org | Amazon | Goodreads
---
The Dutch House by Ann Patchett (Audiobook)
Book friends, get this: I'm going to see Ann Patchett live in Minneapolis later this month!! I cannot wait! So, I really wanted to read another of her books before then. My pick was the audiobook version of The Dutch House, read by Tom Hanks.
This audiobook felt like a movie, thanks to Tom Hanks's narration. The house is a character all its own, and it is squarely at the center of this novel. I wanted so badly for it to be a real place that I could walk into! The descriptions are so vivid. However, the house also leads to a family's undoing.
How is it possible to write a story where there isn't much in terms of action, but still make it so ridiculously compelling? I don't know, but whatever special sauce it takes, Ann Patchett has a lot of it.
I'll try to reign in my thoughts for a full review of this one soon.
Bookshop.org | Amazon | Goodreads
---
Katie
Back to school madness meant I read some easy-read spy thrillers and one standout book this month.
Matrix by Lauren Groff
The first sentence of this book's summary says that it's about Marie de France "Cast out of the royal court by Eleanor of Aquitaine, deemed too coarse and rough-hewn for marriage or courtly life, 17-year-old Marie de France is sent to England to be the new prioress of an impoverished abbey, its nuns on the brink of starvation and beset by disease."
The book is about Marie's life at the abbey. It's about faith and growth and power and selfishness and questioning ourselves. Written in an almost stream of conscience/omniscient style, it chronicles the mundane events that together make up a life and a faith. I can see why some readers intensely disliked it, but I absolutely loved this book.
Bookshop.org | Amazon | Goodreads
---
Molly
Gideon the Ninth by Tamsyn Muir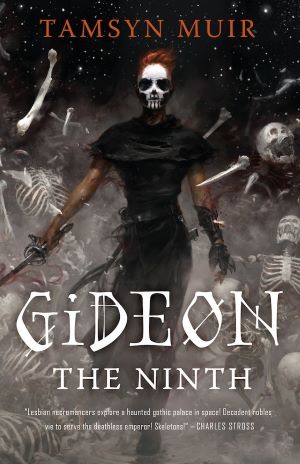 This was my sci-fi/fantasy book club's pick for this month. It's often described as being so complex that it's impossible to explain without spoiling it, but I found that to be a bit of an exaggeration.
The book takes place in a system of nine planets, or Houses. Each house's heir is invited to compete for the role of Lyctor to the Emperor, a godlike figure who's lived for thousands of years. Harrowhark, necromancer and heir to the Ninth house, and Gideon, her reluctant servant-turned-cavalier, travel to the First House and explore a haunted mansion an attempt to unravel its secrets.
It has a bit of a slow start, but is full of twists and turns.
Bookshop.org | Amazon | Goodreads
---
Everyone in This Room Will Someday Be Dead by Emily Austin
Gilda is a depressed, anxious 27-year-old. She's recently lost her job, has a rocky relationship with her new girlfriend, and things are strained with her parents and her brother. In an attempt to turn things around, she seeks free therapy advertised on a flyer, but ends up with a job as a receptionist at a Catholic church instead.
Gilda tries to hide her identity as a lesbian and an atheist in order to keep her new job while learning for find small moments of happiness. Funny, inspiring, and impeccably written.
Bookshop.org | Amazon | Goodreads
---
A Gathering of Shadows by V. E. Schwab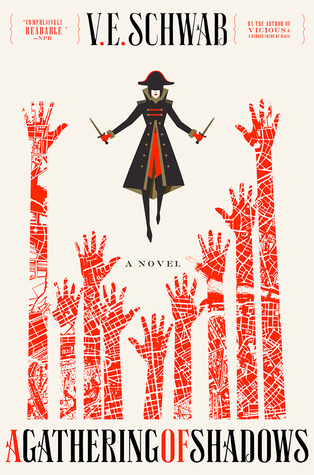 This is the second book in the Shades of Magic series. Although the quality of the writing is commendable in these books, I find the pacing to be almost unbearably slow and I have trouble connecting with the main characters.
I was hoping the second book would build on the world that Schwab started to flesh out in the first book, but there wasn't as much of that as I would have liked.
Bookshop.org | Amazon | Goodreads
---
Maddalena and the Dark by Julia Fine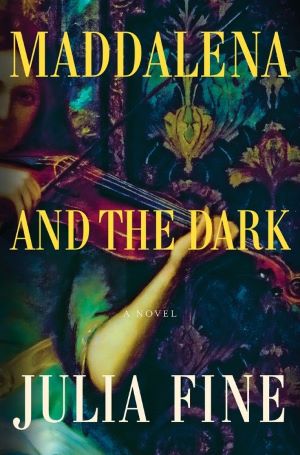 I very much enjoy Fine's books and this new novel was no exception. In early eighteenth-century Venice, foundling Luisa studies music at Ospedela della Pietá. If she excels, she'll have the chance to play violin in the Coro, and elite orchestra of women directed by Antonio Vivaldi.
Maddalena Grimani, daughter of the Pietá's benefactor, is sent to improve her musical skill in the hope that a desirable talent will help suitors overlook the suspicious circumstances surrounding her birth. While there, she discovers a gondola that takes her to a shrine where a strange force is willing to grant Maddalena her deepest desires—for a price.
The lines between love and obsession blur and the girls' friendship takes a dark turn as they each make wishes at the shrine that will change their lives forever.
Bookshop.org | Amazon | Goodreads
---
That's our list! What did you read in August?