Welcome to the book tour for Ann Garvin's There's No Coming Back from This! I was beyond excited to be invited to review this one because I adored I Thought You Said This Would Work. Was There's No Coming Back from This just as awesome? Read on to find out!
The Synopsis
It seems lately that Poppy Lively is invisible to everyone but the IRS.
After her accountant absconded with her life savings, newly bankrupt Poppy is on the verge of losing her home when an old flame, now a hotshot producer, gives her a surprising way out: a job in costumes on a Hollywood film set. It's a bold move to pack her bags, keep secrets from her daughter, and head to Los Angeles, but Poppy's a capable person—how hard can a job in wardrobe be? It's not like she has a choice; her life couldn't get any worse. Even so, this midwesterner has a lot to learn about the fast and loose world of movie stars, iconic costumes, and back-lot intrigue.
As a single mom, she's rarely had time for watching movies, she doesn't sew, and she doesn't know a thing about dressing the biggest names in the business. Floundering and overlooked, Poppy has one ally: Allen Carol, an ill-tempered movie star taken with Poppy's unfiltered candor and general indifference to stardom.
When Poppy stumbles upon corruption, she relies on everyone underestimating her to discover who's at the center of it, a revelation that shakes her belief in humanity. What she thought was a way to secure a future for her daughter becomes a spotlight illuminating the facts: Poppy is out of her league among the divas of Tinseltown.
Poppy must decide whether to keep her mouth shut, as she's always done, or with the help of a scruffy dog, show the moviemakers that they need her unglamorous ways, whether the superstars like it or not.
The Book Tour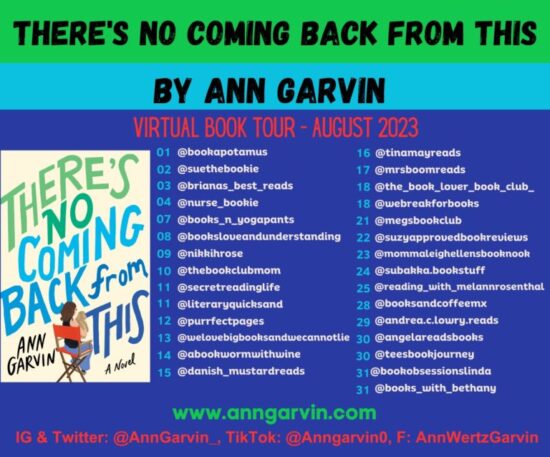 My Review
Ann Garvin is just one of my favorites. Her writing is witty and funny and playful, but then there are these beautiful truth nuggets that hit just right.
I loved Poppy. She's so plucky, but she also suffers from a few things that are pretty ubiquitous in the world of women. She sells herself short and can't stop being nice to everyone around her instead of doing what she needs to do to put herself out there. I could really identify with that, so I really appreciated her character.
She's also a pretty badass mom without the need for any man in her life, which I also loved. She raises a beautiful, capable daughter on her own while running a business – she's clearly got skills.
Then, she gets swindled by a tax prepper, is on the brink of losing everything she has, and grasping for straws when her seemingly trustworthy, beautiful old flame finds her in an airport and offers her a high-paying job she can't resist…because then her baby wouldn't be able to go to college.
Poppy is someone who does what she needs to do to get things done, but in the nicest way possible. She soon finds out that being the nice, agreeable one isn't always the way to go, and drama ensues.
This book has a little bit of everything. It's comedic but substantive. There's a little bit of romance, friendships, single motherhood, fame, and even a little mystery. Once again, Ann Garvin uses wit, comedy, and charm to create a story that will both entertain and make you reflect.
I will forever read anything she writes. 4.5/5 stars!