It's time again for our list of what we've been reading recently. Check it out and let us know what you're into these days!
Fellow bloggers: This is a linkup! Link up your June post about what you're reading or mini reviews, or even just a June book review you like. Look for this post and linkup every month going forward!
Caleigh
For June, my goal is to finish STUFF! I have a lot of books that I'm mid-read in, and I'd like to be my usual completionery self so that I can start some great summer reads and such!
Once Upon a River by Diane Setterfield: this book of storytelling has been billeted as a folklore novel, and it's interesting so far (though a little confusing – there are a LOT of characters, and I'm doing the audiobook, so it's hard to pin them down exactly in my mind as to how they ARE, you know?!
The Bookish Life of Nina Hill by Abbi Waxman: I love this fun chick-lit book! Nina likes to have things her way – which isn't so easy when she finds out she has a whole cast of a new family on the death of her previously unknown father. Tie that in with a romantic interest and Nina's life just is getting more and more out of control by the day!
One By One by One by Aaron Berkowitz: I will be posting a review on this new release for HarperCollins this month, and I'm SO excited. I really enjoy medical books, both fiction and non, and Dr. Berkowitz's story of treating a fascinating neuro patient in Haiti is going to be IT for me this month I think. I just started it (am already 25+ pages in) and I'm just completely absorbed.
---
Cathy
I've been re-reading Alexandra Potter's romance novels. I just finished reading What's New Pussycat? and I've now moved on to Don't You Forget About Me. Her stories always involve a strong female protagonist, an attractive romantic interest and lots of laugh out loud (more like exhaling heavily through your nose in an amused manner) bits. I love Alexandra Potter's writing style, she transports you to a different place and gives you the happy ending you want without being too cheesy. I would really recommend her books as a beach/holiday read.
---
Joli
Fishing by Sarah Stonich – I read this novel by a local MN author for an upcoming blog tour. I won't give away too much since there'll be a post here about it, but I can tell you I liked it! It was a fun read with a strong female lead, which I enjoy. It's touted as feminist, though, and I don't know if that's how I would market it. Will go into this more in my full review.
Ask Again, Yes by Mary Beth Keane – I have just under 100 pages left in this one, and although I'm enjoying it overall, it's a little bit flat for me. So many people love it, and I'm just not sure why. I enjoyed the beginning, but then it just gets…well, a little boring. This is my book club read this month and I'm really looking forward to hearing everyone's thoughts. I love when we have super conflicting thoughts so we can discuss!
---
Katie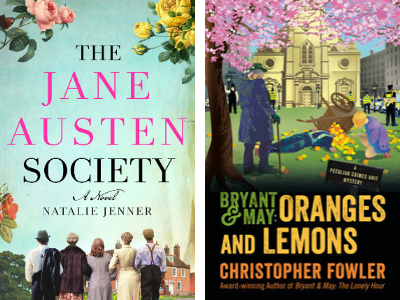 For this month, I'm excited to be reading and reviewing The Jane Austen Society, a debut from Natalie Jenner about a group that comes together in postwar England to help preserve Austen's home. As a big fan of Austen, I'm looking forward to diving into this one!
I've also been reading some Bryant and May mysteries, which focus on peculiar crimes in the city of London and the two unique detectives that solve them. Aside from that, I'll be waiting to say which of my library holds come in next!
---
Megan
I just started The Stationary Shop, which I'm reading as a buddy read. I'm excited to finally be getting to it because a friend mailed me her copy several months ago and I haven't had time… I'm only a few chapters in, but so far I'm enjoying the dual timelines of this love story that started in a little shop in Tehran in the 50s.
Next up I'll be reading Red White and Royal Blue, which I'm holding on airplane mode on my Kindle since I know I won't get to it before it's due and the waitlist is soooo long. This one is so buzzed about and looks like a fun, quick read.
---
Rachel
I've read a few great beach reads this past month! One is an upcoming new release and the other is a cute romance that would be a hit for any bullet journalers!
Big Summer by Jennifer Weiner – This household author's new release is part women's fiction part murder mystery? It sounds insane but it works. Daphne is a social media influencer who gets an unexpected call from her high school friend, Drue. When Drue asks her to be in her wedding, Daphne is torn between reliving their horrendous falling out and wanting to give her a second chance. The night before the wedding everything falls apart! Although I didn't fully buy the ending, I overall enjoyed this a lot!
Love Lettering by Kate Clayborn – Meg is a popular handletterer, creating calendars, journals, wedding invites, and more for her clients. However, when one of her grooms discovers a hidden message in the wedding program, he comes back to confront her. They both start to realize their hiding things from each other, feelings, work, history, and more. This is a cute story with a lot of unique aspects about signs, letters, and language that I found interesting.
---
Join Our Linkup
Any favorite recent book review or book list for the month will do!
Pin This Post