We each had some hits and misses in April, but no 5-star reviews this month! Hopefully we can all read something amazing in May 😊. What did you read in April?
Cathy
The House in the Cerulean Sea by T.J. Klune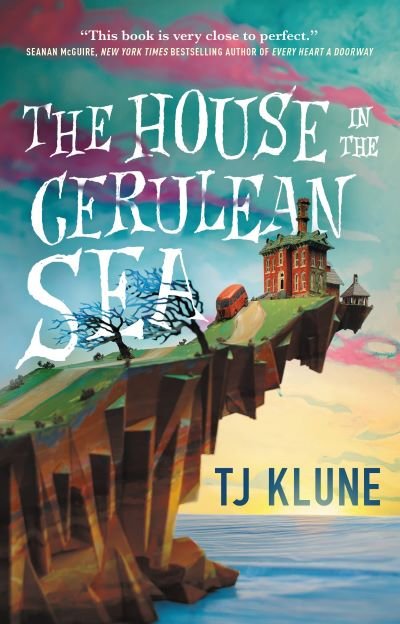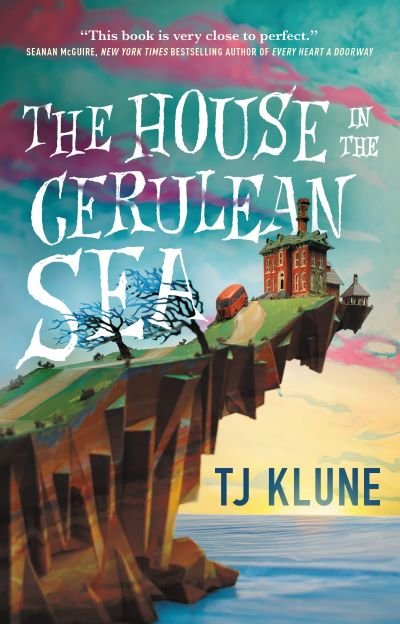 I was so excited to start this one, it's been on my TBR for ages and all the reviews I read about it were absolutely glowing. But when I finally got my hands on the book and started it… it wasn't as great as I was hoping. I found the first few chapters a little slow and uninspiring. However, the story picked up and became much more enjoyable once Linus reaches the orphanage and you start to meet the mysterious children who live there.
I'd go for a 3/5 for this one – the start was a bit drawn out, but the author has won me over with his characters.
Bookshop.org | Amazon | Goodreads
---
Ivy Lodge: A Memoir of Translation and Discovery by Linda Murphy Marshall
I was intrigued by this book – a translator from the US returns to her childhood home to sort through their belongings. She uses her skills as a translator to "translate" her memories and life.
As a translator, the idea behind this memoir is fascinating. Can we use our skills of looking at something and deriving meaning from it outside of words on a page?
I'd give this one 3.5/5 – fascinating concept but a very melancholy vibe (understandably), I'm looking forward to reading the end and seeing what sense the author manages to make out of her parents' belongings.
Bookshop.org | Amazon | Goodreads
---
Joli
His & Hers by Alice Feeney
This was my book club's April pick. I don't read a lot of thriller/suspense, so I'm kind of an unreliable reviewer here, but I didn't love this book. It was certainly twisty and entertaining, but it felt like the author was just trying SO hard to make it really twisty. It felt just a bit forced. The author deliberately led the reader in many different directions about who the killer could be. I gave this one 3 stars.
Bookshop.org | Amazon | Goodreads
---
Anxious People by Fredrik Backman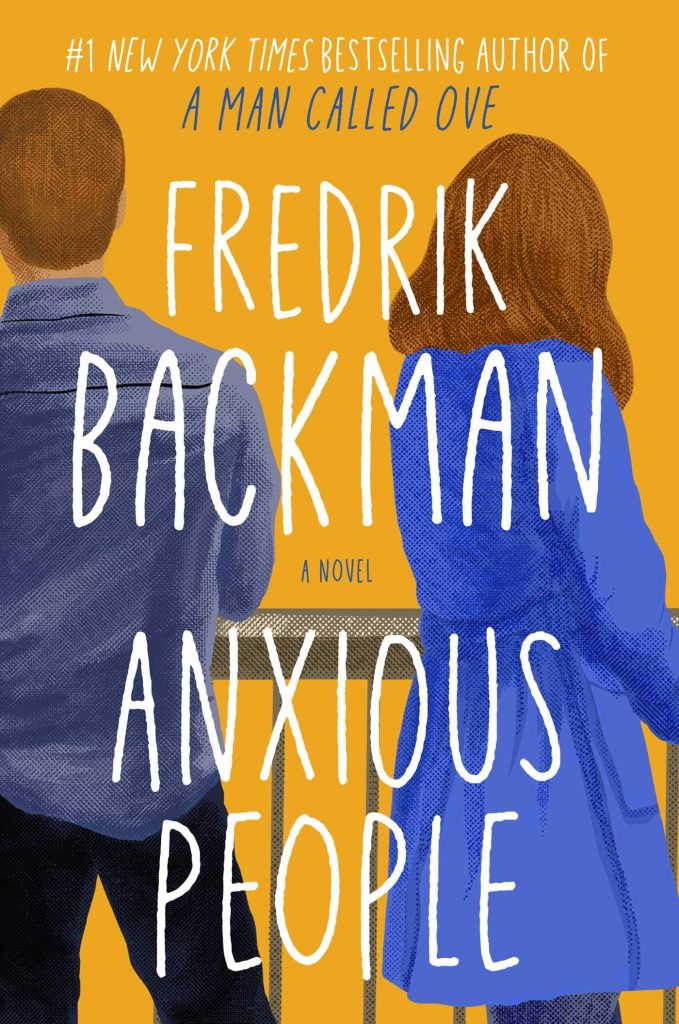 Anxious People (full review) has been on my TBR list since it came out 1.5 years ago. I've heard SO many rave reviews of this one, so when I finally got around to it, my expectations were pretty darn high.
For the most part, it lived up to those lofty expectations. But…there's a but.
There's no doubt that Backman is one of the best writers out there right now. The way he can take human nature and write it out in a story that makes his readers feel so much is just astounding. Anxious People, like his other books, didn't fall short on any of those feels. It was feeling-full.
The only thing that made me give Anxious People 4 stars instead of 5 is Backman's kind of playful interjections like "this is a story about a bridge" – he speaks directly to the reader. I get it, they were unique and added something to the story, but every time I got to one I was just jerked out of the story to be reminded that I'm reading a story. It was okay, I get why it was there, but I didn't love it.
Overall a stupendous, heartwarming read all about the beauty and fragility of human nature, I gave Anxious People 4 stars out of 5.
Bookshop.org | Amazon | Goodreads
---
The Half-Life of Ruby Fielding by Lydia Kang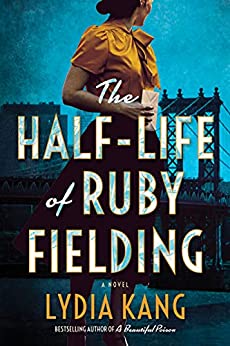 The Half-Life of Ruby Fielding was a very unique book that I really wasn't fully expecting. It's a historical suspense that was slow to start, then suddenly went sideways. The characters just kind of fell apart for me halfway through, because they completely changed. I had no idea about what was coming, which definitely made this suspenseful and entertaining, but I felt like the characters I had grown to like just completely changed and were different characters. It was weird. Might be better though for someone who likes suspense/thrillers more than I do!
Bookshop.org | Amazon | Goodreads
---
Katie
The Book of Cold Cases by Simone St. James
Technically, I finished this at the very end of March, but I'll sneak it in here! This was my first book from suspense/thriller writer Simone St. James and I was excited to see if her writing would be something that I would enjoy.
In 1977, Claire Lake, Oregon, was shaken by the Ladykiller Murders. Local heiress Beth Greer is the prime suspect but is acquitted and becomes a recluse in her mansion.
Moving forward to 2017, Shea Collins is a receptionist by day and true crime blogger by night, living in the same town as the murders took place. When she crosses paths with Beth Greer, Shea impulsively asks her for an interview and, to her shock, Beth agrees. Soon, Shea is hearing Beth's story in bits and pieces, which are interspersed with chapters that flashback to 1977 and earlier. As Shea is drawn into Beth's orbit, she begins to notice strange and scary occurrences at the Greer mansion, which only furthers her confusion about the case.
I thought the investigative premise and dual timelines of this book worked well, where the story started to lose me was in the supernatural elements that got involved. However, my understanding is that this is a hallmark of St. James' work, so if it appeals to you, it would be worth exploring. I enjoyed the characters of Shea and Beth, as well as the detectives Shea talked to when researching the case.
Bookshop.org | Amazon | Goodreads
---
The Wisteria Society of Lady Scoundrels (Dangerous Damsels #1) by India Holton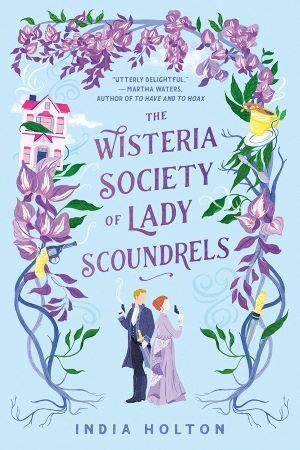 I've been meaning to pick this romance/tale of piracy and mayhem up for ages, and finally got around to it. This book is definitely over the top, but I was able to suspend my disbelief and go along for the ride.
The Wisteria Society of Lady Scoundrels is an organization dedicated to piracy and thievery amongst the genteel women of London, who have passed their skills on to younger generations over the years. Cecilia Bassingwaite is one such lady in training and is flattered when Ned Lightbourne is sent to assassinate her. But, behind Ned's arrival is the sinister Captain Morvath, who wants to kill not just Cecilia, but all independent women.
This book has a little of everything: concerned aunts, flying houses, swordplay, tea with bourbon, and plenty of literary references. It may not be for everybody, but I found it to be the perfect escape book and already have a copy of the sequel.
Bookshop.org | Amazon | Goodreads
I also crossed two more books from the Temperance Brennan series by Kathy Reichs off this month, and started Bloomsbury Girls, which I'm looking forward to reviewing for LQ!
---
That's our list! What did you read in April?