I'm super excited to say that I'm working with BookTrib to review some books! When the first one, Single, Again, and Again, and Again…: What do you do when life doesn't go to plan? by Louisa Pateman arrived in my mailbox, I was skeptical that I'd connect with it at all. Afterall, I'm a happily married mama who just celebrated my 7th wedding anniversary last month. Also, if you've read my reviews, you know I'm not super into really girly reads.
SO. I embarked on this book with skepticism, but I'm very happy to report that I ended up really enjoying this book!
The Summary
Do you feel as if you'll never find the one? Are you sick of failed relationships? Are you seriously fed up with comments and remarks from friends and family hinting that you're getting old and need to settle down before it's too late? At thirty-six years old, that's how author Louisa Pateman perceived her situation. She was constantly reminded of how her time was running out. Single, Again, and Again, and Again … follows Pateman and her quest to find her happily ever after. Convinced all the good men were taken, she continually reassessed her aspirations to accomplish her life plan. Feeling defeated after a string of failed relationships and frustrated with her inability to find her soulmate, she reexamined her priorities and played the cards she was dealt. Finding inner courage, she discovered ways to create extraordinary experiences out of her perceived failures.
My Review
First of all, I really enjoyed the unique perspective this memoir offers. Louisa decided in adolescence that she'd be married and have children by 30, so it's definitely not that she's unmotivated. It just plain and simple doesn't happen for her. She meets men, she dates, and then it just doesn't work out for a myriad of reasons. Hearing from someone who doesn't meet her happily-ever-after partner is a perspective I just haven't really read about before.
The writing and storyline of this book are very straightforward. It's chronological with some asides to talk about society's perceptions. In that way, this memoir doesn't really stand out. However, Louisa's life story was just really interesting and compelling and she's funny at times, which is what kept me wanting to pick up this book and finish.
Louisa is Australian but travels all over the world. She writes about those trips and about the potential mates she meets all along the way. It was almost part travel memoir.
I was planning to rate this book three stars, but after reading the ending, I bumped it up to four. I really enjoyed Louisa's badass single woman attitude, the way she grabs her life and makes it something wonderful without needing a partner, and her conclusions about that life at the end of the book. It wasn't too girly at all, and I'm impressed with how it turned out. Four stars!
Thanks to BookTrib, Louisa Pateman, and Balboa Press for a copy of this book in exchange for an honest review.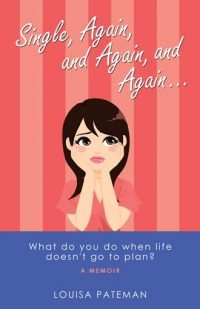 Single, Again, and Again, and Again…
Memoir
Balboa Press
April 23 2020
Paperback
224 pages