The Summary
Nana the cat is on a road trip. He is not sure where he's going or why, but it means that he gets to sit in the front seat of a silver van with his beloved owner, Satoru. Side by side, they cruise around Japan through the changing seasons, visiting Satoru's old friends. He meets Yoshimine, the brusque and unsentimental farmer for whom cats are just ratters; Sugi and Chikako, the warm-hearted couple who run a pet-friendly B&B; and Kosuke, the mournful husband whose cat-loving wife has just left him. There's even a very special dog who forces Nana to reassess his disdain for the canine species.
But what is the purpose of this road trip? And why is everyone so interested in Nana? Nana does not know and Satoru won't say. But when Nana finally works it out, his small heart will break…
The Review:
This book reminds me of something Robin Williams says in one of my all time favorite movies, Dead Poet's Society: "Sometimes, the most beautiful poetry can be about simple things, like a cat or a flower, or rain. You see, poetry can come from anything with the stuff of revelation in it." Maybe it was just the cat reference, but I think this observation could totally apply to The Travelling Cat Chronicles – minus the poetry part! 
At a glance, the story is simple. It's about a cat-loving guy named Satoru and the cat he adapts from off the street who he names Nana. Also, Hiro Arikawa's writing is so charming, this book could have been placed in the children's section of the library and I would have been none the wiser.
However, once I dove further into the story, I was struck by how observant a writer she is – particularly when it comes to cats! Sections of this book are narrated in the first person by Nana. His voice is so distinctly and delightfully, well, cat-like! Near the end of the book Satoru's aunt offers Nana a larger, better cardboard box so she can get rid of the small, beat-up one he likes. Nana rejects it, telling the reader, "cats the world over prefer to discover things they like on their own and rarely go for anything that's been provided for them."
What really solidified this as a 5 star read for me is"the stuff of revelation" within this book. In particular, one of the main themes of the story is the fear being alone. It quickly becomes apparent, that while Satoru is a kind and thoughtful person who has many friends, he also emotionally and physically isolated from them. He is not entirely able to communicate, or receive what he needs from his human friends and family. The only character who is able to truly connect with him, and be there for him, is Nana. One of the loneliest things about life is that only you can live it. Even the most introverted amongst us need companionship. We all need a Nana along in our own life's journey!
The Travelling Cat Chronicles is a fantastic little book that made me laugh many times, tear up a few times, and ultimately left me so happy (and  possibly re-thinking my own currently cat-less existence)! 
For more Japanese literature please also be sure to check out our review of Convenience Store Woman by Sayaka Murata.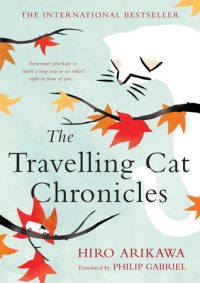 The Travelling Cat Chronicles
Berkley Books
10/23/2018
277 pages