It's so easy to turn it off. To ignore the news. To read a heart-wrenching headline, feel a pang of sadness, and then return to thoughts of whether you're more in the mood for pizza or pasta for dinner. It's difficult to fully comprehend the effects of a particular crisis when your own life has not been changed drastically as a result.
I've always felt fairly ignorant with regards to the political situation in the Middle East, especially in Syria. I know the basics of what has happened over the years, but that's about it. And for that, I consider myself lucky. I have the privilege of reading about war-torn countries from afar without the terror of experiencing them first-hand.
Dan Mayland's The Doctor of Aleppo reminded me of that privilege. Of every tiny aspect of life that I take for granted on a daily basis. The simple fact of knowing every morning when I wake up, and every night when I go to sleep, that I am safe. That my house, barring some unimaginable twist of fate (and I am knocking on all kinds of metaphorical wood here), will not be reduced to a pile of rubble while I'm gone. That if my family members or friends don't answer their phone, it's likely because they're busy, not because they're in danger. That I'm free to travel between the two countries I consider home without fear.
The Doctor of Aleppo is a phenomenal story about several individuals trying to do the right thing. To live their lives and do their jobs as best they can in a time of war and destruction and betrayal. There are so many sides to take, so many battles to fight, it seems impossible for anyone to remember how it all started in the first place.
It is a beautiful tale of hope and love, fear and rage, missed opportunities and misunderstandings. But, most of all, it is a reminder that no matter where we live or whose side we're on, we are all—at our very core—human. And I think now, more than ever, it's vital that we hold on to that.
Thanks so much to TLC Book Tours and Blackstone Publishing for a copy of this incredible book in exchange for an honest review. It was a deeply moving story, and I can't recommend it highly enough.

Purchase Links
Amazon | Books-A-Million | Barnes & Noble
About The Doctor of Aleppo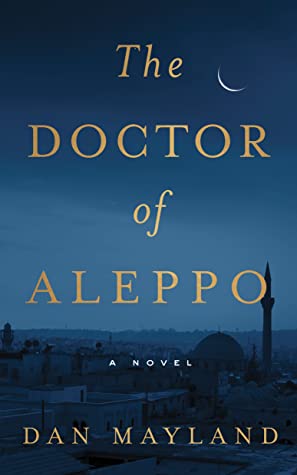 Hardcover: 450 pages
Publisher: Blackstone Publishing; Unabridged edition (August 11, 2020)
In the ancient Silk Road city of Aleppo, a young American woman is sucked into the Syrian civil war engulfing the city. Relentlessly pursued by a Javert-like secret police officer, her only refuge is the rebel hospital run by a renowned surgeon.
In The Doctor of Aleppo, Dan Mayland, author of the bestselling Mark Sava spy novel series, pairs a thriller writer's sensibilities with a gripping account of good people cruelly trapped in somebody else's war.
"In The Doctor of Aleppo, Dan Mayland lends a human face and a compelling story to a tragedy too large and complicated for most of us to understand. A harrowing and unforgettable read." —Dana Haynes, author of St. Nicholas Salvage & Wrecking
"Dan Mayland's The Doctor of Aleppo grips you from the start. His keen storytelling lends insight into war and its brutality through this tale of hope and redemption." —Judy A. Bernstein, author of Disturbed in Their Nests
"Dan Mayland's The Doctor of Aleppo turns an unflinching gaze on the reality of modern warfare, fought in neighborhoods rather than a battlefield, where today's ally is tomorrow's enemy, and people struggle against all odds to maintain their humanity. A thriller that breaks your heart as it rockets toward its stunning conclusion." —Gwen Florio, author of Silent Hearts
About Dan Mayland
Dan Mayland is an author and professional geopolitical forecaster, helping nonprofit, private, and government organizations navigate a changing world. His Mark Sava spy series and his latest novel, The Doctor of Aleppo, were informed by his experiences in the Caspian region and Middle East. Raised in New Jersey, Mayland now lives in Pennsylvania with his wife and two children, in an old stone farmhouse he and his wife have restored. More information about Dan and his books can be found at danmayland.com.
Connect with Dan
Dan Mayland's TLC Book Tours Tour Stops:
Monday, August 10th: Books with Jams and @bookswithjams
Tuesday, August 11th: What is That Book About – author guest post
Wednesday, August 12th: @readinggirlreviews
Thursday, August 13th: @babygotbooks13
Saturday, August 15th: Nurse Bookie and @nurse_bookie – review and guest post
Monday, August 17th: Eliot's Eats
Tuesday, August 18th: Diary of a Stay at Home Mom
Wednesday, August 19th: Run Wright
Thursday, August 20th: 5 Minutes for Books
Friday, August 21st: Books, Cooks, Looks – author guest post
Monday, August 24th: @my_book_journey
Tuesday, August 25th: Book Lover Book Reviews
Wednesday, August 26th: Really Into This and @reallyintothis
Thursday, August 27th: Literary Quicksand
Friday, August 28th: @oxfordjanebooks
Monday, August 31st: Helen's Book Blog
Wednesday, September 2nd: @welovebigbooksandwecannotlie
Thursday, September 3rd: Girl Who Reads
Monday, September 7th: @megsbookclub
Tuesday, September 8th: Booktimistic and @booktimistic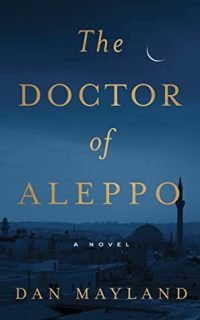 The Doctor of Aleppo
Blackstone Publishing
August 11, 2020
450 pages