Secrets. Lies. Betrayal. No good comes from getting involved with dangerous, power-hungry men. Fernando Granados becomes acutely aware of this fact as soon as his childhood friend, Memo Galindo, comes back into town. The two men haven't spoken for thirty years, and Fernando becomes instantly uneasy when Memo informs him of his plan to build a meth lab on his property. Fernando is desperate to escape his near-constant financial worries, and so he tries his best to ignore the many rumors swirling around about Memo's involvement with the merciless cartels in Mexico and even allows his eldest son to work in the lab.
From that moment on, the Granados family is launched into a world of fear and total chaos. Lives are destroyed and the family is torn apart.
Deborah Clearman's Remedios reads like a thrilling Netflix series, plunging us into the world of spine-chilling violence and dangerous liaisons in which the Granados family finds itself. It is an exciting story that perfectly captures our basic human need to protect the ones we love while at the same time exploring exactly what it is that makes us who we are.
This isn't normally a genre I tend to read, but I'm so glad I branched out. It provided enough of an adrenaline jolt for me to skip my morning coffee!

Purchase Links
About Remedios
• Paperback: 228 pages
• Publisher: New Meridian Arts (July 13, 2020)
Fernando Granados is a university professor in financial trouble when a boyhood friend he hasn't seen in thirty years reenters his life. Memo Galindo, now part of a notorious Mexican cartel, soon persuades Fernando to build a meth lab on his country property, just outside the ancient town of Remedios. Fernando's strong-willed wife Sandra and their beloved 18-year-old son Félix each fall under Memo's charismatic spell. The cascading family crisis plays out on a larger stage, from its roots in Guatemala's civil war in the '80s to corruption in the Guatemalan army and American DEA, in a country where even the forces of nature wreak vengeance.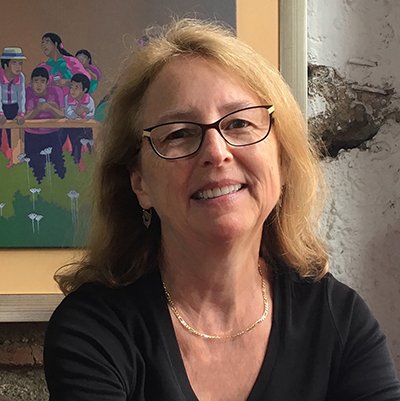 About Deborah Clearman
Deborah Clearman is the author of Remedios (New Meridian Arts Literary Press, 2020), Concepción and the Baby Brokers and Other Stories Out of Guatemala (Rain Mountain Press, 2017), and Todos Santos (Black Lawrence Press, 2010). Her short fiction has appeared in numerous literary journals. She wrote and illustrated The Goose's Tale for children.
Deborah is the former Program Director of the NY Writers Coalition, a nonprofit organization dedicated to offering creative writing workshops to disenfranchised populations throughout New York City. She has led writing workshops for seniors, the homeless, and adults in public housing, and since 2011 has led an ongoing weekly workshop for women and men in jail on Rikers Island. She lives in Manhattan and Guatemala.
Since her first visit to Guatemala in 1978, Deborah has been back many times, living for a year in the village of Todos Santos in 2001-2002. She continues to maintain a close connection to the country and her Guatemalan friends to this day.
Find out more about Deborah at her website, and connect with her on Facebook and Instagram.
Tour Schedule:
Tuesday, September 8th: JulzReads
Wednesday, September 9th: Instagram: @bookin.good
Thursday, September 10th: Thoughts From a Highly Caffeinated Mind
Friday, September 11th: Helen's Book Blog
Monday, September 14th: Barks Beaches Books
Tuesday, September 15th: bookchickdi
Thursday, September 17th: Kahakai Kitchen
Monday, September 21st: Literary Quicksand
Tuesday, September 22nd: Jessicamap Reviews
Wednesday, September 23rd: Girl Who Reads
Thursday, September 24th: Instagram: @mentallybooked
Friday, September 25th: Instagram: @my_read_feed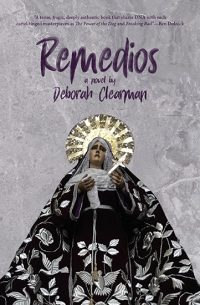 Remedios
New Meridian Arts
July 13, 2020
228 pages