This review is dedicated to Debbie, whose love of the series I probably can't match, but I'm forever grateful to her for introducing it to me.
For the last few months (about a year actually now!) I have been reading the Chief Inspector Armand Gamache series by Louise Penny. Beginning with Still Life, I waited for each audiobook, consumed them almost immediately, and then waited for the next. I recently completed book #10, The Long Way Home. I've been waiting to review this series for a while, because I wanted to do it full justice. I should note: as of writing this, the series has 15 novels in it, with the latest being published in August 2019. There is also a novella which sits between books 6 and 7 called The Hangman, which I also read by ebook and include in my review.
The Summary
This is a different kind of summary, because I'm reviewing a large series, so I'll give the gist!
Chief Inspector Armand Gamache has made some close friends, but also some true enemies on his ascent to his position with la Sûreté du Québec. Called into a small village called Three Pines to investigate the untimely demise of an elderly retired schoolteacher, Gamache and his team begin to unwind a cast of characters to solve a homicide.
But what begins as a homicide investigation in the village turns into a beguiling tale of a fantastical (and beautiful) location that cannot be found on a map. The innocent characters become allies and close friends to the Inspector, his lead assist Inspector Beauvoir, and the other core team members. Not all of the cases are located in Three Pines; one takes place in a remote monastery, another in the city of Montreal, but they weave together with Three Pines and those who call it home.
The Review
I have to give immediate recognition to British voice actor Ralph Cosham, who narrated the first 10 audiobooks for Ms. Penny before his passing in September 2014. I will DEARLY miss his voice in the coming books. However, I am going to give grief to the fact that only ONE of the books changes the enunciation of Sylvain Francoeur's name, which was just enough of a disjunction for my poor brain to rattle it around a little!
Louise Penny is a very talented author. For some reason, I expected this series to read sort of like a crappy romance novel (it's possible I judged a book by its' actual cover…) and it is SO not that. The scenery is elegant, the characters become your friends, and the storylines aren't "gimme" mystery endings. The Chief Inspector finds murderers in a way that for the most part makes me feel so sorry for the perpetrator. I think this is my favourite part about these books; the humanity that Ms. Penny writes makes all sorts of characters suspicious, but also easy to love, hate, fear, and admire all in one. A great example is young agent Yvette Nicol, who is absolutely detestable…until she isn't. *SPOILER* This young woman turns into a heroine around book 9, but you can see the redemption arc coming, even if she and the others can't.
I will be so sad to see this series end. I began reading it when I was living in the US, terribly homesick. I continued it as a welcome home, and now I read these books dreaming of other seasons, loving the spring buds as I sit in my chair with a cup of tea, or feeling the chill of winter as I drive to a sunnier location. I'll miss the "Patron" (Boss) as Beauvoir calls him, and the other cast of characters, one of whom I already miss strongly. But until then, I'm going to enjoy the next 5 books as much as the first 10 I think!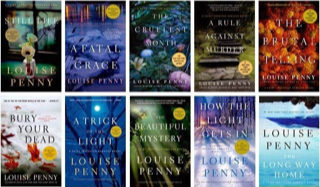 Armand Gamache Series
Chief Inspector Armand Gamache
Mystery
St. Martin's Press
Chief Inspector Armand Gamache of the Sûreté du Québec digs beneath the idyllic surface of village life in Three Pines, finding long buried secrets–and facing a few of his own ghosts. Louise Penny's highly acclaimed, New York Times bestselling mystery series has won the New Blood Dagger as well as multiple Agatha, Anthony, Dilys, Arthur Ellis, and other prestigious awards. In 2010 the first book, Still Life, was cited as one of the five Mystery/Crime Novels of the Decade by Deadly Pleasures magazine.

Pin This Post