The Summary
Young adult writer Maureen Johnson crafted the world of the Truly Devious trilogy over three books: Truly Devious, The Vanishing Stair, and The Hand on the Wall. All three feature as aspiring detective and high school student Stevie Bell who, along with her boarding school classmates, finds herself involved in a bona fide murder case that the adults around her seem to think was an accicent.
Stevie was originally drawn to the prestigious Ellingham Academy by its dark history: founder Albert Ellingham's wife and daughter were kidnapped in the days of the Great Depression and he spent his life trying to track down his beloved daughter Alice, whose body was never found . Stevie is drawn to the case and has prepared herself to gather clues and make connections, but she never anticipated that the events of the past would start to play out again in front of her. Can Stevie crack the case? Or is this the resurgence of Truly Devious?

The Review
Stevie Bell and the world of Ellingham Academy have a little something for almost everyone, from recognized fans of true crime to those who love a good boarding school novel or locked room mystery. Across the three books, Johnson deftly switches between the past and present, leading the reader down a path of clues for both the Ellingham kidnapping of the 1930s and the deaths of multiple students at Ellingham Academy in the present day. Without giving away too many spoilers, I'll say that the books are fast-paced and introduce readers to the world of Ellingham Academy both past and present. While Stevie's Ellingham is populated by fellow gifted students, flashbacks also allow us to see the roaring Jazz Age mansion that Ellingham once was. Johnson builds both worlds so smoothly that, even with the murders, I found myself longing to be a student at Ellingham and wander its hidden tunnels and sunken gardens. Johnson herself is a fan of classic mysteries and here she does the genre proud, mixing together locked-room escapes, mysterious explosions, and a steely detective at the center of it all while also building a diverse group of characters that keep these books from feeling outdated or cheesy.
One of my favorite parts of these three books was watching the wheels turn in Stevie's head as she pieced together clues; the series offers readers the chance to do the same and while waiting for each book across the last two years has been tortuous at times, the conclusion to the series was satisfying enough to make the wait well worth it.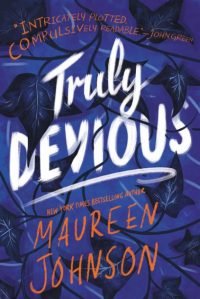 Truly Devious Series
Truly Devious Series
Mystery
Harper Collins
2018
Paperback
416
A boarding school mystery that flashes between the present and the past…join teen sleuth and Ellingham student Stevie Bell as she attempts to solve the crimes that made Ellingham Academy infamous and cope with the possible resurgence of some truly devious criminals.