National Geographic has done it again. Their new Atlas of the National Parks is a stunning piece of art and beautiful reference book. Over-sized and perfect for the coffee table, this book will be a favorite book for young and old alike to spend hours leafing through!
Atlas of the National Parks
Content: While the title of "atlas" suggests maps, this book is so much more than maps of the national parks. There are historical components introducing us to the legacies of some of our oldest parks, outlining how they have grown and developed. Digging deeper, there is information on archaeology and paleontology within the parks. There are educational components breaking down the flora and fauna across the park system, as well as cultural variations and the human impact on our natural areas.
From the general to specific, each chapter of the book explores a region of the United States and the parks located there. Here readers will find the detailed maps outlining everything from roads to bedrock geology. A mix of historic and modern photography gives depth and personality to the maps. Also included are illustrations depicting wildlife, insect damage, plate tectonics and more!
Opinion: I love this book! I'm a bit of a nerd and love learning about all aspects of nature, but it is so much more than details and diagrams. The layout and composition make the information accessible. The photos make it inviting and exciting! I found myself being drawn in to topics and areas of the country that I wouldn't have thought would interest me.
The other comment I want to make here is that I greatly appreciate the work that went into highlighting each individual park. There are similar topics for each location, but each one also has elements unique to that particular park. The thought, care and dedication that went into each portion is spectacular, and I can only imagine the hours of effort put in.
Recommendation: If you have someone on your holiday gift list that loves getting out to hike, fish, camp or generally enjoy the wonder of our state and national parks, this is the perfect book for them! Sure, websites with site specific information are great, but this volume creates an itch to explore and visit parks for more than the flashy tourist photo ops. It's also a great resource for those interested in the study of the ecosystems of the United States. Finally, if you're anything like me, it's great for people who may not have the time or ability to travel to as many parks as they'd like, but enjoy living vicariously through the pages!
Special thanks to TLC Book Tours for the book in exchange for my honest review!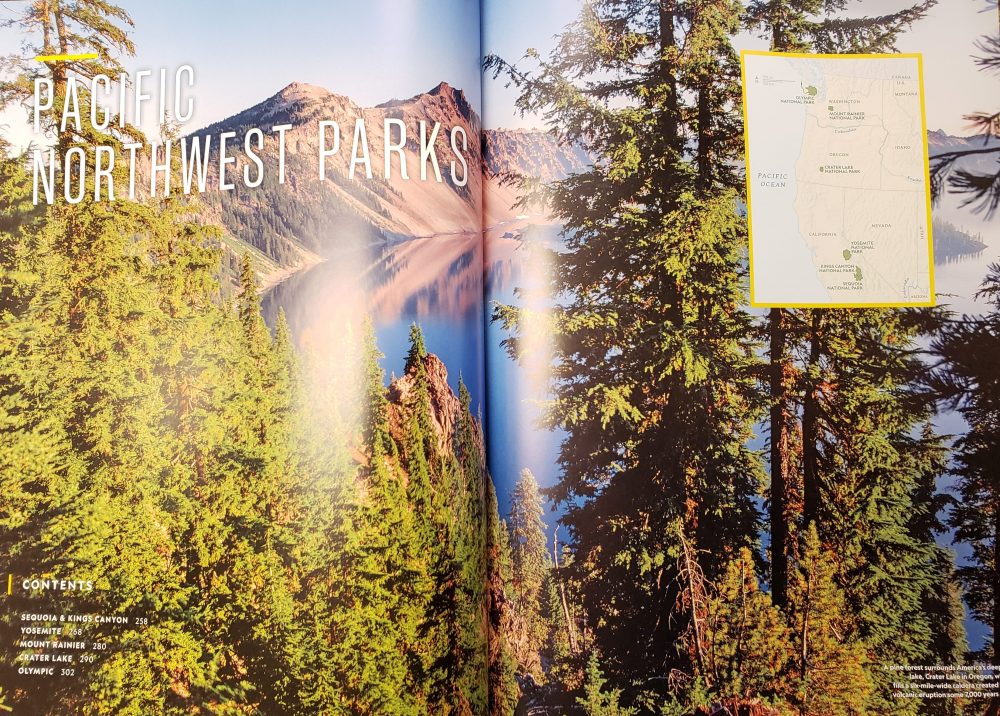 About Atlas of the National Parks
• Hardcover: 432 pages
• Publisher: National Geographic (November 19, 2019)
The first book of its kind, this stunning atlas showcases America's spectacular park system from coast to coast, richly illustrated with an inspiring and informative collection of maps, graphics, and photographs.
From the white sand beaches of Dry Tortugas to the snowy peaks of Denali, this captivating book combines authoritative park maps with hundreds of graphics and photographs to tell the stories of America's sixty beloved national parks. Former ranger and author Jonathan Waterman introduces readers to the country's scenic reserves and highlights the extraordinary features that distinguish each: magnificent landmarks, thriving ecosystems, representative wildlife, fascinating histories, and more. With striking imagery and state-of-the-art graphics reflecting details of wildlife, climate, culture, archaeology, recreation, and more, this lush reference provides an up-close look at what makes these lands so special–and so uniquely American. A heartfelt foreword from National Geographic CEO Gary Knell reminds us how important these lands are to our lives and our national pride.
Purchase Links
Amazon | Barnes & Noble | IndieBound
Atlas of the National Parks
National Geographic Society
November 19, 2019