The Summary
What if you could have one more day with someone you lost? Diana Merriman, a physical therapist, is probably the only person in the small town of Snow Haven, North Carolina, who isn't looking forward to Christmas. It's been three weeks since her fiancé Linus was critically injured when a car hit him as he biked home from the toy store he owns and manages. Watching him open his eyes is the only gift she wants, but she can't help losing a little more hope every day. But an unexpected visit from a friendly neighbor and finding a snow globe of Snow Haven—a gift Linus had hidden in the closet—the night before Christmas Eve changes things in ways Diana never would have imagined. Because on Christmas Eve Diana wakes up to find that it's not—Christmas Eve, that is. Instead, it's somehow December 4 all over again, the day Linus got hurt, and as mystified as Diana is, she immediately starts a plan to save her partner from his fate. Nothing is that simple, of course. Instead of a single repeat of that day, Diana finds herself in an endless loop of December 4, experiencing every possible variation of events. Along the way, she uncovers startling truths about herself, her relationship, and even her career that illustrate the ways she's retreated from her life—and in the face of life's slights and outright blows, from her deepest feelings. Suddenly hope is second only to joy as Diana opens her heart to the people she loves in every way she can.
Why I Chose This Book
I have been trying to broaden my reading horizons from WWII historical fiction and cozy mysteries. This book drew me in with its Hallmark movie feel, but the modern setting and focus on self-discovery gave the holiday story a fresh spin. I wasn't sure about the magical snow globe piece, but was hoping that it would keep the book from feeling too heavy.
My Review
So glad that I picked up this title! It was an easy read that I flew through in a couple of days. Even with the magical snow globe I had hesitated over, I felt the story and especially Diana – the main character – were relatable. I caught myself thinking along the lines of "Yeaaaaahhhhh, I might have behaved like that too…"
My favorite moments were those when Diana was working with her physical therapy patients. These interactions were the most engaging bits for me, and it was rewarding to watch Diana progress through her series of repeated days, learning and growing. Great character development that Rains interspersed with enough dialogue to keep the story moving.
Recommendation
This would be a fantastic read as we head into to the holiday season; the perfect reminder to slow down and appreciate the people around us! It may be difficult for those dealing with real life accidents or hospitalized loved ones, but I do believe that Rains does a good job of balancing the stress and despair Diana was dealing with, with hope and resolve. It was the perfect mix of lighthearted holiday and thought-provoking tear jerker.
About Annie Rains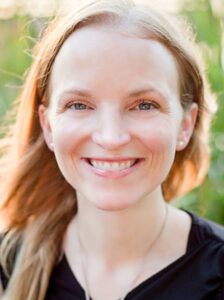 Annie Rains is a USA Today bestselling contemporary romance author who writes small town love stories set in fictional places in her home state of North Carolina. When Annie isn't writing, she's living out her own happily ever after with her husband and three children.
Find out more about Annie and follow her on Twitter, Instagram, and Facebook.
---