Story: The notorious Lusitania is leaving New York City and despite many warnings of German U-boat activity, is heading toward a continent at war. The newly-wealthy Ms. Caroline Telfair Hochstetter boards the boat reluctantly, but hopes the trip across the sea will help her reconnect with her distant husband. Another woman, traveling under the name Tess Fairweather, also has her eyes on Caroline and her husband, but only in conjunction with a heist that would set her free from a life of deception and crime. When Caroline's longtime friend Robert Langford turns up on board and senses something off with Tess, plans and emotions are thrown into chaos.
Almost one hundred years later, author Sarah Blake blatantly disobeys long standing family tradition and begins to dig into her great-grandfather's past. Items recovered after he was lost during the sinking of the Lusitania indicate he may have been involved in some interesting happens aboard the doomed vessel. When she follows the trail to England and seeks out John Langford, their discoveries will change both their lives, and the course of history.
For an instant, our eyes held. There was a brief, electric connection, like when you put a pair of wires together and set off a spark, and for the space of that second I forgot my own name.
Why: I saw The Glass Ocean was being released this fall and knew I had to read it. I loved The Forgotten Room that Beatriz Williams, Lauren Willig and Karen White published in 2016 and have read a number of their solo works. The time period is one of my favorites – for those that haven't seen my previous reviews and already know that the World Wars are near the top of my TBR list at all times – and the hints of mystery, secrets and discovery get me every time. As a history lover, I have decided that I enjoy reading about how events may have played out for the people involved. Although I know I am reading fiction, it adds so much color to the historical facts!
The horizon had turned molten, reflecting the sunset to the west. I could see it shimmering on the water, like a piece of gold foil laid atop the glassy surface.
Opinion: This is a great book. It was easy to read, well-paced, and intriguing. Despite reading more and more split-narrative stories lately, I still sometimes find myself confused when I'm asked to keep track of who is speaking, when the events are happening and how they relate. Two of the three narrators here are on board the Lusitania. Their timelines overlap and are quite compact which is a neat twist. I enjoyed the two separate perspectives on what was happening. Sarah's modern voice was also straightforward enough that it didn't tangle things in my brain.
The other thing that stood out to me while reading this was the way the authors described the settings. It is really true of all details throughout the book, but there are just enough vivid details – the smell of the burning fuel, the feel of the fabric of the dinner dress, or the sound of the gravel underfoot – to put you in the moment without overwhelming you. The physical settings were my favorite passages, although the character development was a close second. Again, enough backstory was provided along the way that you feel connections with the characters, but there wasn't anything cumbersome or extraneous to slow down the plot. A fine line to be sure, and I am neither a fluff-lover nor a character-driven reader, so that observation may not jive with other readers.
I loved the tranquility, the tender silence. Our footsteps crunched softly on the gravel. Atop the dome, a horse-shaped weather vane stared east. The water itself was absolutely still, green-blue and depthless.
Recommendation: Overall, I would recommend this to a number of different readers. Adult situations are handled discreetly and there is a good amount of poignant romance without being risque. The history elements are there without being headstrong, keeping it on point and factual, yet accessible to casual readers. The beautiful descriptions of the landscapes and sea are lovely and the conversations genuine with only a little flair for the dramatic. While it takes a lot for me to give five out of five stars to a book, I do hope that Williams, Willig and White continue to collaborate and share their talents with us through novels such as The Glass Ocean. (I'm hopeful as I see there may be another release in January!)
There were stories, stories that lifted the spirits, of survivors washing up on far shores, startling fishermen at their work. Some of them were even true.
Discussion Questions: I enjoy thinking of questions regarding the books I read, and sometimes, the books provide some as well! Here are a few for The Glass Ocean. Questions adapted from those provided by the book are indicated with an *.
*Tess has a number of roles that she plays. How does each one share a small truth about her? Who else is playing a role in the novel? How so?
*Even outside of the three women in the story, each character seems to be looking for something. Describe these goals as well as how each character is searching.
Who do you find to be the most trustworthy throughout the novel? Is it an obvious trust? Think about each character's motive.
Which character do you most strongly identify with? Why?
Even outside of the logistical aspect of a novel set at sea, water is prevalent throughout the book. How is this symbolic of the journey our three heroines are on?
*This book brings up the question of, is the truth best uncovered? Should things sometimes be left in the past? What do you believe?
Special thanks to TLC Book Tours for a copy of this book in exchange for my honest review!
Tuesday, September 10th: bookish bliss and beauty
Wednesday, September 11th: Reading Reality
Thursday, September 12th: View from the Birdhouse
Friday, September 13th: A Chick Who Reads
Monday, September 16th: Instagram: @kraysbookclub
Tuesday, September 17th: Literary Quicksand
Wednesday, September 18th: bookchickdi
Friday, September 20th: Instagram: @book.hang.o.ver
Monday, September 23rd: Instagram: @lauralovestoread
Tuesday, September 24th: Write – Read – Life
Wednesday, September 25th: Audio Killed the Bookmark
Wednesday, September 25th: Girl Who Reads
Thursday, September 26th: Always With a Book
Friday, September 27th: Instagram: @somekindofalibrary
Monday, September 30th: Broken Teepee
Tuesday, October 1st: 100 Pages a Day…Stephanie's Book Reviews
About Beatriz Williams
A graduate of Stanford University with an MBA from Columbia, Beatriz Williams spent several years in New York and London hiding her early attempts at fiction, first on company laptops as a communications strategy consultant, and then as an at-home producer of small persons, before her career as a writer took off. She lives with her husband and four children near the Connecticut shore.
Find out more about Beatriz at her website, and connect with her on Facebook, Twitter, and Instagram.
About Lauren Willig
Lauren Willig is the New York Times and USA Today bestselling author of several novels. She lives in New York City with her family.
Find out more about Lauren at her website, and connect with her on Facebook, Twitter, and Instagram.
About Karen White
Karen White is a New York Times and USA Today bestselling author and currently writes Southern women's fiction. She lives in Georgia with her husband and two Havanese dogs.
Find out more about Karen at her website, and connect with her on Facebook, Twitter, and Instagram.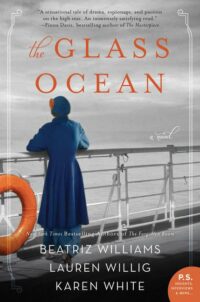 The Glass Ocean
William Morrow
September 10, 2019
Paperback