I received a copy of The Sisters Hemingway from William Morrow Paperbacks in exchange for an honest review. I brought it with me on my recent family vacation, and I have to say, it was pretty great timing. This novel is set in Missouri, and it felt to me like summer, which was a perfect escape for me. It was also nice timing because I was spending the week with my siblings. During this time, it gave me some nice thoughts about how we interact together, especially in the dynamic between my sister and me.
For the most part, The Sisters Hemingway is about acknowledging that each of us deal with pain and troubles differently. By the same token, it also teaches us that it is easier to heal as a family. Each of the three sisters have old trauma, current struggle, and perhaps a shrouded future of sorts to uncover. By coming home, they can each see more clearly and help each other. The author, Ms. England Noblin, utilizes some great foreshadowing and metaphor to guide the story of the three women. She also wrote a short story at the end of the book about Aunt Beatrice and the initial appearance of the "stray" basset hound who works her way into the Hemingway house. It's fabulous, and adds a little bit of sweetness and closure.
The Sisters Hemingway is great because there are so many characters to enjoy. Since I come from a rural area, some even reminded me of my own hometown. I can definitely see the appeal of returning to find home and love in one place. All in all, I really enjoyed this story, and though it was a little predictable, I loved "getting lost" for a few days while reading it.
The Sisters Hemingway is a new release, so if you're interested, consider grabbing a copy from one of our great purchase links below! Then feel free to comment in the section below – who was YOUR favourite character?
Purchase Links
About The 

Sisters

 

Hemingway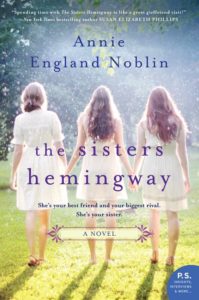 • Paperback: 384 pages
• Publisher: William Morrow Paperbacks (February 12, 2019)
For fans of Susan Mallery, Kristan Higgins, or Susan Wiggs, this is a novel for anyone who loves stories about sisters, dogs, and family secrets.
The Sisters Hemingway: they couldn't be more different…or more alike.
The Hemingway Sisters of Cold River, Missouri are local legends. Raised by a mother obsessed with Ernest Hemingway, they were named after the author's four wives—Hadley, Pfeiffer, Martha, and Mary. The sisters couldn't be more different—or more alike. Now they're back in town, reunited to repair their fractured relationships.
Hadley is the poised, polished wife of a senator.
Pfeiffer is a successful New York book editor.
Martha has skyrocketed to Nashville stardom.
They each have a secret—a marriage on the rocks,  a job lost, a stint in rehab…and they haven't been together in years.
Together, they must stay in their childhood home, faced with a puzzle that may affect all their futures. As they learn the truth of what happened to their mother—and their youngest sister, Mary—they rekindle the bonds they had as children, bonds that have long seemed broken. With the help of neighbors, friends, love interests old and new—and one endearing and determined Basset Hound—the Sisters Hemingway learn that he happiness that has appeared so elusive may be right here at home, waiting to be claimed.
About Annie England Noblin
Annie England Noblin lives with her son, husband, and three dogs in the Missouri Ozarks. She graduated with an M.A. in creative writing from Missouri State University and currently teaches English and communications for Arkansas State University in Mountain Home, Arkansas. She spends her free time playing make-believe, feeding stray cats, and working with animal shelters across the country to save homeless dogs.
Follow Annie on Facebook, Twitter, and Instagram.
Instagram Features
Tuesday, February 12th: Instagram: @oddandbookish
Tuesday, February 12th: Instagram: @thepagesinbetween
Wednesday, February 13th: Instagram: @megabunnyreads
Friday, February 15th: Instagram: @somekindofalibrary
Saturday, February 16th: Instagram: @marissa_writes
Monday, February 18th: Instagram: @books.tea.quotes
Tuesday, February 19th: Instagram: @storiesandcoffee
TBD, Sunday, February 17th: Instagram: @writersdream
Review Stops
Tuesday, February 12th: A Bookish Affair
Wednesday, February 13th: Peppermint PhD
Thursday, February 14th: Bibliotica
Friday, February 15th: Lindsay's Book Reviews
Monday, February 18th: Iwriteinbooks's blog
Tuesday, February 19th: BookNAround
Wednesday, February 20th: Ms. Nose in a Book
Friday, February 22nd: Bloggin' 'Bout Books
Monday, February 25th: Instagram: @giuliland
Tuesday, February 26th: Laura's Reviews
Wednesday, February 27th: Into the Hall of Books
Wednesday, February 27th: Literary Quicksand
Thursday, February 28th: What Is That Book About
Thursday, February 28th: From the TBR Pile