Story: Love Unleashed: Tales of Inspiration and the Life-Changing Power of Dogs by Rebecca Ascher-Walsh is a collection of short tales about incredible canine companions. From therapy dogs to police partners to wounded rescues, these inspiring animals and their humans provide a reminder of why dogs are considered "man's best friend." While some of the stories could be tear-jerkers, they each have a pawsitive message and adorable coordinating pictures (see what I did there??)!
This work is so hard, and so stressful. And she brings joy to us all.
Why: I'm one of "those" that considers myself a dog mama. My rescue is so, so important to me, and I love learning about how other animals have changed people's lives like my Augie has mine. I will admit to being skeptical about the book at first, because I was afraid I'd just bawl my eyes out. However, I knew National Geographic would make this a beautiful book, and my curiosity prevailed!
She came straight for me…and that was it.
Opinion: As noted, I was worried about this book being sad but the material was lighthearted, and I found myself smiling almost every time I turned a page! I thought it was cute, funny and well-put-together.  There are a wide variety of breeds represented, and the stories are a good mix of how the dogs helped their humans and how the humans helped the dogs. The photography captures the spirit of the animals – which I love – and I felt compelled to share some of the stories with friends! Either the dog's name was the same as theirs or it was the same breed they had…it warmed my heart to think about all the animals in and around my life that once did and currently are affecting so many people I love!
I knew that we were going to take care of each other.
Recommendation: Love Unleashed is a perfect coffee table book for any dog-lover. I could also see giving this as a gift to someone with a new puppy! (Do they have "showers" for new dog moms? They should!) OH! And if you need names for a new furry family member, there are some definite winners here! It really is just a great pick-me-up kind of read or display piece. I'll be passing my copy around to all my dog-lovin' family and friends for sure!
Here is a dog who has gone through everything, and he's more than just happy – he is light.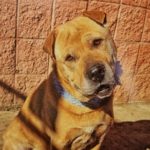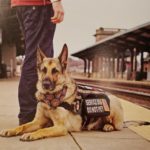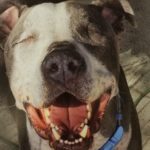 Special thanks to TLC Book Tours for the book in exchange for my honest review!