People, 1,000 Perfect Weekends is epic and GORGEOUS! Read on for my full review, plus pictures!
About 1,000 Perfect Weekends
Packed with innovative ideas and inspiring photographs, this gift-worthy treasury features 1,000 dream escapes from sunny beach retreats to lush mountain idylls, exotic city sojourns, and wild adventures around the world.
Whether you're looking for a way to unplug from the busy work week, take the family on a quick getaway, or add to a vacation itinerary, this practical and inspiring book provides the perfect way to plan your next escape. Spend two days sailing off the coast of the Bahamas. Indulge in a foodie tour of Mexico City's markets. Camp with wild horses on Assateague Island. Take a drive through Italy's "Chocolate Valley." Skate the world's largest ice rink at Ottawa's winter festival. Whatever your pleasure, 1,000 Perfect Weekends has a unique itinerary built to excite you and your travel companions, illustrated with dramatic National Geographic photographs. Divided by theme and interest–including nature parks, city escapes, country weekends, mountain retreats, and more–this fun-packed guide offers an adventure you can experience in 36 to 72 hours. Highlighting the best short escapes from hubs across the globe, these trips cover more than 40 countries around the world. You'll also find 50 snackable top-10 lists–from the best places to go antiquing to the most relaxing spas to the top museums in the world–to add to your bucket list, along with first-person accounts from travelers who have scouted out each location.
My Review
Okay first of all, this book is just gorgeous. I mean, would you expect anything less from National Geographic?? The photos are just to die for. You can't open this book and see a photo of a place and not want to go there.
I like how the getaways are organized, although I'm sure there are many destinations that could fit into multiple categories (chapters). There are good explanations though of each place, detailing some of the things you can see and do there.
I also think it's awesome that they included both a "Family-Friendly Vacations" chapter and a "Pet-Friendly Vacations" chapter. They've also included an "Enabled Adventures" chapter full of wheelchair-accessible locations and sensory-aware amenities. Thank you, National Geographic, for noting that people with disabilities and other special needs enjoy travelling, too.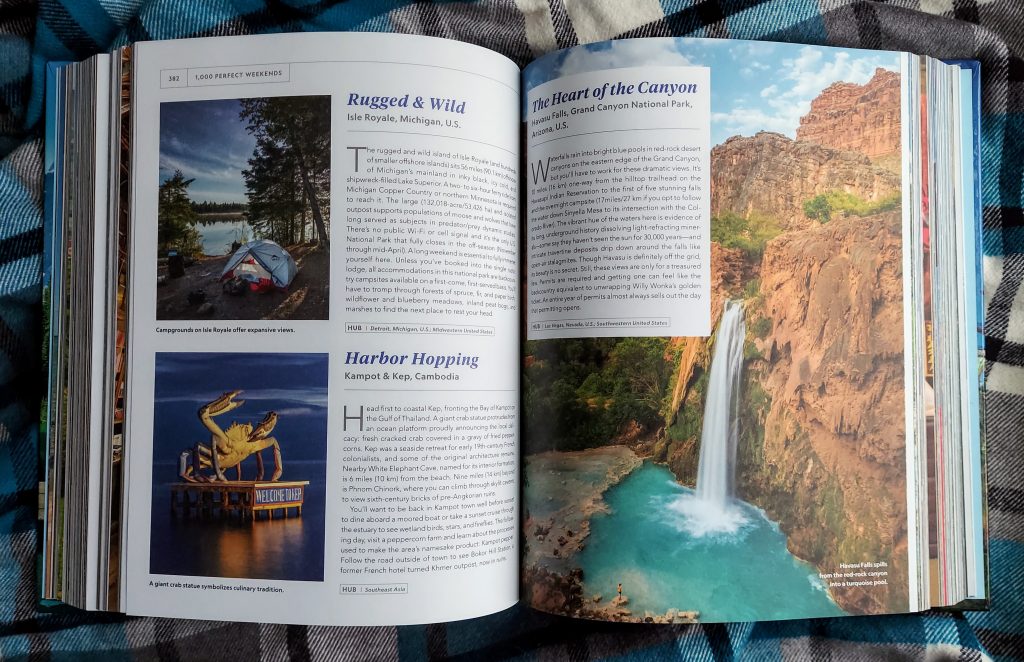 There really is something in this book for everyone, whatever your interests and wherever you want to go. I'm giving this one 5 stars!