I have been reading a lot of books that represent the LGBTQ community and my home state of West Virginia lately, but I never expected the two to intersect. When I scrolled through the synopsis for Sugar Run by Mesha Maren on my library app, I knew I had to read it. Even so, I did not expect such a perceptive narrative to leap from the pages.
The Summary
"Just one night, with one sweet sugar run, and you're hooked."
Growing up on the wild and isolated land of her grandmother Effie's farm, Jodi never pictured a clear future beyond exploring and tending to the place. Her parents moved out ages ago, but she didn't need them.
When Effie dies, however, Jodi is stranded at the age of sixteen. Her tenuous life plan dissolves. She quickly latches on to an intriguing older woman named Paula, an adept poker player. Jodi joins Paula as she chases sugar runs across the south and into Mexico, seeking the euphoria of good luck and a budding romance.
Unbeknownst to young Jodi, she would not set foot in Malonga County, West Virginia again for another eighteen years.
Once things with Paula begin to go awry, they immediately spiral out of Jodi's control. Dazed and choked with a whirlwind of emotions, Jodi spends nearly two decades in prison before she can truly start to process what happened. After Jodi gets out of prison unexpectedly due to a successful appeal, she seeks her last connection to Paula: her younger brother, Ricky.
Jodi finds Ricky, but in the process she also falls in love with Miranda, a flighty mother of three. The past mirrors the present as Jodi's life before and after prison unfolds. She simply wants to establish a found family on her grandmother's land, but taxes, fracking, homophobia, drug-trafficking, and the very complexity of human nature stand in her way. Soon enough, sugar runs loom right beyond Jodi's grasp once more.
My Review
I enjoyed this book. The story twists over and over in ways that are at times pleasing or ugly. Maren's prose forges imagery that is insanely vivid and realistic. Even readers who are not LGBTQ or from the Appalachian region will sympathize with the rough hand Jodi is dealt each time she tries to restart her life, desperately trying to capture a little bit of good luck.
For those who do identify with Jodi's experiences, the grit of her reality stings like swallowing glass more often than not. Maren successfully captures the intricate truths of the Mountain State and being LGBTQ in such an isolated place. The good and the bad: it's all here. I highly recommend this novel to anyone seeking insight about either subject.
I also liked how each character has flaws that feel inherent. It makes them all seem strikingly like real people. Jodi is impulsive, Miranda cannot commit to anything, Farren refuses to view the world in anything other than absolutes, etc. These traits are not something the narrative informs us of. Rather, these characters reflect them in everything they do. Most of them manage to remain sympathetic, too, due to how nuanced they are.
Overall, I think this book deserves four stars. The complex story grips you from the start, and the writing is shrewd and suburb. However, the pacing is slow in some places, mostly in the segments from Miranda's point of view.
Have you read any good books about Appalachia or LGBTQ topics lately? Be sure to let me know in the comments!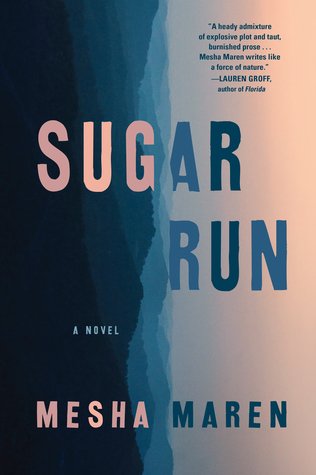 Sugar Run
Algonquin Books
January 8, 2019
Hardcover
352 pages
"In 1989, Jodi McCarty is seventeen years old when she's sentenced to life in prison. When she's released eighteen years later, she finds herself at a Greyhound bus stop, reeling from the shock of unexpected freedom but determined to chart a better course for herself. Not yet able to return to her lost home in the Appalachian Mountains, she heads south in search of someone she left behind… There, she meets and falls in love with Miranda, a troubled young mother living in a motel room with her children. Together they head toward what they hope will be a fresh start. But what do you do with your past—and with a town and a family that refuses to forget, or to change?"