Susan Wiggs is one of the only romance/chick-lit writers I regularly enjoy. It's a hard genre for me! So I was definitely excited when I snagged The Lost and Found Bookshop via NetGalley, which was JUST published on July 7th!
The Summary
There is a book for everything . . .
Somewhere in the vast Library of the Universe, as Natalie thought of it, there was a book that embodied exactly the things she was worrying about.
In the wake of a shocking tragedy, Natalie Harper inherits her mother's charming but financially strapped bookshop in San Francisco. She also becomes caretaker for her ailing grandfather Andrew, her only living relative—not counting her scoundrel father.
But the gruff, deeply kind Andrew has begun displaying signs of decline. Natalie thinks it's best to move him to an assisted living facility to ensure the care he needs. To pay for it, she plans to close the bookstore and sell the derelict but valuable building on historic Perdita Street, which is in need of constant fixing. There's only one problem–Grandpa Andrew owns the building and refuses to sell. Natalie adores her grandfather; she'll do whatever it takes to make his final years happy. Besides, she loves the store and its books provide welcome solace for her overwhelming grief.
After she moves into the small studio apartment above the shop, Natalie carries out her grandfather's request and hires contractor Peach Gallagher to do the necessary and ongoing repairs. His young daughter, Dorothy, also becomes a regular at the store, and she and Natalie begin reading together while Peach works.
To Natalie's surprise, her sorrow begins to dissipate as her life becomes an unexpected journey of new connections, discoveries and revelations, from unearthing artifacts hidden in the bookshop's walls, to discovering the truth about her family, her future, and her own heart.
My Review
The last book I read based on the life of a bookish woman was The Bookish Life of Nina Hill by Abbi Waxman (review here), I really enjoyed. I had high hopes for another such bookish woman book!
Did The Lost and Found Bookshop live up to those high hopes? Well…kinda.
Let's start with the high points. First, I liked Natalie and definitely rooted for her. I love how she waffles in the beginning between going back to her job and staying at the bookshop, as any real person would in that situation. She clearly has a very deep love and appreciation for her grandfather and his life, and that was very endearing.
For the romance part of this book, I really enjoyed the fact that there are two love interests. That added a little bit of excitement and unpredictability to the romance part of the story. It becomes clear who she's going to end up with at the end, but even when you know it, it's fun to see how it plays out.
The main flaw for me in The Lost and Found Bookshop was its depiction of grief. After going through a couple very tough situations of my own (one of them being losing my own mom suddenly and unexpectedly), the way Natalie tries to separate her grief from her love for her mom bothered the heck out of me. In my time in therapy for my grief-inducing life rocking moments, I learned a lot about how grief is love. Those two things cannot be separated.
In the end of this story when things are getting tied up with bows, Natalie has several moments where she talks about keeping her love for her mom but ditching the grief. That's just….not possible. They're the same thing.
Besides the grief thing, I just didn't feel super into this book. It was definitely good at points, but at others it was just okay. I'm giving it 3 stars.
A ranking of the Susan Wiggs books I've read so far:
The Lost and Found Bookshop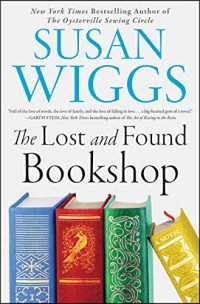 The Lost and Found Bookshop
William Morrow
July 7, 2020
Hardcover
368 pages