Summary
In the years between the beginning of World War I and the postwar era of World War II, an unlikely group comes together in Chawton, England, each drawn by a connection to Jane Austen and her work.
One hundred and fifty years ago, Chawton was the final home of Jane Austen, one of England's finest novelists. Now it's home to a few distant relatives and their diminishing estate. With the last bit of Austen's legacy threatened, a group of disparate individuals come together to preserve both Jane Austen's home and her legacy. These people—a laborer, a young widow, the local doctor, and a movie star, among others—could not be more different and yet they are united in their love for the works and words of Austen. As each of them endures their own quiet struggle with loss and trauma, some from the recent war, others from more distant tragedies, they rally together to create the Jane Austen Society.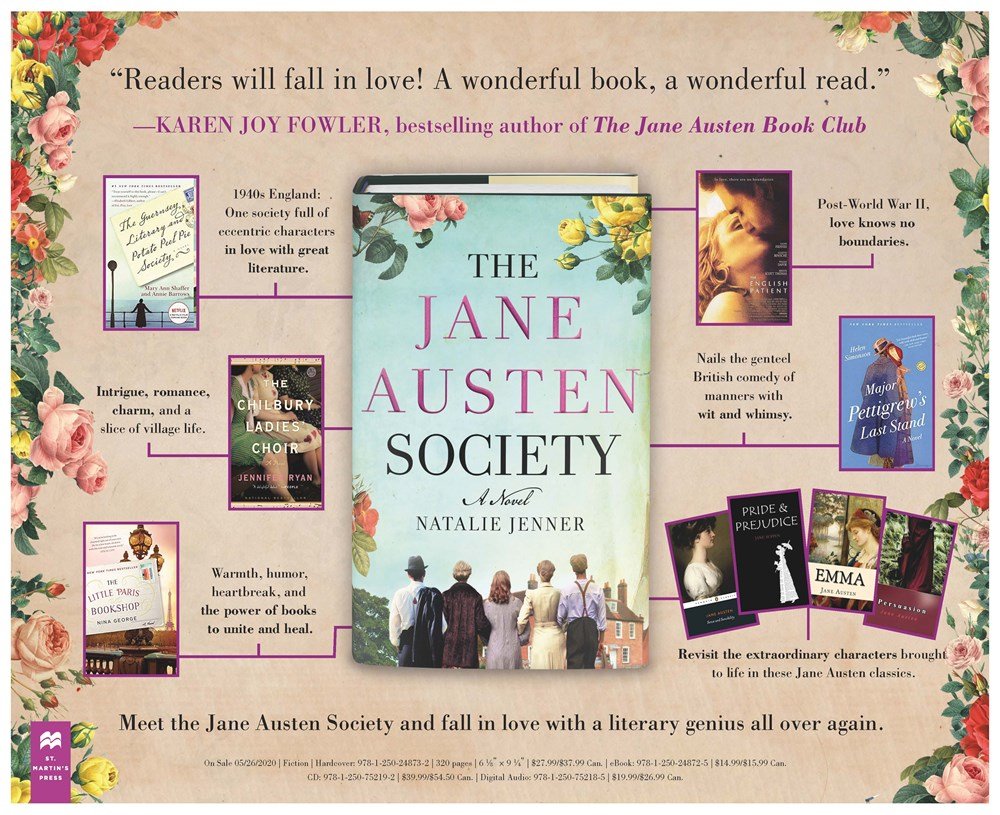 Review
Not much is known about Austen's personal life, since her family destroyed many of her letters and personal items after her death. In Natalie Jenner's debut novel, The Jane Austen Society, a group including a film star, her wealthy fiance, a country doctor, and a farm boy all are drawn together to preserve Austen's legacy and home. With Austen's family estate crumbling, the group decides that it is their duty to preserve what they can of their beloved author's home and share the joy of her work with others. Sprinkled with quotes from Austen's works, this charming story takes a fictional look at the legacy of one of England's best known authors.
Jenner's book opens with chapters introducing each of the central characters, setting up relationships between the members of the small town of Chawton and quietly revealing how their past traumas have shaped their relationships to each other.
The book has a calm feel over all; I liked how the characters were allowed the space to be introduced, leave the story, and then reappear in connections to one another. With archetypes from the lonely widow to the glamorous movie star present in the story, there were plenty of characters for me to get invested in and seeing how the characters drew together around their love for Austen was a meaningful part of the story.
One part I appreciated about this book was it showed the power of an author to draw a variety of people together around their work, which, after all, is a huge part of why we read books.
In addition to quality character development, the book gives a glimpse into Chawton, detailing for the reader the treasures of the small town. While the book is fictional, Jenner's enjoyment of Austen's works and her commitment to research comes through in her detailing of both Chawton and the last years of Austen's life. I loved getting to spend some time with these characters and "exploring" Chawton, and the book was a heartfelt look at how passion for an author can bring people together from very different walks of life. One of my favorite parts of this story was how the bonds the characters initially form over Austen encourages them to support each other in other ways, as they heal from the trauma of the war years.
I would heartily recommend this book to any fans of Austen, charming country towns, and sweetly character driven stories. Grab a copy of The Jane Austen Society to spend some time being transported into the world of Austenites as they discover both Jane's secrets and their own.
I was provided a copy of The Jane Austen Society by St. Martin's Press in exchange for a review. All opinions are my own.
About Natalie Jenner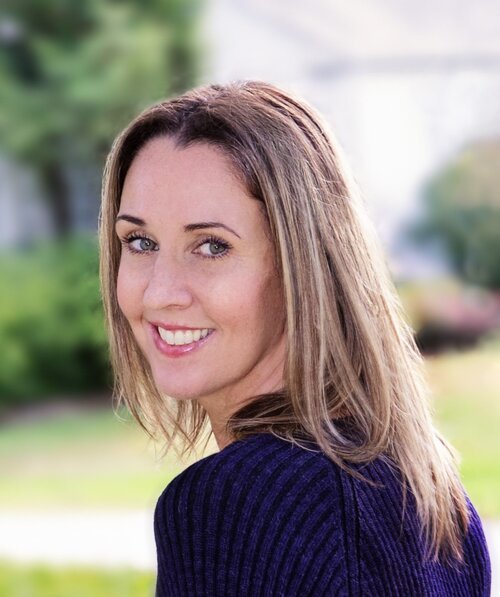 Natalie Jenner is the debut author of THE JANE AUSTEN SOCIETY, a fictional telling of the start of the society in the 1940s in the village of Chawton, where Austen wrote or revised her major works. Born in England and raised in Canada, Natalie graduated from the University of Toronto with degrees in English Literature and Law and has worked for decades in the legal industry. She recently founded the independent bookstore Archetype Books in Oakville, Ontario, where she lives with her family and two rescue dogs.
Connect with Natalie
WEBSITE | TWITTER | FACEBOOK | INSTAGRAM | GOODREADS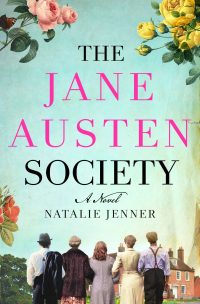 The Jane Austen Society
Historical Fiction
St. Martin's Press
May 26, 2020
320 pages
Pin This Post