February is just around the corner, which means love is in the air, temperatures are still dropping, and we're about to score big on some drugstore candy sales. It also happens to be the perfect month to get back into reading romance novels!
Graphic novels, to be exact.
I love graphic novels because they combine two of my favorite things: reading and looking at beautiful art! If you've never read one before, I highly recommend picking up one (or all!) of these romances to kick off the month of February.
1. Laura Dean Keeps Breaking Up with Me by Mariko Tamaki, Rosemary Valero-O'Connell (Illustrations)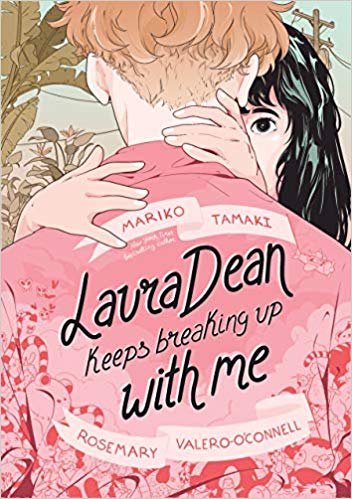 I would tell anyone to pick up this book for the art style alone. The panels are so gorgeously illustrated, with a black, white, and pink color scheme that sucked me right in.
This story of young love follows Freddy, a high-schooler who is absolutely obsessed with her girlfriend, Laura Dean (not to be confused with Jenny Han's Lara Jean). The problem is, Laura Dean's an absolute jerk. What follows after the couple's latest breakup is a story of a young woman learning to ditch a toxic relationship in favor of the healthy ones she deserves. It's messy, heartwarming, frustrating, and beautiful.


2. Bloom by Kevin Panetta, Savanna Ganucheau (Illustrations)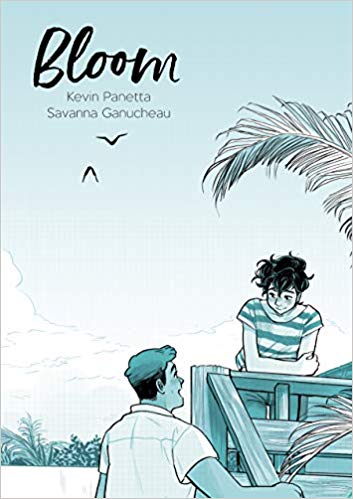 Despite it being mid-winter and freezing outside, Bloom had me thinking I was on summer vacation. The book follows Ari, who just graduated high school and is dying to move to the city to pursue a career with his band. All he has to do is convince his dad to let him quit his job at the struggling family bakery where he's been working since he was a kid, which may be easier said than done.
Ari's outlook starts to shift when he meets Hector while finding candidates to replace him. They soon find themselves growing closer in an unbelievably adorable romance that'll have you squealing to no one in particular. The all-blue color scheme of the illustrations is stunning and the perfect way to tie the elements of this book together. Summer, baking, and a coming-of-age love story- what's not to like?


3. On a Sunbeam by Tillie Walden
This is the most unique graphic novel I've ever read. Set deep in space, it follows a crew sent out to repair damaged structures, relics of the past. Mia, a new member of the team, gets to know her fellow shipmates as we flash back to her year in boarding school where she found love with a new student. We soon learn that Mia actually joined the ship to find her long-lost love, and the story that follows is one of growth, family, and deep emotion.
Tillie Walden cleverly uses color to track timelines, shifts in relationship dynamics, and character developments. That, coupled with her beautiful and complex story, makes this graphic novel totally deserving of its 2019 Hugo Award nomination for Best Graphic Story.


4. Blankets by Craig Thompson
If this title rings a bell, it's because BookTube was collectively obsessed with Blankets after it came out in 2015, and for good reason. Powerful and touching, this autobiographical story set among the backdrop of a brutal Wisconsin winter explores Thompson's childhood in an Evangelical Christian family, his first love, and early adulthood.
Sibling rivalry, faith, and discovery are all key themes in Blankets, but the emotional complexity of this novel is hard to quantify in a few lines so you'll just have to pick it up and see for yourself. At 592 pages, it's definitely the longest and most dense book on this list.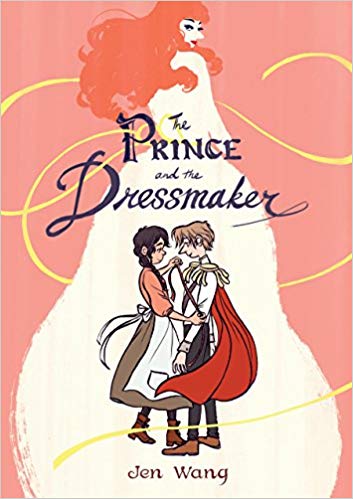 5. The Prince and the Dressmaker by Jen Wang
Set in late 19th-century France, The Prince and the Dressmaker reads almost like a fairytale. It's an incredibly adorable and important story that follows Prince Sebastian, whose parents are eager to find him a bride. Prince Sebastian, however, is completely wrapped up in hiding his secret from the world. That secret being that he loves to put on dresses at night and take to the streets as Lady Crystallia: fashion icon.
Not everything is glamorous in Paris, though, when Sebastian's best friend, a dressmaker named Frances, realizes that she won't be able to fully pursue her dreams as long as she has to hide her work to protect Sebastian. How long will she be able to keep her friend's secret? This story of friendship, love, and identity is perfect for children and adults alike, reaching levels of cuteness I never thought possible.
Now I want to hear from you! Which of these books are you excited to pick up? What other graphic novels are on your February TBR?