I really enjoy the occasional "girly" read (as long as it has some substance to it), and The Bookish Life of Nina Hill ended up being just the right pick for me. Read on to find out why!
The Summary
The only child of a single mother, Nina has her life just as she wants it: a job in a bookstore, a kick-butt trivia team, a world-class planner and a cat named Phil. If she sometimes suspects there might be more to life than reading, she just shrugs and picks up a new book.
When the father Nina never knew existed suddenly dies, leaving behind innumerable sisters, brothers, nieces, and nephews, Nina is horrified. They all live close by! They're all—or mostly all—excited to meet her! She'll have to Speak. To. Strangers. It's a disaster! And as if that wasn't enough, Tom, her trivia nemesis, has turned out to be cute, funny, and deeply interested in getting to know her. Doesn't he realize what a terrible idea that is?
Nina considers her options.
Completely change her name and appearance. (Too drastic, plus she likes her hair.)
Flee to a deserted island. (Hard pass, see: coffee).
Hide in a corner of her apartment and rock back and forth. (Already doing it.)
It's time for Nina to come out of her comfortable shell, but she isn't convinced real life could ever live up to fiction. It's going to take a brand-new family, a persistent suitor, and the combined effects of ice cream and trivia to make her turn her own fresh page.
My Review
First of all, I did not pick The Bookish Life of Nina Hill up on my own. It was a book club pick for December, when we normally pick something lighter/easy to read due to book club being earlier in the month. I had seen it around a lot and figured I'd probably like it, but hadn't gotten to it yet.
The first thing I thought while reading this book was "I like this girl!" I had a girl crush on Nina the whole time, and totally wished she was real so we could be friends. She's introverted, bookish, has anxiety (me too 🙋‍♀️), and is super funny. There were a few moments where I wanted to ask her what the heck she was thinking, but otherwise, we'd be besties.
The plot pretty much went as expected in a girly read like this one, but kept my interest. There were definitely some questionable moments when I thought "hm okay that would never happen in real life," like a street fight between neighbors in which scoops of ice cream are thrown (??), but the rest of the book was good enough for me to just sort of write those moments off as quirky to match the rest of the book and move on.
There was one character flaw that I couldn't ignore that took this book down a star for me. This is kind of a spoiler, but also not really because it happens in the plot of every girly read, but you've been warned either way. Tom, the love interest, has a moment when he gets really angry at Nina and pretty much ghosts her. Why is he mad? She had a full-on anxiety attack and asked him to leave her apartment so she could be alone. Nina kind of blames herself, too, and has this big "I can let people in and be okay" moment. I really felt like how Nina acted in an anxiety attack shouldn't be something for Tom to freak out about, and didn't have to be the catalyst for Nina learning to let people in.
The Rating
I give this book 3.5 stars. It ended up being pretty much just what I was expecting, and also just what I was craving in a book at that particular moment. Overall, I'd recommend it if you're feeling this kind of read!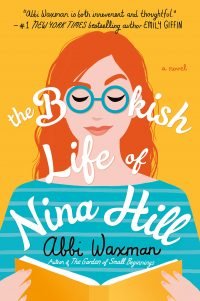 Pin This Post