With the holiday season upon us, it is the perfect time to read a good family drama. The Family Trust is all of that and more. Family patriarch, Stanely Huang, learns he has pancreatic cancer and is faced with his mortality. Stanley's family, two grown children, an ex-wife, and a much younger current wife, are concerned about Stanley's health and well-being. However, concerns quickly shift to Stanley's estate and who will get what after Stanley's gone.
The story is told from four different perspectives: Stanley, his ex-wife Linda, his son Fred, and his daughter Kate. The different perspectives keep the story moving along nicely. Each chapter ends on its own mini cliff-hanger, only to be picked up later down the line. I found the characters interesting and rather cynical, which I loved.
There was a lot of information about Silicon Valley, tech companies, and corporate investing which made the story drag a bit. I also didn't really appreciate the flippant way serious things like pancreatic cancer were treated in the book, having seen its devastating effects firsthand.
Overall, I was pleasantly surprised by this book. I was expecting chick lit, but instead found a winding family saga filled with drama and intrigue.

About Family Trust
• Paperback: 416 pages
• Publisher: William Morrow Paperbacks; Reprint edition (October 29, 2019)
Some of us are more equal than others….
Meet Stanley Huang: father, husband, ex-husband, man of unpredictable tastes and temper, aficionado of all-inclusive vacations and bargain luxury goods, newly diagnosed with pancreatic cancer. For years, Stanley has claimed that he's worth a small fortune. But the time is now coming when the details of his estate will finally be revealed, and Stanley's family is nervous.
For his son Fred, the inheritance Stanley has long alluded to would soothe the pain caused by years of professional disappointment. By now, the Harvard Business School graduate had expected to be a financial tech god – not a minor investor at a middling corporate firm, where he isn't even allowed to fly business class.
Stanley's daughter, Kate, is a middle manager with one of Silicon Valley's most prestigious tech companies. She manages the capricious demands of her world-famous boss and the needs of her two young children all while supporting her would-be entrepreneur husband (just until his startup gets off the ground, which will surely be soon). But lately, Kate has been sensing something amiss; just because you say you have it all, it doesn't mean that you actually do.
Stanley's second wife, Mary Zhu, twenty-eight years his junior, has devoted herself to making her husband comfortable in every way—rubbing his feet, cooking his favorite dishes, massaging his ego. But lately, her commitment has waned; caring for a dying old man is far more difficult than she expected.
Linda Liang, Stanley's first wife, knows her ex better than anyone. She worked hard for decades to ensure their financial security, and is determined to see her children get their due. Single for nearly a decade, she might finally be ready for some romantic companionship. But where does a seventy-two year old Chinese woman in California go to find an appropriate boyfriend?
As Stanley's death approaches, the Huangs are faced with unexpected challenges that upend them and eventually lead them to discover what they most value. A compelling tale of cultural expectations, career ambitions and our relationships with the people who know us best, Family Trust skewers the ambition and desires that drive Silicon Valley and draws a sharply loving portrait of modern American family life.

Purchase Links
About Kathy Wang
Kathy Wang grew up in Northern California and holds degrees from UC Berkeley and Harvard Business School. She lives in the Bay Area with her husband and two children.
Visit Kathy's website and connect with her on Facebook, Twitter, and Instagram.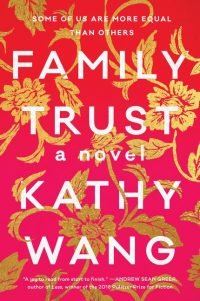 Family Trust
William Morrow
October 30, 2018
Paperback
416