When I was reading about this book and saw that it "combines modern psychological insights with elements of classic noir," I knew I wanted to read it. It didn't disappoint!
This book was one that was pretty hard to put down for me. The plot moved along pretty quickly, which kept me entertained and needing to know what happened next. I wasn't in love with the main character, Maddie, as she seems pretty shallow and conceited. Instead of rooting for her, it was more like okay, now what the heck has she gotten herself into? That didn't really deter me from liking the book, but it did put most of my focus on the murder investigation plot instead of getting invested in the character.
I won't say much about the plot since it's a suspense novel, but I do want to talk about the role of minor characters along the way. Lippman gives really minor characters a short chapter that they narrate. It's definitely unique, but I thought it was a really interesting way to broaden the point of view and bring in a ton of detail about what was happening around Maddie.
The murder victim also narrates occasionally, bringing a dark, twisty point of view in every so often.
Overall, I thought this was a really enjoyable read, especially for summer. I'd give it a solid 3.5/5 stars, and I'll round up to 4 for my Goodreads rating.
About Lady in the Lake
• Hardcover: 352 pages
• Publisher: William Morrow (July 23, 2019)
The revered New York Times bestselling author returns with a novel set in 1960s Baltimore that combines modern psychological insights with elements of classic noir, about a middle-aged housewife turned aspiring reporter who pursues the murder of a forgotten young woman.
In 1966, Baltimore is a city of secrets that everyone seems to know—everyone, that is, except Madeline "Maddie" Schwartz. Last year, she was a happy, even pampered housewife. This year, she's bolted from her marriage of almost twenty years, determined to make good on her youthful ambitions to live a passionate, meaningful life.
Maddie wants to matter, to leave her mark on a swiftly changing world. Drawing on her own secrets, she helps Baltimore police find a murdered girl—assistance that leads to a job at the city's afternoon newspaper, the Star. Working at the newspaper offers Maddie the opportunity to make her name, and she has found just the story to do it: a missing woman whose body was discovered in the fountain of a city park lake.
Cleo Sherwood was a young African-American woman who liked to have a good time. No one seems to know or care why she was killed except Maddie—and the dead woman herself. Maddie's going to find the truth about Cleo's life and death. Cleo's ghost, privy to Maddie's poking and prying, wants to be left alone.
Maddie's investigation brings her into contact with people that used to be on the periphery of her life—a jewelry store clerk, a waitress, a rising star on the Baltimore Orioles, a patrol cop, a hardened female reporter, a lonely man in a movie theater. But for all her ambition and drive, Maddie often fails to see the people right in front of her. Her inability to look beyond her own needs will lead to tragedy and turmoil for all sorts of people—including the man who shares her bed, a black police officer who cares for Maddie more than she knows.

Purchase Links
HarperCollins | Amazon | Barnes & Noble
Instagram Features
Tuesday, July 23rd: Instagram: @crystals_library
Tuesday, July 23rd: Instagram: @readingwithmere
Wednesday, July 24th: Instagram: @jennsbookvibes
Wednesday, July 24th: Instagram: @lauralovestoread
Thursday, July 25th: Instagram: @amanda.the.bookish
Thursday, July 25th: Instagram: @bookswritingandmore
Friday, July 26th: Instagram: @theunreadshelf
Friday, July 26th: Instagram: @tbretc
Sunday, July 28th: Instagram: @basicbsguide
Monday, July 29th: Instagram: @givemeallthebooks
Monday, July 29th: Instagram: @somekindofalibrary
TBD: Saturday, July 27th: Instagram: @reading.betweenthewines
Review Stops
Tuesday, July 23rd: A Chick Who Reads
Wednesday, July 24th: Instagram: @beritaudiokilledthebookmark
Thursday, July 25th: Brooke's Books and Brews
Friday, July 26th: No More Grumpy Bookseller
Monday, July 29th: Laura's Reviews
Tuesday, July 30th: Reading Reality
Wednesday, July 31st: bookchickdi
Friday, August 2nd: Instagram: @shereadswithcats
Saturday, August 3rd: Read Like a Mother
Monday, August 5th: Jennifer ~ Tar Heel Reader
Tuesday, August 6th: Comfy Reading
Wednesday, August 7th: Books and Bindings
Thursday, August 8th: Lit and Life
Monday, August 12th: Literary Quicksand
Tuesday, August 13th: Always With a Book
Wednesday, August 14th: Into the Hall of Books
Thursday, August 15th: Thoughts From a Highly Caffeinated Mind
TBD: Friday, August 9th: Julie's Bookshelf
About Laura Lippman
Since Laura Lippman's debut in 1997, she has been recognized as a distinctive voice in mystery fiction and named one of the "essential" crime writers of the last 100 years. Her books have won most of the major awards in her field and been translated into more than twenty languages. She lives in Baltimore and New Orleans with her family.
Connect with Laura on her website, Facebook, Instagram, or Twitter.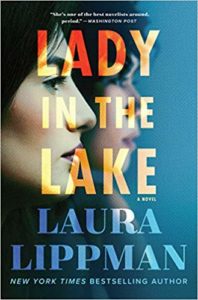 Lady in the Lake
William Morrow
July 23, 2019
Paperback