Welcome back to another edition of TBR Mix n' Mingle where you can get excited about your next read or add another book to your ever growing TBR! Join us the first Wednesday of each month as we share our most anticipated reads of the month ahead.
Make sure to add your TBR list in the linkup at the bottom of the post. Don't forget to check out all of the other TBR lists linked as well! Don't have a blog? Tell us about the books you want to read in the comments below.
Here's what we're reading this month…
---
Allison
Becoming by Michelle Obama – I've been wanting to read this memoir since it came out last year, but haven't been able to get it from the library. I finally broke down and purchased the ebook on a recent trip. Of course, my hold came in less than a week later. Such is life!
Allison has 3 more books on her TBR for June! Check them out on her blog here.





Joli
My June is shaping up to be a busy month, so I'm only planning on a few "required reading" books!
The Radium Girls: The Dark Story of America's Shining Women by Kate Moore – At well over 400 pages, this book has been sitting on my shelves, waiting for me to find the time to dig in. This month, though, it's my book club pick! What a great excuse to finally pick it up. I have it started and love the way it's reading so far.
Queen Bee by Dorothea Benton Frank – I'm reading this one to review it for TLC Book Tours. I chose it because I read another one by Frank and reviewed it on LQ! Find that review here: By Invitation Only
Megan
Since I'm still coming out of my reading slump, I'm keeping it low-pressure with just 3 books again, one of which I've already started.
The Islanders by Meg Mitchell Moore — I'm glad I chose this summer read to read for an upcoming blog tour (and started it!). I'm not too far in yet, but I'm pretty intrigued… I love the inclusion of a food blogger and a cafe owner!
Montauk by Nicola Harrison — I'm interested to check out this debut, which I got through NetGalley. It's a historical fiction set on Long Island in the 30s.
The Lightest Object in the Universe by Kimi Eisele — This dystopia is right in my wheelhouse and I'm really hoping it pulls me out of my slump. It sounds vaguely like Station Eleven, which I liked, and I can't wait to dive in!
Rachel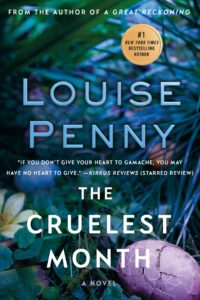 The Cruelest Month by Louise Penny – On to the third book in the series! I wasn't as big a fan of the second, but so far the third is quite interesting. Murder mysteries are definitely not my usual genre, but I adore Inspector Gamache and the townspeople.
Rachel has more books on her TBR list for June! Check them out on her blog here.
What are planning on reading this month?
Join our linkup below and share your TBR lists!
You are invited to the Inlinkz link party!