Welcome back to another edition of TBR Mix n' Mingle where you can get excited about your next read or add another book to your ever growing TBR! Join us the first Wednesday of each month as we share our most anticipated reads of the month ahead.
Make sure to add your TBR list in the linkup at the bottom of the post. Don't forget to check out all of the other TBR lists linked as well! Don't have a blog? Tell us about the books you want to read in the comments below.
Here's what we're reading this month…
---
Caleigh
It's May guys! I can't believe it – the beautiful weather is well on its way, distracting us all from the comfy couches and tea (which means the beach reads will soon be here!).
My TBR for May is short and simple: The First 90 Days by Watkins, for some life changes I've got going on, and Bridge of Clay, by Zusak, which I just got from the library and have some time to read. As anyone who reads the TBR lists may remember, this one is my white whale this year… but I have hope this time!
Joli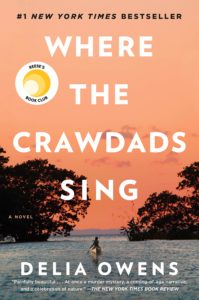 I haven't been able to read as much lately with my little one getting more and more active, but of course I still have a list! For the most part, there's just one big one that I absolutely have to read ASAP…
Where the Crawdads Sing finally came in for me from the library! As you can imagine, I've been on the wait list for a very long time for the bestseller, and it's now residing in my Kindle, just screaming for me to read it.
Megan

I'm in a bit of a reading slump and in need of a pick-me-up book! I'm keeping my TBR shorter this month to keep it low pressure.
Daisy Jones and the Six by Taylor Jenkins Reid — If anything can knock me out of a slump, TJR can and I've heard nothing but amazing things about this novel since it came out! It's been on my shelf since I got my March BOTM box, so it's about time.
For the rest of my list, here's my blog post: https://www.hungry-bookworm.com/2019/05/01/tbr-list-may-2019/
---
What are planning on reading this month?
Join our linkup below and share your TBR lists!
You are invited to the Inlinkz link party!