What to Eat When isn't the type of book I usually crave, but I'm glad it landed on my plate — no pun intended.
Two doctors approaching food and not only telling us what to eat, but focusing on the timing and how to fuel our bodies properly with the right types of food at the right times. Both, time of day and time in life, and they dive into real life situations and health issues such as when you're bummed or can't sleep, when you're trying to get pregnant or want to protect your heart and lungs.
The intro is great, but when you get to the juicy chapters, they're all 4-9 pages long. Easy to digest in one sitting!
Before the docs dive into telling you what to eat and when to eat it, they share a helpful 31-day plan to try out that gives information on what types of foods to eat, when to eat them and what to take notice of during those 31 days. They don't break it down day by day or meal by meal, it's more of an open-ended approach where they give you the rules and you decide what you're eating.
There's still creativity in what you can eat, but the main goal is to eat more calories earlier in the day vs. later in the evening.
I found it really interesting when they talked about a study and people who work night shifts are more likely to be overweight than those who work the 9-5 shift because our bodies have an internal clock and there are different settings during the day time (when we're supposedly awake) and in the night (when we're supposedly asleep).
Made me feel a little crummy about all those times I enjoyed a cookie or two right before bed… 
Overall, I'd recommend this book to anyone who wants to become more aware of the food they're eating and are looking to adjust their eating habits long-term. There are so many ways to eat and so many diets out there, I don't know if it's one size fits all and that's what I love about this book. It offers a scientific approach to eating, written by two doctors who know their stuff.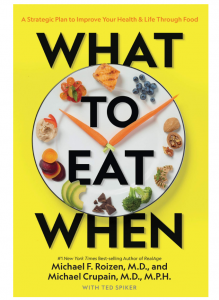 About What to Eat When
• Hardcover: 352 pages
• Publisher: National Geographic; 1 edition (December 31, 2018)
NY Times best-selling author Dr. Michael Roizen reveals how the food choices you make each day–and when you make them–can affect your health, your energy, your sex life, your waistline, your attitude, and the way you age.
What if eating two cups of blueberries a day could prevent cancer? If drinking a kale-infused smoothie could counteract missing an hour's worth of sleep? When is the right time of day to eat that chocolate chip cookie? And would you actually drink that glass of water if it meant skipping the gym? This revolutionary guide reveals how to use food to enhance our personal and professional lives–and increase longevity to boot. What to Eat When is not a diet book. Instead, acclaimed internist Michael Roizen and certified physician Michael Crupain offer readers choices that benefit them the most–whether it's meals to help them look and feel younger or snacks that prevent diseases–based on the science that governs them.
"Dr. Michael Roizen and Dr. Michael Crupain-the two doctors I always turn to for the latest scientific discoveries-explain that timing really is everything in this insightful, fun, and revolutionary book. What to Eat When shows that when you eat is just as important as what you eat-and reveals the right foods for life's toughest circumstances." -Dr. Oz
"It really does matter what you eat, not just how much. And now, two of my favorite doctors take our collective knowledge a step further by looking at the timing of when you eat your calories: your circadian rhythm dictates a lot more about when you should eat than you probably realize. Through clear-eyed writing and diligent research, Drs. Roizen and Crupain explain why The When Way might just be the best approach to eating." -Sanjay Gupta
"When we think about eating, we focus-as we should-on the quality and quantity of what we eat. It's becoming clear that we also need to think about chronology-when we eat. Drs. Roizen and Crupain's fun and revealing exploration of the biology of timing and eating will help you eat the way your body really wants you to." -Andrew Weil

Purchase Links
Amazon | Amazon Canada | IndieBound | Barnes & Noble
About Dr. Michael Roizen
DR. MICHAEL ROIZEN is the Chief Wellness Officer at the Cleveland Clinic, Chief Medical Consultant on The Dr. Oz Show, author of four #1 New York Times best-selling books, and originator of the popular RealAge.com website. He is board certified in anesthesiology and internal medicine. He's been recognized with an Ellie, an Emmy, and the Paul G. Rogers Award from the National Library of Medicine for Best Medical Communicator. He also chaired an FDA advisory committee and has published more than 175 peer-reviewed articles. He lives in Shaker Heights, Ohio.
About Dr. Michael Crupain
DR. MICHAEL CRUPAIN is the Medical Director of The Dr. Oz Show. He is board certified in preventive medicine, a fellow of the American College of Preventive Medicine, and part-time faculty at the Johns Hopkins Bloomberg School of Public Health. Prior to joining The Dr. Oz Show, he directed food safety testing at Consumer Reports. He is an Emmy award-winning producer, sat on an USDA advisory committee, has written multiple peer-reviewed articles, and cooks every day. He lives in New York City.
Wednesday, January 16th: bookchickdi
Thursday, January 17th: Eliot's Eats
Friday, January 18th: Instagram: @thebookishsisters
Saturday, January 19th: Beth Fish Reads
Monday, January 21st: Instagram: @jordys.book.club
Tuesday, January 22nd: Literary Quicksand
Tuesday, January 22nd: Instagram: @thehappyhungryyogi
Wednesday, January 23rd: Instagram: @megabunnyreads
Thursday, January 24th: I Wish I Lived in a Library
Friday, January 25th: Instagram: @thelastbiteblog
Monday, January 28th: Instagram: @ladyofthelibrary
Thursday, January 31st: What Is That Book About
Thursday, January 31st: Instagram: @giuliland