Today, on the anniversary of the bombing of Pearl Harbor, I have an excellent resource for those of us interested in learning more about WWII. I recently reviewed National Geographic's Visual Atlas of the World, and while the topic of the Atlas of WWII is more focused, the breadth of content is almost equally as vast.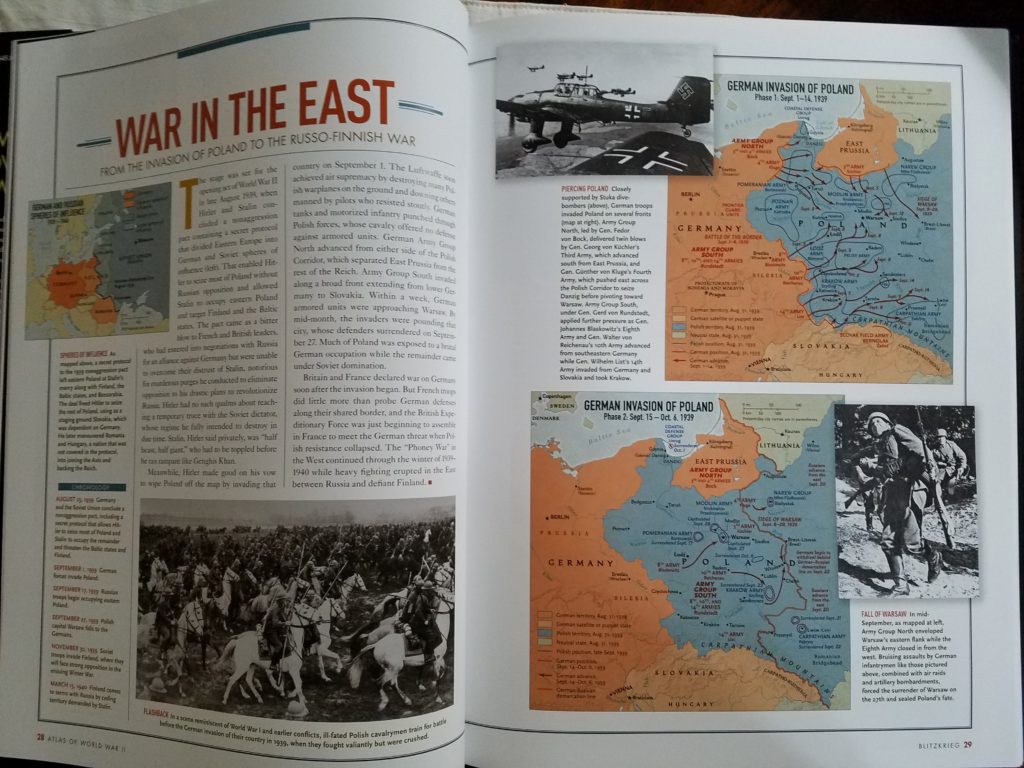 Content: Containing many new and rare maps and diagrams, the Atlas of WWII looks at the prelude to the war beginning in 1941, covers the War in the Pacific, the European theatre, and concludes with the defeat of Japan. The African front and many of the smaller  areas of the island wars and Asian battles are included as well. A brief forward by Kenneth W. Rendell offers an education on understanding wartime maps, but the book contains so much more content than charted battles and political borders. Each chapter discusses military strategies, different groups or individuals that impacted that time/area, as well as equipment, propaganda, civilian impact, and more.
Opinion: Similar to my feelings for the Visual Atlas of the World, I am extremely impressed and excited about this reference book. I found myself immediately engrossed in the beautifully designed pages, and despite the shorter snippets of information on a wide range of subject matter, I was consistently learning new things – and I consider myself fairly well-versed in WWII history. The general layout being chronological worked for me for the most part. My biggest disappointment was that there wasn't much of a conclusion or post-war chapter. If felt like an abrupt ending to me, but being an atlas at its core, I give it a pass on this.
Recommendation: This is a great tool for those interested in visually understanding the full scale of what a world war entails. I also think its a solid overview of the majority of the war, which would make it a good introductory book for a history student. Being that we are approaching a time of gift-giving, I would definitely recommend this as an option for the WWII aficionado on your list. Worst case, it is extremely visually appealing and would make an excellent coffee table book!
Special thanks to TLC Book Tours for the book in exchange for my review!