The following is a guest post by Danielle Blessing, an aspiring author and an LQ reader and follower. Check out her bio at the bottom!
There's something special and magical about reading in the summer.  Growing up, I always looked forward to the end of the school year because it meant three months of getting to lose myself in a variety of great novels that were not school-assigned texts.
Even now that I am in my twenties, there's something so calming and comforting about curling up in bed with a good book on a warm summer night.  In anticipation of the summer, I began scouring both my bookshelf and local library for books I have yet to read and compiled a list of my top picks.  If you're looking for a good novel to jump into this summer but aren't sure where to start, hopefully this can help kick off your summer reading!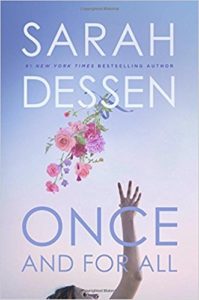 1. Once and For All by Sarah Dessen
Louna spends her summers working at her mom's wedding planning business, and after seeing the way in which each perfectly planned wedding ends—as well as after experiencing her own heartbreak—Louna has developed a cynical attitude towards true love. That's why, when the charming Ambrose enters her life, she immediately knows him for what he is: a player who's never going to change. However, she discovers he may just be the person to change her mind. Consistent with Dessen's writing style, this novel provides the perfect fun, romantic read for the summer!
2. Second Chance Summer by Morgan Matson
Middle child Taylor Edwards has never felt like she stood out against her two other exceptional siblings. After her father receives some difficult news, the family decides to head to their lake house for the summer. Taylor has a habit of running away when life gets complicated, but when there's nowhere to run, she is forced to face the past that she has tried for so long to escape from. With very distinct characters and a relatable theme throughout, Matson crafts a book the reader just can't put down.
3. The Lake Effect by Erin McCahan
This story follows 18-year-old Briggs Henry through his experience working as a personal assistant near Lake Michigan. The novel gives a day-to-day account of everything from his first day on the job to meeting the mysterious Abigail. Through a seemingly effortless sense of humor and a unique writing style that leaves you hooked from beginning to end, McCahan develops a book that will leave readers wanting more.
4. The Librarian and the Spy by Susan Mann
Adventure-loving librarian Quinn Ellington spends her free-time helping solve monotonous mysteries for library patrons and indulging herself in spy novels. However, when she meets the charming "insurance" agent James Lockwood, her life takes a sudden turn. In a novel filled with excitement, suspense, and twists and turns around every corner, Mann builds a novel the reader won't want to put down.
5. Undeniably Yours by Becky Wade
When Meg Cole's father unexpectedly dies, leaving her not only his fortune, but his Texas racehorse ranch, she already knows what she's going to do. Seeing as she knows nothing about handling a ranch, she plans to sell it as soon as possible. However, the manager of the ranch, Bo Porter, has other plans. Before she can sell it, he decides he's going to persuade her to keep it. However, the last thing that either of them expects is to fall in love. What seems on the surface like a traditional love story contains many twists and turns throughout, along with a sense of sweet, unconditional love that makes this novel beautifully timeless.
6. Since You've Been Gone by Morgan Matson
Right before the start of summer, Emily Hughes finds that her best friend, Sloane, has disappeared, with no sign of where she could have gone. Sloan leaves nothing behind except a to-do list of thirteen activities she expects Emily to accomplish. In this novel, alternating between the present and Emily's memories of Sloane, Emily begins taking risks that teach her just what it means to break out of her shell. Through her strong characters, Matson crafts a timeless story that proves sometimes the best things in life are worth the risk. For those looking for an inspiring and fun novel, this is the perfect summer read!
7. The Burning Girl by Claire Messud
This novel by Claire Messud is a coming-of-age story about best friends Julia and Cassie who have been through everything together, including breaking into old, abandoned mental institutions. At the start of seventh grade, they begin to drift apart when Cassie begins to fall in with a bad crowd and becomes more interested in makeup and boy-girl parties. Relatable and with a dark edge throughout, this novel is a strong portrayal of what it means to grow up as a woman, as Messud boldly tackles difficult subjects such as loneliness and isolation.
8. To All The Boys I've Loved Before by Jenny Han
In this YA novel, Lara Jean has a unique way of dealing with heartbreak: she writes love letters to every boy she's ever loved whenever she decides it's time to say goodbye. While she doesn't send it, she addresses each one and stores them in a hat box. However, when each of these letters are mysteriously sent, Lara Jean must come to terms with why those past relationships ended and her own fears about falling in love. Han artfully crafts well-rounded and relatable characters, and as the first book in a series, Han does an excellent job at setting up the trilogy.
9. Far Far Away by Tom McNeal
Told from the point of view of the ghost, Jacob Grimm, this story is the perfect mix of realism and fantasy. Jeremy Johnson can hear voices that no one else can—specifically, the voice of Jacob Grimm. When his community discovers this, they begin to treat him as an outsider. However, after he befriends the rebellious Ginger Boultinghouse, who is inexplicably drawn to Jeremy, the two find themselves blacklisted from their town. Through this fantastical novel, McNeal proves that love conquers all.
10. The Girl Who Knew Too Much by Amanda Quick
Set in California in the 1930's, this adult novel contains the perfect amount of mystery and historical fiction. After Irene Glasson, a gossip tabloid reporter, finds the body of an actress who drowned in the pool of the Burning Cove Hotel, it is up to her and the hotel's owner, former magician Oliver Ward, to solve the mystery of the actress's death, while simultaneously uncovering the dark secrets hidden inside Burning Cove itself. This is the perfect fast-paced, suspenseful read for anyone looking for an adventure this summer.
---
Author: Danielle Blessing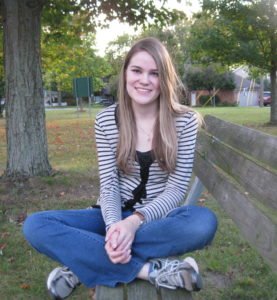 I am a writer from Michigan, where I am currently working on my debut novel. I have been an avid reader and writer my whole life, with my favorite genre being anything in the young adult category. In my free time, I can be found playing my guitar, songwriting, playing basketball, spending time with friends and family, and drinking endless amounts of coffee to fuel my writing.