SPOILER ALERT! This book is part of a series and does contain minor spoilers! Please read at your own risk!
Why: This is the second book of a trilogy and I LOVED the first book, The Girl in the Castle! Santa Montefiore has a lyrical quality to her writing that makes her books exciting, engaging and thoroughly enjoyable. I somehow missed that this installment had been released, but I jumped at the chance to read it as soon as I could get my hands on a copy!
She let grief rattle through he like an old familiar friend, searching the wreckage of her soul for the last remains of sorrow.
Story: Life is changing rapidly for the Deverills and their acquaintances as peace is reestablished in Ireland. Castle Deverill is now in the hands of Celia, who is bent on restoring (and improving) it to restore the family traditions of her youth. Her cousin Kitty is not so sure of this reinvention and continues to fight her own inner struggles with her past. Bridie Doyle, now a New York socialite, hears the calls of Ireland from across the Atlantic and battles the desire to return to her roots and the reality that she has outgrown them. Interwoven with the stories of their loved ones, these three women are destined to share a common history, and Montefiore keeps readers guessing as to how it will all play out in book number three!
Everything gleamed but nothing attracted.
Opinion: As excited as I was to read this book, I have to admit that the first part had me wondering if it could live up to my expectations. I continued on, however, and am so glad I did! This book occasionally takes readers back the original Lord Deverill and begins to unpack the history of the family and of the curse that binds Lord Deverills to forever remain in the castle after their deaths. These passages were particularly entertaining to me because you could start to see how Montefiore might be bringing everything together. The other stark contrast in this book was between the characters in Europe versus those in America. The divisions of time and space were extreme and written to show how differently the characters existences were, yet also how the same themes described below affect everyone, regardless of time, location, or last name.
If the overriding theme of The Girl in the Castle was patriotism and love for country, The Daughters of Ireland considers family, inheritance and what it means to be connected to one another. Not only is the entire spectrum of age accounted for in this novel, but the full range of responsibility for one's family. I find it interesting to consider how the very youngest in the story are encountering what it means to be "family" as well as how different characters are changed and moved to act on the pressures of responsibility they feel to they owe their families. Those that on the periphery of the Deverill clan display the same turmoil surrounding family connections and understanding who they are. I didn't necessarily pick up on just how much this theme affects the plot until I was finished with the book, but now I'm fascinated and in awe of the parallels Montefiore has incorporated!
Yet unhappiness drove her deeper into herself and in that dark and silent place she found something she had lost long ago: a sense of where she came from and who she really was.
Recommendation: This is a series to read in order, in my humble opinion. While it would still be a decent story as a stand-alone novel, there are so many connections that have much deeper meaning with context from The Girl in the Castle. If you enjoy books that dig into a family and the banter between its members, this is right up your alley! While accurately described as historical fiction, this isn't a narrative about an event or a time and place, but rather a novel about people and their natures. The time period, beautiful setting and Montefiore's writing style will have me recommending it to just about everybody, though!
Ireland would call to her and she would return home.
Journaling Prompts: (If you haven't read any of my other reviews, I enjoy putting together a few questions about the book for those that have already read, or choose to read the book after viewing this post!)
Celia begins to understand what her father meant when he said that the family motto of "A Deverill's castle is his kingdom" is more than just a castle. What did he mean by this, and how does Celia display this?
Lady Grace Rowan-Hampton and her father play a pretty significant role in this novel. Why do you think that is?
Forbidden love is another theme of this book. How many different examples of this can you identify?
Many characters in this book go through major life changes and/or decisions. Describe pivotal scenes for each of the following people:

Kitty Deverill
Celia Deverill
Bertie Deverill
Harry Deverill
Bridie Doyle
Michael Doyle
Martha Wallace

Why do you think Montefiore includes so many pages that discuss Celia's grandparents? What role do they play?
How did you feel as you finished this book? Will the curse be reversed? Will luck be good or bad for the Deverills in book number three of this trilogy?
Special thanks to HarperCollins for the book in exchange for my review!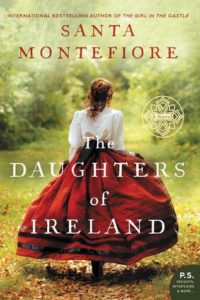 The Daughters of Ireland
Deverill Chronicles
William Morrow
August 15, 2017