I'm having a serious like-dislike relationship with Amor Towles's A Gentleman in Moscow. While I really loved parts of it, there were parts I really disliked too.
A Gentleman in Moscow begins in post-WWI Russia. It opens in a courtroom, where Count Alexander Rostov is being sentenced to a life of house arrest at the Metropol hotel. What follows is an account of his life at the hotel, spanning decades but checking in on the Count every few years or so.
Rostov is an intelligent, well-mannered man who has a way with words. Why say something simply when you can convey the message with an elegant turn of phrase instead? He attracts a colorful cast of friends, from a beautiful actress to a Soviet official to a precocious young girl. He is eventually charged with watching a friend's daughter for a few weeks, which turns into decades. Over time, the Count and Sophia become essential fixtures of the hotel. Their story unfolds slowly, via beautiful language and vivid writing.
I marveled at Towles's skill with words as I read this. Yet at the same time, I wanted to take an editor's ax to the whole book and reduce it by at least a third. The book contains 462 pages, which translates to 18 hours for an audiobook. I don't mind long books, but this one did not need to be one of them. The plot drags a bit in places and there were several times when I lost focus.
However, there's just something just about the writing that has stuck with me. I keep thinking about this book and struggling with this review, even though I finished the book a month ago.
This quote, for example, is one I love:
Manners are not like bonbons, Nina. You may not choose the ones that suit you best; and you certainly cannot put the half-bitten ones back in the box.
However, others — while lovely — are overly long detours:
After all, what can a first impression tell us about someone we've just met for a minute in the lobby of a hotel? For that matter, what can a first impression tell us about anyone? Why, no more than a chord can tell us about Beethoven, or a brushstroke about Botticelli. By their very nature, human beings are so capricious, so complex, so delightfully contradictory, that they deserve not only our consideration, but our reconsideration — and our unwavering determination to withhold our opinion until we have engaged with them in every possible setting at every possible hour.
Yet despite these meanderings, these elegant asides are not what I would cut. Instead, I want to edit out some of the unnecessary plot points in the first third of the novel. It took way too long to get to the main part of the story — the Count's relationship with Sophia — and the focus should be more on that.
Additionally, the novel is romantic, rather than realistic. It is neither harsh nor violent, despite the turbulent era of Russian history it spans. I'm currently immersed in a book about the modern history of Russia, which reveals a new and gruesome atrocity on every page. A Gentleman in Moscow exists solely within the luxurious walls of the Metropol, unaffected by the conflicts and crises beyond.
While lovely, this makes the book feel rather like a sweet cake served at afternoon tea.
To sum up, there was much about this book that I liked immensely, but also parts that I did not. Therefore, I'm breaking down my rating for this one instead of using a holistic 5-point scale as usual.
Story: 4
History: 1
Writing: 5
Characters: 4
Length: 2
Average: 3.2
I do recommend reading this book because of its sweet story and superb writing. But if you like historical fiction more for the history than the fiction, or don't have the patience for long books, I'd skip this one.
Audiobook Review
I listened to this as an audiobook narrated by Nicholas Guy Smith. The narration was superb — a solid 5. That said, this is one of those books that is perhaps best read and not listened to. It is so long and the asides tend to ramble, so you may find the book more enjoyable if you read it for yourself.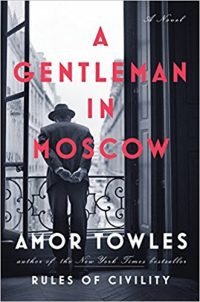 A Gentleman in Moscow
Literary Fiction
Penguin Books
March 26, 2019
Audiobook
From the New York Times bestselling author of Rules of Civility–a transporting novel about a man who is ordered to spend the rest of his life inside a luxury hotel.
In 1922, Count Alexander Rostov is deemed an unrepentant aristocrat by a Bolshevik tribunal, and is sentenced to house arrest in the Metropol, a grand hotel across the street from the Kremlin. Rostov, an indomitable man of erudition and wit, has never worked a day in his life, and must now live in an attic room while some of the most tumultuous decades in Russian history are unfolding outside the hotel's doors. Unexpectedly, his reduced circumstances provide him entry into a much larger world of emotional discovery.
Brimming with humor, a glittering cast of characters, and one beautifully rendered scene after another, this singular novel casts a spell as it relates the count's endeavor to gain a deeper understanding of what it means to be a man of purpose.