School's out (at least in my neck of the woods) and summer reading season is upon us!  As I loaded my 6th grade students up with top picks, I grabbed a few middle-grade novels for myself.  My stack included a prime find from my Little Free Library, The One and Only Ivan by Katherine Applegate. I've been meaning to read it since it won the Newbery Medal in 2013.  And, of course, it's wonderful.  The main character, Ivan, is a 28 year-old gorilla who lives in a shopping mall with an elephant, Stella, and a homeless-by-choice dog, Bob.  In addition to being our narrator, Ivan makes art, producing drawings and paintings with materials provided by his human friend, Julia.  As Stella declines due to an infection in her foot, exacerbated by her poor treatment by show-runner Mack, the trio is joined by Ruby, a baby elephant who needs Ivan's help.  Suddenly, Ivan's "domain" seems less adequate as he watches Ruby try to acclimate. Mack's desperation and cruelty emerge as Ruby fails to cooperate.  Something will have to change, and Ivan will have to be the one to change it.
Applegate's novel is utterly heartbreaking, but also hopeful.  I love it when writers for children present a full spectrum of emotion.  In her Newbery acceptance speech, Applegate addresses criticism that Ivan is too sad. "Children know all about sadness," she said. "We can't hide it from them. We can only teach them how to cope with its inevitability and to harness their imaginations in the search for joy and wonder."
After finishing Ivan with tears in my eyes, I felt inspired to share a few other Newbery winners that are sure to engage the hearts of adult readers, as well as children. Ivan is probably for 3rd grade and up and appreciated in different ways and on different levels by older readers.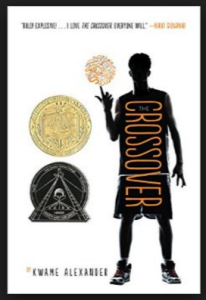 The Crossover by Kwame Alexander. 2015 Newbery Winner. 
This is an electrifying, heart-wrenching novel in verse about twin basketball players and their dad, a former NBA pro.  It screams to be read in one sitting, it's uber-accessible, and it compels the reader to evaluate the universal themes of family, consequences, identity, and forgiveness. Five stars, for sure – one of my top reads of 2015 and, really, ever. It could be devoured by readers 4th grade and up.
Kira-Kira by Cynthia Kadohata. 2005 Newbery Winner.
Katie Takeshima's parents work in appalling conditions in a Georgia poultry hatchery in the 1950s.  The family moves from Iowa after their business goes under and faces racial isolation and discrimination in their new home.  Katie adores her older sister, Lynn, who encourages her to see the "kira-kira," the glittering, wonderful moments of life always, even when Lynn is diagnosed with cancer and her health declines.  This is a tear-jerker with beautiful language and haunting imagery.  I'd recommend it for 6th grade and up.
The Midwife's Apprentice by Karen Cushman. 1996 Newbery Winner.
I came to love Karen Cushman's work during a research class I took as part of my master's degree. During the course, I waded through Cushman's drafts and research notes, which she'd donated to the Kerlan Collection at the University of Minnesota. The Kerlan has these wondrous underground caverns kept at precisely 58 degrees. Only those with special security clearance can go down and browse among the archives, filled with the papers of well-known children's authors.  In the class, I wrote about the author-editor relationship between Cushman and Dinah Stevenson, and I came to appreciate so much the impeccable research, the authentic language, and the complicated girl characters that Cushman creates.  This novel centers on Brat, a dirty, abandoned child who falls asleep in a pile of manure and wakes to become an apprentice midwife with a brighter future. It's for about 4th grade and up.
From the Mixed-Up Files of Mrs. Basil E. Frankweiler by E.L. Konigsburg. 1968 Newbery Winner.
My fifth-grade teacher read this to me, and I was enchanted by Claudia Kincaid's story of running away to the Metropolitan Museum of Art. Claudia and her brother Jamie, both feeling unappreciated by their parents, make a home in the Met, expertly avoiding security staff and getting sucked into the story of a mysterious statue of an angel, recently donated to the museum and thought to be made by Michelangelo. I loved this story then, and I think it would feel particularly nostalgic now, in the age of digital security footage and cell phones.  Maybe I'll try reading it to my own kids this summer and see for myself if it holds up.
What about you?  Will you be reading any children's lit this summer?  Any Newberys to share? Hit me up in the comments!