I read House of Leaves by Mark Z. Danielewski. Why? Well, it kept popping up on "best of" lists for horror novels, it featured an unorthodox text format that intrigued me, and most importantly, it was on the Buy Two, Get One Free table at Barnes and Noble.
So, I suppose you would like to know how it went? Well, like a fleeting relationship with a commitment-phobe…it's complicated. To those who are not familiar with the premise of the book, it is a story within a story within a story. Bear with me as I try to clearly summarize: An old man named Zampanò passes away, leaving behind writings chronicling an account of a (probably fictional) documentary called The Navidson Record. The character Zampanò includes footnotes, supplemental material, and several appendices along with the main text. In addition, another narrator in the story, a young man named Johnny Truant, finds Zampanò's writings about The Navidson Record and includes his own footnotes and commentary to the text. The reader follows Truant's footnotes as he soon begins to lose touch with reality and falls deeper into a state of madness.
To get an idea of how strange the format of this book is, I'm sharing below pictures of the odder pages of text: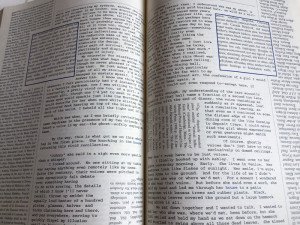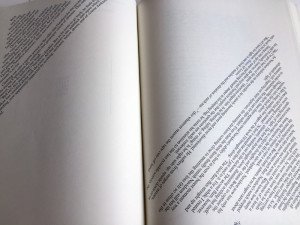 Although the format seems odd, it really worked in creating a claustrophobic and immersive reading experience, promoting a visceral response to the text and story. It definitely makes for a more-involved reading experience. I couldn't just passively read the story, I had to flip through pages as if it were a textbook, read dozens of footnotes, and at one point, I even had to decode a few pages.
The story of the documentary (The Navidson Record) and Zampanò's supplementary footnotes are fascinating and the saving grace of this novel. The Navidson Record is about a famous photographer who moves his family to a house in the country. Unfortunately, there is no calm repose awaiting them. Strange anomalies occur within the house. Doors and corridors appear out of nowhere and lead to what appears to be infinite space. The house defies the laws of physics, creating a unique horror without the usual threat of monsters or spirits. It is the ultimate terror of the unknowable and uncanny. This aspect of the story is fantastic. A+ for an interesting and original take on the horror genre.
Sigh, if only Danielewski had left the story at that. Unfortunately, the addition of the character Johnny Truant is intensely annoying and ultimately boring, causing the book to be a trudge through a swampy mess of literary bilge. Johnny Truant's voice is too strong in the narrative. I would have much preferred an impartial observer rifling through Zampanò's writings, making a couple of observations and leading the reader through the text, which Truant does at times, but not without adding his own muddled mess of self-indulgent ramblings. It may be that I have just spent too much time in the visual arts and have read too many eye-rolling artist statements that use a lot of text to say nothing at all, but his rambling, his ego-centrism that interrupts the fascinating narrative of The Navidson Record, was something I should have simply skipped over in order to remain invested in the book. Truant doesn't sound like he is going mad. He sounds like he's masturbating his oh-so-deep thoughts onto the page, ruining what otherwise is an incredibly intriguing narrative.
I honestly don't know how to rate this because the good aspects of this book (The Navidson Record) battle with the bad (Johnny Truant's narrative). Ummm…two and a half, right down the middle of a five-star system. If you are a horror fanatic and want to read something that plays with the traditional format of the genre, by all means, this may intrigue you, If you are not that into horror in the first place, I would recommend passing this one by, you'll be more annoyed than entertained.