Looking for a list of the best fiction books about Greek mythology? I've seen a lot of readers over the past few years who, after reading something like Circe or Song of Achilles, decide they'd love to read more Greek mythology stories. There really are a lot out there, but what are the best ones?
In this list, I'll give you a ton of ideas, plus I'll include the Goodreads and Amazon star ratings (out of 5) for each book so you can get a feel for whether or not you want to pick it up. Of course, these ratings can change after I publish this list, but you'll get the idea.
I'm sure I'm missing a few great books featuring Greek mythology! Let me know in the comments what else I should add.
Let's jump in. Happy reading!
30+ Awesome Fiction Books About Greek Mythology
The Shadow of Perseus by Claire Heywood
Nationally bestselling author of Daughters of Sparta Claire Heywood returns with an imaginative and female-centered reinterpretation of the myth of the great hero Perseus, told through the voices of three women who are sidelined in the traditional version—his mother, Danae; his trophy, Medusa; and his wife, Andromeda—but whose viewpoints reveal a man who is not, in fact, a hero at all.
Danae: Banished from her homeland thanks to a prophecy foretelling that her unborn child will one day cause the death of her father, the king of Argos, Danae finds herself stranded, pregnant, and alone in a remote fishing village. It's a harsh new world for a young woman who grew up as a coddled princess, and forging a new life for herself and for her young son Perseus will be the hardest thing she's ever done.
Medusa: As a member of a reclusive band of women who live deep in the woods, known as the Gorgons, Medusa has eschewed all contact with the outside world. That is, until the day she finds an injured boy named Perseus in the forest.
Andromeda: When a harsh sandstorm threatens to destroy her nomadic desert tribe's way of life, Andromeda knows that a sacrifice will be required to appease the gods and end the storm. But when a forceful young Perseus interferes, Andromeda's life is set on an entirely new path.
As Perseus becomes increasingly obsessed with the promise of his own destiny, his heroic journey casts a shadow of violence and destruction across all three women's lives. But even as he tries to silence them, the women may find that reclaiming their voices is their only hope for lifting themselves into a better future.
---
Clytemnestra by Costanza Casati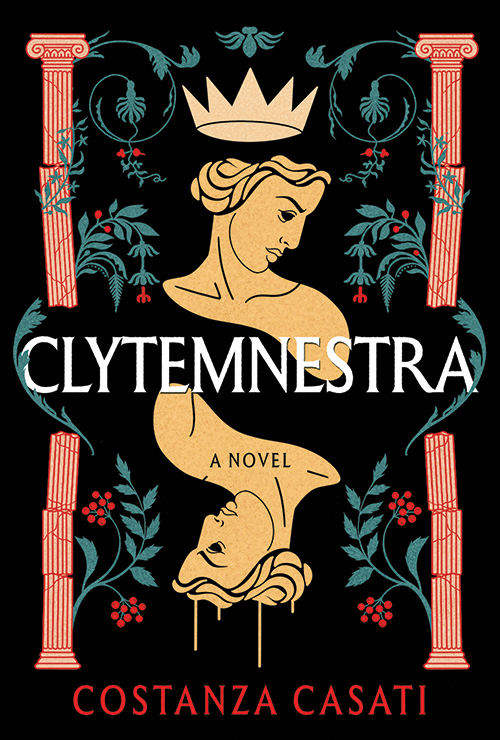 For fans of Madeline Miller's Circe, a stunning debut following Clytemnestra, the most notorious villainess of the ancient world and the events that forged her into the legendary queen.
As for queens, they are either hated or forgotten. She already knows which option suits her best…
You were born to a king, but you marry a tyrant. You stand by helplessly as he sacrifices your child to placate the gods. You watch him wage war on a foreign shore, and you comfort yourself with violent thoughts of your own. Because this was not the first offence against you. This was not the life you ever deserved. And this will not be your undoing. Slowly, you plot.
But when your husband returns in triumph, you become a woman with a choice.
Acceptance or vengeance, infamy follows both. So, you bide your time and force the gods' hands in the game of retribution. For you understood something long ago that the others never did.
If power isn't given to you, you have to take it for yourself.
---
Circe by Madeline Miller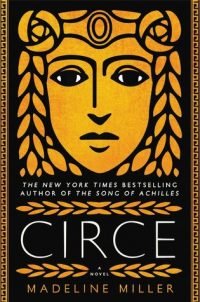 In the house of Helios, god of the sun and mightiest of the Titans, a daughter is born. But Circe is a strange child — not powerful, like her father, nor viciously alluring like her mother. Turning to the world of mortals for companionship, she discovers that she does possess power — the power of witchcraft, which can transform rivals into monsters and menace the gods themselves.
Threatened, Zeus banishes her to a deserted island, where she hones her occult craft, tames wild beasts and crosses paths with many of the most famous figures in all of mythology, including the Minotaur, Daedalus and his doomed son Icarus, the murderous Medea, and, of course, wily Odysseus.
But there is danger, too, for a woman who stands alone, and Circe unwittingly draws the wrath of both men and gods, ultimately finding herself pitted against one of the most terrifying and vengeful of the Olympians. To protect what she loves most, Circe must summon all her strength and choose, once and for all, whether she belongs with the gods she is born from, or the mortals she has come to love.
With unforgettably vivid characters, mesmerizing language, and page-turning suspense, Circe is a triumph of storytelling, an intoxicating epic of family rivalry, palace intrigue, love and loss, as well as a celebration of indomitable female strength in a man's world.
---
The Song of Achilles by Madeline Miller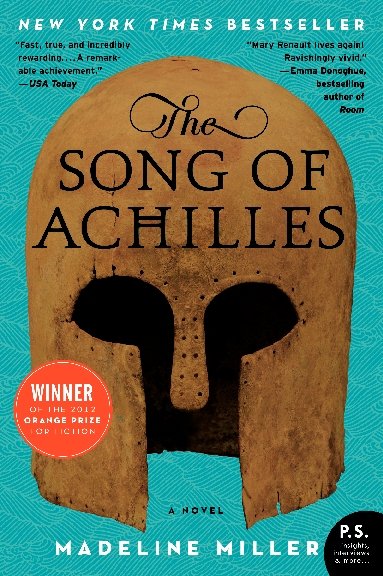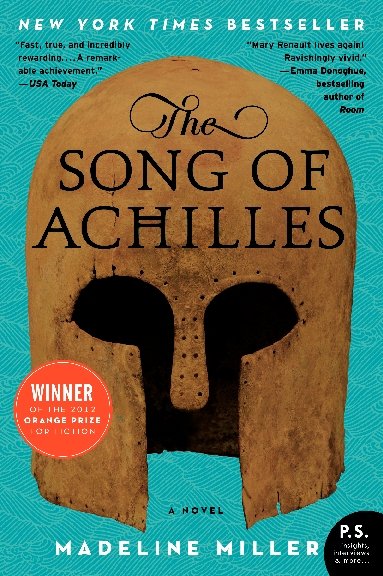 Achilles, "the best of all the Greeks," son of the cruel sea goddess Thetis and the legendary king Peleus, is strong, swift, and beautiful, irresistible to all who meet him. Patroclus is an awkward young prince, exiled from his homeland after an act of shocking violence. Brought together by chance, they forge an inseparable bond, despite risking the gods' wrath.
They are trained by the centaur Chiron in the arts of war and medicine, but when word comes that Helen of Sparta has been kidnapped, all the heroes of Greece are called upon to lay siege to Troy in her name. Seduced by the promise of a glorious destiny, Achilles joins their cause, and torn between love and fear for his friend, Patroclus follows. Little do they know that the cruel Fates will test them both as never before and demand a terrible sacrifice.
---
The King Must Die (Theseus #1) by Mary Renault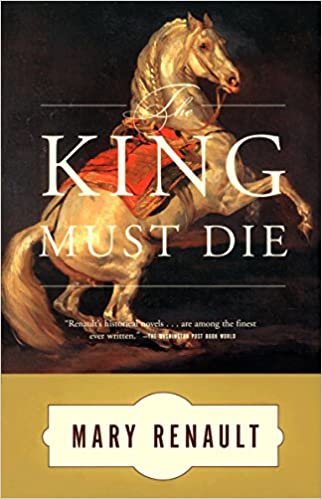 In myth, Theseus was the slayer of the child-devouring Minotaur in Crete. What the founder-hero might have been in real life is another question, brilliantly explored in The King Must Die. Drawing on modern scholarship and archaeological findings at Knossos, Mary Renault's Theseus is an utterly lifelike figure—a king of immense charisma, whose boundless strivings flow from strength and weakness—but also one steered by implacable prophecy.
The story follows Theseus's adventures from Troizen to Eleusis, where the death in the book's title is to take place, and from Athens to Crete, where he learns to jump bulls and is named king of the victims. Richly imbued with the spirit of its time, this is a page-turner as well as a daring act of imagination.
---
The Bull from the Sea (Theseus #2) by Mary Renault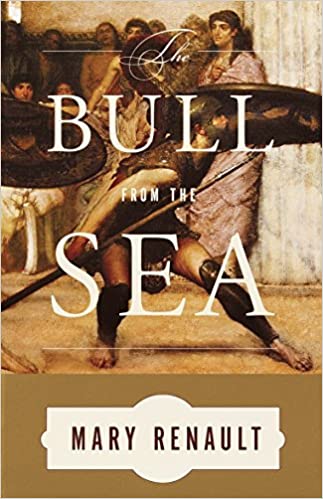 This brilliant recreation of the story of the legendary hero Theseus begins with his triumphant return from Crete after slaying the Minotaur. Having freed the city of Athens from the onerous tribute demanded by the ruler of Knossos–the sacrifice of noble youths and maidens to the Labytinth's monster–Theseus has returned home to find his father dead and himself the new king. But his adventures have only just begun: he still must confront the Amazons, capture their queen, Hippolyta, and face the tragic results of Phaedra's jealous rage.
---
Till We Have Faces by C.S. Lewis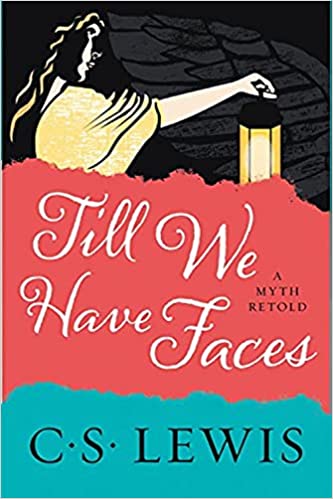 In this timeless tale of two mortal princesses- one beautiful and one unattractive- C.S. Lewis reworks the classical myth of Cupid and Psyche into an enduring piece of contemporary fiction. This is the story of Orual, Psyche's embittered and ugly older sister, who possessively and harmfully loves Psyche. Much to Orual's frustration, Psyche is loved by Cupid, the god of love himself, setting the troubled Orual on a path of moral development.
Set against the backdrop of Glome, a barbaric, pre-Christian world, the struggles between sacred and profane love are illuminated as Orual learns that we cannot understand the intent of the gods "till we have faces" and sincerity in our souls and selves.
---
Lord of the Silver Bow by David Gemmel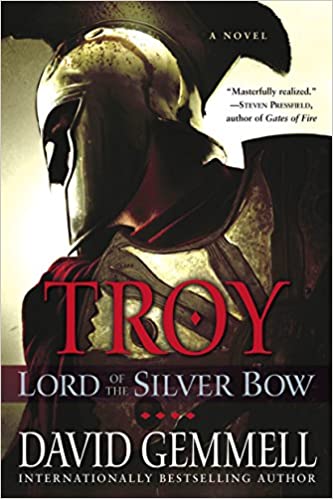 This is book one of the Troy series. The whole series is rated well!
He is a man of many names. Some call him the Golden One; others, the Lord of the Silver Bow. To the Dardanians, he is Prince Aeneas. But to his friends, he is Helikaon. Strong, fast, quick of mind, he is a bold warrior, hated by his enemies, feared even by his Trojan allies. For there is a darkness at the heart of the Golden One, a savagery that, once awakened, can be appeased only with blood.
Argurios the Mykene is a peerless fighter, a man of unbending principles and unbreakable will. Like all of the Mykene warriors, he lives to conquer and to kill. Dispatched by King Agamemnon to scout the defenses of the golden city of Troy, he is Helikaon's sworn enemy.
Andromache is a priestess of Thera betrothed against her will to Hektor, prince of Troy. Scornful of tradition, skilled in the arts of war, and passionate in the ways of her order, Andromache vows to love whom she pleases and to live as she desires.
Now fate is about to thrust these three together; and, from the sparks of passionate love and hate, ignite a fire that will engulf the world.
---
Autobiography of Red by Anne Carson
The award-winning poet Anne Carson reinvents a genre in Autobiography of Red, a stunning work that is both a novel and a poem, both an unconventional re-creation of an ancient Greek myth and a wholly original coming-of-age story set in the present.
Geryon, a young boy who is also a winged red monster, reveals the volcanic terrain of his fragile, tormented soul in an autobiography he begins at the age of five. As he grows older, Geryon escapes his abusive brother and affectionate but ineffectual mother, finding solace behind the lens of his camera and in the arms of a young man named Herakles, a cavalier drifter who leaves him at the peak of infatuation. When Herakles reappears years later, Geryon confronts again the pain of his desire and embarks on a journey that will unleash his creative imagination to its fullest extent. By turns whimsical and haunting, erudite and accessible, richly layered and deceptively simple, Autobiography of Red is a profoundly moving portrait of an artist coming to terms with the fantastic accident of who he is.
---
The Penelopiad by Margaret Atwood
Margaret Atwood returns with a shrewd, funny, and insightful retelling of the myth of Odysseus from the point of view of Penelope. Describing her own remarkable vision, the author writes in the foreword, "I've chosen to give the telling of the story to Penelope and to the twelve hanged maids. The maids form a chanting and singing Chorus, which focuses on two questions that must pose themselves after any close reading of the Odyssey: What led to the hanging of the maids, and what was Penelope really up to? The story as told in the Odyssey doesn't hold water: there are too many inconsistencies. I've always been haunted by the hanged maids and, in The Penelopiad, so is Penelope herself."
---
Weight by Jeanette Winterson
Condemned to shoulder the world forever by the gods he dared defy, freedom seems unattainable to Atlas. But then he receives an unexpected visit from Heracles, the one man strong enough to share the burden . . .
Jeanette Winterson's retelling of the myth of Atlas and Heracles asks difficult and eternal questions about the nature of choice and coercion. Visionary and inventive, Weight turns the familiar on its head to show us ourselves in a new light.
---
Girl Meets Boy by Ali Smith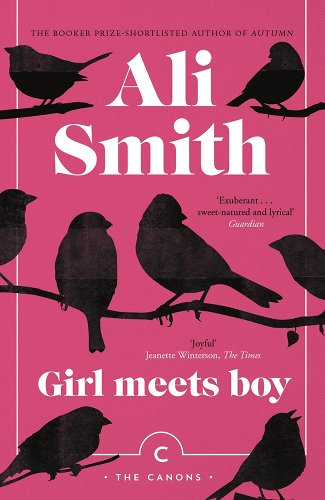 Girl meets boy. It's a story as old as time. But what happens when an old story meets a brand new set of circumstances?
Ali Smith's re-mix of Ovid's most joyful metamorphosis is a story about the kind of fluidity that can't be bottled and sold.
It is about girls and boys, girls and girls, love and transformation, a story of puns and doubles, reversals and revelations.
Funny and fresh, poetic and political, Girl Meets Boy is a myth of metamorphosis for the modern world.
---
A Thousand Ships by Natalie Haynes
This is the women's war, just as much as it is the men's. They have waited long enough for their turn . . .
This was never the story of one woman, or two. It was the story of them all . . .
In the middle of the night, a woman wakes to find her beloved city engulfed in flames. Ten seemingly endless years of conflict between the Greeks and the Trojans are over. Troy has fallen.
From the Trojan women whose fates now lie in the hands of the Greeks, to the Amazon princess who fought Achilles on their behalf, to Penelope awaiting the return of Odysseus, to the three goddesses whose feud started it all, these are the stories of the women whose lives, loves, and rivalries were forever altered by this long and tragic war.
A woman's epic, powerfully imbued with new life, A Thousand Ships puts the women, girls and goddesses at the center of the Western world's great tale ever told.
---
Stone Blind by Natalie Haynes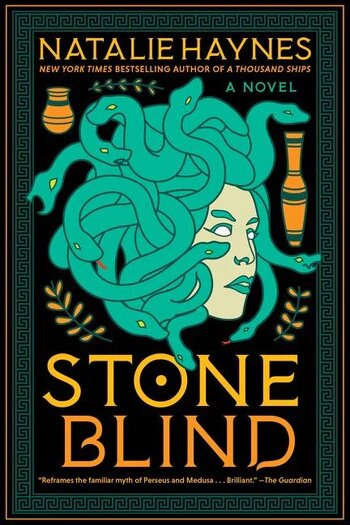 They will fear you and flee you and call you a monster.
The only mortal in a family of gods, Medusa is the youngest of the Gorgon sisters. Unlike her siblings, Medusa grows older, experiences change, feels weakness. Her mortal lifespan gives her an urgency that her family will never know.
When the sea god Poseidon assaults Medusa in Athene's temple, the goddess is enraged. Furious by the violation of her sacred space, Athene takes revenge–on the young woman. Punished for Poseidon's actions, Medusa is forever transformed. Writhing snakes replace her hair and her gaze will turn any living creature to stone. Cursed with the power to destroy all she loves with one look, Medusa condemns herself to a life of solitude.
Until Perseus embarks upon a fateful quest to fetch the head of a Gorgon . . .
In Stone Blind, classicist and comedian Natalie Haynes turns our understanding of this legendary myth on its head, bringing empathy and nuance to one of the earliest stories in which a woman–injured by a powerful man–is blamed, punished, and monstered for the assault. Delving into the origins of this mythic tale, Haynes revitalizes and reconstructs Medusa's story with her passion and fierce wit, offering a timely retelling of this classic myth that speaks to us today.
---
Gods Behaving Badly by Marie Phillips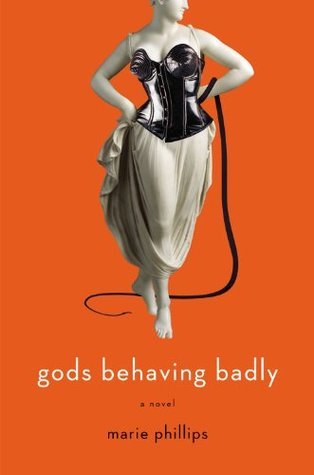 Being a Greek god is not all it once was. Yes, the twelve gods of Olympus are alive and well in the twenty-first century, but they are crammed together in a London townhouse–and none too happy about it. And they've had to get day jobs: Artemis as a dog-walker, Apollo as a TV psychic, Aphrodite as a phone sex operator, Dionysus as a DJ.
Even more disturbingly, their powers are waning, and even turning mortals into trees–a favorite pastime of Apollo's–is sapping their vital reserves of strength.
Soon, what begins as a minor squabble between Aphrodite and Apollo escalates into an epic battle of wills. Two perplexed humans, Alice and Neil, who are caught in the crossfire, must fear not only for their own lives, but for the survival of humankind. Nothing less than a true act of heroism is needed-but can these two decidedly ordinary people replicate the feats of the mythical heroes and save the world?
---
Piranesi by Susanna Clarke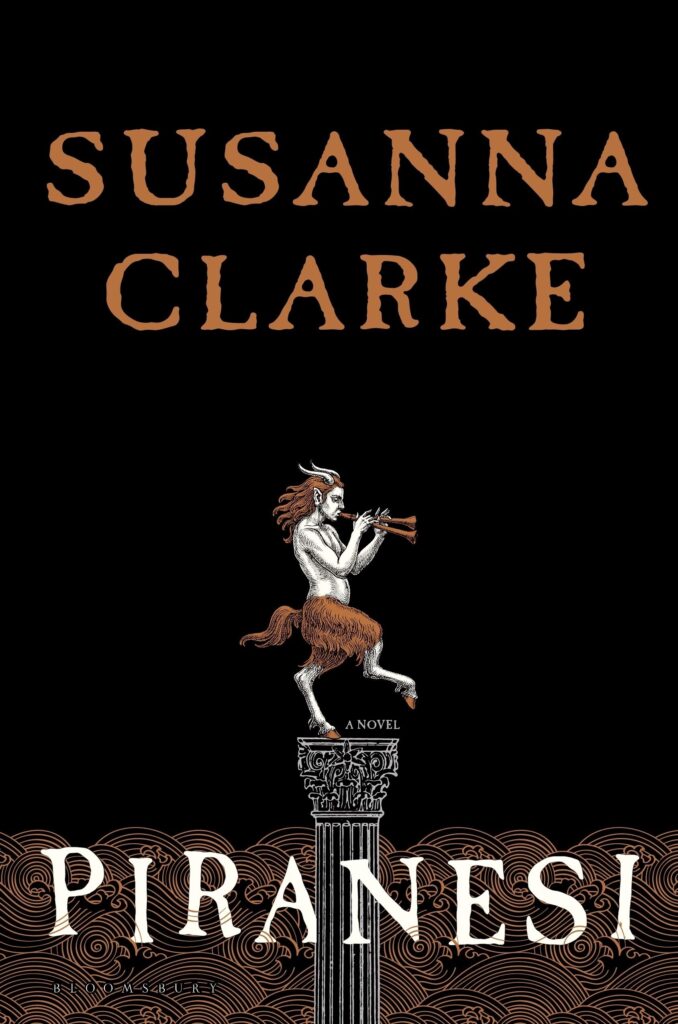 Piranesi's house is no ordinary building: its rooms are infinite, its corridors endless, its walls are lined with thousands upon thousands of statues, each one different from all the others. Within the labyrinth of halls an ocean is imprisoned; waves thunder up staircases, rooms are flooded in an instant. But Piranesi is not afraid; he understands the tides as he understands the pattern of the labyrinth itself. He lives to explore the house.
There is one other person in the house—a man called The Other, who visits Piranesi twice a week and asks for help with research into A Great and Secret Knowledge. But as Piranesi explores, evidence emerges of another person, and a terrible truth begins to unravel, revealing a world beyond the one Piranesi has always known.
---
House of Names by Colm Tóibín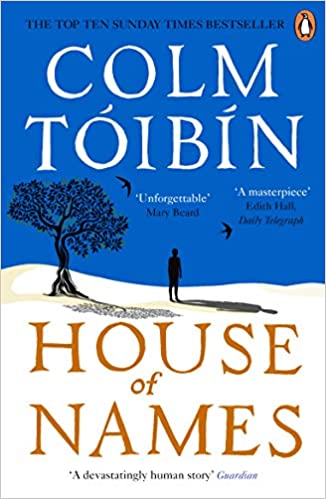 On the day of his daughter's wedding, Agamemnon orders her sacrifice. His daughter is led to her death, and Agamemnon leads his army into battle, where he is rewarded with glorious victory.
Three years later, he returns home and his murderous action has set the entire family – mother, brother, sister – on a path of intimate violence, as they enter a world of hushed commands and soundless journeys through the palace's dungeons and bedchambers. As his wife seeks his death, his daughter, Electra, is the silent observer to the family's game of innocence while his son, Orestes, is sent into bewildering, frightening exile where survival is far from certain. Out of their desolating loss, Electra and Orestes must find a way to right these wrongs of the past even if it means committing themselves to a terrible, barbarous act.
House of Names is a story of intense longing and shocking betrayal. It is a work of great beauty, and daring, from one of our finest living writers.
---
Salvage the Bones by Jesmyn Ward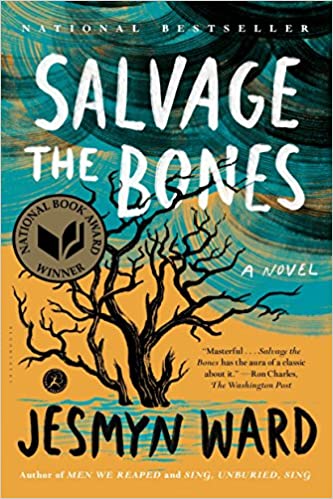 A hurricane is building over the Gulf of Mexico, threatening the coastal town of Bois Sauvage, Mississippi, and Esch's father is growing concerned. A hard drinker, largely absent, he doesn't show concern for much else. Esch and her three brothers are stocking food, but there isn't much to save. Lately, Esch can't keep down what food she gets; she's fourteen and pregnant. Her brother Skeetah is sneaking scraps for his prized pitbull's new litter, dying one by one in the dirt. Meanwhile, brothers Randall and Junior try to stake their claim in a family long on child's play and short on parenting.
As the twelve days that make up the novel's framework yield to their dramatic conclusion, this unforgettable family–motherless children sacrificing for one another as they can, protecting and nurturing where love is scarce–pulls itself up to face another day. A big-hearted novel about familial love and community against all odds, and a wrenching look at the lonesome, brutal, and restrictive realities of rural poverty, Salvage the Bones is muscled with poetry, revelatory, and real.
---
The Silence of the Girls by Pat Barker
The ancient city of Troy has withstood a decade under siege of the powerful Greek army, which continues to wage bloody war over a stolen woman—Helen. In the Greek camp, another woman—Briseis—watches and waits for the war's outcome. She was queen of one of Troy's neighboring kingdoms, until Achilles, Greece's greatest warrior, sacked her city and murdered her husband and brothers. Briseis becomes Achilles's concubine, a prize of battle, and must adjust quickly in order to survive a radically different life, as one of the many conquered women who serve the Greek army.
When Agamemnon, the brutal political leader of the Greek forces, demands Briseis for himself, she finds herself caught between the two most powerful of the Greeks. Achilles refuses to fight in protest, and the Greeks begin to lose ground to their Trojan opponents. Keenly observant and coolly unflinching about the daily horrors of war, Briseis finds herself in an unprecedented position, able to observe the two men driving the Greek army in what will become their final confrontation, deciding the fate not only of Briseis's people but also of the ancient world at large.
Briseis is just one among thousands of women living behind the scenes in this war—the slaves and prostitutes, the nurses, the women who lay out the dead—all of them erased by history. With breathtaking historical detail and luminous prose, Pat Barker brings the teeming world of the Greek camp to vivid life. She offers nuanced, complex portraits of characters and stories familiar from mythology, which, seen from Briseis's perspective, are rife with newfound revelations. Barker's latest builds on her decades-long study of war and its impact on individual lives—and it is nothing short of magnificent.
---
The Women of Troy by Pat Barker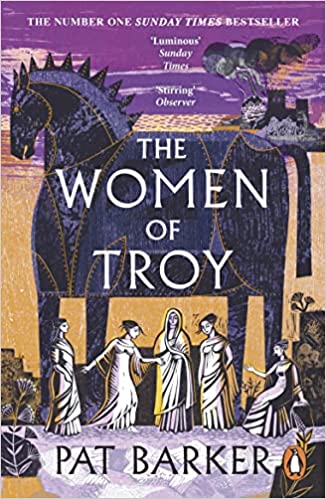 Troy has fallen and the victorious Greeks are eager to return home with the spoils of an endless war—including the women of Troy themselves. They await a fair wind for the Aegean.
It does not come, because the gods are offended. The body of King Priam lies unburied and desecrated, and so the victors remain in suspension, camped in the shadows of the city they destroyed as the coalition that held them together begins to unravel. Old feuds resurface and new suspicions and rivalries begin to fester.
Largely unnoticed by her captors, the one time Trojan queen Briseis, formerly Achilles's slave, now belonging to his companion Alcimus, quietly takes in these developments. She forges alliances when she can, with Priam's aged wife the defiant Hecuba and with the disgraced soothsayer Calchas, all the while shrewdly seeking her path to revenge.
---
Ithaca by Claire North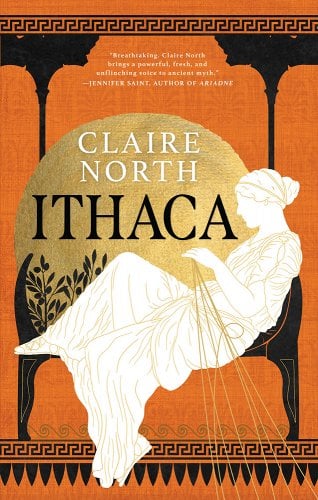 Seventeen years ago, King Odysseus sailed to war with Troy, taking with him every man of fighting age from the island of Ithaca. None of them has returned, and the women of Ithaca have been left behind to run the kingdom.
Penelope was barely into womanhood when she wed Odysseus. While he lived, her position was secure. But now, years on, speculation is mounting that her husband is dead, and suitors are beginning to knock at her door.
No one man is strong enough to claim Odysseus' empty throne—not yet. But everyone waits for the balance of power to tip, and Penelope knows that any choice she makes could plunge Ithaca into bloody civil war. Only through cunning, wit, and her trusted circle of maids, can she maintain the tenuous peace needed for the kingdom to survive.
This is the story of Penelope of Ithaca, famed wife of Odysseus, as it has never been told before. Beyond Ithaca's shores, the whims of gods dictate the wars of men. But on the isle, it is the choices of the abandoned women—and their goddesses— that will change the course of the world.
---
The Wolf Den by Elodie Harper
Sold by her mother. Enslaved in Pompeii's brothel. Determined to survive. Her name is Amara. Welcome to the Wolf Den…
Amara was once a beloved daughter, until her father's death plunged her family into penury. Now she is a slave in Pompeii's infamous brothel, owned by a man she despises. Sharp, clever and resourceful, Amara is forced to hide her talents. For as a she-wolf, her only value lies in the desire she can stir in others.
But Amara's spirit is far from broken.
By day, she walks the streets with her fellow she-wolves, finding comfort in the laughter and dreams they share. For the streets of Pompeii are alive with opportunity. Out here, even the lowest slave can secure a reversal in fortune. Amara has learnt that everything in this city has its price. But how much is her freedom going to cost her?
Set in Pompeii's lupanar, The Wolf Den reimagines the lives of women who have long been overlooked.
---
The House with the Golden Door by Elodie Harper
The life of a courtesan in Pompeii is glittering, yet precarious…
Amara has escaped her life as a slave in the town's most notorious brothel, but now her existence depends on the affections of her patron: a man she might not know as well as she once thought.
At night she dreams of the wolf den, still haunted by her past. Amara longs for the women she was forced to leave behind and worse, finds herself pursued by the man who once owned her. In order to be free, she will need to be as ruthless as he is.
Amara knows her existence in Pompeii is subject to Venus, the goddess of love. Yet finding love may prove to be the most dangerous act of all.
We return to Pompeii for the second instalment in Elodie Harper's Wolf Den Trilogy, set in the town's lupanar and reimagining the lives of women long overlooked.
---
Ariadne by Jennifer Saint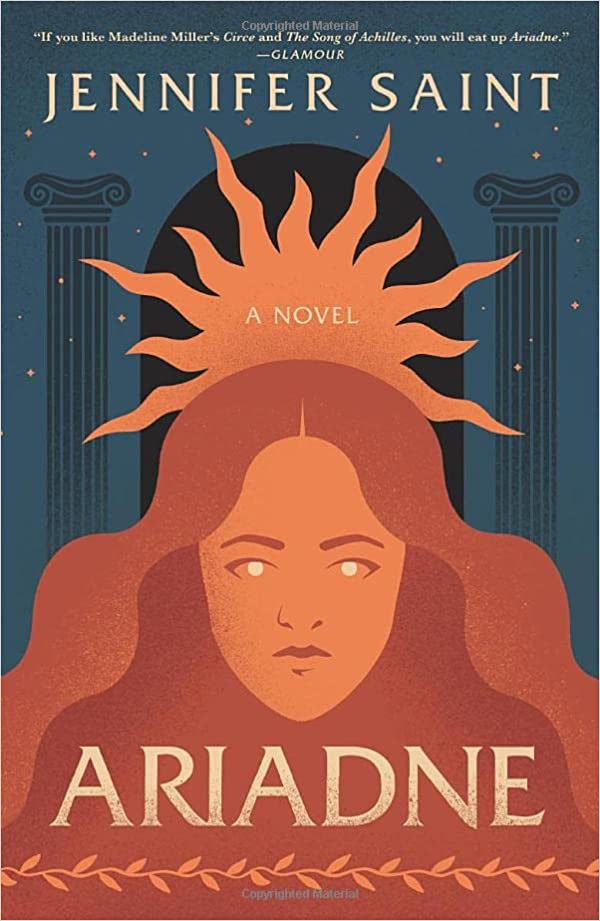 Ariadne, Princess of Crete, grows up greeting the dawn from her beautiful dancing floor and listening to her nursemaid's stories of gods and heroes. But beneath her golden palace echo the ever-present hoofbeats of her brother, the Minotaur, a monster who demands blood sacrifice.
When Theseus, the Prince of Athens, arrives to vanquish the beast, Ariadne sees in his green eyes not a threat but an escape. Defying the gods, betraying her family and country, and risking everything for love, Ariadne helps Theseus kill the Minotaur. But will Ariadne's decision ensure her happy ending? And what of Phaedra, the beloved younger sister she leaves behind?
Hypnotic, propulsive, and utterly transporting, Jennifer Saint's Ariadne forges a new epic, one that puts the forgotten women of Greek mythology back at the heart of the story, as they strive for a better world.
---
Athena's Child by Hannah Lynn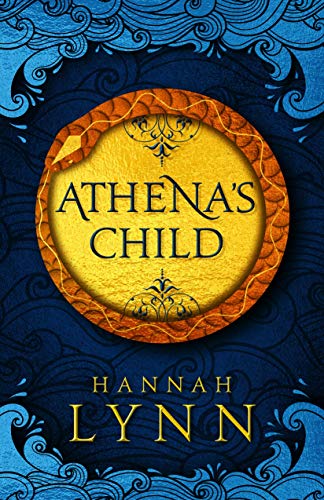 Daughter. Sister. Priestess. Protector.
Son. Brother. Demi-God. Hero.
Monsters.
Gifted and burdened with beauty far beyond that of mere mortals, Medusa seeks sanctuary with the Goddess Athena. But when the lustful gaze of mighty Poseidon falls upon her, even the Temple of Athena cannot protect her.
Young Perseus embarks on a seemingly impossible quest. Equipped with only bravado and determination, his only chance of success lays in the hands of his immortal siblings.
Medusa and Perseus soon become pawns of spiteful and selfish gods. Faced with the repercussions of Athena's wrath Medusa has no choice but to flee and hide. But can she do so without becoming the monster they say she is.
History tells of conquering heroes. Tales distorted by time. Medusa's truth has long been lost. Until now. Now it is time to hear her truth.
---
A Spartan's Sorrow by Hannah Lynn
All murders must be avenged.
While the rest of Greece mourns for the war that has taken their husbands away, Clytemnestra fears the day it will bring hers back.
When her husband willingly sacrifices their eldest daughter to appease the Gods, Clytemnestra vows to do whatever it takes to protect her remaining children. But in doing so she faces losing them altogether.
A story of love, loss and bitter betrayals, A Spartan's Sorrow shows that sometimes you must risk it all to protect the ones you love.
If you are a fan of vengeful Gods and fierce family rivalries you will love Hannah Lynn's epic tale of ancient Greece's most formidable Queen.
---
Queens of Themiscyra by Hannah Lynn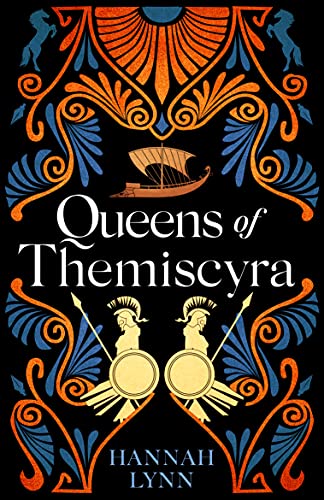 Sisters. Mothers. Lovers. Warriors.
In ancient Themiscyra, Hippolyte rules as Queen of the Amazons. Feared throughout Greece, their skills on the battlefield are unrivalled. But when a ship lands on their shores, it brings something more dangerous than the threat of war. It brings a future Hippolyte could never have dreamed of.
Swept away to Athens, Hippolyte learns a love that transcends even the bond of the Amazon women. But can she forget her warrior past and forge a new life?
With her sister gone, Penthesilea is left with no choice but to rise as the new Amazon Queen. Forgoing her sister's compassion and wisdom, Penthesilea rules with impulsiveness and ferocity that sparks terror throughout the Aegean.
But when Hippolyte's world starts to crumble it is up to Penthesilea to decide how far she will go to defend their honour, family and way of life.
---
Elektra by Jennifer Saint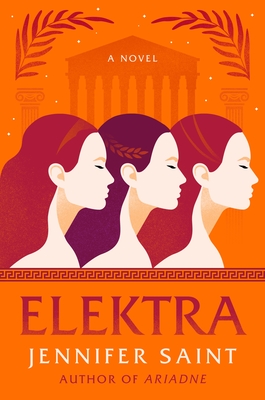 The House of Atreus is cursed. A bloodline tainted by a generational cycle of violence and vengeance. This is the story of three women, their fates inextricably tied to this curse, and the fickle nature of men and gods.
Clytemnestra
The sister of Helen, wife of Agamemnon – her hopes of averting the curse are dashed when her sister is taken to Troy by the feckless Paris. Her husband raises a great army against them, and determines to win, whatever the cost.
Cassandra
Princess of Troy, and cursed by Apollo to see the future but never to be believed when she speaks of it. She is powerless in her knowledge that the city will fall.
Elektra
The youngest daughter of Clytemnestra and Agamemnon, Elektra is horrified by the bloodletting of her kin. But, can she escape the curse, or is her own destiny also bound by violence?
---
Daughter of Sparta by Claire M. Andrews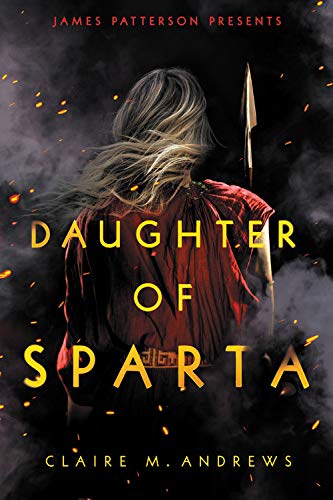 Sparta forged her into a deadly weapon. Now the gods need her to save the world!
Seventeen-year-old Daphne has spent her entire life honing her body and mind into that of a warrior, hoping to be accepted by the unyielding people of ancient Sparta. But an unexpected encounter with the goddess Artemis—who holds Daphne's brother's fate in her hands—upends the life she's worked so hard to build. Nine mysterious items have been stolen from Mount Olympus, and if Daphne cannot find them, the gods' waning powers will fade away, the mortal world will descend into chaos, and her brother's life will be forfeit.
Guided by Artemis's twin—the handsome and entirely-too-self-assured god Apollo—Daphne's journey will take her from the labyrinth of the Minotaur to the riddle-spinning Sphinx of Thebes, team her up with mythological legends such as Theseus and Hippolyta of the Amazons, and pit her against the gods themselves.
A reinterpretation of the classic Greek myth of Daphne and Apollo, Daughter of Sparta, by debut author Claire M. Andrews turns the traditionally male-dominated mythology we know into a heart-pounding and empowering female-led adventure.
---
Blood of Troy by Claire M. Andrews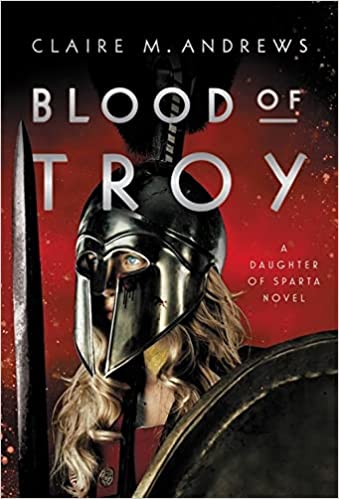 A year after saving the powers of Olympus by defeating Nyx, the Goddess of Darkness, Daphne is haunted by still-looming threats, her complicated feelings for the god Apollo, and the promise she made to the Olympian gods that she would help them again when they called upon her. When their command finally comes, it is deceptively simple: secure herself a spot as one of Queen Helen's guards.
A war is coming, and all of Sparta must be prepared.
In the midst of a treaty summit among the monarchs of Greece, Daphne and Helen uncover a plot of betrayal—and soon, a battle begins that leads to all-out war. As the kingdoms of Greece clash on the shores of Troy and the gods choose sides, Daphne must use her wits, her training, and her precarious relationship with Apollo to find a way to keep her queen safe, stop the war, and uncover the true reason the gods led her to Troy. But the gods are keeping more than one secret, and Daphne will be forced to decide how far she is willing to go to save those she loves—and whose side she's on in a war that is prophesized to be the downfall of her people.
---
Olympus, Texas
The Briscoe family is once again the talk of their small town when March returns to East Texas two years after he was caught having an affair with his brother's wife. His mother, June, hardly welcomes him back with open arms. Her husband's own past affairs have made her tired of being the long-suffering spouse. Is it, perhaps, time for a change? Within days of March's arrival, someone is dead, marriages are upended, and even the strongest of alliances are shattered. In the end, the ties that hold them together might be exactly what drag them all down.
An expansive tour de force, Olympus, Texas cleverly weaves elements of classical mythology into a thoroughly modern family saga, rich in drama and psychological complexity. After all, at some point, don't we all wonder: What good is this destructive force we call love?
---
Lore by Alexandra Bracken
Every seven years, the Agon begins. As punishment for a past rebellion, nine Greek gods are forced to walk the earth as mortals, hunted by the descendants of ancient bloodlines, all eager to kill a god and seize their divine power and immortality.
Long ago, Lore Perseous fled that brutal world in the wake of her family's sadistic murder by a rival line, turning her back on the hunt's promises of eternal glory. For years she's pushed away any thought of revenge against the man–now a god–responsible for their deaths.
Yet as the next hunt dawns over New York City, two participants seek out her help: Castor, a childhood friend of Lore believed long dead, and a gravely wounded Athena, among the last of the original gods.
The goddess offers an alliance against their mutual enemy and, at last, a way for Lore to leave the Agon behind forever. But Lore's decision to bind her fate to Athena's and rejoin the hunt will come at a deadly cost–and still may not be enough to stop the rise of a new god with the power to bring humanity to its knees.
---
Lore Olympus Series by Rachel Smythe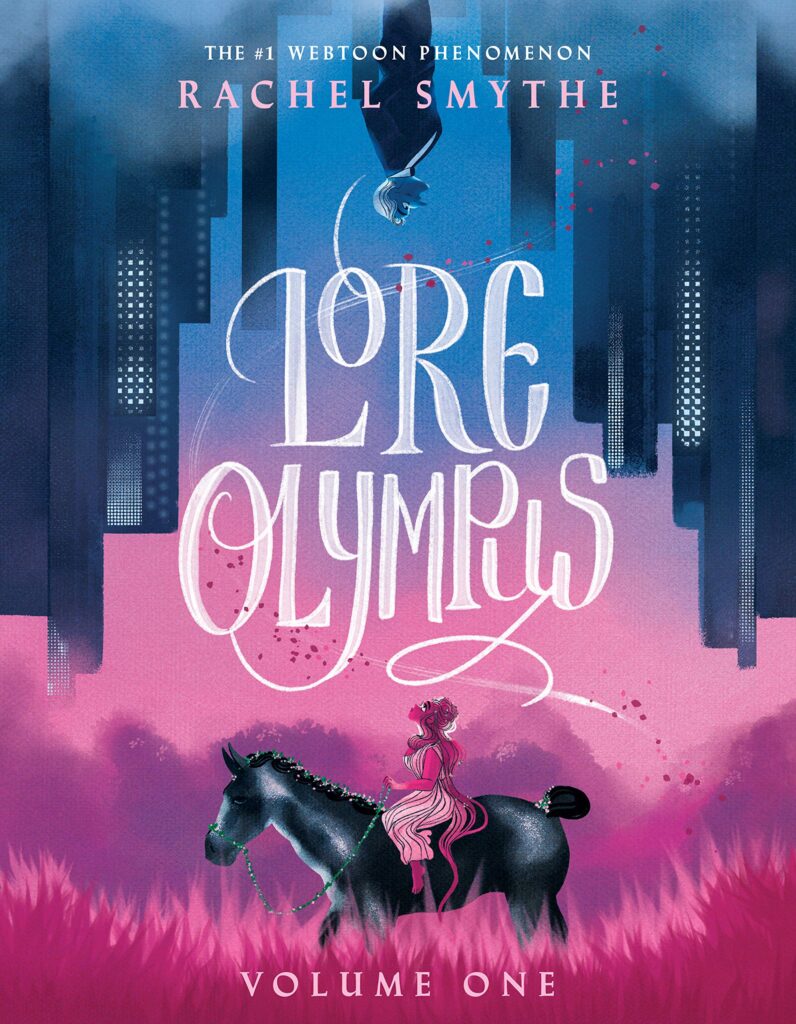 Experience the propulsive love story of two Greek gods—Hades and Persephone—brought to life with lavish artwork and an irresistible contemporary voice.
Scandalous gossip, wild parties, and forbidden love—witness what the gods do after dark in this stylish and contemporary reimagining of one of mythology's most well-known stories from creator Rachel Smythe. Featuring a brand-new, exclusive short story, Smythe's original Eisner-nominated web-comic Lore Olympus brings the Greek Pantheon into the modern age with this sharply perceptive and romantic graphic novel.
---
The Hidden Oracle by Rick Riordan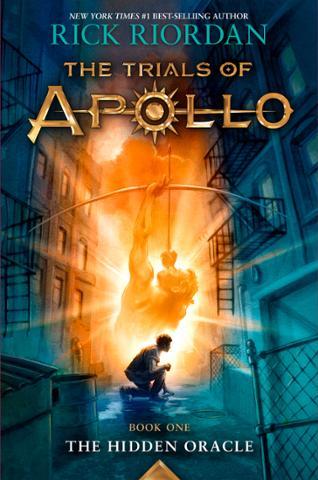 This whole middle grade series is rated really well!
How do you punish an immortal?
By making him human.
After angering his father Zeus, the god Apollo is cast down from Olympus. Weak and disorientated, he lands in New York City as a regular teenage boy. Now, without his godly powers, the four-thousand-year-old deity must learn to survive in the modern world until he can somehow find a way to regain Zeus's favour.
But Apollo has many enemies—gods, monsters and mortals who would love to see the former Olympian permanently destroyed. Apollo needs help, and he can think of only one place to go… an enclave of modern demigods known as Camp Half-Blood.
---
Honorable Mention:
Stephen Fry's Great Mythology 1 – 3 (Mythos, Heroes, Troy)
I promised you the best fiction books about Greek mythology, so I couldn't include these on the list. However, these are nonfiction that often read like fiction and are really popular, so I had to include them!
Mythos
Mythos is a modern collection of Greek myths, stylishly retold by legendary writer, actor, and comedian Stephen Fry. Fry transforms the adventures of Zeus and the Olympians into emotionally resonant and deeply funny stories, without losing any of their original wonder.
This stunning book features classical artwork inspired by the myths, as well as learned notes from the author. Each adventure is infused with Fry's distinctive wit, voice, and writing style. Connoisseurs of the Greek myths will appreciate this fresh-yet-reverential interpretation, while newcomers will feel welcome. Retellings brim with humor and emotion and offer rich cultural context
Celebrating the thrills, grandeur, and unabashed fun of the Greek myths, Mythos breathes life into ancient tales—from Pandora's box to Prometheus's fire.
This gorgeous volume invites you to explore a captivating world with the brilliant storyteller Stephen Fry as your guide.
---
Heroes
There are Heroes – and then there are Greek Heroes.
Few mere mortals have ever embarked on such bold and heart-stirring adventures, overcome myriad monstrous perils, or outwitted scheming vengeful gods, quite as stylishly and triumphantly as Greek heroes.
In this companion to his bestselling Mythos, Stephen Fry brilliantly retells these dramatic, funny, tragic and timeless tales. Join Jason aboard the Argo as he quests for the Golden Fleece. See Atalanta – who was raised by bears – outrun any man before being tricked with golden apples. Witness wily Oedipus solve the riddle of the Sphinx and discover how Bellerophon captures the winged horse Pegasus to help him slay the monster Chimera.
Filled with white-knuckle chases and battles, impossible puzzles and riddles, acts of base cowardice and real bravery, not to mention murders and selfless sacrifices, Heroes is the story of what we mortals are truly capable of – at our worst and our very best.
---
Troy
The story of Troy speaks to all of us – the kidnapping of Helen, a queen celebrated for her beauty, sees the Greeks launch a thousand ships against that great city, to which they will lay siege for ten whole and very bloody years.
It is Zeus, the king of the gods, who triggers war when he asks the Trojan prince Paris to judge the fairest goddess of them all. Aphrodite bribes Paris with the heart of Helen, wife of King Menelaus of the Greeks, and naturally, nature takes its course.
It is a terrible, brutal war with casualties on all sides. The Greeks cannot defeat the Trojans – since Achilles, the Greek's boldest warrior, is consumed with jealousy over an ally's choice of lover, the Trojan slave Briseis, and will not fight . . .
The stage is set for the oldest and greatest story ever told, where monstrous passions meet the highest ideals and the lowest cunning.
In Troy you will find heroism and hatred, love and loss, revenge and regret, desire and despair. It is these human passions, written bloodily in the sands of a distant shore, that still speak to us today.
Troy is a myth in which we seek the truth about ourselves, which Stephen Fry brings breathtakingly to life for our modern age.
---
That's the list! Did I miss something great? Please let me know in the comments.
More book lists you might like:
Best Books Set in Winter: Cozy Winter Books
Best Historical Fiction 2023: Epic List of New Releases
Best Books Set in the 1920s (The Ultimate List)
8 Hopepunk Books to Lift Your Spirits
Pin This Post