Hey July! Not sure how half of this crazy year is over already, but I guess we'll go with it! What are you reading right now, at the height of summer? Here's what we're currently into.
Link up with a book review or list at the bottom, or leave a comment with your current/recent reads!
Disclosure – We earn a small commission for any items purchased through the Amazon links below at no extra cost to you. Thank you for supporting Literary Quicksand!
Anne
I'm working on the last book in the Girl with the Dragon Tattoo series, The Girl Who Kicked the Hornet's Nest. It's by far the slowest read of the three – the first was a compelling mystery, the second an action-packed thriller, but the third is mostly building up to a court case and I'm finding it hard to keep reading. Unfortunately, the author died before he could finish the series, so we will never have the final resolution of Lisbeth Salander's fate. I'm going to miss her, as a character, when I'm finally done. She's so frustrating but so intriguing and I always want more.
Also on my night table is The Common Rule, Justin Earley's attempt to help people (like me) find structure and purpose in the age of technology. He slowly makes it more and more apparent that all the invisible, insidious habits society shapes for itself need to be broken down and replaced with a routine that reflects what we really live for. I'm loving his humble approach of telling the reader why he needs these habits just as much as anyone else, and I'm excited to see if his Common Rule changes my life, too.
Brooklyn
I am currently reading the Throne of Glass series by Sarah J Maas. I'm on the third book in the series, Heir of Fire, and this series has completely sucked me in. It follows the journey of a young assassin who was captured and put to work in a slave camp. Things change when she the king;s son (Crown Prince of Adarlan) shows up to take her to the glass castle and have her compete to become the King's Champion. This series has so many good elements, my favourite of which being a love triangle. SJM creates the most amazing characters that you can't help but fall in love with and her stories are so gripping and well thought out. It's impossible to predict what is going to happen next. This fantasy series has quickly climbed to the top of my all time favourite books list and I can't wait to read the rest!
Cathy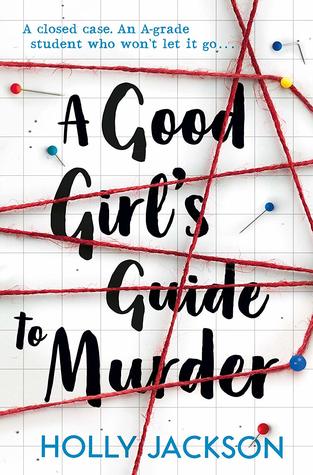 I'm currently re-reading A Good Girl's Guide to Murder by Holly Jackson. It tells the story of Pip who has grown up in a town consumed by the disappearance of a teenage girl 5 years ago. The town is convinced that the girl's boyfriend did it, but Pip isn't so sure. So, Pip takes on the task of dismantling the investigation as her final year project at school. I've read this one before and I've come back to it because the plot twists are interesting and clever and you definitely don't see the ending coming. This time I'm trying to see if there are any clues throughout the book that I missed last time. I would recommend A Good Girl's Guide to Murder to teenagers, young adults and beyond. It's an easy read and the final twist is fantastic!



Jessica
Per my usual modus operandi I am currently reading 6 books, but the two I must highlight are:
The Travelling Cat Chronicles by Hiro Arikawa – This book is about a cat (duh) named Nana, and so so heartwarming. The story-telling style is reminiscent of a Miyazaki film. Nana and his owner, Satoru take a road trip to visit three of Satoru's longtime friends – and that's all I know so far. It's got cats, road trips, and is set in Japan. My heart is happy.
An Absolutely Remarkable Thing by Hank Green – This is a re-read that I was not originally planning on doing, but am so glad I am. The sequel A Beautifully Foolish Endeavor has been released as of 7/7/2020. This is a quirky sci-fi novel about April May, a twenty-something creative living in New York City, whose seemingly ordinary discovery goes viral and launches her into a world of fame overnight. So far, I am enjoying this book even more the second time around.
Joli
The Mothers by Brit Bennett – I absolutely loved this book! I found Bennett's writing style to be really unique and compelling. The story sucked me in instantly and I empathized with Nadia after the loss of her mother. This is a book about secrets, lies, and family, set in a contemporary Black community in California. A recommendation from me!
The Secret Life of Bees by Sue Monk Kidd – I hadn't read this yet when I picked it up at the family cabin and sped through it in a few days. I loved it so much, I think I'll add it to my list of favorites!
A Trace of Deceit by Karen Odden – This is my current read. It's a Victorian mystery combining a strong female lead, art, murder, mystery, and intrigue. I'm super into it and having a hard time putting it down.
Katie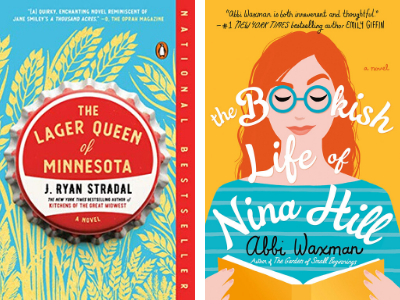 I got to pick up two books I've been meaning to get to for a while this month…
The Lager Queen of Minnesota by J. Ryan Stradal – Two sisters grew up together, now one is barely scraping by while the other tends her beer empire. Family divisions have led to the two not speaking, but when their granddaughter/grandniece takes an interest in micro brewing, their stories will start to intersect again. I'm loving the well-developed female characters in this book and the beautiful storytelling.
The Bookish Life of Nina Hill by Abbi Waxman – Nina Hill is happy with her quiet life and bookstore job, but the family of her long lost father is about to come crashing into her world and shake things up. This is my second Abbi Waxman read and it's been a delight so far! I especially enjoy the descriptions of Nina's cat and the narrative structure that references other novels.
Rachel
The Book of Lost Names by Kristin Harmel – This July 2020 new release is a fascinating and heartbreaking tale of forgers who helped rescue Jewish children during WWII. Learning more about the process of forging documents was interesting, as well as the complicated relationships that are the result of being in the middle of a war.
The Bookshop On The Shore by Jenny Colgan – This novel came out last year and I finally got around to reading it! It focuses on a desperate young mother who comes to Scotland to work as a nanny. She slowly finds her footing with the children and the community and realizes she has discovered a new home for her and her son. This has all the charm I've come to expect from Jenny Colgan! Highly recommend!
That's the end of our list! What's yours?
Pin This Post