Kassandra Montag's debut novel After the Flood takes place around a century after floods have covered the planet and most of the land is under water. In this new post-apocalyptic world, people survive in small land colonies, on ships, or alone. I love a good dystopia, and I was excited to get the chance to read this one when I received it in the mail!
Myra and her seven-year-old daughter Pearl are loners. They are skilled fishers and use a few valuable friendships with traders to keep them in other supplies. As they roam the waters in a small boat Myra's grandfather crafted, Myra keeps an ear and eye out for her older daughter, Row, who was taken by her husband before Pearl was born. When she receives news that Row might be alive, Myra abruptly changes course. No longer is she just trying to survive with Pearl; she's doing everything in her power to find a way back to her other daughter — to stop her from being loaded onto a breeder ship before she turns 13. 
Montag's writing is atmospheric. Her flooded world is so vivid and well-developed, it was easy to imagine it existed. Likewise, the characters in the story are nuanced and believable. Myra is motivated almost to the point of selfishness, but she's fierce, capable and strong. Her daughter is understandably naive given her age. She's also loyal and eager to learn. Other characters are similarly flawed while possessing useful skills and positive traits. 
The story is fast-paced and action-packed. Though I wasn't always on board with its various twists and turns, it nonetheless held my interest from beginning to end. I'd happily read another of Montag's adventures. She clearly has a talent.   
Thank you to TLC Book Tours and William Morrow for a chance to review this novel.
About After the Flood
An inventive and riveting epic saga, After the Flood signals the arrival of an extraordinary new talent.
A little more than a century from now, our world has been utterly transformed. After years of slowly overtaking the continent, rising floodwaters have obliterated America's great coastal cities and then its heartland, leaving nothing but an archipelago of mountaintop colonies surrounded by a deep expanse of open water.
Stubbornly independent Myra and her precocious seven-year-old daughter, Pearl, fish from their small boat, the Bird, visiting dry land only to trade for supplies and information in the few remaining outposts of civilization. For seven years, Myra has grieved the loss of her oldest daughter, Row, who was stolen by her father after a monstrous deluge overtook their home in Nebraska. Then, in a violent confrontation with a stranger, Myra suddenly discovers that Row was last seen in a far-off encampment near the Artic Circle. Throwing aside her usual caution, Myra and Pearl embark on a perilous voyage into the icy northern seas, hoping against hope that Row will still be there.
On their journey, Myra and Pearl join forces with a larger ship and Myra finds herself bonding with her fellow seekers who hope to build a safe haven together in this dangerous new world. But secrets, lust, and betrayals threaten their dream, and after their fortunes take a shocking—and bloody—turn, Myra can no longer ignore the question of whether saving Row is worth endangering Pearl and her fellow travelers.
A compulsively readable novel of dark despair and soaring hope, After the Flood is a magnificent, action packed, and sometimes frightening odyssey laced with wonder—an affecting and wholly original saga both redemptive and astonishing.
Purchase Links
About Kassandra Montag
Kassandra Montag is a poet and novelist. Her work has appeared in Mystery Weekly Magazine, Midwestern Gothic, and Prairie Schooner, among other literary journals. She has won the Plainsongs Award, New Year's Poet Award, and 1877 Award.
Find out more about Kassandra at her website, and connect with her on Facebook and Instagram.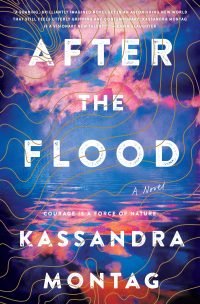 After the Flood
William Morrow
September 3, 2019 
Hardcover
419