Welcome back to another edition of TBR Mix n' Mingle where you can get excited about your next read or add another book to your ever growing TBR! Join us the first day of each month as we share our most anticipated reads of the month ahead.
Yep, you read that correctly – we're changing our Mix n' Mingle to the first day of the month! Gotta get those TBR lists out early, ya know??
Make sure to add your TBR list in the linkup at the bottom of the post. Don't forget to check out all of the other TBR lists linked as well! Don't have a blog? Tell us about the books you want to read in the comments below.
Here's what we're reading this month…
---
Allison
I follow The Feminist Book Club Box, a local subscription box company. I always look to them for good book recs. Their August pick was Lead from the Outside: How to Build Your Future and Make Real Change. I love Stacey Abrams and the overall concept of this book. I'll definitely be reading this one this month.
I'm also tantalizingly close to getting my hands of Where the Crawdads Sing from the library. I'll be excited to dig into that one. Other than that, I'm trying to get back on track with my Unread Shelf Project. Check out my progress over on my blog.
Find my full August TBR list on my blog!
Becky
I have started rereading the Harry Potter series for the first time in….a decade?? (Do NOT like seeing that timeframe in writing!) In August, I am looking forward to The Prisoner of Azkaban and The Goblet of Fire. Pretty sure those two are my favorites if it's possible to choose.
I've also got a novel called Spearhead by Adam Makos that is based on true stories of young American soldiers, particularly a tank gunner named Clarence Smoyer. It's rare that my dad suggests books to me as he tends to read very dense WWII nonfiction, so I'm excited to try this as he thinks I'll enjoy it!
Caleigh
For the next few weeks, I'm focusing on some books that were given to me by one of my best friends. I've been neglecting them, but I'm thinking I'm now in a place emotionally where I'm ready for some stillness and reflection.
Blue Horses & Why I Wake Early by Mary Gilbert: Mary Gilbert is a celebrated American poet, who "considers the everyday in our lives and the natural world around us…". I am not a huge reader of poetry, so these 2 collections are somewhat daunting to me at first blush. But I also know that I love novellas and short story collections, and so I'm hoping that Gilbert's works will be incredibly valuable in capturing what I love so much about the outside, and bring it in to my home.
Your Heart is a Muscle the Size of Your Fist by Sunil Yapa: Author Sunil Yapa's debut novel is one that I'm really looking forward to. Set in Seattle in 1999, it takes the reader through the WTO protests, which I'm not going to lie, I am woefully ignorant about. I will be featuring this one as an LQ review once I finish it, because not only is it fairly well rated on Goodreads, it also has BEAUTIFUL cover art, which I think most of us can absolutely appreciate on our favourite reads.
Tell me in the comments – are you a poetry person? Are there any literary media out there that you find daunting?
Joli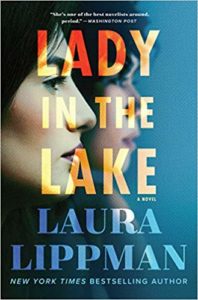 First up for me this month is Lady in the Lake by Laura Lippman. It sounds like a pretty crazy summer read – it's said to "combine modern psychological insights with elements of classic noir". Woah. Looking forward to this one!
The other book I hope to read this month is Peaceful Parent, Happy Kids: How to Stop Yelling and Start Connecting by Dr. Laura Markham. Yep, my tiny baby is growing up to the point where I'm going to have to learn how to navigate things like temper tantrums and other big feelings (she'll be one in a month). I'm rather terrified. So, hoping a few parenting books will give me some guidance!
Megan
My Brilliant Friend by Elena Ferrante: This is on loan from the library (and I've already renewed it once), so I'm hoping to get started on Elena Ferrante's novel soon. I picked it for a reading challenge I'm doing with my lovely newly-long-distance friend Deanna as part of the "female friendship" category. I've heard nothing but good things, and I'm excited to finally pick it up!
Evicted: Poverty and Profit in the American City by Matthew Desmond: We're reading this one for my office's diversity book club in August (topic: economic inequality), and since I'm leading the discussion, I definitely have to get going on it. I'm just trying to time it right so I recall enough of it to lead a worthwhile discussion towards the end of the month.
Things You Save in a Fire by Katherine Center: I really really loved How to Walk Away when I read it last year, and I've been highly anticipating Center's latest release which comes out later this month. I got a copy from Book of the Month (another reason I love them!), and I'm hoping I have time to get to it with all the other reading I need to do.
Find the rest of my list on my blog: https://www.hungry-bookworm.com/2019/08/01/tbr-list-august-2019
Rachel
The Last Book Party by Karen Dukess: This book set in the publishing world in the 1980's sounds right up my alley! It just came out in July, so it's one of the summer new releases that's getting a lot of attention.
City of Girls by Elizabeth Gilbert: I won this in a bookstagram giveaway and I'm starting a buddy read in August! This historical fiction novel takes place in the New York theater world. I wasn't the biggest fan of Eat, Pray, Love, but the premise of City of Girls sounds fascinating.
Find my full August TBR list on my blog!
What are planning on reading this month?
Join our linkup below and share your TBR lists!
You are invited to the Inlinkz link party!